360 Degree Analysis on the Silicones Market for the Global Construction Industry
360 Degree Analysis on the Silicones Market for the Global Construction Industry
Growing Adoption of Silicone Adhesives/Sealants and Coatings Drives Volumes
Research Code: MB2C-01-00-00-00
SKU: CM00078-NA-MR_00374
$4,950.00
Special Price $3,712.50 save 25 %
Description
This research service identifies the major industry drivers, restraints, regulatory trends, and technology trends affecting the global market for silicones in the construction industry. The product segments covered are adhesives/sealants and coatings. Unit shipment and revenue forecasts are provided at a regional level for each segment from 2011 to 2021. At the segment level, analysis focuses on market dynamics for North America, Europe, Asia-Pacific, and Rest of World. Further, regional-level application splits are provided for adhesives/sealants and coatings segments. Competitive structure and market share data have been provided for each segment. The base year is 2014 and the forecast period ends in 2021.
RESEARCH: INFOGRAPHIC
This infographic presents a brief overview of the research, and highlights the key topics discussed in it.

Click image to view it in full size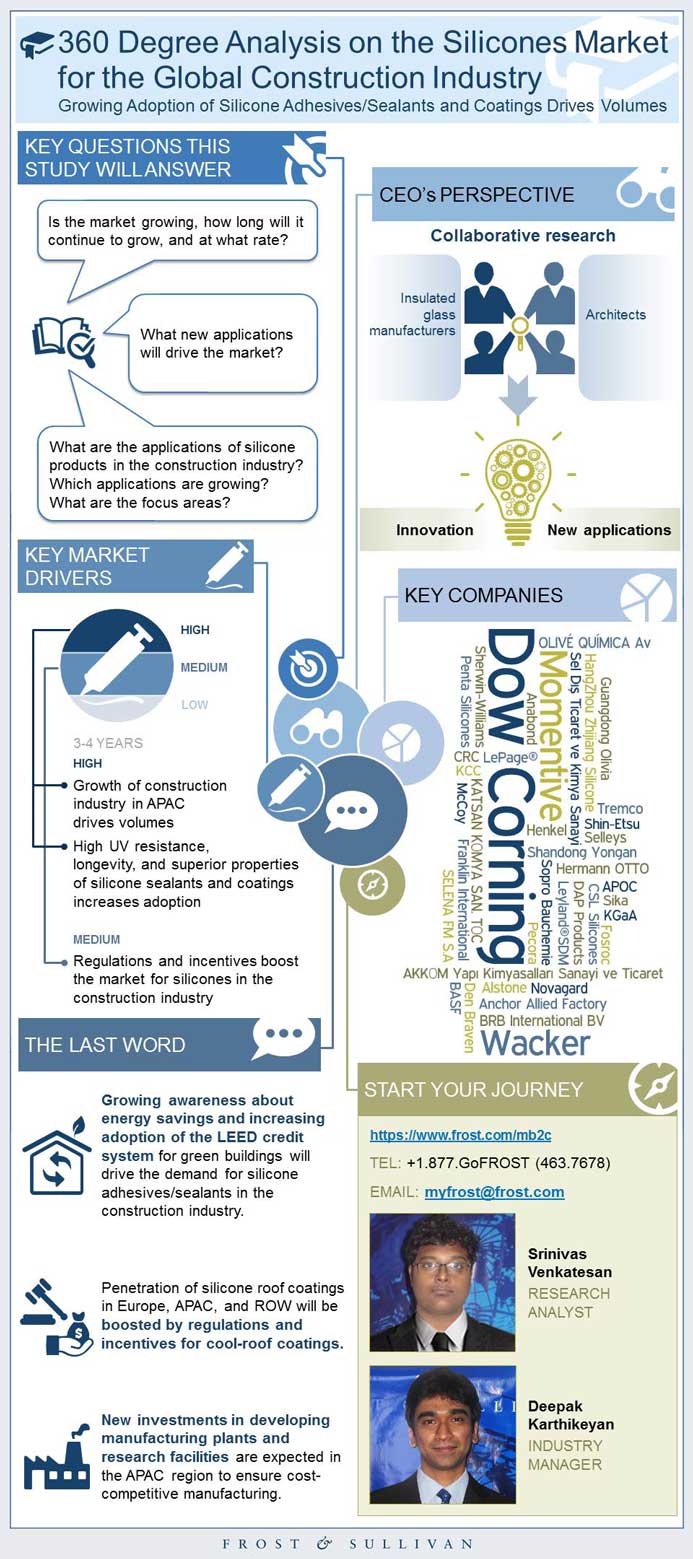 List of Figures
1. Total Silicones Market for the Construction Industry: Market Engineering Measurements, Global, 2014
2. Total Silicones Market for the Construction Industry: Market Segmentation, Global, 2014
3. Total Silicones Market for the Construction Industry: Percent Unit Shipment by Product Segment, Global, 2014
4. Total Silicones Market for the Construction Industry: Percent Unit Shipment Forecast by Product Segment, Global, 2021
5. Total Silicones Market for the Construction Industry: Revenue Forecast by Region, Global, 2011–2021
6. Total Silicones Market for the Construction Industry: Revenue Forecast by Region, Global, 2011–2021
7. Total Silicones Market for the Construction Industry: Unit Shipment Forecast by Region, Global, 2011–2021
8. Adhesives/Sealants Segment: Segmentation by Curing Mechanism, Global, 2014
9. Adhesives/Sealants Segment: Comparison of Silicone Sealants and Organic Sealants, Global, 2014
10. Adhesives/Sealants Segment: Market Distribution Channels, Global, 2014
11. Adhesives/Sealants Segment: Competitive Environment, North America, 2014
12. Adhesives/Sealants Segment: Dependence of Silicone Prices on Raw Materials, Europe, 2011–2014
13. Adhesives/Sealants Segment: Competitive Environment, Europe, 2014
14. Adhesives/Sealants Segment: Competitive Environment, APAC, 2014
15. Coatings Segment: Segmentation by Application, Global, 2014
16. Coatings Segment: Unit Shipment Forecast by Region, Global, 2014
17. Coatings Segment: Competitive Environment, North America, 2014
18. Coatings Segment: Energy Loss Through Major Building Parts, Europe, 2014
19. Coatings Segment: Competitive Environment, Europe, 2014
20. Coatings Segment: Competitive Environment, APAC, 2014
21. Coatings Segment: Competitive Environment, ROW, 2014

List of Charts
1. Total Silicones Market for the Construction Industry: Construction Spending, Global, 2012–2014
2. Total Silicones Market for the Construction Industry: Float Glass Demand by Segments in Construction Industry, Global, 2014
3. Total Silicones Market for the Construction Industry: Key Market Restraints, Global, 2015–2021
4. Total Silicones Market for the Construction Industry: Revenue and Unit Shipment Forecast, Global, 2011–2021
5. Total Silicones Market for the Construction Industry: Percent Revenue by Product Segment, Global, 2014
6. Total Silicones Market for the Construction Industry: Percent Revenue Forecast by Product Segment, Global, 2021
7. Total Silicones Market for the Construction Industry: Percent Revenue by Region, Global, 2014
8. Total Silicones Market for the Construction Industry: Percent Revenue Forecast by Region, Global, 2021
9. Adhesives/Sealants Segment: Revenue and Unit Shipment Forecast, APAC, 2011–2021
10. Total Silicones Market for the Construction Industry: Percent Unit Shipment by Region, Global, 2014
11. Total Silicones Market for the Construction Industry: Percent Unit Shipment Forecast by Region, Global, 2021
12. Total Silicones Market for the Construction Industry: Percent Revenue by Participant, North America, 2014
13. Total Silicones Market for the Construction Industry: Percent Revenue by Participant, Europe, 2014
14. Total Silicones Market for the Construction Industry: Percent Revenue by Participant, APAC, 2014
15. Total Silicones Market for the Construction Industry: Percent Revenue by Participant, ROW, 2014
16. Adhesives/Sealants Segment: Revenue and Unit Shipment Forecast, Global, 2011–2021
17. Adhesives/Sealants Segment: Percent Revenue by Region, Global, 2014
18. Adhesives/Sealants Segment: Percent Revenue by Region, Global, 2021
19. Adhesives/Sealants Segment: Revenue Forecast by Region, Global, 2011–2021
20. Adhesives/Sealants Segment: Percent Unit Shipment by Region, Global, 2014
21. Adhesives/Sealants Segment: Percent Unit Shipment by Region, Global, 2021
22. Adhesives/Sealants Segment: Unit Shipment Forecast by Region, Global, 2011–2021
23. Adhesives/Sealants Segment: Revenue and Unit Shipment Forecast, North America, 2011–2021
24. Adhesives/Sealants Segment: Construction Spending CAGR, North America, 2014–2021
25. Adhesives/Sealants Segment: Percent Unit Shipment by Chemistry, North America, 2014
26. Adhesives/Sealants Segment: Percent Unit Shipment Forecast by Chemistry, North America, 2021
27. Adhesives/Sealants Segment: Percent Unit Shipment by Application, North America, 2014
28. Adhesives/Sealants Segment: Percent Unit Shipment Forecast by Application, North America, 2021
29. Adhesives/Sealants Segment: Revenue and Unit Shipment Forecast, North America, 2011–2021
30. Adhesives/Sealants Segment: Dependence of Silicone Prices on Raw Materials, North America, 2014
31. Adhesives/Sealants Segment: Revenue and Unit Shipment Forecast, Europe, 2011–2021
32. Adhesives/Sealants Segment: Construction Output Growth Rate, Europe, 2011–2021
33. Adhesives/Sealants Segment: Percent Unit Shipment by Chemistry, Europe, 2014
34. Adhesives/Sealants Segment: Percent Unit Shipment Forecast by Chemistry, Europe, 2021
35. Adhesives/Sealants Segment: Percent Unit Shipment by Application, Europe, 2014
36. Adhesives/Sealants Segment: Percent Unit Shipment Forecast by Application, Europe, 2021
37. Adhesives/Sealants Segment: Revenue and Unit Shipment Forecast, Europe, 2011–2021
38. Adhesives/Sealants Segment: Construction Spending CAGR, APAC, 2015–2021
39. Adhesives/Sealants Segment: Percent Unit Shipment by Chemistry, APAC, 2014
40. Adhesives/Sealants Segment: Percent Unit Shipment Forecast by Chemistry, APAC, 2021
41. Adhesives/Sealants Segment: Percent Unit Shipment by Application, APAC, 2014
42. Adhesives/Sealants Segment: Percent Unit Shipment Forecast by Application, APAC, 2021
43. Adhesives/Sealants Segment: Revenue and Unit Shipment Forecast, APAC, 2011–2021
44. Adhesives/Sealants Segment: Pricing of Raw Materials, APAC, 2011–2014
45. Adhesives/Sealants Segment: Revenue and Unit Shipment Forecast, ROW, 2011–2021
46. Adhesives/Sealants Segment: Construction Spending CAGR of Major Countries, ROW, 2015–2021
47. Adhesives/Sealants Segment: Percent Unit Shipment by Chemistry, ROW, 2014
48. Adhesives/Sealants Segment: Percent Unit Shipment Forecast by Chemistry, ROW, 2021
49. Adhesives/Sealants Segment: Percent Unit Shipment by Application, ROW, 2014
50. Adhesives/Sealants Segment: Percent Unit Shipment Forecast by Application, ROW, 2021
51. Adhesives/Sealants Segment: Revenue and Unit Shipment Forecast, ROW, 2011–2021
52. Adhesives/Sealants Segment: Competitive Environment, ROW, 2014
53. Coatings Segment: Revenue and Unit Shipment Forecast, Global, 2011–2021
54. Coatings Segment: Percent Unit Shipment by Region, Global, 2014
55. Coatings Segment: Percent Unit Shipment Forecast by Region, Global, 2021
56. Coatings Segment: Percent Revenue by Region, Global, 2014
57. Coatings Segment: Percent Revenue by Region, Global, 2021
58. Coatings Segment: Revenue Forecast by Region, Global, 2014
59. Coatings Segment: Revenue and Unit Shipment Forecast, North America, 2011–2021
60. Coatings Segment: Timeline of Cool Roof Laws in USA, North America, 2008–2014
61. Coatings Segment: Percent Unit Shipment by Application, North America, 2014
62. Coatings Segment: Percent Unit Shipment Forecast by Application, North America, 2021
63. Coatings Segment: Revenue and Unit Shipment Forecast, North America, 2011–2021
64. Coatings Segment: Revenue and Unit Shipment Forecast, Europe, 2011–2021
65. Coatings Segment: Percent Unit Shipment by Application, Europe, 2014
66. Coatings Segment: Percent Unit Shipment Forecast by Application, Europe, 2021
67. Coatings Segment: Revenue and Unit Shipment Forecast, Europe, 2011–2021
68. Coatings Segment: Revenue and Unit Shipment Forecast, APAC, 2011–2021
69. Coatings Segment: Percent Unit Shipment by Application, APAC, 2014
70. Coatings Segment: Percent Unit Shipment Forecast by Application, APAC, 2021
71. Coatings Segment: Revenue and Unit Shipment Forecast, APAC, 2011–2021
72. Coatings Segment: Revenue and Unit Shipment Forecast, ROW, 2011–2021
73. Coatings Segment: Percent Unit Shipment by Application, ROW, 2014
74. Coatings Segment: Percent Unit Shipment Forecast by Application, ROW, 2021
75. Coatings Segment: Revenue and Unit Shipment Forecast, ROW, 2011–2021
76. Total Silicones Market for the Construction Industry: End-user Dashboard, Global, 2014
77. Total Silicones Market for the Construction Industry: Material Selection Attributes for Silicone Adhesives/Sealants—Intrinsic Factors, Global, 2014