Commercial Aircraft Connectivity Market
Commercial Aircraft Connectivity Market
Several Solutions and Regional Variations, but Scarce Commonality
Research Code: K07D-01-00-00-00
SKU: AE01181-GL-MR_18874
$4,950.00
Special Price $3,712.50 save 25 %
Description
Cockpit connectivity has been a crucial capability for airlines for many years. Their use of cockpit datalinks helps to ensure smooth aircraft and airline operations. This technology is now being leveraged into communications with air traffic control authorities and aircrews, which will allow the continued evolution of airspace into more direct routing and improved flight profiles. Meanwhile, passengers are continuing to gain access to datalinks while in flight. A significant number of airlines have invested in Wi-Fi and picocell onboard connectivity. Passenger adoption of the capability has been modest to this point, perhaps due to pricing. This study examines revenue forecasts and trends in the cockpit datalink and passenger connectivity markets globally through 2020.
RESEARCH: INFOGRAPHIC
This infographic presents a brief overview of the research, and highlights the key topics discussed in it.

Click image to view it in full size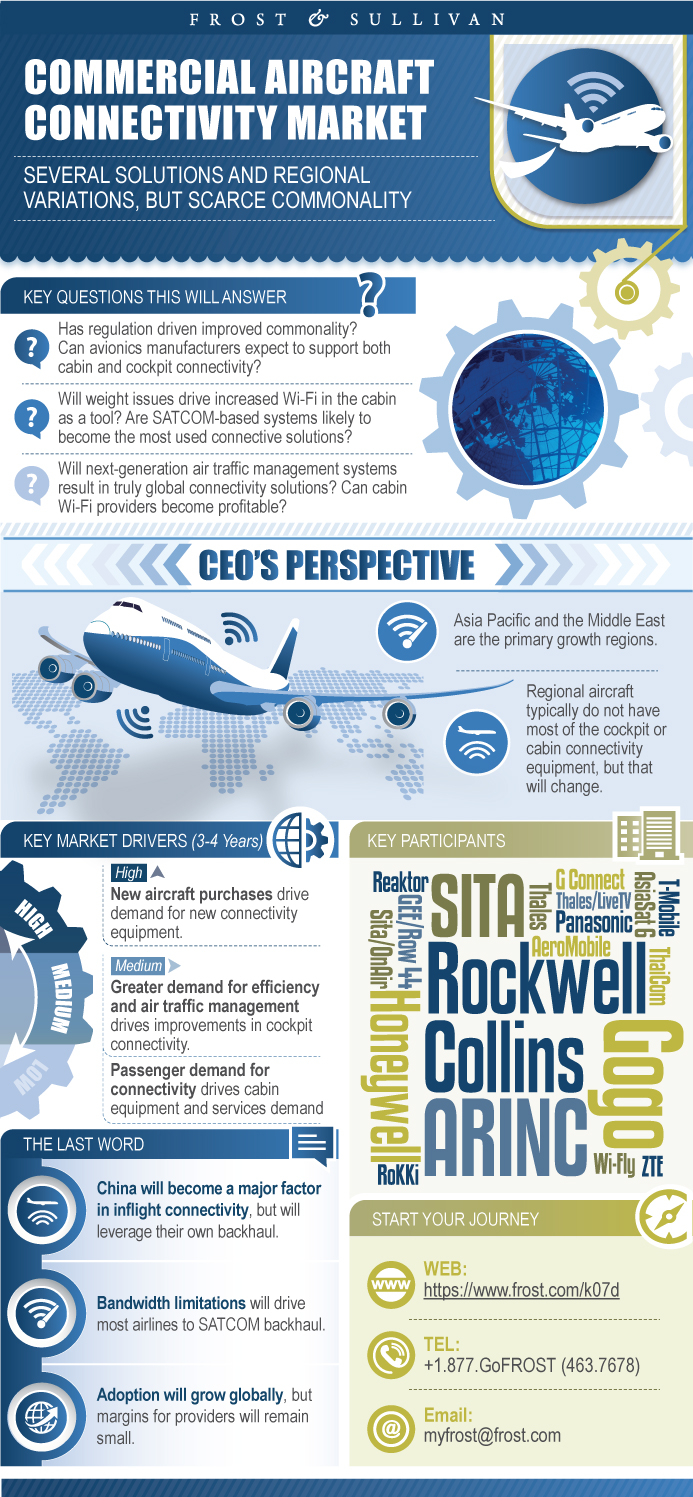 Key Findings
Market Engineering Measurements—Cockpit Datalink
Executive Summary—Cockpit Connectivity
Market Engineering Measurements—Cabin Connectivity
Executive Summary—Cabin Connectivity
CEO's Perspective
Market Definitions
Market Definitions (continued)
Cockpit Datalink Market Components
Cabin Connectivity Market Components
Key Questions This Study Will Answer
Market Segmentation
Key Opportunities and Challenges
Market Drivers
Drivers Explained
Drivers Explained (continued)
Market Restraints
Restraints Explained
Key Use Cases for Commercial Aerospace Connectivity
Market Engineering Measurements
Market Discussion
Market Discussion (continued)
Market Trends in Cockpit Datalinks
Key Underlying Technology Solutions
ACARS Technology
ACARS Discussion
ACARS Discussion (continued)
CPDLC and ADS-B Technology
CPDLC and ADS-B Discussion
CPDLC and ADS-B Discussion (continued)
FANS Technology
FANS Discussion
FANS Discussion (continued)
SATCOM Technology
SATCOM Discussion
Wi-Fi and 3G/4G Technology
Wi-Fi and 3G/4G Discussion
Technology Roadmap
Roadmap of Possible Enabling Technologies
Forecast Assumptions
Revenue Forecast
Revenue Forecast Discussion
Percent Revenue Forecast by Region
Revenue Forecast by Region
Revenue Forecast Discussion by Region
Revenue Forecast by Equipment Type
Revenue Forecast Discussion by Equipment Type
Market Share
Market Share Analysis
Market Engineering Measurements
Market Discussion
Market Discussion (continued)
Market Trends in Aerospace Connectivity
ATG, 3G/4G, and Wi-Fi Technology
ATG, 3G/4G, and Wi-Fi Discussion
SATCOM Technology
SATCOM Discussion
Forecast Assumptions
Revenue Forecast
Revenue Forecast Discussion
Percent Revenue Forecast by Region
Revenue Forecast by Region
Revenue Forecast by Region Discussion
Revenue Forecast by Vertical Market
Revenue Share by Equipment Type
Revenue Forecast by Vertical Market and Equipment Type Discussion
Market Share
Market Share Analysis
Provider Comparative Analysis
Equipped Aircraft Analysis
Business Model Comparison
Competitive Factors and Assessment
North America—Key Findings
North America—Revenue Forecast
North America—Revenue Forecast Discussion
Europe—Key Findings
Europe—Revenue Forecast
Europe—Revenue Forecast Discussion
Asia-Pacific—Key Findings
Asia-Pacific—Revenue Forecast
Asia-Pacific—Revenue Forecast Discussion
Middle East and Africa—Key Findings
Middle East and Africa—Revenue Forecast
Middle East and Africa—Revenue Forecast Discussion
Latin America—Key Findings
Latin America—Revenue Forecast
Latin America—Revenue Forecast Discussion
Key Conclusions and Takeaway
The Last Word—3 Big Predictions
Legal Disclaimer
Market Engineering Methodology
Key Information Slides in this Research
Overview of Regulatory and Liability Aspects