Global Web Conferencing Market, Forecast to 2020
Global Web Conferencing Market, Forecast to 2020
New Business Models Cause Disruption as Migration to Converged Audio, Web and Video Conferences Continues
Research Code: NF93-01-00-00-00
SKU: TE03409-GL-MR_17052
$6,000.00
Special Price $4,500.00 save 25 %
Description
The global web conferencing market is characterized by growth, innovation, and technology advancements. The advent of a new breed of team collaboration tools is disrupting established business models and forcing incumbents to adapt and innovate at a faster pace or be left behind. The number of providers that are looking to reshape the web conferencing market has recently surged. Lower-priced cloud video conferencing services have emerged at a fast pace to vie for the same set of users. This research provides web conferencing providers and their partners with a detailed analysis of the current and changing dynamics in the fast-evolving marketplace.
RESEARCH: INFOGRAPHIC
This infographic presents a brief overview of the research, and highlights the key topics discussed in it.

Click image to view it in full size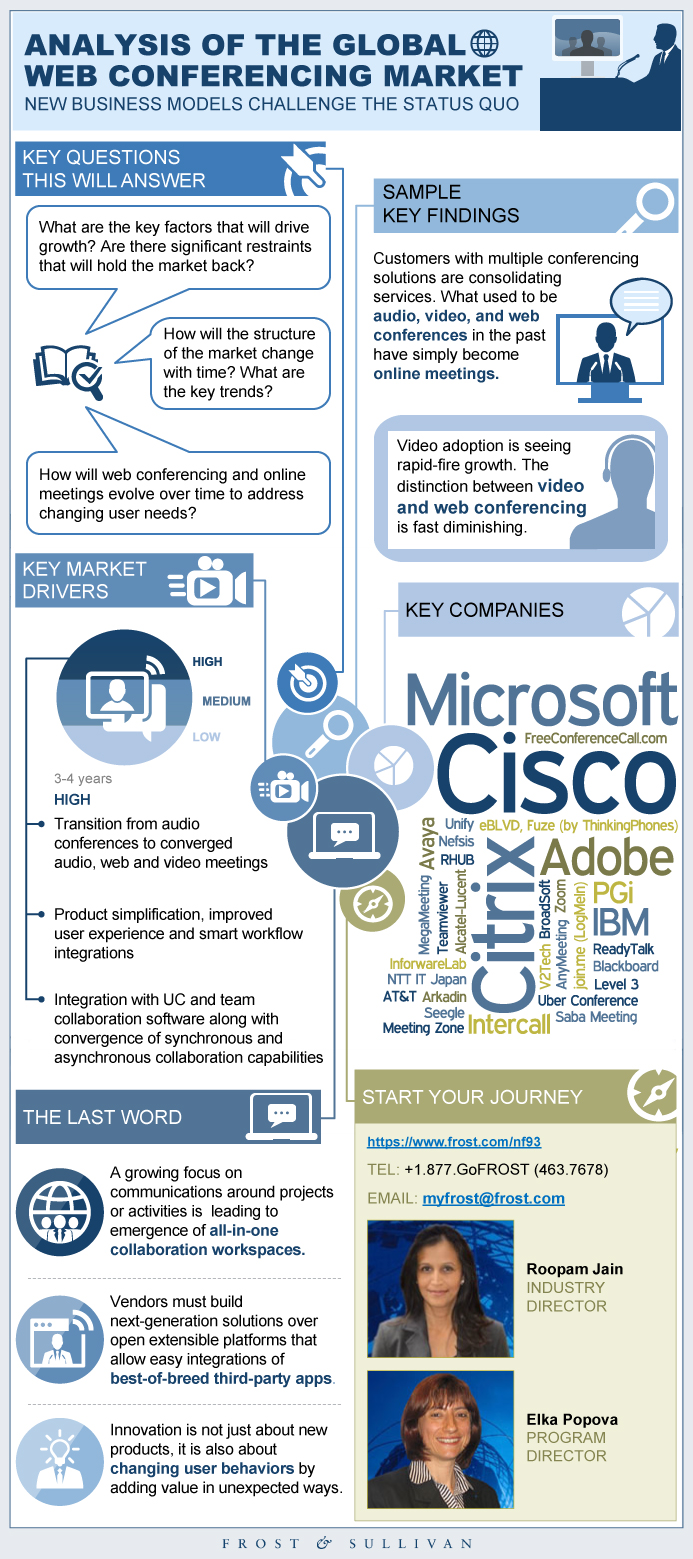 Market Engineering Measurements, Global, 2015
Market Stage
Market Revenue
Market Size for Last Year of Study Period
Compound Annual Growth Rate
Customer Price Sensitivity
Degree of Technical Change
Market Concentration
Average Price for Hosted Services
Number of Competitors
Definitions
Research Methodology and Scope
Research Coverage
NALA (North America and Latin America)
EMEA (Europe, Middle East, and Africa)
Asia-Pacific
Market Segmentation
Hosted Web Conferencing Services
On-premises Web Conferencing
Stand-alone Webcasting Services
Major Findings
Key Market Drivers, Global, 2016–2020
Key Market Restraints, Global, 2016–2020
Revenue Forecast, Global, 2013–2020
Revenue Contribution by Segment
Collaboration Market
Emergence of Collaboration Workspaces
Revenue Forecast, Global, 2013–2020
Revenue Contribution by Region
Revenue Forecast by Region
SMB Adoption
Vertical Market
Average Selling Prices
CSP-based Third-Party Web Conferencing Services
Revenue Forecast, Global, 2013–2020
Average Selling Prices
Market Share for Total Web Conferencing
Market Share for Hosted Web Conferencing Services
Market Share for On-premises Web Conferencing
Competitive Structure, Global, 2015
Disruptors, Contenders and Leaders
Fuze
Zoom
Biba
Google
Unify
Avaya
Cisco
Microsoft
Citrix
Competitive Assessment of Key Vendors
Key Recommendations
Legal Disclaimer
Market Engineering Methodology
List of Companies Covered

List of Figures
1. Total Web Conferencing Market: Market Engineering Measurements, Global, 2015
2. Web Conferencing—Market Segmentation
3. Total Web Conferencing Market: Key Market Drivers, Global, 2016–2020
4. Total Web Conferencing Market: Key Market Restraints, Global, 2016–2020
5. Total Web Conferencing Market: Revenue Forecast, Global, 2013–2020
6. Total Web Conferencing Market Forecast: Percent of Revenue by Segment, Global, 2015 and 2020
7. Hosted Web Conferencing Services Market: Market Engineering Measurements, Global, 2015
8. Hosted Web Conferencing Market: Revenue Forecast, Global, 2013–2020
9. Hosted Web Conferencing Services Market: Percent of Revenue by Region, Global, 2014 and 2015
10. Hosted Web Conferencing Market: Revenue Forecast by Region, Global, 2013–2020
11. Hosted Web Conferencing Services Market: Percent of Revenue by SMBs
12. Hosted Web Conferencing Services Market: Percent of Revenue by Vertical Market, Global, 2015
13. Hosted Web Conferencing Services Market: Top Use Cases, 2015
14. Hosted Web Conferencing Services Market: Average Selling Prices, Global, 2015
16. CSP-based Third-Party Web Conferencing Services Market: Revenue and Growth Rate, North America, 2013–2014
17. CSP-Based Third-Party Web Conferencing Services Market: Market Share by Revenue, North America, 2014
18. On-premises Web Conferencing Market: Market Engineering Measurements, Global, 2015
19. On-premises Web Conferencing Market: Revenue Forecast, Global, 2013–2020
20. On-premises Web Conferencing Market: Average Selling Prices, Global, 2015
21. Total Web Conferencing Market: Market Share by Revenue, Global, 2015
22. Total Web Conferencing Market: Market Share by Revenue, Global, 2014–2015
23. Hosted Web Conferencing Services Market: Market Share by Revenue, Global, 2015
24. Hosted Web Conferencing Services Market: Market Share by Revenue, Global, 2014–2015
25. On-premises Web Conferencing Market: Market Share by Revenue, Global, 2015
26. On-premises Web Conferencing Market: Market Share by Revenue, Global, 2014–2015
27. Total Web Conferencing Market: Competitive Structure, Global, 2015
28. Total Web Conferencing Market: Market Engineering Measurements, Global, 2015
29. Hosted Web Conferencing Services Market: Market Engineering Measurements, Global, 2015
30. On-premises Web Conferencing Market: Market Engineering Measurements, Global, 2015