Public Safety ICT in the North American Smart City
Public Safety ICT in the North American Smart City
A $10-billion Opportunity in 2016–2020
Research Code: NFC7-01-00-00-00
SKU: MX0137-NA-MR_18155
$6,000.00
Special Price $4,500.00 save 25 %
Description
AAs part of the transition to Smart Cities, municipal leaders have embraced technological solutions for public safety priorities in the field of law enforcement, emergency response, and courts and corrections. Many of these departments in the United States and Canada use outdated systems and protocols that are cumbersome and inefficient. ICT providers can help increase interoperability between agencies and improve public safety outcomes with connected systems that integrate disparate data sources and streamline service delivery. This study evaluates the size of the ICT public safety market and forecasts its annual growth potential until 2020.
RESEARCH: INFOGRAPHIC
This infographic presents a brief overview of the research, and highlights the key topics discussed in it.

Click image to view it in full size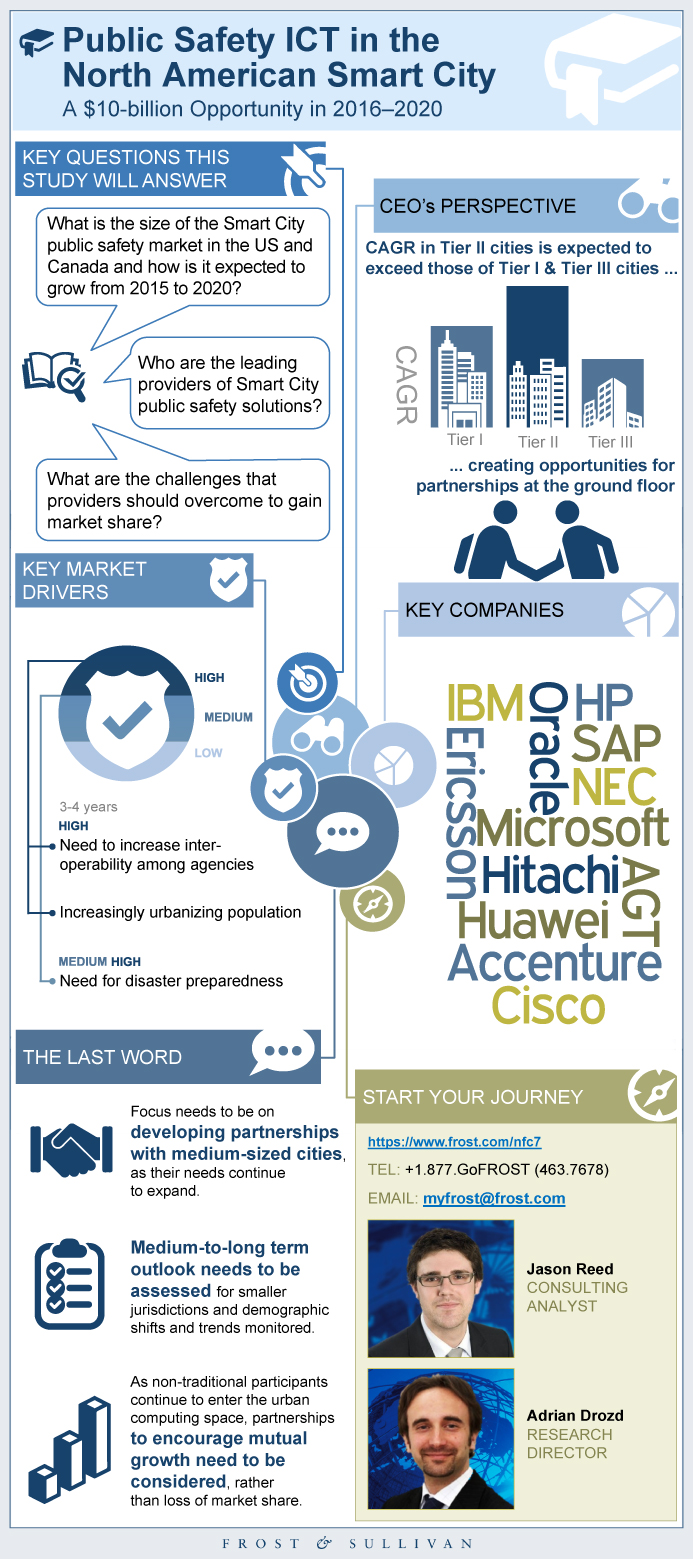 List of Figures
1. Public Safety Market: Market Engineering Measurements, North America, 2015
2. Public Safety Market: Total ICT System Expenditures, North America, 2015
3. Public Safety Market: ICT System Expenditure Forecast, North America, 2015–2020
4. Public Safety Market: Investment in ICT by Vertical, North America, 2015–2020
5. Public Safety Market: Market Share of Top 100 Cities, North America, 2015
6. Public Safety Market: ICT System Expenditure Forecast by Tier, North America, 2015–2020
7. Public Safety Market: ICT System Expenditure Growth Forecast by Tier, North America, 2016–2020
8. Public Safety Market: Local Government Public Safety Spending, United States, 2012–2015
9. Public Safety Market: Local Government Public Safety Spending, North America, 2015
10. Public Safety Market: Local Governments ICT System Expenditures, North America, 2015
11. Public Safety Market: Expenditure Breakdown by Department, North America, 2015
12. Public Safety Market: ICT System Expenditure Forecast, North America, 2015–2020
13. Law Enforcement Market: ICT System Expenditure Forecast, North America, 2015–2020
14. Emergency Response Market: ICT System Expenditure Forecast, North America, 2015–2020
15. Courts and Corrections Market: ICT System Expenditure Forecast, North America, 2015–2020
16. Public Safety Market: Relative Share of ICT Expenditures, Tier I Cities, 2015
17. Public Safety Market: ICT System Expenditure Forecast, Tier I Cities, 2015–2020
18. Law Enforcement Market: ICT System Expenditure Forecast, Tier I Cities, 2015–2020
19. Fire and Emergency Response Market: ICT System Expenditure Forecast, Tier I Cities, 2015–2020
20. Courts and Corrections Market: ICT System Expenditure Forecast, Tier I Cities, 2015–2020
21. Public Safety Market: Relative Share of ICT Expenditures, Tier II Cities, 2015
22. Public Safety Market: ICT System Expenditure Forecast, Tier II Cities, 2015–2020
23. Law Enforcement Market: ICT System Expenditure Forecast, Tier II Cities, 2015–2020
24. Fire and Emergency Response Market: ICT System Expenditure Forecast, Tier II Cities, 2015–2020
25. Courts and Corrections Market: ICT System Expenditure Forecast, Tier II Cities, 2015–2020
26. Public Safety Market: Relative Share of ICT Expenditures, Tier III Cities, 2015
27. Law Enforcement Market: ICT System Expenditure Forecast, Tier III Cities, 2015–2020
28. Fire and Emergency Response Market: ICT System Expenditure Forecast, Tier III Cities, 2015–2020

List of Charts
1. Public Safety Segment Overview
2. Public Safety Market: Key Market Drivers, North America, 2016–2020
3. Public Safety Market: Key Market Restraints, North America, 2016–2020
4. Law Enforcement Market: Key Market Drivers, North America, 2016–2020
5. Law Enforcement Market: Key Market Restraints, North America, 2016–2020
6. Emergency Response Market: Key Market Drivers, North America, 2016–2020
7. Emergency Response Market: Key Market Restraints, North America, 2016–2020
8. Courts and Corrections Market: Key Market Drivers, North America, 2016–2020
9. Courts and Corrections Market: Key Market Restraints, North America, 2016–2020
10. Public Safety Market: Key Market Drivers, Tier I Cities, 2016–2020
11. Public Safety Market: Key Market Restraints, Tier I Cities, 2016–2020
12. Law Enforcement Market: Key Market Drivers, Tier I Cities, 2016–2020
13. Law Enforcement Market: Key Market Restraints, Tier I Cities, 2016–2020
14. Fire and Emergency Response Market: Key Market Drivers, Tier I Cities, 2016–2020
15. Fire and Emergency Response Market: Key Market Restraints, Tier I Cities, 2016–2020
16. Courts and Corrections Market: Key Market Drivers, Tier I Cities, 2016–2020
17. Courts and Corrections Market: Key Market Restraints, Tier I Cities, 2016–2020
18. Sample of Tier II Cities
19. Public Safety Market: Key Market Drivers, Tier II Cities, 2016–2020
20. Public Safety Market: Key Market Restraints, Tier II Cities, 2016–2020
21. Law Enforcement Market: Key Market Drivers, Tier II Cities, 2016–2020
22. Law Enforcement Market: Key Market Restraints, Tier II Cities, 2016–2020
23. Fire and Emergency Response Market: Key Market Drivers, Tier II Cities, 2016–2020
24. Fire and Emergency Response Market: Key Market Restraints, Tier II Cities, 2016–2020
25. Courts and Corrections Market: Key Market Drivers, Tier II Cities, 2016–2020
26. Courts and Corrections Market: Key Market Restraints, Tier II Cities, 2016–2020
27. Sample of Tier III Cities
28. Public Safety Market: Key Market Drivers, Tier III Cities, 2016–2020
29. Public Safety Market: Key Market Restraints, Tier III Cities, 2016–2020
30. Public Safety Market: ICT System Expenditure Forecast, Tier III Cities, 2015–2020
31. Law Enforcement Market: Key Market Drivers, Tier III Cities, 2016–2020
32. Law Enforcement Market: Key Market Restraints, Tier III Cities, 2016–2020
33. Fire and Emergency Response Market: Key Market Drivers, Tier III Cities, 2016–2020
34. Fire and Emergency Response Market: Key Market Restraints, Tier III Cities, 2016–2020
35. Courts and Corrections Market: Key Market Drivers, Tier III Cities, 2016–2020
36. IBM Intelligent Operations Center—Summary of Capabilities
37. IBM i2 Command and Operations Solutions
38. Cisco Public Safety Solution Overview
39. Microsoft CityNext in Public Safety Context