Analysis of Global Desalination Market
Analysis of Global Desalination Market
Increasing Global Water Scarcity Owing to Rapid Industrialisation and Urbanisation Fuels Market Growth
Research Code: MAA0-01-00-00-00
SKU: EN00024-GL-MR_00752
$6,950.00
Special Price $5,212.50 save 25 %
Description
The research service analyses the global desalination plant market. It provides the major drivers and restraints for setting up a desalination plant, the market revenue forecast till 2019, the key regions contributing to the market growth, and the technologies that are likely to be dominant during the forecast period. Based on current statistics, only 1% of the global population receives water from desalination. However, the United Nations expects 14% of the global population to receive water from desalination by 2025. Based on technology, the market has been segmented into reverse osmosis (RO), electrodialysis (ED)/ electrodeionization (EDI), thermal, and other technologies that include forward osmosis, nanofiltration, solar desalination, and so on.
RESEARCH: INFOGRAPHIC
This infographic presents a brief overview of the research, and highlights the key topics discussed in it.

Click image to view it in full size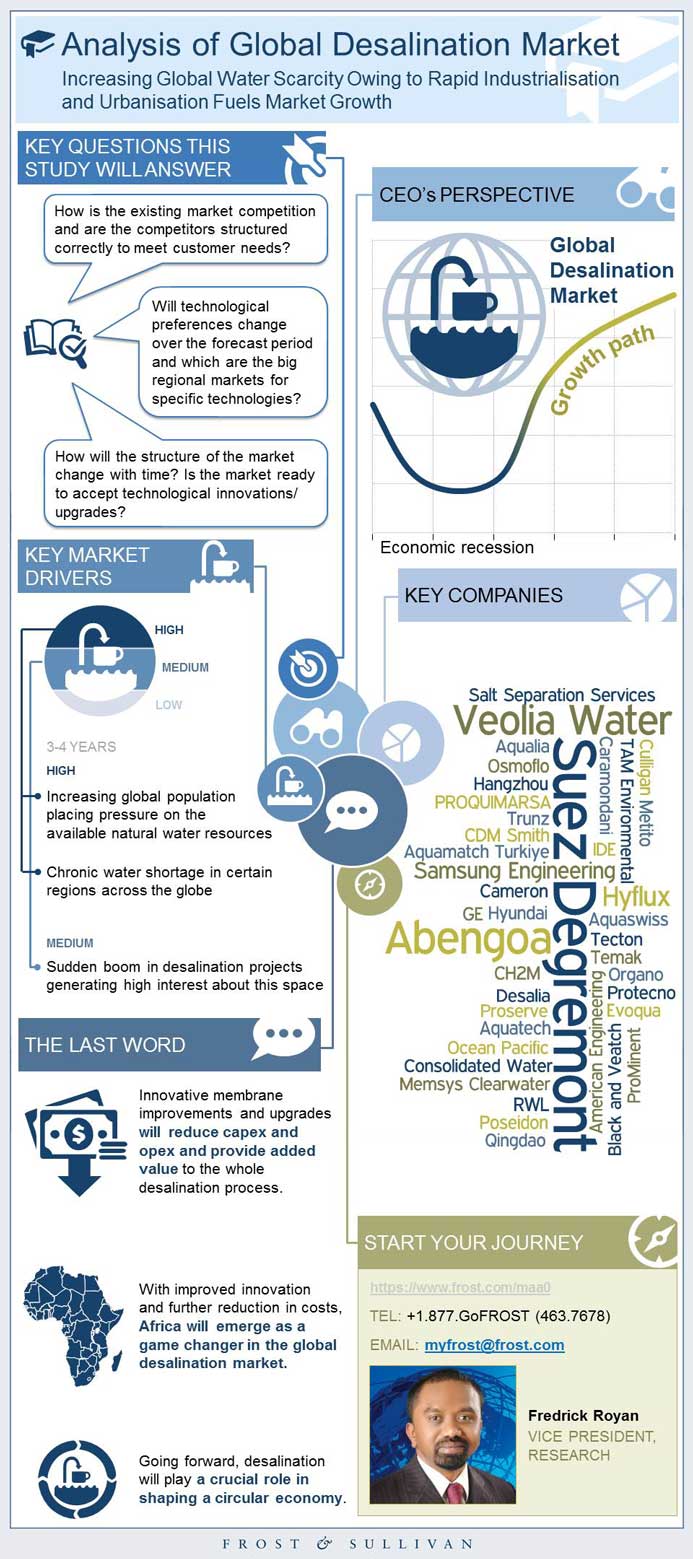 Key Findings
Market Engineering Measurements
CEO's Perspective
Market Overview
Market Definitions
Market Scope
Market Value Chain Analysis
Market Segmentation
Market Drivers
Market Restraints
Forecasts and Trends—Total Desalination Market
Market Share
Market Share Analysis
Competitive Environment
Competitive Factors and Assessment
Americas Region Key Findings
Americas Forecast
Percent Revenue Forecast
Market Share
Market Share Analysis
Competitive Environment
MEA Region Key Findings
Revenue Forecast
Percent Revenue Forecast
Market Share
Market Share Analysis
Competitive Environment
Europe Region Key Findings
Revenue Forecast
Percent Revenue Forecast
Market Share
Market Share Analysis
Competitive Environment
APAC Region Key Findings
Revenue Forecast
Percent Revenue Forecast
Market Share
Market Share Analysis
Competitive Environment
3 Big Predictions
Legal Disclaimer
Market Engineering Methodology

List of Figures
1. Total Desalination Market: Key Market Drivers, Global, 2016–2019
2. Total Desalination Market: Key Market Restraints, Global, 2016–2019
3. Total Desalination Market: Market Engineering Measurements, Global, 2015
4. Total Desalination Market: Revenue Forecast by Region, Global, 2011–2019
5. Total Desalination Market: Company Market Share Analysis of Top 5 Participants, Global, 2014
6. Total Desalination Market: Competitive Structure, Global, 2014
7. Desalination Market: Company Market Share Analysis of Top 5 Participants, Americas, 2014
8. Desalination Market: Competitive Structure, Americas, 2014
9. Desalination Market: Company Market Share Analysis of Top 5 Participants, MEA, 2014
10. Desalination Market: Competitive Structure, MEA, 2014
11. Desalination Market: Company Market Share Analysis of Top 5 Participants, Europe, 2014
12. Desalination Market: Competitive Structure, Europe, 2014
13. Desalination Market: Company Market Share Analysis of Top 5 Participants, APAC, 2014
14. Desalination Market: Competitive Structure, APAC, 2014

List of Charts
1. Total Desalination Market: Market Engineering Measurements, Global, 2015
2. Total Desalination Market: Percent Revenue Breakdown, Global, 2015
3. Total Desalination Market: Revenue Forecast, Global, 2011–2019
4. Total Desalination Market: Percent Revenue Forecast by Region, Global, 2011–2019
5. Total Desalination Market: Percent Revenue Forecast by Technology Type, Global, 2011–2019
6. Total Desalination Market: Percent Share of Plant Capacities in Terms of Contracts, Global, 2014
7. Desalination Market: Revenue Forecast, Americas, 2011–2019
8. Desalination Market: Percent Revenue Forecast by Sector, Americas, 2011–2019
9. Desalination Market: Percent Revenue Forecast by Technology Type, Americas, 2011–2019
10. Desalination Market: Percent Share of Plant Capacities in Terms of Contracts, Americas, 2014
11. Desalination Market: Revenue Forecast, MEA, 2011–2019
12. Desalination Plant Market: Percent Revenue Forecast by Sector, MEA, 2011–2019
13. Desalination Plant Market: Percent Revenue Forecast by Technology Type, MEA, 2011–2019
14. Desalination Market: Percent Share of Plant Capacities in Terms of Contracts, MEA, 2014
15. Desalination Market: Revenue Forecast, Europe, 2011–2019
16. Desalination Plant Market: Percent Revenue Forecast by Sector, Europe, 2011–2019
17. Desalination Plant Market: Percent Revenue Forecast by Technology Type, Europe, 2011–2019
18. Desalination Market: Percent Share of Plant Capacities in Terms of Contracts, Europe, 2014
19. Desalination Market: Revenue Forecast, APAC, 2011–2019
20. Desalination Plant Market: Percent Revenue Forecast by Sector, APAC, 2011–2019
21. Desalination Plant Market: Percent Revenue Forecast by Technology Type, APAC, 2011–2019
22. Desalination Market: Percent Share of Plant Capacities in Terms of Contracts, APAC, 2014