Analysis of the Asia-Pacific Gas Detection Market, Forecast to 2021
Analysis of the Asia-Pacific Gas Detection Market, Forecast to 2021
Portable Gas Detectors are Positioned to Experience the Fastest Growth
Research Code: P974-01-00-00-00
SKU: PP00155-AP-MR_19851
$4,950.00
Special Price $3,712.50 save 25 %
Description
Research Scope:

• Market trends and strategic recommendations (fixed detectors, portable detectors, detector tubes)
• Regional trends (Australia and New Zealand, Indonesia, Singapore, Malaysia, Thailand, the Philippines, Vietnam)
• Industry vertical trends (oil and gas, mining and metals, chemicals and petrochemicals, water and wastewater, utilities, food and beverage)
• Analysis by segment, region, and industry vertical has been provided with revenue forecast from 2013 to 2021.

Major market drivers and restraints, material and technology trends, and regulatory outlook impacting the market are also discussed in this study. Growth opportunities across various segments have also been provided.
Market share analysis has been provided at the total level and the segment level. Competitive factors and assessment has been discussed at the total level. Key market participants are Honeywell Analytics, MSA, Draeger, Industrial Scientific, Tyco Int., and Det-Tronics. The base year for the study is 2016; 2017 to 2021 is the forecast period.

Key Questions This Study Will Answer:

1. What is the growth potential of the market in Asia-Pacific?
2. What forces are driving market growth?
3. What product, pricing, technology, and regulatory trends are observed in the marketplace?
4. How will the dynamics of the industry and the regional diversities impact the market?
5. How is each product type expected to grow? What are the factors (market/regional/intrinsic-product) driving/restraining growth?
6. What strategies are adopted by manufacturers to differentiate their products from competitors to gain market share?

The Asia-Pacific (APAC) gas detection market generated a revenue of $135.4 million in 2016 and is expected to register a compound annual growth rate (CAGR) of 4.5% from 2016 to 2021.

Portable gas detectors are anticipated to record the fastest growth, at a CAGR of 4.6%. This will be largely driven by increasing demand from the water and wastewater treatment and the utilities end-user industries, apart from key end-user industries such as chemicals and petrochemicals, oil and gas, and mining and metals.

Oil and gas, chemicals and petrochemicals, and mining and metals accounted for 69.0% of the market revenue in 2016. While the percent share of chemicals and petrochemicals is likely to increase, the share of oil and gas and mining and metals is forecast to decline.

Australia led the market in terms of percent revenue share in 2016, accounting for 32.2%. It is expected to retain its position as it is likely to record a 5.0% CAGR from 2016 to 2021. The other regional hotspots are Indonesia (23.1%), Singapore (15.3%), and Malaysia (12.7%).
RESEARCH: INFOGRAPHIC
This infographic presents a brief overview of the research, and highlights the key topics discussed in it.

Click image to view it in full size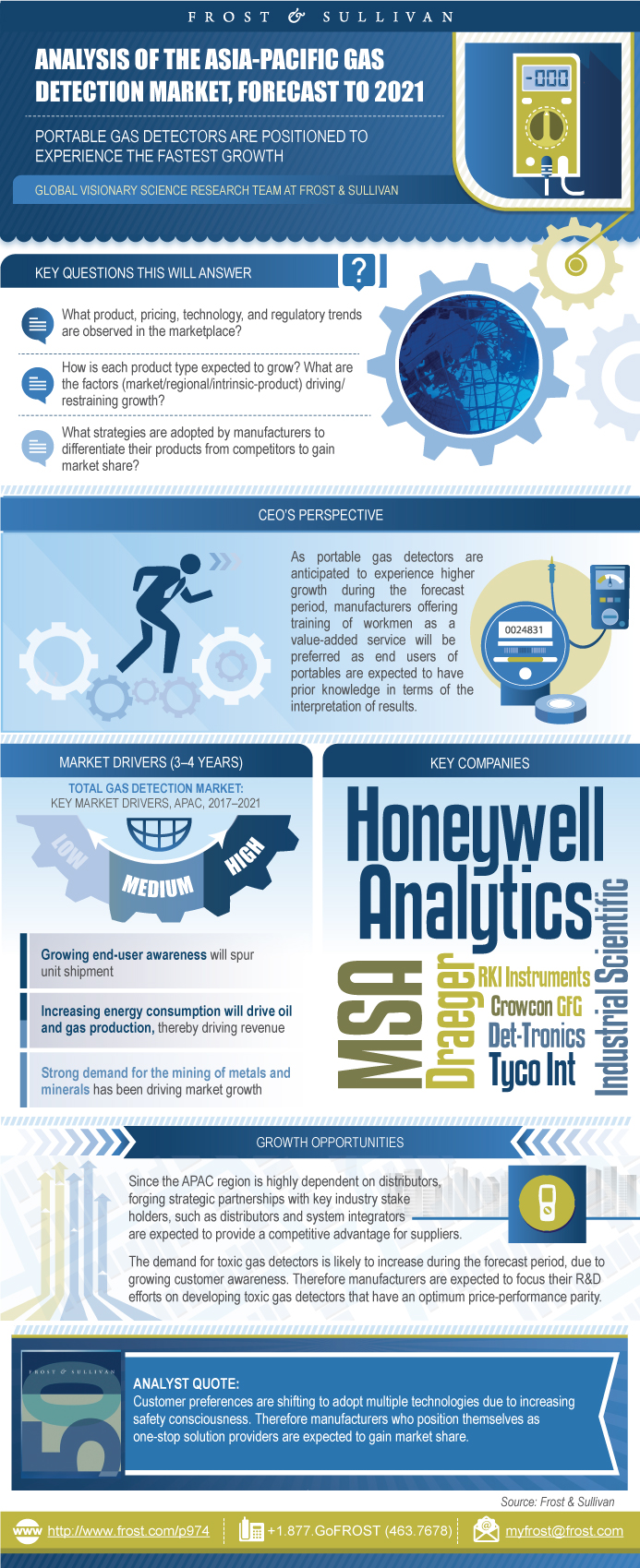 Key Findings
Market Engineering Measurements
CEO's Perspective
Market Overview
Geographic Scope
Segmentation
Definitions
Sensor Technology
Market Trends
Technology Trends
Regulatory Outlook
Market Segmentation
Market Distribution Channels
Market Drivers
Market Restraints
Market Engineering Measurements
Forecast Assumptions
Revenue Forecast
Unit Shipment Forecast
Percent Revenue Forecast by Product
Revenue Forecast by Product
Pricing Trends and Forecast
Percent Revenue Forecast by Country
Revenue Forecast by Country
Percent Revenue Forecast by End User
Revenue Forecast by End User
Market Share
Market Share Analysis
Competitive Environment
Competitive Factors and Assessment
Growth Opportunity 1—Forge Partnerships with System Integrators and Distributors
Growth Opportunity 2—Renting/Leasing Detectors is Emerging as a Key Business Model in the Region
Growth Opportunity 3—Wireless (Wi-Fi-enabled) Gas Detection Systems will Gain Traction in the Long Term
Strategic Imperatives for Success and Growth
Key Findings
Market Engineering Measurements
Revenue Forecast
Unit Shipment Forecast
Percent Revenue Forecast by Country
Revenue Forecast by Country
Percent Revenue Forecast by Type of Gas Detected
Revenue Forecast by Type of Gas Detected
Toxic Gas Detectors—Percent Revenue Forecast by Sensor Technology
Toxic Gas Detectors—Revenue Forecast by Sensor Technology
Combustible Gas Detectors—Percent Revenue Forecast by Sensor Technology
Combustible Gas Detectors—Revenue Forecast by Sensor Technology
Market Share
Market Share Analysis
Competitive Environment
Overview and Introduction
Key Findings
Market Engineering Measurements
Revenue Forecast
Unit Shipment Forecast
Percent Revenue Forecast by Country
Revenue Forecast by Country
Percent Revenue Forecast by Detector Type
Revenue Forecast by Detector Type
Single-gas Detectors—Percent Revenue Forecast by Product Type
Single-gas Detectors—Revenue Forecast by Product Type
Multi-gas Detectors—Percent Revenue Forecast by Product Type
Multi-gas Detectors—Revenue Forecast by Product Type
Market Share
Market Share Analysis
Competitive Environment
Key Findings
Market Engineering Measurements
Revenue Forecast
Unit Shipment Forecast
Percent Revenue Forecast by Country
Revenue Forecast by Country
Market Share
Market Share Analysis
Competitive Environment
The Last Word—3 Big Predictions
Legal Disclaimer
Market Engineering Methodology
Partial List of Companies Interviewed

List of Figures
1. Total Gas Detection Market: Sensor Technology, APAC, 2016
2. Total Gas Detection Market: Regulatory Outlook, APAC, 2016
3. Total Gas Detection Market: Key Market Drivers, APAC, 2017–2021
4. Total Gas Detection Market: Key Market Restraints, APAC, 2017–2021
5. Total Gas Detection Market: Market Engineering Measurements, APAC, 2016
6. Total Gas Detection Market: Revenue Forecast by Product, APAC, 2013–2021
7. Total Gas Detection Market: Average Price Range, APAC, 2016
8. Total Gas Detection Market: Revenue Forecast by Country, APAC, 2013–2021
9. Total Gas Detection Market: Revenue Forecast by End User, APAC, 2013–2021
10. Total Gas Detection Market: Market Share Analysis of Top 6 Participants, APAC, 2016
11. Total Gas Detection Market: Competitive Structure, APAC, 2016
12. Fixed Gas Detectors Market: Market Engineering Measurements, APAC, 2016
13. Fixed Gas Detectors Market: Revenue Forecast by Country, APAC, 2013–2021
14. Fixed Gas Detectors Market: Revenue Forecast by Type of Gas Detected, APAC, 2013–2021
15. Toxic Gas Detectors Market: Revenue Forecast by Sensor Technology, APAC, 2013–2021
16. Combustible Gas Detectors Market: Revenue Forecast by Sensor Technology, APAC, 2013–2021
17. Fixed Gas Detectors Market: Market Share Analysis of Top 5 Participants, APAC, 2016
18. Fixed Gas Detectors Market: Competitive Structure, APAC, 2016
19. Portable Gas Detectors Market: Market Engineering Measurements, APAC, 2016
20. Portable Gas Detectors Market: Revenue Forecast by Country, APAC, 2013–2021
21. Portable Gas Detectors Market: Revenue Forecast by Detector Type, APAC, 2013–2021
22. Single-gas Detectors Market: Revenue Forecast by Product Type, APAC, 2013–2021
23. Multi-gas Detectors Market: Revenue Forecast by Product Type, APAC, 2013–2021
24. Portable Gas Detectors Market: Market Share Analysis of Top 5 Participants, APAC, 2016
25. Portable Gas Detectors Market: Competitive Structure, APAC, 2016
26. Detector Tubes Market: Market Engineering Measurements, APAC, 2016
27. Detector Tubes Market: Revenue Forecast by Country, APAC, 2013–2021
28. Detector Tubes Market: Market Share Analysis of Top 3 Participants, APAC, 2016
29. Detector Tubes Market: Competitive Structure, APAC, 2016

List of Charts
1. Total Gas Detection Market: Market Engineering Measurements, APAC, 2016
2. Total Gas Detection Market: Market Segmentation, APAC, 2016
3. Total Gas Detection Market: Approximate Detection Range by Sensor Technology, APAC, 2016
4. Total Gas Detection Market: Percent Revenue by Product, APAC, 2016
5. Total Gas Detection Market: Percent Revenue Forecast by Product, APAC, 2021
6. Total Gas Detection Market: Distribution Channel Analysis, APAC, 2016
7. Total Gas Detection Market: Revenue Forecast, APAC, 2013–2021
8. Total Gas Detection Market: Unit Shipment Forecast, APAC, 2013–2021
9. Total Gas Detection Market: Percent Revenue by Product, APAC, 2016
10. Total Gas Detection Market: Percent Revenue Forecast by Product, APAC, 2021
11. Total Gas Detection Market: Average Price Range, APAC, 2013–2021
12. Total Gas Detection Market: Percent Revenue Forecast by Country, APAC, 2016
13. Total Gas Detection Market: Percent Revenue Forecast by Country, APAC, 2021
14. Total Gas Detection Market: Percent Revenue by End User, APAC, 2016
15. Total Gas Detection Market: Percent Revenue Forecast by End User, APAC, 2021
16. Total Gas Detection Market: Market Share by Revenue, APAC, 2016
17. Fixed Gas Detectors Market: Percent Sales Breakdown, APAC, 2016
18. Fixed Gas Detectors Market: Revenue Forecast, APAC, 2013–2021
19. Fixed Gas Detectors Market: Unit Shipment Forecast, APAC, 2013–2021
20. Fixed Gas Detectors Market: Percent Revenue by Country, APAC, 2016
21. Fixed Gas Detectors Market: Percent Revenue Forecast by Country, APAC, 2021
22. Fixed Gas Detectors Market: Percent Revenue by Type of Gas Detected, APAC, 2016
23. Fixed Gas Detectors Market: Percent Revenue Forecast by Type of Gas Detected, APAC, 2021
24. Toxic Gas Detectors Market: Percent Revenue by Sensor Technology, APAC, 2016
25. Toxic Gas Detectors Market: Percent Revenue Forecast by Sensor Technology, APAC, 2021
26. Combustible Gas Detectors Market: Percent Revenue by Sensor Technology, APAC, 2016
27. Combustible Gas Detectors Market: Percent Revenue Forecast by Sensor Technology, APAC, 2021
28. Fixed Gas Detectors Market: Market Share by Revenue, APAC, 2016
29. Portable Gas Detectors Market: Percent Sales Breakdown, APAC, 2016
30. Portable Gas Detectors Market: Revenue Forecast, APAC, 2013–2021
31. Portable Gas Detectors Market: Unit Shipment Forecast, APAC, 2013–2021
32. Portable Gas Detectors Market: Percent Revenue by Country, APAC, 2016
33. Portable Gas Detectors Market: Percent Revenue Forecast by Country, APAC, 2021
34. Portable Gas Detectors Market: Percent Revenue by Detector Type, APAC, 2016
35. Portable Gas Detectors Market: Percent Revenue Forecast by Detector Type, APAC, 2021
36. Single-gas Detectors Market: Percent Revenue by Product Type, APAC, 2016
37. Single-gas Detectors Market: Percent Revenue Forecast by Product Type, APAC, 2021
38. Multi-gas Detectors Market: Percent Revenue by Product Type, APAC, 2016
39. Multi-gas Detectors Market: Percent Revenue Forecast by Product Type, APAC, 2021
40. Portable Gas Detectors Market: Market Share by Revenue, APAC, 2016
41. Detector Tubes Market: Revenue Forecast, APAC, 2013–2021
42. Detector Tubes Market: Unit Shipment Forecast, APAC, 2013–2021
43. Detector Tubes Market: Percent Revenue by Country, APAC, 2016
44. Detector Tubes Market: Percent Revenue Forecast by Country, APAC, 2021
45. Detector Tubes Market: Market Share by Revenue, APAC, 2016