Analysis of the Cardiac Biomarker Diagnostics Market
Analysis of the Cardiac Biomarker Diagnostics Market
Emerging Biomarkers Disrupt and Spur Growth in the Heart Failure Segment
Research Code: NF62-01-00-00-00
SKU: HC02515-NA-MR_16636
$4,950.00
Special Price $3,712.50 save 25 %
Description
The cardiac biomarker diagnostics market is a niche but upcoming space in the United States. With regulations favoring personalized medicine and diagnostics, large companies are focusing their investment in researching and detecting new biomarkers to differentiate their products in this competitive market. In addition to growing prevalence rates that are driving this market, the increasing use of point-of-care testing devices at ambulatory and at clinical settings spurs this market in the region. The push towards a more patient centric and wholesome care places imaging companies that can provide a more comprehensive diagnostic product are at an advantage in this market.
RESEARCH: INFOGRAPHIC
This infographic presents a brief overview of the research, and highlights the key topics discussed in it.

Click image to view it in full size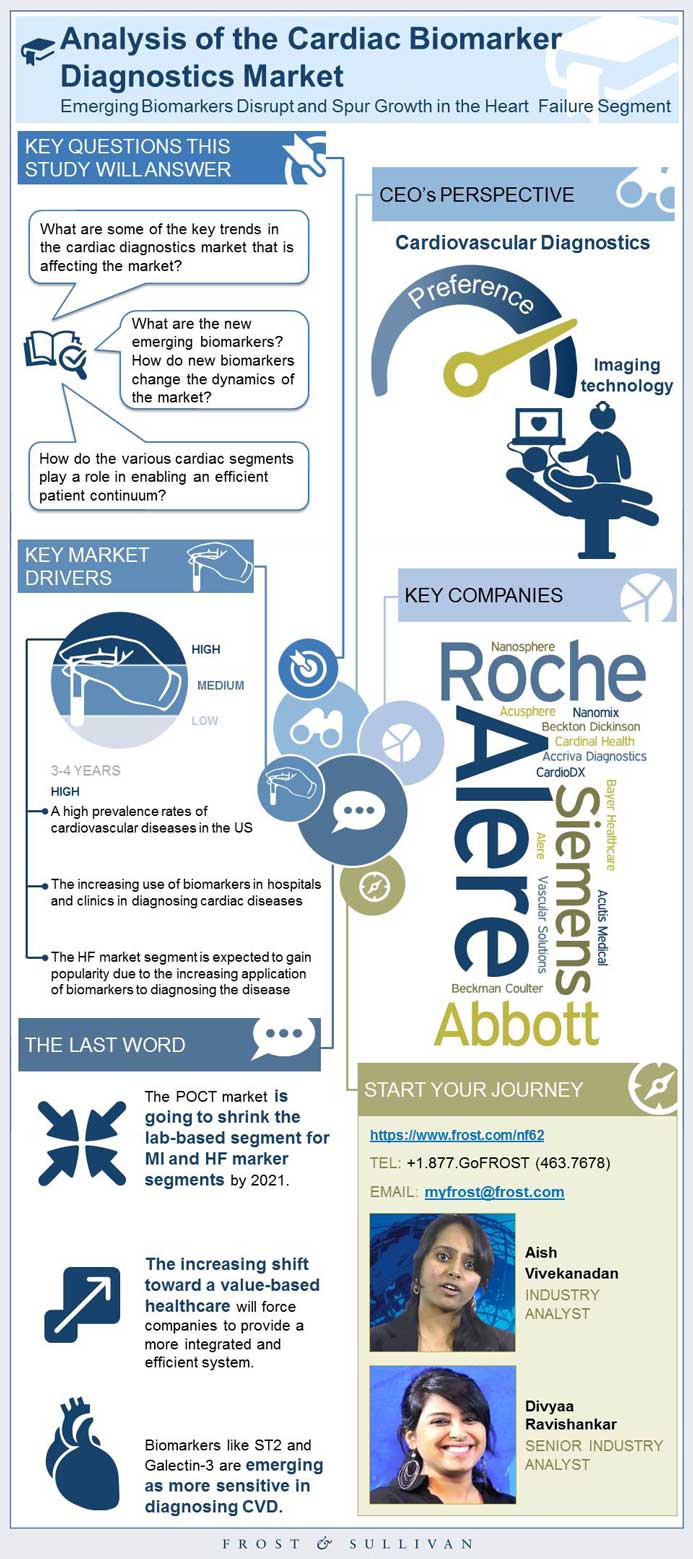 List of Figures
1. Total Cardiac Biomarker Diagnostics Market: Market Outlook, US, 2014 and 2024
2. Total Cardiac Biomarker Diagnostics Market: Game-changing Strategies, US, 2014
3. Total Cardiac Biomarker Diagnostics Market: Company Offerings, US, 2014
4. Total Cardiac Diagnostic Market: Notable Deals and Trends, US, 2011–2014
5. Total Cardiac Biomarker Diagnostics Market: Emerging Biomarkers, US, 2014
6. Total Cardiac Biomarker Diagnostics Market: Key Market Drivers, US, 2015–2021
7. Total Cardiac Biomarker Diagnostics Market: Key Market Restraints, US, 2015–2021
8. Total Cardiac Biomarker Diagnostics Market: Market Engineering Measurements, US, 2014
9. Total Cardiac Biomarker Diagnostics Market: Company Market Share Analysis of Top 4 Participants, US, 2014
10. Total Cardiac Biomarkers Diagnostics Market: Company Market Share Analysis of Top 4 Participants, US, 2014
11. Total Cardiac Biomarker Diagnostics Market: SWOT Analysis, US, 2014
12. POCT Segment: Market Engineering Measurements, US, 2014
13. POCT Segment: Company Segment Share Analysis of Top 4 Participants, US, 2014
14. POCT Segment: Top 10 Products, US, 2014
15. Lab-based Tests Segment: Market Engineering Measurements, US, 2014
16. Lab-based Tests Segment: Company Segment Share Analysis of Top 4 Participants, US, 2014
17. Lab-based Tests Segment: Company Segment Share Analysis of Top 4 Participants, US, 2014
18. Total Cardiac Diagnostic Industry: Notable Deals and Trends, US, 2011–2014
19. Total Cardiac Diagnostics Industry: Industry Overview, US, 2014
20. Total Cardiac Diagnostics Industry: Game-changing Strategies, US, 2014
21. Total Cardiac Diagnostics Industry: ECG, US, 2014
22. Total Cardiac Monitoring Market: Game-changing Strategies, US, 2014
23. Total Cardiac Diagnostic Industry: Companies Pursuing CDx Opportunities, US, 2013–2015

List of Charts
1. Total Cardiac Biomarker Diagnostics Market: Competitive Landscape, US, 2014
2. Total Cardiac Biomarker Diagnostics Market: Market Engineering Measurements, US, 2014
3. Total Cardiac Biomarker Diagnostics Market: Industry Overview, US, 2014
4. Total Cardiac Biomarker Diagnostics Market: Market Overview, US, 2014
5. Cardiac Diagnostics Prevalence Rate, US, 2009–2020
6. Total Cardiac Biomarker Diagnostics Market: Market Segmentation, US, 2014
7. Total Cardiac Biomarker Diagnostics Market: Adoptability of Biomarker Tests, US, 2014
8. Net Improvement in Predicting of 30-day Mortality, Emerging Biomarkers, US, 2014
9. Total Cardiac Biomarker Diagnostics Market: LDTs vs FDA-approved Tests, US, 2014
10. Cardiac Diagnostics Prevalence Rate, US, 2009–2020
11. Total Cardiac Biomarker Diagnostics Market: Revenue Forecast, US, 2011–2021
12. Total Cardiac Biomarker Diagnostics Market: Percent Revenue Breakdown by Segment, US, 2014
13. Total Cardiac Biomarker Diagnostics Market: Percent Revenue Breakdown by Segment, US, 2021
14. Total Cardiac Biomarker Diagnostics Market: Segment Lifecycle Analysis, US, 2014
15. Total Cardiac Biomarker Diagnostics Market: Percent Revenue Breakdown, US, 2014
16. POCT Segment: Revenue Forecast, US, 2011–2021
17. POCT Segment: Percent Revenue Breakdown, US, 2014
18. POCT Segment: Competitive Analysis, US, 2014
19. POCT Segment: Product Analysis, US, 2014
20. Lab-based Tests Segment: Revenue Forecast, US, 2011–2021
21. Lab-based Tests Segment: Revenue Forecast by Disease Type, US, 2011–2021
22. Lab-Based Tests Segment: Growth Rate by Cardiac Disease, US, 2011–2021
23. Lab-based Tests Segment: Product Analysis, US, 2014
24. Lab-based Tests Segment: Average Price, US, 2009–2021
25. Lab-based Tests Segment: Percent Revenue Breakdown, US, 2014
26. Lab-based Tests Segment: Competitive Analysis, US, 2014
27. Total Cardiac Diagnostics Market: Industry Overview, US, 2014
28. Total Cardiac Diagnostics Industry: Overview by Application, US, 2014
29. Total Cardiac Diagnostics Market: Patient Continuum, US, 2014
30. Total Cardiac Monitoring Market: Market Segmentation, US, 2014
31. Total Cardiac Monitoring Industry: Patient Continuum, US, 2014
32. Total Cardiac Diagnostic Industry: Pipeline Drugs for Each Cardiovascular Disease, US, 2013–2015