Analysis of the Fall Protection Equipment Market ASEAN & ANZ, 2014
Analysis of the Fall Protection Equipment Market ASEAN & ANZ, 2014
An Insight Into Market Trends and Business Intelligence
Research Code: P865-01-00-00-00
SKU: PP00138-AP-MR_17266
$4,950.00
Special Price $3,712.50 save 25 %
Description
Fall Protection Equipment (FPE) has always been a solution for workers at height in advanced countries. In Asia, Singapore, Australia, and New Zealand are such advanced countries whereas Malaysia, Thailand, the Philippines, Vietnam, and Indonesia are still developing and a different market dynamic is in place. Product segments covered are soft goods, hard goods, installed systems, access systems, and rescue equipment. The study also covers the different status in various end-user industries. Drivers and restraints for the fall protection equipment are also discussed and from these drivers and restraints, market forecast has been done. A competitive analysis elucidates major market participants and their market shares.
RESEARCH: INFOGRAPHIC
This infographic presents a brief overview of the research, and highlights the key topics discussed in it.

Click image to view it in full size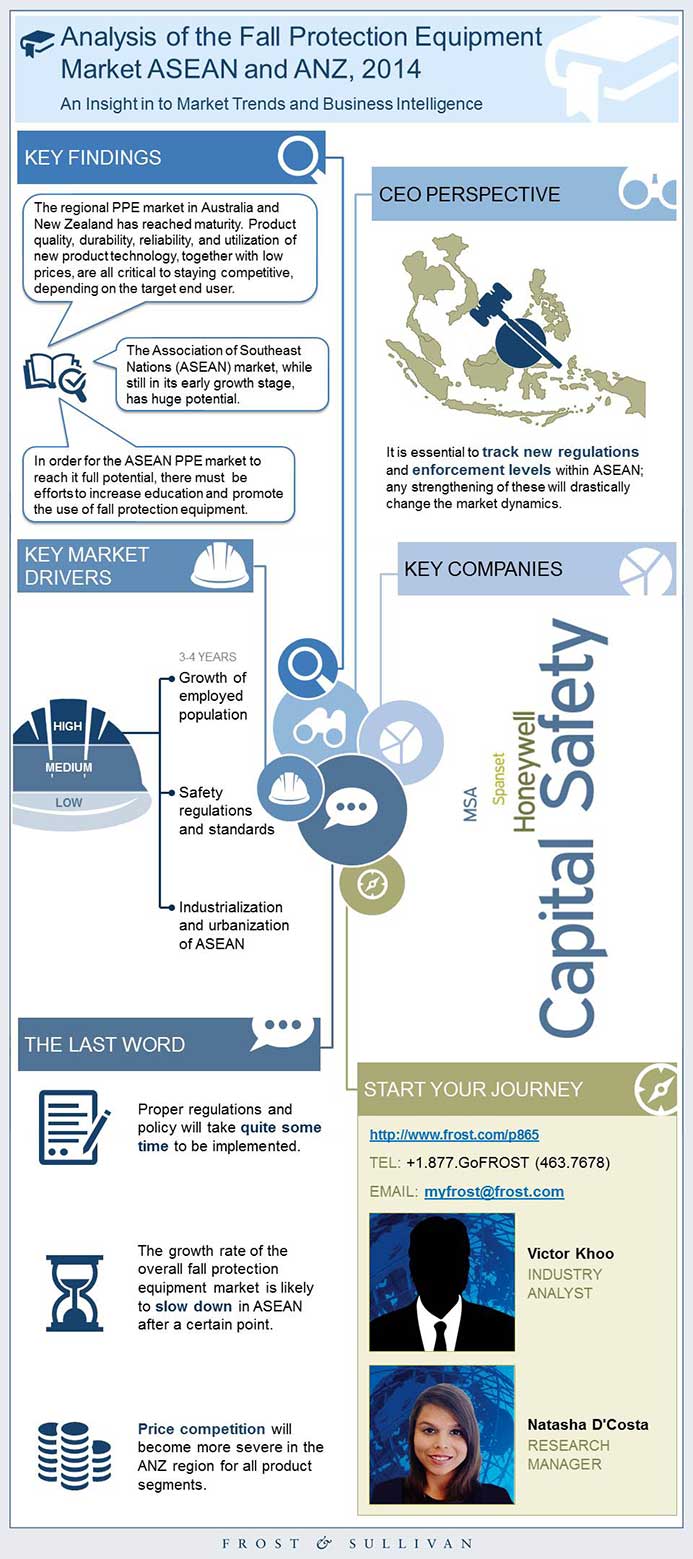 Key Findings
Market Engineering Measurements
CEO's Perspective
Market Definitions
Market Definitions (continued)
Market Definitions (continued)
Market Definitions (continued)
Market Definitions (continued)
ANZ Lifecycle Analysis by Product
ASEAN Lifecycle Analysis by Products
Vertical Market Definitions (continued)
ANZ Lifecycle Analysis by Vertical Market
ASEAN Lifecycle Analysis by Vertical Market
Key Questions this Study will Answer
Market Segmentation
Market Distribution Channels
Drivers and Restraints
Drivers Explained
Drivers Explained (continued)
Drivers Explained (continued)
Restraints Explained
Restraints Explained (continued)
Restraints Explained (continued)
Market Engineering Measurements
Forecast Assumptions
Revenue Forecast
Revenue Forecast Discussion
Revenue Forecast Discussion (continued)
Percent Revenue Forecast by Region
Percent Revenue Forecast by Region (continued)
Revenue Forecast by Region
Revenue Forecast Discussion by Region
Revenue Forecast Discussion by Region (continued)
Percent Revenue Forecast by Vertical Market
Percent Revenue Forecast by Vertical Market (continued)
Vertical Market—Percent Revenue by Segment
Vertical Market—Percent Revenue by Segment (continued)
Revenue Forecast by Vertical Market
Revenue Forecast Discussion by Vertical Market
Revenue Forecast Discussion by Vertical Market (continued)
Revenue Forecast Discussion by Vertical Market (continued)
Revenue Forecast Discussion by Vertical Market (continued)
Revenue Forecast Discussion by Vertical Market (continued)
Revenue Forecast Discussion by Vertical Market (continued)
Market Share
Market Share Analysis
Competitive Environment
Competitive Factors and Assessment
Segment Overview
Soft Goods Segment Key Findings
Market Engineering Measurements
Revenue Forecast
Percent Revenue Forecast by Region
Revenue Forecast by Region
Growth Opportunity by Region
Revenue Forecast Discussion
Revenue Forecast Discussion (continued)
Percent Revenue Forecast by Vertical Market
Percent Revenue Forecast by Vertical Market (continued)
Revenue Forecast by Vertical Market
Revenue Forecast Discussion by Vertical Market
Segment Overview
Hard Goods Segment Key Findings
Market Engineering Measurements
Revenue Forecast
Percent Revenue Forecast by Region
Revenue Forecast by Region
Growth Opportunity by Region
Revenue Forecast Discussion
Revenue Forecast Discussion (continued)
Percent Revenue Forecast by Vertical Market
Percent Revenue Forecast by Vertical Market (continued)
Revenue Forecast by Vertical Market
Revenue Forecast Discussion by Vertical Market
Segment Overview
Installed System Segment Key Findings
Market Engineering Measurements
Revenue Forecast
Percent Revenue Forecast by Region
Revenue Forecast by Region
Growth Opportunity by Region
Revenue Forecast Discussion
Percent Revenue Forecast by Vertical Market
Percent Revenue Forecast by Vertical Market (continued)
Revenue Forecast by Vertical Market
Revenue Forecast Discussion by Vertical Market
Segment Overview
Access System Segment Key Findings
Market Engineering Measurements
Revenue Forecast
Percent Revenue Forecast by Region
Revenue Forecast by Region
Growth Opportunity by Region
Revenue Forecast Discussion
Percent Revenue Forecast by Vertical Market
Percent Revenue Forecast by Vertical Market (continued)
Revenue Forecast by Vertical Market
Revenue Forecast Discussion by Vertical Market
Segment Overview
Rescue Equipment Segment Key Findings
Market Engineering Measurements
Revenue Forecast
Percent Revenue Forecast by Region
Revenue Forecast by Region
Growth Opportunity by Region
Revenue Forecast Discussion
Percent Revenue Forecast by Vertical Market
Percent Revenue Forecast by Vertical Market (continued)
Revenue Forecast by Vertical Market
Revenue Forecast Discussion by Vertical Market
The Last Word—3 Big Predictions
Legal Disclaimer
Market Engineering Methodology