Analysis of the Global Material Testing Equipment Market
Analysis of the Global Material Testing Equipment Market
Pushing Though Despite Economic and Technological Obstacles
Research Code: NF76-01-00-00-00
SKU: TM0340-GL-MR_18350
$6,000.00
Special Price $4,500.00 save 25 %
Description
Owing to concerns over the global economy, the material test equipment market has witnessed a gradual slowdown. However, a strong performance from the automotive industry is expected to revive this industry in the mid-term of the forecast period. The rate of technological evolution of these systems still remains a concern. As manufacturing graduates toward concepts such as smart manufacturing and Industry 4.0, the ability of these systems to keep pace with these changes is questionable and could impact the long-term growth prospects of this market.
RESEARCH: INFOGRAPHIC
This infographic presents a brief overview of the research, and highlights the key topics discussed in it.

Click image to view it in full size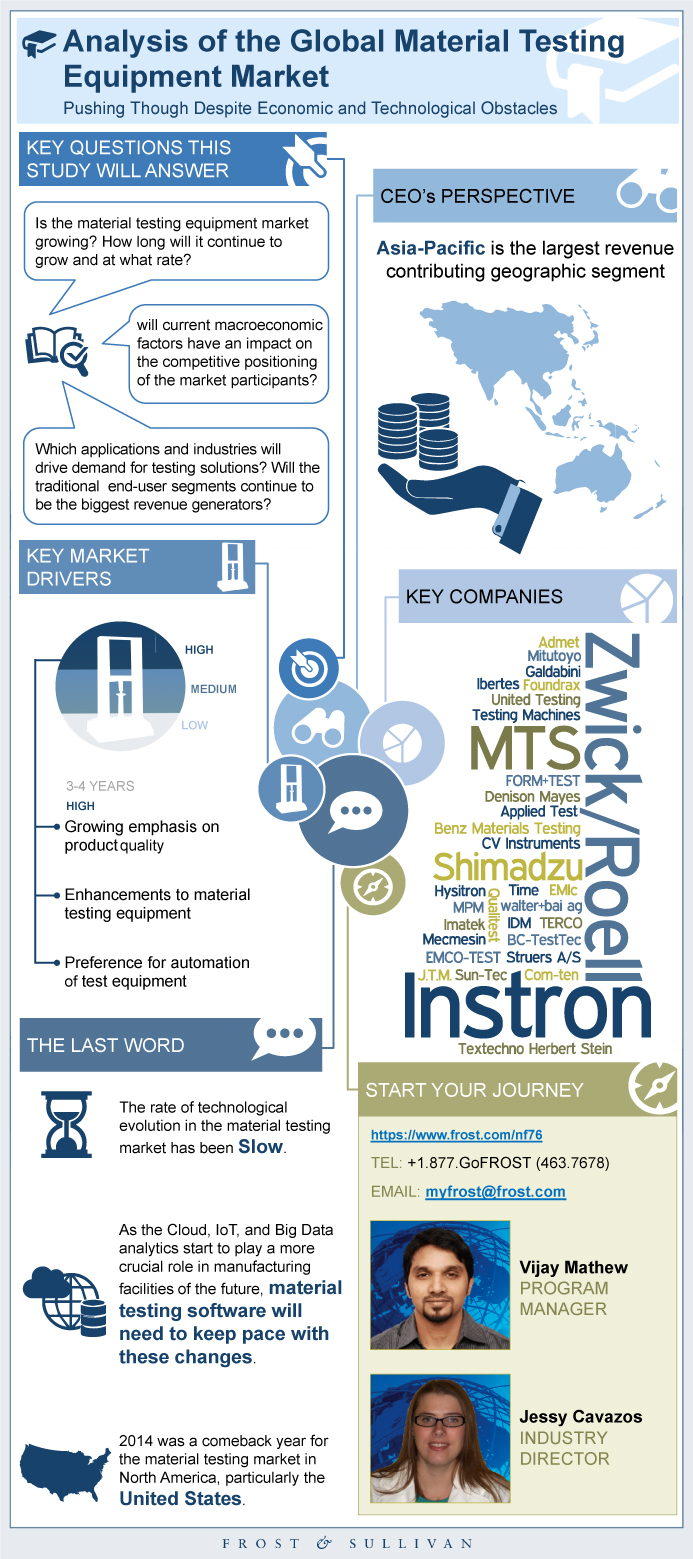 Key Findings
Market Engineering Measurements
CEO's Perspective
Market Definitions
Market Segmentation
Market Drivers
Market Restraints
Market Engineering Measurements
Revenue Forecast
Global Snapshot
Revenue Forecast by Region
Revenue Forecast by Vertical Market
Market Share
Competitive Environment
Competitive Factors and Assessment
Market Engineering Measurements
Universal Testing Machines Segment Key Findings
Revenue Forecast
Percent Revenue Forecast by Region
Revenue Forecast by Region
Percent Revenue Forecast by Vertical Market
Market Share
Market Share Analysis
Competitive Environment
Market Engineering Measurements
Servohydraulic Testing Machines Segment Key Findings
Revenue Forecast
Percent Revenue Forecast by Region
Revenue Forecast by Region
Percent Revenue Forecast by Vertical Market
Market Share
Market Share Analysis
Competitive Environment
Market Engineering Measurements
Hardness Test Equipment Segment Key Findings
Revenue Forecast
Percent Revenue Forecast by Region
Revenue Forecast by Region
Percent Revenue Forecast by Vertical Market
Market Share
Market Share Analysis
Market Engineering Measurements
Impact Test Equipment Segment Key Findings
Revenue Forecast
Percent Revenue Forecast by Region
Revenue Forecast by Region
Percent Revenue Forecast by Vertical Market
Market Share
Market Share Analysis
3 Big Predictions
Legal Disclaimer
Market Engineering Methodology
List of Companies in "Others"

List of Figures
1. Total Material Testing Equipment Market: Key Market Drivers, Global, 2015–2019
2. Total Material Testing Equipment Market: Key Market Restraints, Global, 2015–2019
3. Total Material Testing Equipment Market: Market Engineering Measurements, Global, 2014
4. Total Material Testing Equipment Market: Revenue Forecast by Region, Global, 2012–2019
5. Total Material Testing Equipment Market: Percent Revenue Breakdown, Global, 2014
6. Total Material Testing Equipment Market: Company Market Share Analysis of Top 4 Participants, Global, 2014
7. Total Material Testing Equipment Market: Competitive Structure, Global, 2014
8. Universal Testing Machines Segment: Market Engineering Measurements, Global, 2014
9. Universal Testing Machines Segment: Revenue Forecast by Region, 2012–2019
10. Universal Testing Machines Segment: Revenue Forecast by Region, Global, 2012–2019
11. Universal Testing Machines Segment: Company Market Share Analysis of Top 3 Participants, Global, 2014
12. Universal Testing Machines Segment: Competitive Structure, Global, 2014
13. Servohydraulic Testing Machines Segment: Market Engineering Measurements, Global, 2014
14. Servohydraulic Testing Machines Segment: Revenue Forecast by Region, Global, 2012–2019
15. Servohydraulic Testing Machines Segment: Revenue Forecast by Region, Global, 2012–2019
16. Servohydraulic Testing Machines Segment: Company Market Share Analysis of Top 4 Participants, Global, 2014
17. Servohydraulic Testing Machines Segment: Competitive Structure, Global, 2014
18. Hardness Test Equipment Segment: Market Engineering Measurements, Global, 2014
19. Hardness Test Equipment Segment: Revenue Forecast by Region, Global, 2012–2019
20. Hardness Test Equipment Segment: Revenue Forecast by Region, Global, 2012–2019
21. Hardness Test Equipment Segment: Company Market Share Analysis of Top 3 Participants, Global, 2014
22. Hardness Test Equipment Segment: Competitive Structure, Global, 2014
23. Impact Test Equipment Segment: Market Engineering Measurements, Global, 2014
24. Impact Test Equipment Segment: Revenue Forecast by Region, Global, 2012–2019
25. Impact Test Equipment Segment: Revenue Forecast by Region, Global, 2012–2019
26. Impact Test Equipment Segment: Company Market Share Analysis of Top 3 Participants Global, 2014
27. Impact Test Equipment Segment: Competitive Structure, Global, 2014

List of Charts
1. Total Material Testing Equipment Market: Market Engineering Measurements, Global, 2014
2. Total Material Testing Equipment Market: Percent Revenue Breakdown, Global, 2014
3. Passenger Vehicle Production, Crude Oil Prices, Global GDP, Global, 1970–2014
4. Total Material Testing Equipment Market: Revenue Forecast, Global, 2012–2019
5. Total Material Testing Equipment Market: Revenue Forecast by Region, Global, 2014 and 2015
6. Total Material Testing Equipment Market: Percent Revenue Forecast by Region, Global, 2012–2019
7. Total Material Testing Equipment Market: Revenue Forecast by Vertical Market, Global, 2012–2019
8. Total Material Testing Equipment Market: Percent Revenue Breakdown, Global, 2014
9. Total Material Testing Equipment Market: Percent Market Share Trend, Global, 2010 and 2014
10. Material Testing Equipment Segment: Percent of Revenue by Product Type, Global, 2014
11. Universal Testing Machines Segment: Revenue Forecast, Global, 2012–2019
12. Universal Testing Machines Segment: Percent Revenue Forecast by Region, 2012–2019
13. Universal Testing Machines Segment: Percent Revenue Forecast by Region, Global, 2012–2019
14. Universal Testing Machines Segment: Percent Sales Breakdown, Global, 2014
15. Material Testing Equipment Segment: Percent of Revenue by Product Type, Global, 2014
16. Servohydraulic Testing Machines Segment: Revenue Forecast, 2012–2019, Global
17. Servohydraulic Testing Machines Segment: Percent Revenue Forecast by Region, Global, 2012–2019
18. Servohydraulic Testing Machines Segment: Percent Revenue Forecast by Region, Global, 2012–2019
19. Servohydraulic Testing Machines Segment: Percent of Sales, Global, 2014
20. Material Testing Equipment Segment: Percent of Revenue by Product Type, Global, 2014
21. Hardness Test Equipment Segment: Percent Revenue Forecast by Region, Global, 2012–2019
22. Hardness Test Equipment Segment: Percent Revenue Forecast by Region, Global, 2012–2019
23. Hardness Test Equipment Segment: Percent of Sales, Global, 2014
24. Material Testing Equipment Segment: Percent of Revenue by Product Type, Global, 2014
25. Impact Test Equipment Segment: Revenue Forecast, Global, 2012–2019
26. Impact Test Equipment Segment: Percent Revenue Forecast by Region, Global, 2012–2019
27. Impact Test Equipment Segment: Percent Revenue Forecast by Region, Global, 2012–2019
28. Impact Test Equipment Segment: Percent of Sales, Global, 2014