Analysis of the Global Oil-free Compressors Market
Analysis of the Global Oil-free Compressors Market
Demand for Oil-free Compressed Air in Critical Applications of Food & Beverage and Life Sciences to Drive Growth
Research Code: MAF6-01-00-00-00
SKU: IA00087-GL-MR_02238
$4,950.00
Special Price $3,712.50 save 25 %
Description
This study provides an analysis of the global oil-free compressors market. The market drivers and restraints have been provided for the forecast period, which runs through to 2020, with 2014 as the base year. The revenue and market share have been discussed with regard to the type of compressor (which includes rotary screw, reciprocating, and centrifugal oil-free compressors) as well as end users. The key end-user industries including food and beverage, life sciences, power generation, electronics, textiles, and others have also been analysed. A detailed regional breakdown covering North America, Europe, the Middle East and Africa, Asia-Pacific, and Latin America has been provided with revenue forecasts for both product type and end-user industries. Trends by technology and pricing have also been discussed.
RESEARCH: INFOGRAPHIC
This infographic presents a brief overview of the research, and highlights the key topics discussed in it.

Click image to view it in full size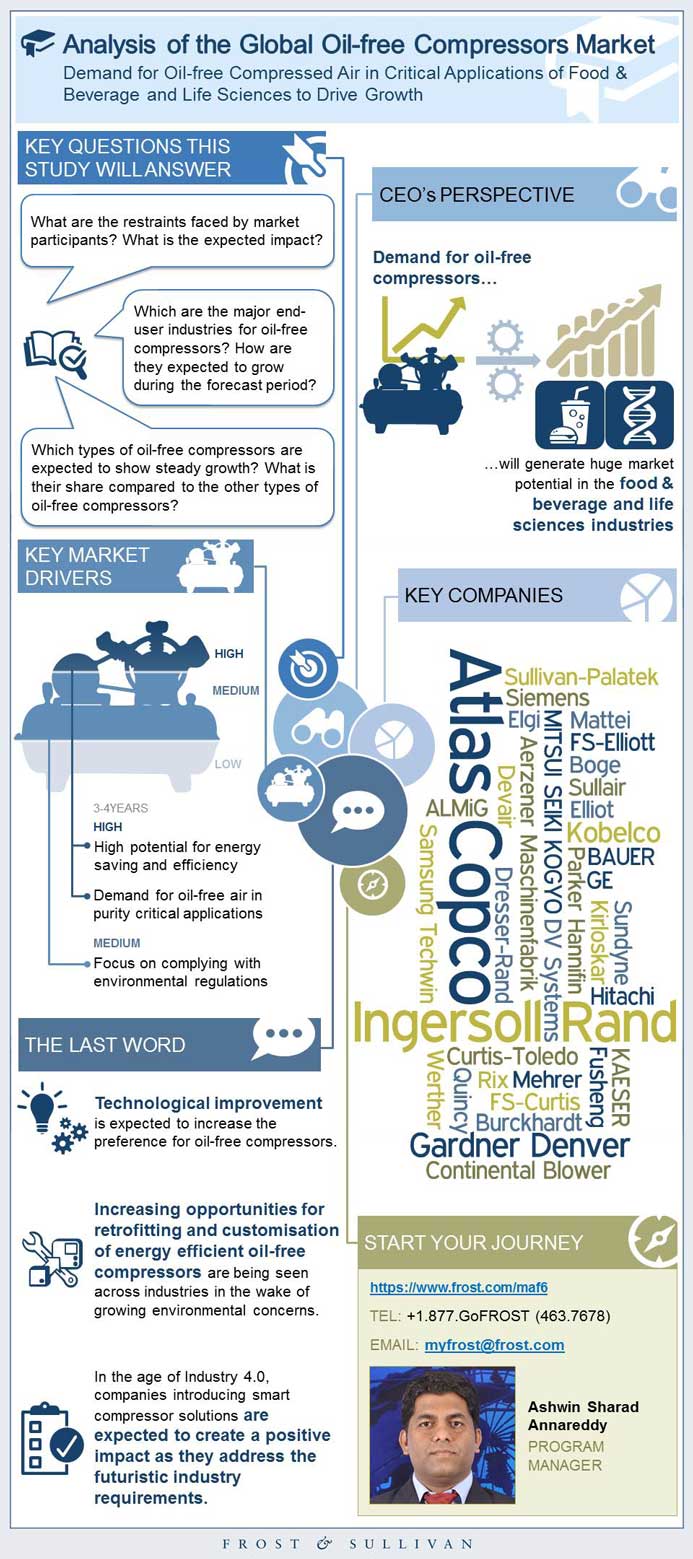 Key Findings
Market Engineering Measurements
CEO's Perspective
Research Methodology
Market Scope—Oil-free Compressors Market
Market Definitions
Secondary Research
Primary Research
Analysis and Forecasts
Market Segmentation
Research Metrics
Product Segmentation
End-user Segmentation
Regional Segmentation
Revenue and Market Share
Market Distribution Channel Analysis, Global, 2014
Key Market Drivers, Global, 2015–2019
Key Market Restraints, Global, 2015–2019
Market Engineering Measurements
Revenue Forecast
Percent Revenue Forecast by Product
Revenue Forecast by Product
Percent Revenue Forecast by Region
Revenue Forecast by Region
Percent Revenue Forecast by End User
Revenue Forecast by End User
Trends by Technology
Pricing Trends and Forecast Discussion
Market Share
Market Share Analysis
Total Oil-free Compressors Market: Competitive Structure, Global, 2014'
Competitive Factors and Assessment
Revenue Forecast
Percent Revenue Forecast by Product
Revenue Forecast by Product
Percent Revenue Forecast by End User
Revenue Forecast by End User
Revenue Forecast
Percent Revenue Forecast by Product
Revenue Forecast by Product
Percent Revenue Forecast by End User
Revenue Forecast by End User
Revenue Forecast
Percent Revenue Forecast by Product
Revenue Forecast by Product
Percent Revenue Forecast by End User
Revenue Forecast by End User
Revenue Forecast
Percent Revenue Forecast by Product
Revenue Forecast by Product
Percent Revenue Forecast by End User
Revenue Forecast by End User
Revenue Forecast
Percent Revenue Forecast by Product
Revenue Forecast by Product
Percent Revenue Forecast by End User
Revenue Forecast by End User
3 Big Predictions
Legal Disclaimer
Market Engineering Methodology
Other Participants in the Market
Partial List of Companies

List of Figures
1. Total Oil-free Compressors Market: Market Engineering Measurements, Global, 2014
2. Total Oil-free Compressors Market: Revenue Forecast by Product, Global, 2011–2019
3. Total Oil-free Compressors Market: Revenue Forecast By Region, Global, 2011–2019
4. Total Oil-free Compressors Market: Revenue Forecast by End User, Global, 2011–2019
5. Oil-free Compressors Market: Average Price for Air Compressors, Global, 2014
6. Total Oil-free Compressor Market: Company Market Share Analysis of Top 4 Participants, Global, 2014
7. Oil-free Compressors Market: Revenue Forecast by Product Type, North America, 2011–2019
8. Oil-free Compressors Market: Revenue Forecast by End User, North America, 2011–2019
9. Oil-free Compressors Market: Revenue Forecast by Product, Europe, 2011–2019
10. Oil-free Compressors Market: Revenue Forecast by End User, Europe, 2011–2019
11. Oil-free Compressors Market: Revenue Forecast by Product, Middle East and Africa, 2011–2019
12. Oil-free Compressors Market: Revenue Forecast by End User, Middle East and Africa, 2011–2019
13. Oil-free Compressors Market: Revenue Forecast by Product, APAC, 2011–2019
14. Oil-free Compressors Market: Revenue Forecast by End User, APAC, 2011–2019
15. Oil-free Compressors Market: Revenue Forecast by Product, Latin America, 2011–2019
16. Oil-free Compressors Market: Revenue Forecast by End User, Latin America, 2011–2019

List of Charts
1. Total Oil-free Compressors Market: Market Engineering Measurements, Global, 2014
2. Total Oil-free Compressors Market: Percent Revenue by Product, Global, 2014
3. Total Oil-free Compressors Market: Revenue by Product, Global, 2014
4. Total Oil-free Compressors Market: Percent Revenue by Region, Global, 2014
5. Total Oil-free Compressors Market: Revenue by Region, Global, 2014
6. Total Oil-free Compressors Market: Percent Revenue by End User, Global, 2014
7. Total Oil-free Compressors Market: Revenue by End User, Global, 2014
8. Total Oil-free Compressors Market: Revenue Forecast, Global, 2011–2019
9. Total Oil-free Compressors Market: Percent Revenue Forecast by Product, Global, 2011–2019
10. Total Oil-free Compressors Market: Percent Revenue Forecast by Region, Global, 2011–2019
11. Total Oil-free Compressors Market: Percent Revenue Forecast by End User, Global, 2011–2019
12. Oil-free Compressors Market: Split by Lifecycle Cost, Global, 2014
13. Total Oil-free Compressors Market: Percent Revenue Breakdown, Global, 2014
14. Oil-free Compressors Market: Revenue Forecast, North America, 2011–2019
15. Oil-free Compressors Market: Percent Revenue Forecast by Product, North America, 2011–2019
16. Oil-free Compressors Market: Percent Revenue Forecast by End User, North America, 2011–2019
17. Oil-free Compressors Market: Revenue Forecast, Europe, 2011–2019
18. Oil-free Compressors Market: Percent Revenue Forecast by Product, Europe, 2011–2019
19. Oil-free Compressors Market: Percent Revenue Forecast by End User, Europe, 2011–2019
20. Oil-free Compressors Market: Revenue Forecast, Middle East and Africa, 2011–2019
21. Oil-free Compressors Market: Percent Revenue Forecast by Product, Middle East and Africa, 2011–2019
22. Oil-free Compressors Market: Percent Revenue Forecast by End User, Middle East and Africa, 2011–2019
23. Oil-free Compressors Market: Revenue Forecast, APAC, 2011–2019
24. Oil-free Compressors Market: Percent Revenue Forecast by Product, APAC, 2011–2019
25. Oil-free Compressors Market: Percent Revenue Forecast by End User, APAC, 2011–2019
26. Oil-free Compressors Market: Revenue Forecast, Latin America, 2011–2019
27. Oil-free Compressors Market: Percent Revenue Forecast by Product, Latin America, 2011–2019
28. Oil-free Compressors Market: Percent Revenue Forecast by End User, Latin America, 2011–2019