Analysis of the Personal Protective Equipment Market in Australia and New Zealand
Analysis of the Personal Protective Equipment Market in Australia and New Zealand
Construction Sector Growth Drives Demand
Research Code: P850-01-00-00-00
SKU: PP00137-AP-MR_17242
$4,950.00
Special Price $3,712.50 save 25 %
Description
The total personal protective equipment (PPE) market will experience a drastic slow down between 2012 and 2014 due the decline in one of the key end-user sectors—mining. Nevertheless, the robust growth in construction sector, especially in residential construction, is expected to sustain demand from 2015 to 2021. Niche PPE suppliers that cater to specialised PPE markets have gained market share. In this challenging environment where organic growth is subdued, competitors are compelled to explore different channels to realise growth, such as value chain extension, mergers and acquisitions, and product range expansions.
RESEARCH: INFOGRAPHIC
This infographic presents a brief overview of the research, and highlights the key topics discussed in it.

Click image to view it in full size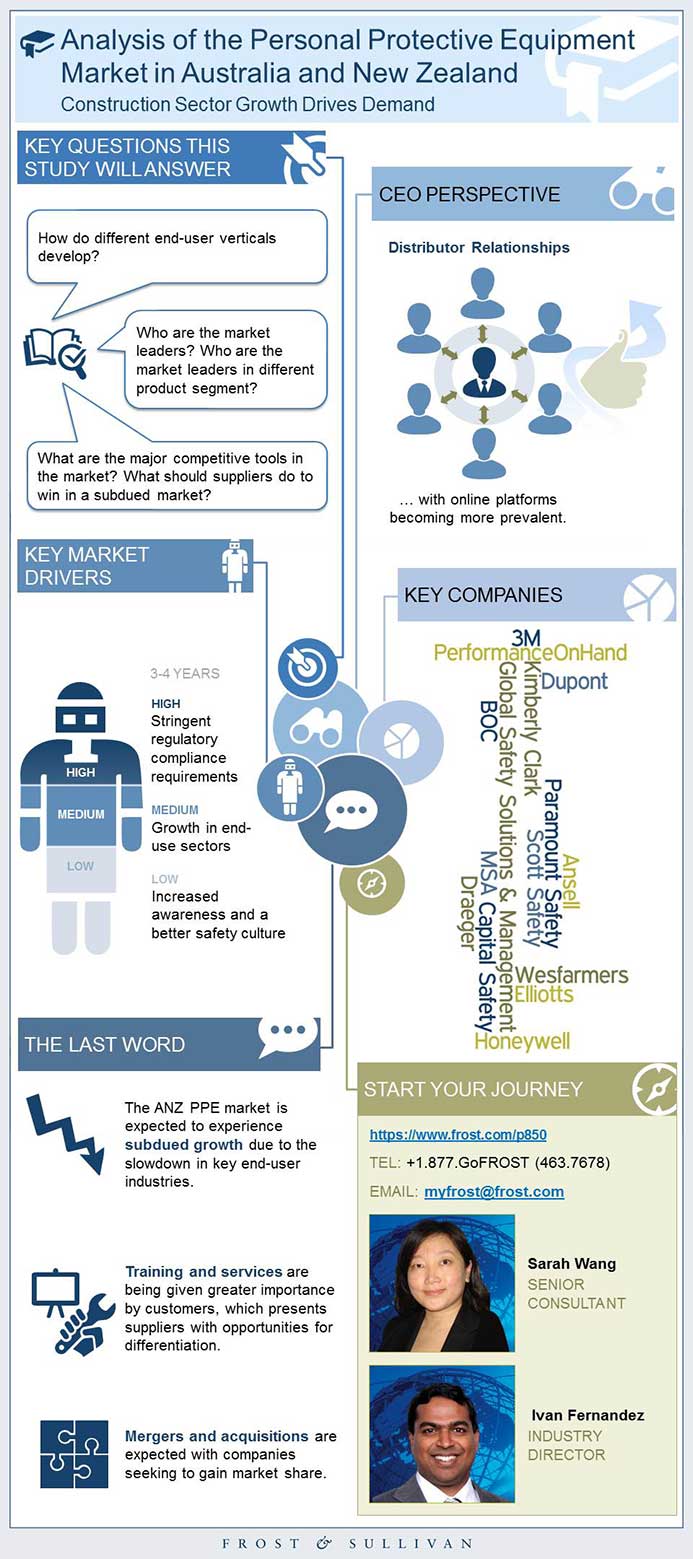 Key Findings
Key Findings (continued)
Market Engineering Measurements
Market Engineering Measurements (continued)
CEO's Perspective
Market Scope and Definitions
Regions Covered
Product Segments Covered
Product Segments Covered (continued)
Product Segments Covered (continued)
Market Definition
Market Definition (continued)
Key Questions This Study Will Answer
Mega Trend Impact on PPE Market
Mega Trend Impact on PPE Market Explained
Regulatory Framework
Regulatory Framework (continued)
Regulatory Framework (continued)
Regulatory Framework (continued)
Regulatory Framework—New Zealand
Regulatory Framework—New Zealand (continued)
Regulatory Framework—New Zealand (continued)
Drivers—Impact and Duration
Drivers Explained
Drivers Explained (continued)
Drivers Explained (continued)
Restraints—Impact and Duration
Restraints Explained
Restraints Explained (continued)
Market Overview
Market Overview (continued)
Workplace Safety by Industry—Australia
Workplace Safety by Mechanism—Australia
Workplace Safety by Industry—New Zealand
Workplace Safety by Type of Injury—New Zealand
Market Engineering Measurements
Market Engineering Measurements (continued)
Revenue Forecast
Percent Revenue Forecast by Region
Percent Revenue Forecast by Major End-user Sector Industry
Revenue Forecast by Major End-user Sector Industry
Percent Revenue Split by Product Segment
Revenue Forecast by Product Segment
Revenue Forecast Discussion
Distribution Structure
Distribution Structure Discussion
Distribution Structure Discussion (continued)
Distribution Structure Discussion (continued)
Distribution Structure Discussion (continued)
Distribution Structure Discussion (continued)
Competitive Analysis
Competitive Analysis (continued)
Competitive Analysis (continued)
Above-the-Neck Protection Segment—Overview
Head Protection Segment—Overview
Head Protection Segment—Market Engineering Measurements
Head Protection Segment—Percent Revenue Split by Product Type
Head Protection Segment—Pricing Analysis
Head Protection Segment—Competitive Environment
Eye Protection Segment—Overview
Eye Protection Segment—Market Engineering Measurements
Eye Protection Segment—Percent Revenue Split by Product Type
Eye Protection Segment—Pricing Analysis
Eye Protection Segment—Competitive Environment
Hearing Protection Segment—Overview
Hearing Protection Segment—Market Engineering Measurements
Hearing Protection Segment—Percent Revenue Split by Product Type
Hearing Protection Segment—Pricing Analysis
Hearing Protection Segment—Competitive Environment
Respiratory Protection Segment—Overview
Respiratory Protection Segment—Overview (continued)
Respiratory Protection Segment—Overview (continued)
Respiratory Protection Segment—Market Engineering Measurements
Respiratory Protection Segment—Percent Revenue Split by Product Type
Respiratory Protection Segment—Lifecycle Analysis
Respiratory Protection Segment—Pricing Analysis
Respiratory Protection Segment—Competitive Environment
Hand Protection Segment—Overview
Respiratory Protection Segment—Competitive Environment
Hand Protection Segment—Percent Revenue Split by Product Type
Hand Protection Segment—Pricing Analysis
Hand Protection Segment—Competitive Environment
Protective Clothing Segment—Overview
Protective Clothing Segment—Overview (continued)
Protective Clothing Segment—Market Engineering Measurements
Protective Clothing Segment—Percent Revenue Split by Product Type
Protective Clothing Segment—Pricing Analysis
Protective Clothing Segment—Competitive Environment
Foot Protection Segment—Overview
Foot Protection Segment—Market Engineering Measurements
Foot Protection Segment—Percent Revenue Split by Product Type
Foot Protection Segment—Pricing Analysis
Foot Protection Segment—Competitive Environment
Fall Protection Segment—Overview
Fall Protection Segment—Market Engineering Measurements
Fall Protection Segment—Percent Revenue Split by Component
Fall Protection Segment—Pricing Analysis
Fall Protection Segment—Competitive Environment
Competitor Profiles
Competitor Profiles (continued)
Competitor Profiles (continued)
Competitor Profiles (continued)
The Last Word—Three Predictions
Legal Disclaimer
Australian Manufacturing Industry Overview
Australian Manufacturing Industry Overview (continued)
Australian Manufacturing Industry Overview (continued)
Australian Forestry Industry Overview
Australian Forestry Industry Overview (continued)
Australian Construction Sector Overview
Australian Construction Sector Overview (continued)
Australian Construction Outlook by Segment
Australian Construction Outlook by Segment (continued)
Australian Mining Industry Overview
Australian Mining Industry Overview (continued)
Australian Mining Industry Overview (continued)
Australian Oil & Gas Sectors
Australian Oil & Gas Sectors (continued)
Australian Oil & Gas Sectors (continued)
New Zealand Industry Overview
New Zealand Industry Overview (continued)
New Zealand Industry Overview (continued)
New Zealand Industry Overview (continued)
Market Engineering Methodology