Asia-Pacific Advanced Persistent Threat (APT) Solutions Market
Asia-Pacific Advanced Persistent Threat (APT) Solutions Market
The Fight Against Zero-day Attacks is Driving Adoption in Critical Industries
Research Code: P864-01-00-00-00
SKU: IT00802-AP-MR_02143
$13,500.00
Special Price $10,125.00 save 25 %
Description
This study analyzes the advanced persistent threat (APT) solutions market in Asia-Pacific and addresses the security technologies used to mitigate advanced malware exploiting zero-day vulnerabilities in an operating system or application. The market is in the nascent growth stage and is highly fragmented, with many vendors offering various solutions, thereby driving growth. Due to rising concerns about the increasing number of targeted and advanced attacks, APT solutions continued to gain traction among enterprises in Asia-Pacific in 2014. The increasing number of attacks that targeted critical infrastructure, such as industrial control systems (ICS), also drove the adoption of APT solutions.
Market size was estimated at $130.2 million in 2014, including on-premises products and cloud-based solutions.
RESEARCH: INFOGRAPHIC
This infographic presents a brief overview of the research, and highlights the key topics discussed in it.

Click image to view it in full size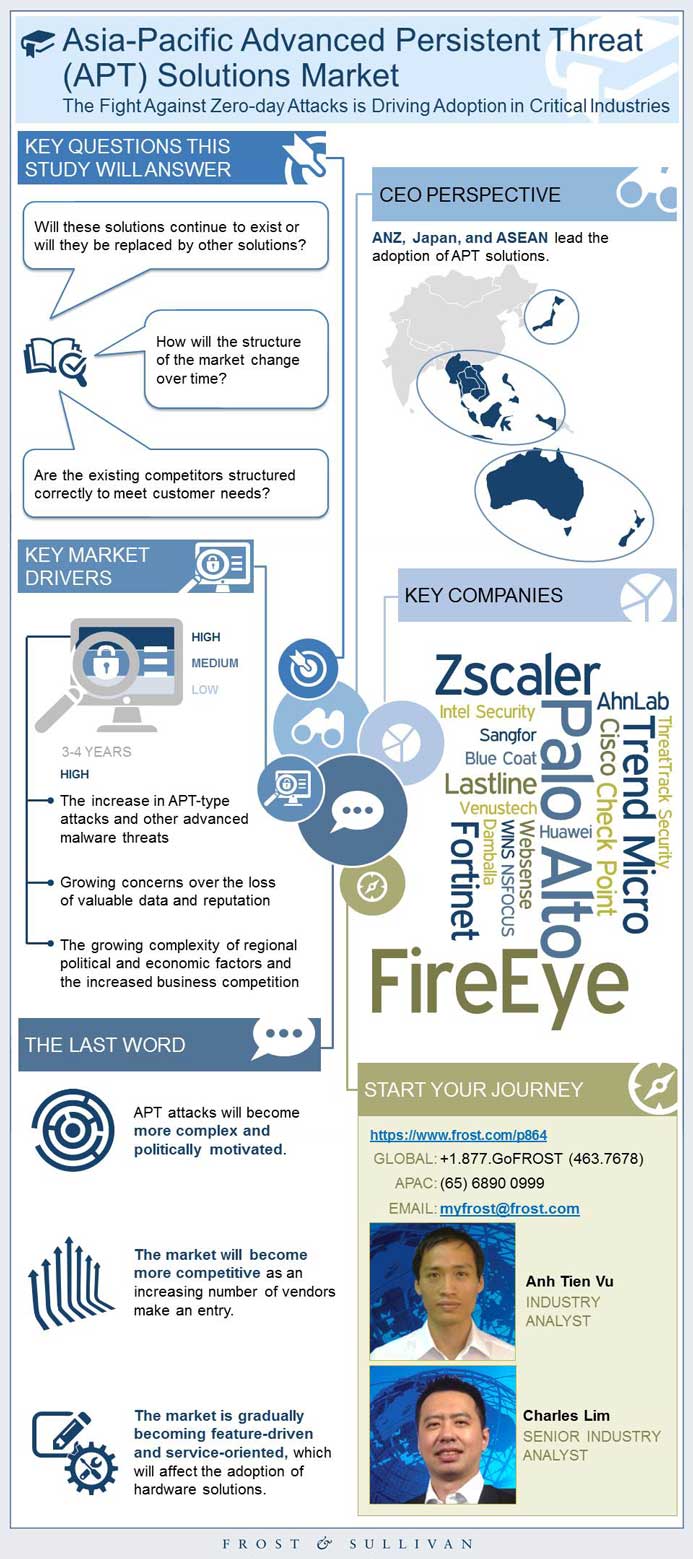 Executive Summary
Executive Summary (continued)
Executive Summary—Market Engineering Measurements
Executive Summary—Market Engineering Measurements (continued)
Executive Summary—CEO's Perspective
Market Definition of Commonly Used Terms
Market Definition of Commonly Used Terms (continued)
Market Definition—Taxonomy of an APT Solution
Market Definition—Taxonomy of an APT Solution (continued)
Market Definition—Taxonomy of an APT Solution (continued)
Market Definition—Taxonomy of an APT Solution (continued)
Market Definition—Understanding Threats and Solutions
Market Definition—Deployment Model (On-premises Solutions)
Market Definition—Deployment Model (Cloud-based Solutions)
Market Definition—Revenue Recognition
Market Overview—Key Market Trends
Market Overview—Key Market Trends (continued)
Market Overview—Research Methodology
Market Overview—Customer Segmentation
Market Overview—Geographical Coverage
Market Overview—Key Questions This Study Will Answer
Market Drivers
Drivers Explained
Drivers Explained (continued)
Market Restraints
Restraints Explained
Restraints Explained (continued)
Forecast Assumptions
Total APT Solutions Market—Revenue Forecast
On-premises Solution Segment—Revenue Forecast
Cloud-based Service Segment—Revenue Forecast
Revenue Forecast Discussion
Revenue Forecast Discussion (continued)
Demand Analysis by Segment
Demand Analysis by Vertical
Demand Analysis by Horizontal
Competitive Analysis—Market Share
Competitive Analysis—Market Share (continued)
Competitive Landscape Analysis
Competitive Landscape Analysis (continued)
Competitive Landscape Analysis (continued)
Competitive Landscape Analysis—FireEye
Competitive Landscape Analysis—FireEye (continued)
Competitive Landscape Analysis—FireEye (continued)
Competitive Landscape Analysis—FireEye (continued)
Competitive Landscape Analysis—FireEye (continued)
Competitive Landscape Analysis—Palo Alto Networks
Competitive Landscape Analysis—Palo Alto Networks (continued)
Competitive Landscape Analysis—Palo Alto Networks (continued)
Competitive Landscape Analysis—Zscaler
Competitive Landscape Analysis—Zscaler (continued)
Competitive Landscape Analysis—Zscaler (continued)
Competitive Landscape Analysis—Trend Micro
Competitive Landscape Analysis—Trend Micro (continued)
Competitive Landscape Analysis—Trend Micro (continued)
Competitive Landscape Analysis—Check Point
Competitive Landscape Analysis—Check Point (continued)
Competitive Landscape Analysis—Check Point (continued)
Competitive Landscape Analysis—Fortinet
Competitive Landscape Analysis—Fortinet (continued)
Competitive Landscape Analysis—Lastline
Competitive Landscape Analysis—Lastline (continued)
Competitive Landscape Analysis—Lastline (continued)
Competitive Landscape Analysis—Cisco
Competitive Landscape Analysis—Cisco (continued)
Competitive Landscape Analysis—Cisco (continued)
Competitive Landscape Analysis—Cisco (continued)
Competitive Landscape Analysis—AhnLab
Competitive Landscape Analysis—AhnLab (continued)
Competitive Landscape Analysis—Websense
Competitive Landscape Analysis—Websense (continued)
Competitive Landscape Analysis—Blue Coat
Competitive Landscape Analysis—Blue Coat (continued)
Competitive Landscape Analysis—Blue Coat (continued)
Competitive Landscape Analysis—Blue Coat (continued)
Competitive Landscape Analysis—Intel Security
Competitive Landscape Analysis—Intel Security (continued)
Competitive Landscape Analysis—Intel Security (continued)
Competitive Landscape Analysis—Intel Security (continued)
Competitive Landscape Analysis—Venustech
Competitive Landscape Analysis—NSFOCUS
Market Overview—Segmentation
Market Overview—Segmentation (continued)
ANZ—APT Solutions Market Revenue Forecast
ANZ—On-premises Solution Segment Revenue Forecast
ANZ—Cloud-based Service Segment Revenue Forecast
ANZ—Revenue Forecast Discussion
ASEAN—APT Solutions Market Revenue Forecast
ASEAN—On-premises Solution Segment Revenue Forecast
ASEAN—Cloud-based Service Segment Revenue Forecast
ASEAN—Revenue Forecast Discussion
ASEAN—Revenue Forecast Discussion (continued)
Greater China—APT Solutions Market Revenue Forecast
Greater China—On-premises Solution Segment Revenue Forecast
Greater China—Cloud-based Service Segment Revenue Forecast
Greater China—Revenue Forecast Discussion
Greater China—Revenue Forecast Discussion (continued)
India—APT Solutions Market Revenue Forecast
India—On-premises Solution Segment Revenue Forecast
India—Cloud-based Service Segment Revenue Forecast
India—Revenue Forecast Discussion
India—Revenue Forecast Discussion (continued)
Japan—APT Solutions Market Revenue Forecast
Japan—On-premises Solution Segment Revenue Forecast
Japan—Cloud-based Service Segment Revenue Forecast
Japan—Revenue Forecast Discussion
South Korea—APT Solutions Market Revenue Forecast
South Korea—On-Premises Solution Segment Revenue Forecast
South Korea—Cloud-based Service Segment Revenue Forecast
South Korea—Revenue Forecast Discussion
The Last Word—Analyst Summary
The Last Word—3 Big Predictions
Legal Disclaimer
Market Engineering Methodology
Market Engineering Measurements
Market Engineering Measurements (continued)