Asia-Pacific Web Application Firewall Market
Asia-Pacific Web Application Firewall Market
Increasing Attacks on the Application Layer are Driving the Market
Research Code: P863-01-00-00-00
SKU: IT00801-AP-MR_02142
$17,500.00
Special Price $13,125.00 save 25 %
Description
The Asia-Pacific (APAC) Web Application Firewall (WAF) market grew 34.0% from 2013, reaching a total market size of $155.9 million in 2014. The strong growth momentum was driven by increasing reliance on Web applications to cater to the rise in eCommerce and Internet banking activities over the past few years. The popularity of these activities has increased the number of users, as well as attack frequency—which drives the adoption of WAF solutions to protect business information for both enterprises and users. As a result, market revenue is anticipated to grow at a CAGR of 25.6% from 2014 to 2021.
RESEARCH: INFOGRAPHIC
This infographic presents a brief overview of the research, and highlights the key topics discussed in it.

Click image to view it in full size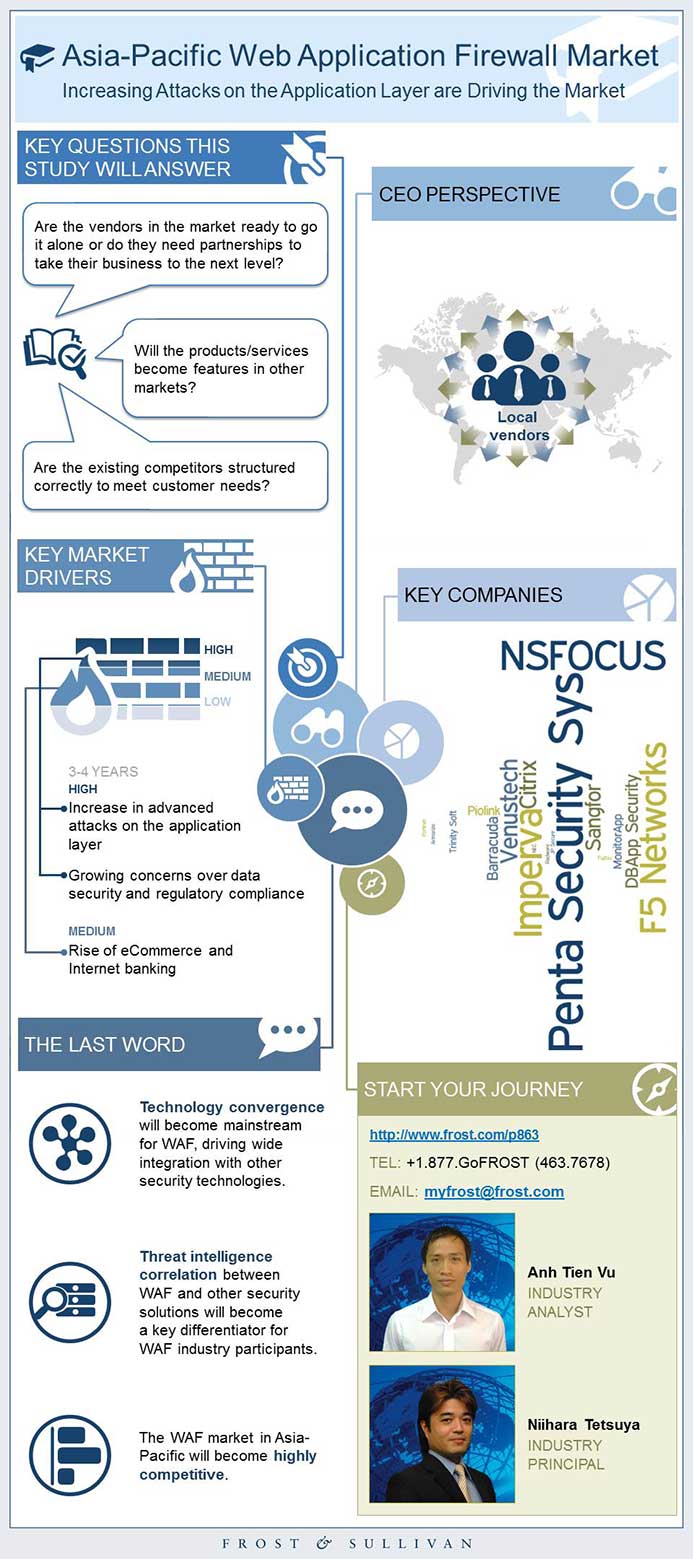 Executive Summary
Executive Summary (continued)
Executive Summary—Market Engineering Measurements
Executive Summary—Market Engineering Measurements (continued)
Executive Summary—CEO's Perspective
Market Overview—Definitions
Market Overview—Geographical Scope
Market Overview—Key Questions This Study Will Answer
Market Overview—Segmentation
Market Drivers
Drivers Explained
Drivers Explained (continued)
Market Restraints
Restraints Explained
Restraints Explained (continued)
Forecast Assumptions
Revenue Forecast
Revenue Forecast Discussion
Revenue Forecast Discussion (continued)
Revenue Forecast Discussion (continued)
Percent Revenue Forecast by Region
Revenue Forecast by Region
Percent of Revenue by Vertical Market
Percent of Revenue by Horizontal Market
Percent of Revenue by Technology
Market Share
Competitive Landscape Analysis
Competitive Landscape Analysis (continued)
Competitive Environment
ANZ Breakdown
Revenue Forecast
Revenue Forecast by Country
Revenue Forecast Discussion
Percent of Revenue by Vertical Market
Percent of Revenue by Horizontal Market
Percent of Revenue by Technology
Competitive Analysis—Market Share
Competitive Landscape Analysis
Competitive Landscape Analysis (continued)
Competitive Environment
ASEAN Breakdown
Revenue Forecast
Revenue Forecast by Country
Revenue Forecast Discussion
Percent of Revenue by Vertical Market
Percent of Revenue by Horizontal Market
Percent of Revenue by Technology
Competitive Analysis—Market Share
Competitive Landscape Analysis
Competitive Landscape Analysis (continued)
Competitive Environment
Greater China Breakdown
Revenue Forecast
Revenue Forecast by Country
Revenue Forecast Discussion
Percent of Revenue by Vertical Market
Percent of Revenue by Horizontal Market
Percent of Revenue by Technology
Competitive Analysis—Market Share
Competitive Landscape Analysis
Competitive Landscape Analysis (continued)
Competitive Environment
Revenue Forecast
Revenue Forecast Discussion
Percent of Revenue by Vertical Market
India Breakdown
Percent of Revenue by Horizontal Market
Percent of Revenue by Technology
Competitive Analysis—Market Share
Competitive Landscape Analysis
Competitive Landscape Analysis (continued)
Competitive Environment
Japan Breakdown
Revenue Forecast
Revenue Forecast Discussion
Percent of Revenue by Vertical Market
Percent of Revenue by Horizontal Market
Percent of Revenue by Technology
Competitive Analysis—Market Share
Competitive Landscape Analysis
Competitive Landscape Analysis (continued)
Competitive Environment
South Korea Breakdown
Revenue Forecast
Revenue Forecast Discussion
Percent of Revenue by Vertical Market
Percent of Revenue by Horizontal Market
Percent of Revenue by Technology
Competitive Analysis—Market Share
Competitive Landscape Analysis
Competitive Landscape Analysis (continued)
Competitive Environment
The Last Word—Predictions
Legal Disclaimer
Market Engineering Methodology
Market Engineering Measurements
Market Engineering Measurements (continued)