BEMS Market in Southeast Asia, Forecast to 2020
BEMS Market in Southeast Asia, Forecast to 2020
Rise in Electricity Prices, Boom in Building Construction, and Energy Services to Result in Near Doubling of Overall Revenues for the Building Energy
Research Code: P916-01-00-00-00
SKU: EN00943-AP-MR_19254
Description
The Southeast Asian Building Energy Management Systems (BEMS) market currently in the nascent stage is expected to grow strongly at a CAGR of 10 to 15% from 2015 and 2020. The market is expected to be worth more than $180 million by 2020. In addition to rising electricity price and expanding buildings construction and energy services, demand will be spurred by increasing electricity policies along with strict regulations promoting energy conservation.

In addition to the market growth analysis, the study highlights the importance of energy efficiency trends in buildings. Energy efficiency is increasingly being recognized as one of the most important and cost-effective solutions to reduce greenhouse gas emissions. There is an increased focus on energy efficiency in buildings sector as buildings account for more than 40% of primary energy consumption.

While Singapore and Malaysia will be the biggest markets in terms of revenue, Indonesia and Thailand are expected to be the fastest growing markets. Commercial buildings remain as the leading end-user segment, but the residential segment is picking up momentum in the BEMS market. Cloud-based BEMS will continue to gain more popularity, while real-time BEMS will become a reality by the last year of the study period.

Research Scope
The market trends are analyzed for the study period of 2012 to 2020, with the base year being 2015. This study covers hardware (controllers and gateways) and software (energy optimization software) components of BEMS. The market is also segmented by the use of BEMS in commercial and industrial buildings. Companies mentioned in the BEMS market competitive landscape include Siemens, Honeywell, Schneider Electric, Johnson Controls, ABB, and Trane. In addition to industry challenges and drivers and restraints of the market, this study also highlights key market enablers in specific countries: Indonesia, Malaysia, the Philippines, Singapore, Thailand, and Vietnam. Market revenues are also analyzed in these Southeast Asian countries.

Key Questions This Study Will Answer
• What is the current market scenario for BEMS in Southeast Asia?
• Is the market growing, how long will it continue to grow, and at what rate?
• Who is leading the market and who are the competitors?
• What are the different sales distribution channels that are present in the BEMS market? Are they likely to change in future?
• Which countries in Southeast Asia have the potential to grow during the next five years and what are the regional trends?
• What are the opportunities for growth in this region?
RESEARCH: INFOGRAPHIC
This infographic presents a brief overview of the research, and highlights the key topics discussed in it.

Click image to view it in full size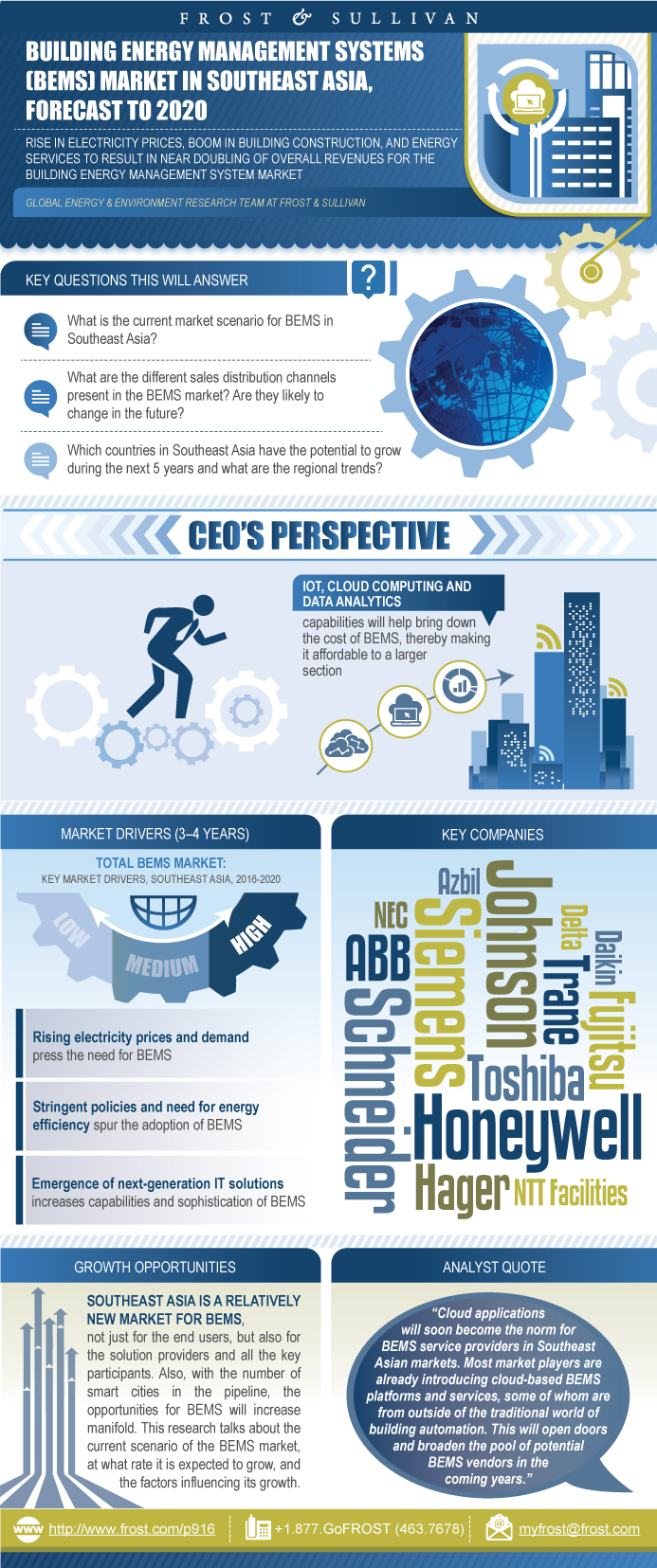 Key Findings
Market Engineering Measurements
CEO's Perspective
Market Definitions
Market Segmentation
Future of Energy—Key Trends
Market Drivers
Market Restraints
Market Engineering Measurements
Revenue Forecast
Percent Revenue by Product Type
Pricing Trends
Percent Revenue Forecast by Country
Revenue Forecast by Country
Revenue Forecast by Vertical Market
Percent Revenue by Distribution Channel
Market Share
Market Share Analysis
Competitive Environment
Competitive Factors and Assessment
Top Mega Trends
Mega Trend 1—Urbanization
Mega Trend 2—Smart is the New Green
Energy Management Systems—Energy Efficiency and Smart Buildings
Mega Trend 3—Connectivity and Convergence
Indonesia—Overview
Indonesia—Key Findings
Revenue Forecast
Market Enablers
Malaysia—Overview
Malaysia—Key Findings
Revenue Forecast
Market Enablers
Singapore—Overview
Singapore—Key Findings
Revenue Forecast
Market Enablers
Thailand—Overview
Thailand—Key Findings
Revenue Forecast
Market Enablers
The Philippines—Key Findings
Vietnam—Key Findings
Revenue Forecast
Market Enablers
The Last Word—3 Big Predictions
Legal Disclaimer
Market Engineering Methodology
Abbreviations and Acronyms Used

List of Figures
1. Total BEMS Market: Key Market Drivers, Southeast Asia, 2016–2020
2. Energy Efficiency Goals, Southeast Asia, 2015
3. Total BEMS Market: Key Market Restraints, Southeast Asia, 2016–2020
4. Total BEMS Market: Market Engineering Measurements, Southeast Asia, 2015
5. Total BEMS Market: Pricing Trends, Southeast Asia, 2015
6. Total BEMS Market: Revenue Forecast by Country, Southeast Asia, 2012–2020
7. Total BEMS Market: Company Market Share Analysis, Southeast Asia, 2015
8. Total BEMS Market: Competitive Structure, Southeast Asia, 2015
9. BEMS Market: Key Economics, Demographics Data, and Building Construction Market Revenue Forecast, Indonesia, 2014–2016
10. BEMS Market: Key Economics, Demographics Data, and Building Construction Market Revenue Forecast, Malaysia, 2014–2016
11. BEMS Market: Key Economics, Demographics Data, and Building Construction Market Revenue Forecast, Singapore, 2014–2016
12. BEMS Market: Key Economics, Demographics Data, and Building Construction Market Revenue Forecast, Thailand, 2014–2016
13. Annual Targets of Final Energy Saving, 20 Year EEDP, Thailand, 2011–2015

List of Charts
1. Total BEMS Market: Market Engineering Measurements, Southeast Asia, 2015
2. Total BEMS Market: Product Segmentation, Southeast Asia, 2015
3. Total BEMS Market: Application Segmentation, Southeast Asia, 2015
4. Mega Trends: Top 10 Energy Markets of the Future, Global, 2015
5. Primary Energy Demand Forecast, Southeast Asia, 1990–2040
6. Annual Primary Energy Demand Growth Rate, Southeast Asia, 2015
7. Annual Energy Demand of Buildings, Southeast Asia, 1990–2040
8. Electricity Tariff by Building Type, Southeast Asia, 2013
9. Projected Total Final Energy Consumption % by Sector, ASEAN, 2013–2035
10. Projected Total Final Energy Consumption by Sector, ASEAN, 2013–2035
11. Non-residential Building Construction Market: Revenue Forecast, Southeast Asia, 2012–2020
12. Total BEMS Market: Revenue Forecast, Southeast Asia, 2012–2020
13. Total BEMS Market: Percent Revenue Breakdown by Product Type, Southeast Asia, 2015
14. Total BEMS Market: Percent Revenue Forecast by Country, Southeast Asia, 2012–2020
15. Total BEMS Market: BEMS Market Revenue vs. CAGR, Southeast Asia, 2015–2020
16. Total BEMS Market: Revenue Forecast by Vertical Market, Southeast Asia, 2012–2020
17. Total BEMS Market: Distribution Channel Analysis, Southeast Asia, 2015
18. Total BEMS Market: Percent Revenue Breakdown, Southeast Asia, 2015
19. Total BEMS Market: Top Mega Trends, Global, 2015
20. Total BEMS Market: Future Economic Game Changers, Global, 2025
21. Smart City Market: Segments Breakdown, Global, 2012–2020
22. Smart City Market: Detailed Breakdown by Segment for Smart Buildings, Global, 2020
23. Total BEMS Market: Connected Living Market—Market Size, Global, 2020
24. Big Data, Sources and Types of Services, Global, 2014
25. Data Traffic per Year, Global, 2012 and 2020
26. BEMS Market: Revenue Forecast, Indonesia, 2012–2020
27. BEMS Market: Revenue Forecast, Malaysia, 2012–2020
28. BEMS Market: Revenue Forecast, Singapore, 2012–2020
29. BEMS Market: Revenue Forecast, Thailand, 2012–2020
30. BEMS Market: Revenue Forecast, The Philippines, 2012–2020
31. BEMS Market: Revenue Forecast, Vietnam, 2012–2020