Developments in Image-Guided Therapy, Forecast to 2020
Developments in Image-Guided Therapy, Forecast to 2020
A Prime Area for Multi-Modality Convergence Forming the Next Growth Segment in Medical Imaging
Research Code: MD4E-01-00-00-00
SKU: HC02872-NA-MR_20613
Description
Medical imaging and informatics research service from the Transformational Health practice highlights the evolving trends and innovations in Image-Guided Therapy (IGT). As the fields of interventional imaging, minimally-invasive interventions, and image-guided surgery (IGS) continue to mature, the next step forward in the development of advanced treatment procedures is combining image guidance modalities with therapeutic modalities in real time.

The emergence of IGT as a growing set of niche procedures is expected to push forward a number of clinical specialties, starting with oncology where it will boost the under-developed field of interventional oncology and in neurology where it will tackle some of the most under-served neurological conditions. Ultrasound shines in the IGT field, both as a guidance or as a treatment modality (focused, high-intensity ultrasound: FUS, HIFU), but virtually every other diagnostic imaging and treatment modality is finding its place in the IGT landscape that is shaping out.

For example, as part of the spectrum of emerging IGT procedures is integrated MR-LINAC, which builds further than the current gold standard of image-guided-radiotherapy (IGRT) by providing real-time magnetic resonance image guidance, in a single gantry. This allows for a radiation where the region of interest can be segmented more precisely, the dose delivered and targeted more finely, and the risks of patient movement addressed more effectively.

This research sheds light on the IGT technology advances, growth opportunity landscape, and market considerations that are aiding and hampering adoption in the marketplace. Philips Healthcare is clearly capitalising on IGT as a core pillar of its growth strategy in imaging, operating high-profile partnerships, acquisitions, and product launches in this area, and the competitive dynamics are heating up substantially.

Key Questions this Study will Answer
• What are the latest developments in image-guided therapy (IGT) industry? What does the role of advanced imaging look like in present-day interventional and therapeutic applications?
• How are the multi-modality integration, image fusion, and real-time image guidance technologies shaping up next-generation IGT solutions?
• What are the new products and solutions launched in the IGT industry? What does the future for IGT look like? What is the future market potential?
• What are the key market trends? What are the key drivers and restraints impacting the growth opportunities in the global IGT market?
• What are the top IGT applications gaining significance in the industry? Which are the applications clinically established? What are the applications in exploratory phase?
• Who are the major market participants? What are their major product offerings?
• How can the competitive landscape be characterised? Which vendors are dominating the market currently?
RESEARCH: INFOGRAPHIC
This infographic presents a brief overview of the research, and highlights the key topics discussed in it.

Click image to view it in full size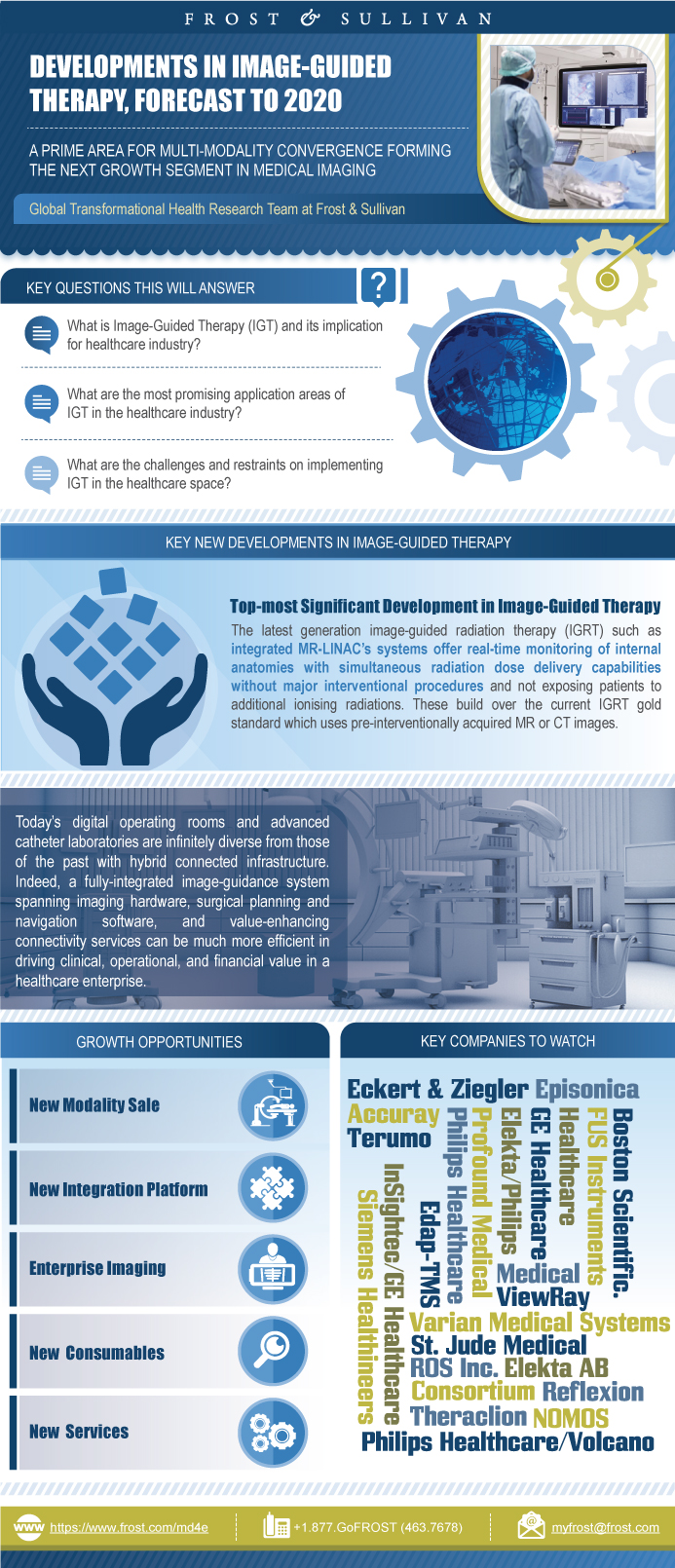 Image-Guided Therapy (IGT) as the Intersection of Diagnostic Imaging and Therapeutic Modalities
Developments in Multi-Modality Integration and Image Fusion
Developments in Multi-Modality Integration and Image Fusion (continued)
Definition and Study Scope
Key Integrations of Imaging and Interventional or Therapeutic Modalities
Overview of Top 11 Key Image-Guided Therapy Applications
Summary of Top 11 Key Image-Guided Therapy Applications
Key Companies to Watch
Key Companies to Watch in the IGT Segment
Evolving Trends Around Image-Guided Therapy
Key New Developments in Image-Guided Therapy
Other Notable Developments in Image-Guided Therapy
Key Competitive Developments in Image-Guided Therapy
Image-Guided Therapy—Future Proposals and Solutions
Image-Guided Therapy as a Cross-Modality Convergence
Top Two Technology Trends for Image-Guided Therapy
Top Two Key Enabling Technologies for IGT Procedures
Growing Focus on Image-Guided Interventions
Recent Developments in Interventional Oncology
State of the Art in Cancer Treatment
Organ-Specific Image-Guided Radiotherapy and Radiosurgery
Next-Generation Image Guidance in Radiotherapy
Evolution of Radiation Therapy
Role of Imaging in Radiation Therapy
Radiation Therapy—Overview
Image Guidance Techniques for Radiation Therapy
Key Applications of Image-Guided Radiation Therapy
Image-Guided Brachytherapy (IGBT)—Overview
Intraoperative Brachytherapy Procedures
Case Study—Elekta's Image-Guided Brachytherapy Applicator
IGRT—Computed Tomography (CT) with LINAC
Image-Guided Therapy—Neurology Interventions
Center of Excellence for Neurology IGT
Cutting-edge Procedures Performed at NCIGT-AMIGO
IGRT—Technology Roadmap
Linear Accelerator (LINAC)
High-Field MR-LINAC System
Case Study 1—Elekta-Philips MR-LINAC for Oncology
Case Study 1—Elekta-Philips MR-LINAC for Oncology (continued)
Elekta-Philips High-Field MR-LINAC Installation Sites
Members of International Elekta MR-LINAC Consortium
Case Study 2—ViewRay: MRIdian MR-LINAC Radiotherapy System
MR-LINAC Radiotherapy System—Most Promising Clinical Application Areas
Example 2—MR Guided High-Intensity Focused Ultrasound (MRgFUS)
State of Research and Regulatory Approval by Indications
Case Study—InSightec-MR-Guided Focused Ultrasound
Ultrasound Guided Focused Ultrasound (USgFUS)
Ultrasound Guided Interventional Procedures
Ultrasound Applications in Image-Guidance Interventions
Liver Cancer—Embolisation Guidance System
Next-Generation Interventional X-Ray Suites
Philips Healthcare Introduces Azurion IGT Platform
Case Study—Philips Healthcare: Azurion IGT Platform
Case Study—Philips Healthcare: Azurion IGT Platform (continued)
X-Ray Guided Intra-Vascular Ultrasound (IVUS) Procedure
Image Guidance of IGRT using Cone-Beam CT
Case Study—RefleXion Medical: PET Guided Radiation Therapy
Growth Opportunity—Image-Guided Therapy
5 Major Growth Opportunity—Image-Guided Therapy
Image-Guided Therapy—Total Industry Participants
Image-Guided Therapy—Key Segment Participants
Mergers/Acquisition and Strategic Partnerships to Watch
The Last Word—3 Big Predictions
Legal Disclaimer
The Frost & Sullivan Story
Value Proposition—Future of Your Company & Career
Global Perspective
Industry Convergence
360º Research Perspective
Implementation Excellence
Our Blue Ocean Strategy