Global Programmable Logic Controllers Market, Forecast to 2021
Global Programmable Logic Controllers Market, Forecast to 2021
Impact of IIoT–PLCs in the Current Form to Remain the Choice of Future Machine-builders
Research Code: K207-01-00-00-00
SKU: IA01457-GL-MR_21219
$4,950.00
Special Price $3,712.50 save 25 %
Description
Programmable logic controller (PLC) as a digitally operating electronic system, designed for use in an industrial environment, is used to control different types of machines or processes. The global PLC market, which comprises of Nano PLC, Small PLC, Medium PLC, Large PLC, Programmable Automation Controllers (PAC), Software, and Services, is expected to grow at a CAGR of 3.1% from 2016 to 2021 and reach $13,145.1 million by 2021.
Research Highlights
The aim of this study is to analyze the developments of the PLC market in the global level and present an outlook on market growth, opportunities, and performance. The major focus is market trends (drivers and restraints); regional trends (North America, Europe, Middle East, Africa, Asia-Pacific, and rest of the world). The study highlights opportunities created by PLC manufacturers, third party hardware and software developers, and internet/technology companies that are integrating industrial internet of things (IIoT) solutions into PLCs and investing in the development of next-generation control technologies.
Market measurements and revenue forecasts were estimated for 2016–2021 (PLC market by region, product, and end user industries). Market focus and market share details of key participants, such as Rockwell Automation, Inc., Siemens AG, Mitsubishi Electric Corporation, Schneider Electric, and ABB are included. The base year for the study is 2016 and forecast period is from 2017 to 2021.
Key Issues Addressed
What is the present state of the global PLC market? What is PAC and why is sometimes PAC preferred? Is the global PLC/ PAC market growing, how long will it continue to grow, and at what rate?
What are the factors driving the PLC market? What are the different challenges faced by the PLC vendors? What are the challenges faced by the end users?
What are the different technological developments occurring in the market? How are different IIoT technologies influencing the PLCs as a product? How is the demand for PLCs distributed across different end users and geographic regions?
What is the impact of IIoT on PLC product features? And how are these likely to disrupt the market?
Who are the major market participants and How are they managing growth in an environment that is witnessing new technology adoption? What are their strengths, weakness, opportunities and threats?
Where are the major growth opportunities in the PLC market and how will it be helpful for the vendors and third party software providers?
RESEARCH: INFOGRAPHIC
This infographic presents a brief overview of the research, and highlights the key topics discussed in it.

Click image to view it in full size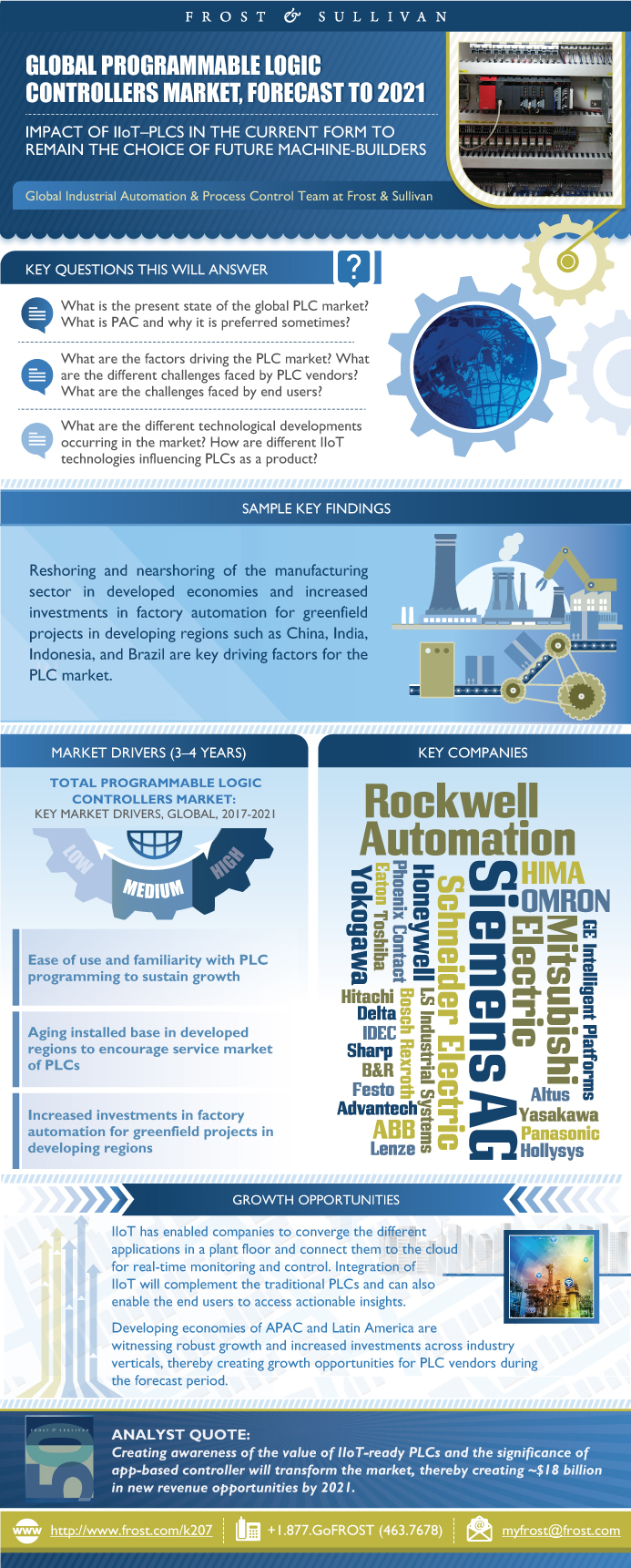 List of Figures
1. Total Programmable Logic Controllers Market: Research Scope and Objective, Global, 2016
2. Total Programmable Logic Controllers Market: Outlook of PLC's Relevance, End-user Perception, Global, 2016
3. Total Programmable Logic Controllers Market: Progressive Shift towards PACs, Global, 2016
4. Total Programmable Logic Controllers Market: Market Engineering Measurements, Global, 2016
5. Total Programmable Logic Controllers Market: Key Market Drivers, Global, 2017–2021
6. Total Programmable Logic Controllers Market: Key Market Restraints, Global, 2017–2021
7. Total Programmable Logic Controllers Market: Setback of Aging PLC Hardware and Operating Systems, Global, 2016
8. Total Programmable Logic Controllers Market: Complex Codes Repulsing Next-Gen Programmer, Global, 2016
9. Total Programmable Logic Controllers Market: Revenue Forecast, Global, 2016 and 2021
10. Total Programmable Logic Controllers Market: Synopsis of Industries Embracing PLC, Global, 2016
11. Total Programmable Logic Controllers Market: Market Share Analysis of Top 5 Participants, Global, 2016
12. Total Programmable Logic Controllers Market: Competitive Environment, Global, 2016
13. Total Programmable Logic Controllers Market: SWOT Analysis, Global, 2016
14. Total Programmable Logic Controllers Market: IIoT and its Focus on Subduing the Controller Challenges, Global, 2016
15. Total Programmable Logic Controllers Market: Optimizing a Controller through IIoT, Global, 2016
16. Total Programmable Logic Controllers Market: The Emerging IO-Link Standard in PLC, Global, 2016–2021
17. Total Programmable Logic Controllers Market: Coexistence–Addressing the Integration Challenges, Global, 2016
18. Total Programmable Logic Controllers Market: Demand from SMEs for Advanced Controllers, Global, 2016
19. Total Programmable Logic Controllers Market: Novice Steps by Vendors to Provide IIoT-Ready PLC, Global, 2016
20. Total Programmable Logic Controllers Market: Realizing the Potential of Big Data, Global, 2016
21. Total Programmable Logic Controllers Market: Is Cloud the New Idea for Programmable Controllers?, Global, 2016
22. Total Programmable Logic Controllers Market: IIoT to Confront Programming Capabilities of PLC, Global, 2016
23. Total Programmable Logic Controllers Market: App Logic Controller (ALC)–A Smartphone Approach, Global, 2016
24. Total Programmable Logic Controllers Market: Advantages of ALC over PLC, Global, 2016
25. Total Programmable Logic Controllers Market: App Store–A New Growth Opportunity for Developers, Global, 2016
26. Total Programmable Logic Controllers Market: ALC Prototypes Out-innovating the Existing PLC Market, Global, 2016
27. Total Programmable Logic Controllers Market: IIoT Stimulating a New Transformation in the PLC Market, Global, 2016
28. Total Programmable Logic Controllers Market: 4 Major Growth Opportunities, Global, 2016
29. Total Programmable Logic Controllers Market: Strategic Imperatives for Success and Growth, Global, 2016

List of Charts
1. Total Programmable Logic Controllers Market: Market Engineering Measurements, Global, 2016
2. Total Programmable Logic Controllers Market: A Blueprint of PLC Functionality, Global, 2016
3. Total Programmable Logic Controllers Market: Revenue Forecast, Global, 2013–2021
4. Total Programmable Logic Controllers Market: Percent Revenue Breakdown by Product, Global, 2016
5. Total Programmable Logic Controllers Market: Revenue Forecast by Product, Global, 2013–2021
6. Total Programmable Logic Controllers Market: Percent Revenue Breakdown by Region, Global, 2016
7. Total Programmable Logic Controllers Market: Revenue Forecast by Region, Global, 2013–2021
8. Total Programmable Logic Controllers Market: Current Market Size, Global, 2016
9. Total Programmable Logic Controllers Market: Percent Revenue Forecast by End-user Industry, Global, 2013–2021
10. Programmable Logic Controllers Market: Revenue Forecast of Automotive Industry, Global, 2013–2021
11. Programmable Logic Controllers Market: Revenue Forecast of Chemicals Industry, Global, 2013–2021
12. Programmable Logic Controllers Market: Revenue Forecast of Food and Beverage Industry, Global, 2013–2021
13. Programmable Logic Controllers Market: Revenue Forecast of Oil & Gas Industry, Global, 2013–2021
14. Programmable Logic Controllers Market: Revenue Forecast of Power Industry, Global, 2013–2021
15. Programmable Logic Controllers Market: Revenue Forecast of Pulp and Paper Industry, Global, 2013–2021
16. Programmable Logic Controllers Market: Revenue Forecast of Water and Wastewater Industry, Global, 2013–2021
17. Programmable Logic Controllers Market: Revenue Forecast of Other Industries, Global, 2013–2021
18. Total Programmable Logic Controllers Market: Percent Revenue Breakdown, Global, 2016
19. Total Programmable Logic Controllers Market: Competitor Market Share Analysis of Competitors by Region, Global, 2016