Global Pumps Market in the Water and Wastewater Industry
Global Pumps Market in the Water and Wastewater Industry
Research Code: MB90-01-00-00-00
SKU: IA01301-GL-MR_18717
$4,950.00
Special Price $3,712.50 save 25 %
Description
This study offers an analysis of the global pumps market in the water and wastewater industry. The market drivers and restraints have been provided for the forecast period, which runs from 2016 to 2020 with 2015 as the base year. A detailed regional breakdown, covering North America, Europe and Russia, the Middle East and Africa, Asia-Pacific, and Latin America, has been provided with revenue forecasts for pump type and region. Competitive analysis for the water and wastewater industry has been provided with market shares discussed for the top 6 participants. Split by regions and revenue forecast for the water and wastewater industry have been provided. Trends by technology and pricing have also been discussed.
RESEARCH: INFOGRAPHIC
This infographic presents a brief overview of the research, and highlights the key topics discussed in it.

Click image to view it in full size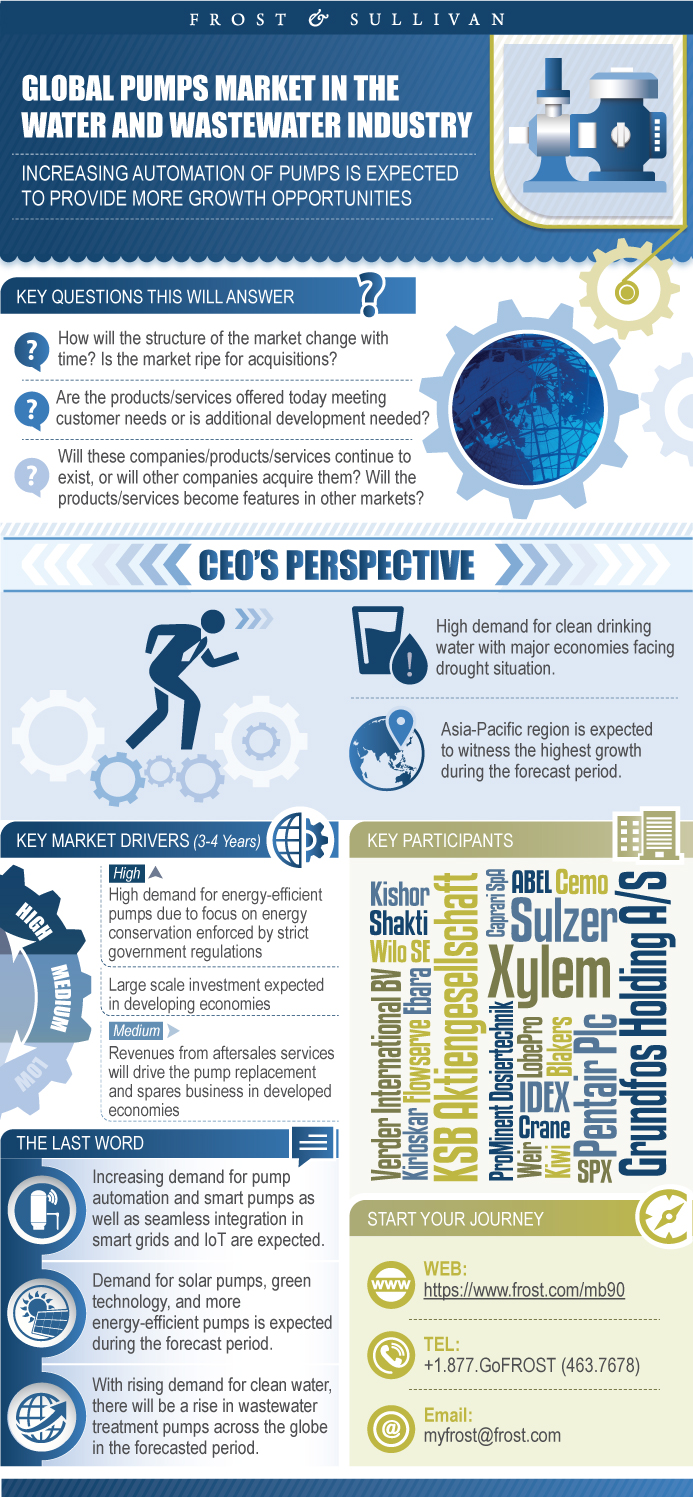 List of Figures
1. Total Pumps Market in Water and Wastewater Industry: Key Market Drivers, Global, 2016–2020
2. Total Pumps Market in Water and Wastewater Industry: Key Market Restraints, Global, 2016–2020
3. Total Pumps Market in the Water and Wastewater Industry: Market Engineering Measurements, Global, 2015
4. Total Pumps Market in Water and Wastewater Industry: Revenue Forecast by Region, Global, 2012–2020
5. Total Water & Wastewater Pumps Market: Company Market Share Analysis of Top 6 Participants, Global, 2015
6. Total Pumps Market in Water and Wastewater Industry: Competitive Structure, Global, 2015
7. Total Pumps Market in Water and Wastewater Industry: SWOT Analysis, Global, 2015
8. Total Pumps Market in Water Industry: Revenue Forecast by Region, Global, 2012–2020
9. Pumps Market in Wastewater Industry: Revenue Forecast by Region, Global, 2012–2020
10. Centrifugal Pumps Segment: Revenue Forecast by Region, Global, 2012–2020
11. Positive Displacement Pumps Segment: Revenue Forecast by Region, Global, 2012–2020
12. Pumps Market in the Water and Wastewater Industry: Revenue Forecast by Product, North America, 2012-2020
13. Pumps Market in the Water and Wastewater Industry: Revenue Forecast by Product, Europe & Russia, 2012-2020
14. Pumps Market in the Water and Wastewater Industry: Revenue Forecast by Product, The Middle East & Africa, 2012-2020
15. Pumps Market in the Water and Wastewater Industry: Revenue Forecast by Product, Asia-Pacific, 2012-2020
16. Pumps Market in the Water and Wastewater Industry: Revenue Forecast by Product, Latin America, 2012-2020

List of Charts
1. Total Pumps Market in Water and Wastewater Industry: Market Engineering Measurements, Global, 2015
2. Total Pumps Market in Water and Wastewater Industry: Percent Revenue Breakdown by Region, Global, 2015
3. Total Pumps Market in the Water and Wastewater Industry: Revenue Forecast, Global, 2012-2020
4. Total Pumps Market in Water and Wastewater Industry: Percent Revenue Forecast by Region, Global, 2012–2020
5. Total Pumps Market in the Water and Wastewater Industry: Percent Revenue Forecast by Product Type, Global, 2012-2020
6. Total Pumps Market in the Water and Wastewater Industry: Percent of Market Sales Breakdown, Global, 2015
7. Total Pumps Market in Water Industry: Percent Revenue Breakdown by Region, Global, 2015
8. Pumps Market in Wastewater Industry: Percent Revenue Breakdown by Region, Global, 2015
9. Centrifugal Pumps Segment: Percent Revenue Breakdown by Region, Global, 2015
10. Positive Displacement Pumps Segment: Percent Revenue Breakdown by Region, Global, 2015
11. Pumps Market in the Water and Wastewater Industry: Revenue Forecast, North America, 2012-2020
12. Pumps Market in Water and Wastewater Industry: Percent Revenue Forecast by Product, North America, 2015 and 2020
13. Pumps Market in the Water and Wastewater Industry: Revenue Forecast, Europe & Russia, 2012-2020
14. Pumps Market in Water and Wastewater Industry: Percent Revenue Forecast by Product, Europe & Russia, 2015 and 2020
15. Pumps Market in the Water and Wastewater Industry: Revenue Forecast, The Middle East & Africa, 2012-2020
16. Pumps Market in Water and Wastewater Industry: Percent Revenue Forecast by Product, The Middle East & Africa, 2015 and 2020
17. Pumps Market in the Water and Wastewater Industry: Revenue Forecast, Asia-Pacific, 2012-2020
18. Pumps Market in Water and Wastewater Industry: Percent Revenue Forecast by Product, Asia-Pacific, 2015 and 2020
19. Pumps Market in the Water and Wastewater Industry: Revenue Forecast, Latin America, 2012-2020
20. Pumps Market in Water and Wastewater Industry: Percent Revenue Forecast by Product, Latin America, 2015 and 2020