Global Liquefied Natural Gas (LNG) Market Assessment
Global Liquefied Natural Gas (LNG) Market Assessment
LNG Supply-Demand Outlook
Research Code: NEBF-01-00-00-00
SKU: EG00183-NA-MR_00678
$4,950.00
Special Price $3,712.50 save 25 %
Description
This research service highlights the current and future status of the global LNG market. The forecast period is 2014-2025. Over the next few years, Asia will see rising LNG demand; however, its LNG contracts are expected to expire. The study offers an in-depth analysis of key LNG consumers, such as Japan, China, and India, and determines the target market for LNG suppliers. On the supply side, the study has considered the major LNG exporters, the United States and Australia. These countries have significant gas reserves; however, they are facing challenges in reaching their target markets. The research service also highlights the LNG pricing mechanism that is set to undergo a revision in 2016.
RESEARCH: INFOGRAPHIC
This infographic presents a brief overview of the research, and highlights the key topics discussed in it.

Click image to view it in full size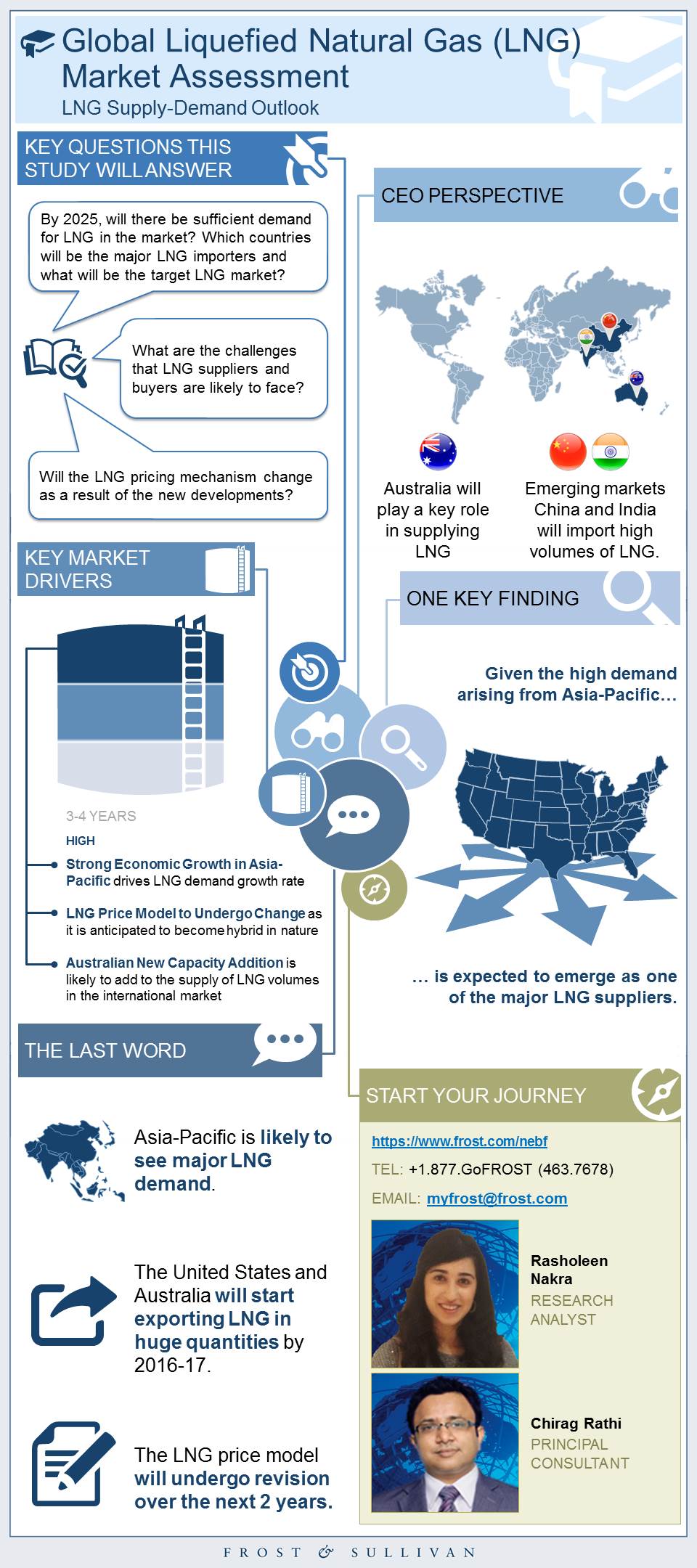 List of Figures
1. Ratings of Major Challenges for IT —Percent of Agree/Strongly Agree Responses, Education Industry: NA, Latin America and Europe, 2014
2. Top 5 Major Challenges for IT by Company Size, Percent of Agree/Strongly Agree Responses, Education Industry: NA, Latin America and, Europe, 2014
3. Top 5 Major Challenges for IT—Percent of Agree/Strongly Agree Responses, Education Industry: NA, Latin America and, Europe, 2014
4. Top 5 Major Challenges for IT—Percent of Agree/Strongly Agree Responses, Education Industry NA, Latin America and, Europe, 2014
5. Top 5 Primary Drivers for IT Investments—Percent of Agree/Strongly Agree Responses, Education Industry: NA, Latin America and, Europe, 2014
6. Top 5 Primary Drivers for IT Investments—Percent of Agree/Strongly Agree Responses, Education Industry: NA, Latin America and, Europe, 2014
7. Current and Future Usage of IT, Education Industry: NA, Latin America and, Europe, 2014
8. Current Usage of IT, Education Industry: NA, Latin America and, Europe, 2014
9. Current Usage of IT, Education Industry: NA, Latin America and, Europe, 2014
10. Current Usage of IT, Education Industry: NA, Latin America and, Europe, 2014
11. Technology Deployment, Education Industry: NA, Latin America and Europe, 2014
12. Frequency of Technology Use within the Organization, Education Industry: NA, Latin America and, Europe, 2014
13. High Security Risks—Percent of Significant/Very Significant Responses, Education Industry: NA, Latin America and, Europe, 2014
14. Criteria When Selecting a Cloud Provider —Percent of Important/Very Important , Education Industry: NA, Latin America and Europe, 2014
15. Criteria When Selecting a Cloud Provider Percent of Important/Very Important Responses, Education Industry: NA, Latin America and, Europe, 2014
16. Criteria When Selecting a Cloud Provider Percent of Important/Very Important Responses, Education Industry: NA, Latin America and, Europe, 2014
17. Attitudes toward Use of Cloud Computing/Hosted Communications—Percent of Agree/Strongly Agree Responses, Education Industry: NA, Latin America and Europe, 2014
18. Attitudes Toward Cloud Computing by Non Users—Percent of Agree/Strongly Agree Responses, Education Industry: NA, Latin America and, Europe, 2014
19. IT Deployment in the Cloud, Education Industry: NA, Latin America and, Europe, 2014
20. Current Deployment of IT in the Cloud, Education Industry: NA, Latin America and, Europe, 2014
21. Use of Customer-Facing Social Media, Education Industry: NA, Latin America and Europe, 2014
22. Implementation of Customer-Facing Social Media, Education Industry: NA, Latin America and, Europe, 2014
23. Implementation of Internal Employee Collaboration Social Media Strategies, Education Industry: NA, Latin America and, Europe, 2014
24. Internal Employee Collaboration Social Media Strategies Fully Implemented, Education Industry: NA, Latin America and, Europe, 2014
25. The IT Budget Picture (in USD)–Averages and Mean Percent, NA, Latin America and, Europe, 2014
26. The Workforce Picture by Industry—Now and in the Future, NA, Latin America and, Europe, 2014
27. Education Industry: Company's Global Annual Revenues, NA, Latin America and Europe, 2014
List of Charts
1. Education Industry: Company Size, NA, Latin America and, Europe, 2014
2. Primary Drivers for IT Investment—Percent of Somewhat/Very Important Responses, Education Industry: NA, Latin America and, Europe, 2014
3. Top 5 Primary Drivers for IT Investments—Percent of Agree/Strongly Agree Responses, Education Industry: NA, Latin America and, Europe, 2014
4. Ability of IT to Address Top Business Challenges- Percent of Effective/Very Effective Responses, Education Industry: NA, Latin America and, Europe, 2014
5. Effectiveness of Technologies in Training IT Staff on Advanced IT Tools, Education Industry: NA, Latin America and Europe, 2014
6. Effectiveness of Technologies in Dealing with New Regulatory Requirements, Education Industry: NA, Latin America and Europe,2014
7. Communications Infrastructure—Current and Future Usage in Two Years, Education Industry: NA, Latin America and, Europe, 2014
8. Top Restraints for IT—Percent of Agree/Completely Agree Responses, Education Industry: NA, Latin America and, Europe, 2014
9. Criteria When Selecting a Cloud Provider Percent of Important/Very Important Responses, Education Industry: NA, Latin America and, Europe, 2014
10. Satisfaction with Cloud Computing Use, Education Industry: NA, Latin America and Europe, 2014
11. Satisfaction with Cloud Computing Use, Education Industry: NA, Latin America and Europe, 2014
12. Current Implementation of Customer-Facing Social Media, Education Industry: NA, Latin America and Europe, 2014
13. Effectiveness of Customer-Facing Social Media to Increase Organization's Revenues, Education Industry: NA, Latin America and, Europe, 2014
14. Use of Social Media for Internal Collaboration, Education Industry: NA, Latin America and Europe, 2014
15. Effectiveness of Internal Employee Collaboration Social Media to Improve Productivity, Education Industry: NA and, Europe, 2014
16. Potential Benefits of Social Media, Education Industry: NA, Latin America and Europe, 2014
17. Potential Benefits of Social Media within the Organization—Percent of Agree/Strongly Agree Responses, Education Industry: NA, LatinAmerica and Europe, 2014
18. Company Issued Devices, Education Industry: NA, Latin America and, Europe, 2014
19. Company Supported Mobile Operating Systems, Education Industry: NA, Latin America and, Europe, 2014
20. Personal Devices Allowed to Connect to Company Network (Bring Your Own Device), Education Industry: NA, Latin America and, Europe,2014
21. Education Industry: NA, Latin America and, Europe, 2014
22. Education Industry: Country of Residence, NA, Latin America and Europe, 2014
23. Education Industry: Years in IT, NA, Latin America and Europe,2014
24. Education Industry: Role, NA, Latin America and Europe, 2014
25. Education Industry: Job Title, NA, Latin America and Europe,2014
26. Education Industry: Companies' Geographic Reach, NA, Latin America and Europe, 2014
27. Education Industry: Respondents' Geographic IT Reach, NA, Latin America and Europe, 2014