Global Utility-scale Grid-connected Battery Energy Storage Systems Market
Global Utility-scale Grid-connected Battery Energy Storage Systems Market
High Growth in Utility-scale Grid-connected Solutions
Research Code: MB0C-01-00-00-00
SKU: EG00133-GL-MR_00628
Description
The battery energy storage system (BESS) market is poised to enter a period of dynamic growth on a global level. In the markets for utility-scale grid-connected solutions, commercialisation will begin to accelerate after 2017 with the subsequent years bringing huge opportunities for companies that have the technological capabilities to compete. Rapid growth in variable renewable energy generation and new regulatory policies governing performance criteria for their interconnection with the grid are driving the demand for grid-modernisation, with BESS being a key enabler of growth due to its flexibility and versatility. The period of study is 2014 to 2024.
RESEARCH: INFOGRAPHIC
This infographic presents a brief overview of the research, and highlights the key topics discussed in it.

Click image to view it in full size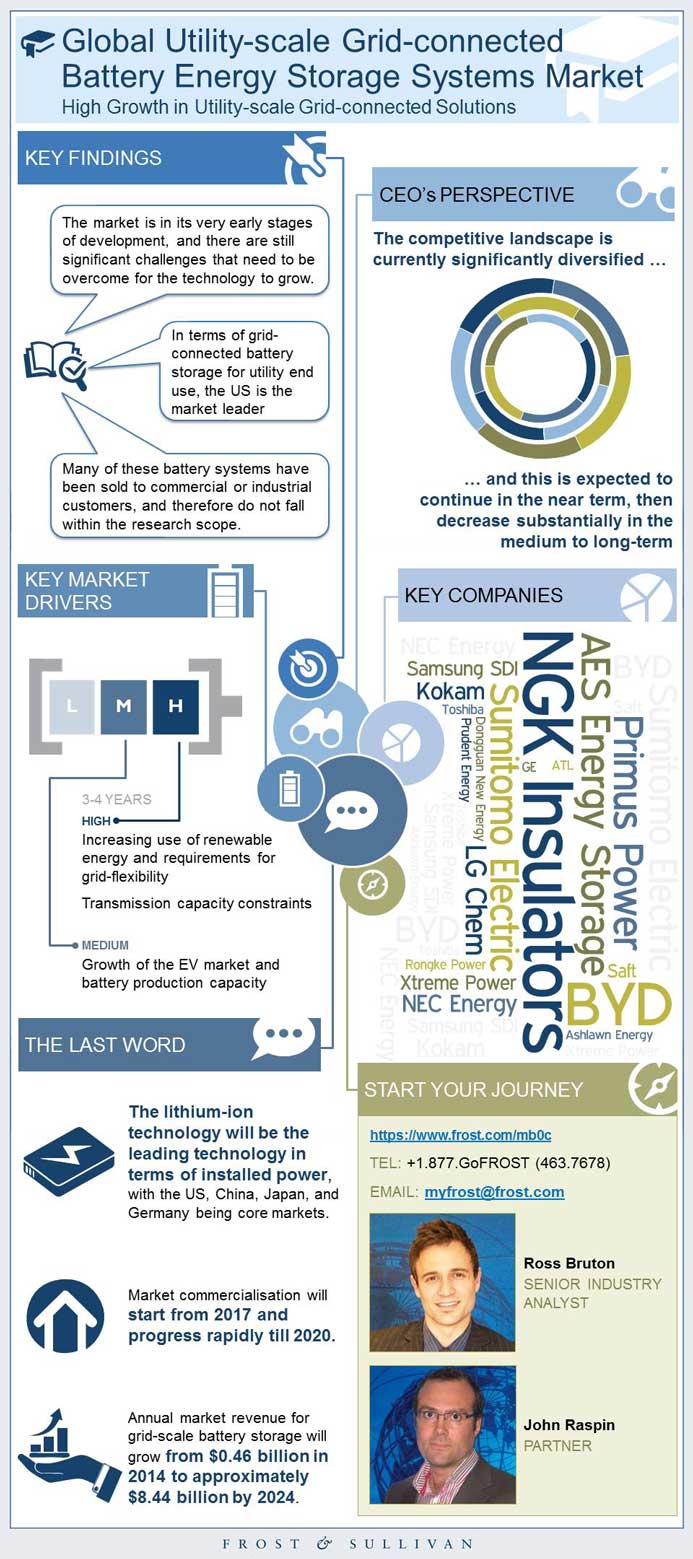 List of Figures
1. Total Utility-scale Grid-connected BESS Market: Key Market Technologies, Global, 2014
2. Total Utility-scale Grid-connected BESS Market: Core End-use Applications for Storage Technology, Global, 2014
3. Total Utility-scale Grid-connected BESS Market: Core End-use Applications for Storage Technology, Global, 2014 (continued)
4. Total Utility-scale Grid-connected BESS Market: Key Market Drivers, Global, 2015-2024
5. Total Utility-scale Grid-connected BESS Market: Key Market Restraints, Global, 2015–2024
6. Total Utility-scale Grid-connected BESS Market: Storage Use-Cases to Grid Domain, California-US, 2013
7. Total Utility-scale Grid-connected BESS Market: Proposed Energy Storage Procurement Targets (MW), California-US, 2014–2020
8. Total Utility-scale Grid-connected BESS Market: Funding Awarded to Energy Projects by the ARRA Through the US DoE, US, 2013
9. Total Utility-scale Grid-connected BESS Market: Key Battery Projects Funded by the ARRA Via the US DoE, US, 2013
10. Total Utility-scale Grid-connected BESS Market: Market Engineering Measurements, Global, 2014
11. Total Utility-scale Grid-connected BESS Market: Market Stage, Global, 2014
12. Total Utility-scale Grid-connected BESS Market: Utility Technical Requirements for Storage for Frequency Regulation, US, 2014
13. Total Utility-scale Grid-connected BESS Market: Utility Technical Requirements for Storage for Renewable Integration, US, 2014
14. Total Utility-scale Grid-connected BESS Market: Utility Technical Requirements for Storage for T&D Upgrade Deferral, US, 2014
15. Total Utility-scale Grid-connected BESS Market: Utility Technical Requirements for Storage for Load Following, US, 2014
16. Total Utility-scale Grid-connected BESS Market: Utility Technical Requirements for Storage for Electricity Energy Time-Shift, US, 2014
17. Total Utility-scale Grid-connected BESS Market: Parameters for NPV Calculation, US, 2010
18. Total Utility-scale Grid-connected BESS Market: Present Net Value Benchmarking of Technologies across End-use Categories, US, 2010
19. Utility-scale Grid-connected BESS Market: Cost Breakdown of Grid-Scale Battery Storage Technologies, US, 2013
List of Charts
1. Total Utility-scale Grid-connected BESS Market: Factors Influencing Battery Choice by Application, Global, 2014
2. Total Utility-scale Grid-connected BESS Market: Market Engineering Measurements, Global, 2014
3. Total Utility-scale Grid-connected BESS Market: Operational Market Size, Global, 2014
4. Total Utility-scale Grid-connected BESS Market: Average Project Size and Duration by Grid Domain, Global, 2014
5. Total Utility-scale Grid-connected BESS Market: Average Project Size and Discharge Duration by End-use Application, Global, 2014
6. Total Utility-scale Grid-connected BESS Market: Average Project Capacity by End-use Application, Global, 2014
7. Total Utility-scale Grid-connected BESS Market: Operational Installed Power Split by Country, Global, 2014
8. Total Utility-scale Grid-connected BESS Market: Operational Installed Capacity by End-use Application, Global, 2014
9. Total Utility-scale Grid-connected BESS Market: Operational Installed Power by End User, Global, 2014
10. Total Utility-scale Grid-connected BESS Market: Distribution Channel Analysis, Global, 2014
11. Total Utility-scale Grid-connected BESS Market: Segmentation of Operational Installed Power by Technology, Global, 2014
12. Total Utility-scale Grid-connected BESS Market: Segmentation of Number of Projects by, Global, 2014
13. Total Utility-scale Grid-connected BESS Market: Segmentation of Operational Installed Capacity by Technology, Global, 2014
14. Total Utility-scale Grid-connected BESS Market: Segmentation of Number of Projects by Technology, Global, 2014
15. Total Utility-scale Grid-connected BESS Market: Technology Segmentation of Operational Installed Power by Technology and End-use Application, Global, 2014
16. Total Utility-scale Grid-connected BESS Market: Technology Segmentation of Operational Installed Power Capacity by Technology and End-use Application, Global, 2014
17. Total Utility-scale Grid-connected BESS Market: Present Net Value of Key Battery Technologies for 10-year Operation in Year 1, US, 2010
18. Total Utility-scale Grid-connected BESS Market: Operational Installed Power, Global, 2004–2014
19. Total Utility-scale Grid-connected BESS Market: Annual Market Revenues Attributed to Capital Cost, Global, 2004–2014
20. Total Utility-scale Grid-connected BESS Market: Annual Revenue Segmentation by Core Capital Cost Components, Global, 2004–2014
21. Total Utility-scale Grid-connected BESS Market: Installed Operational Power, Global, 2004–2024
22. Total Utility-scale Grid-connected BESS Market: Revenue Forecast, Global, 2004–2024
23. Total Utility-scale Grid-connected BESS Market: Percent Revenue Share by Storage Provider, Global, 2014
24. Total Utility-scale Grid-connected BESS Market: Percent Revenue Share by Storage Provider, Global, 2010–2014
25. Utility-scale Grid-connected BESS Market: Market Share Evolution by Storage Provider, Global, 2010–2014
26. Total Utility-scale Grid-connected BESS Market: Percent Revenue Share from Lead-acid Technology by Storage Provider, Global, 2014
27. Total Utility-scale Grid-connected BESS Market: Percent Revenue Share from Lead-acid Technology by Storage Provider, Global, 2010–2014
28. Total Utility-scale Grid-connected BESS Market: Percent Revenue Share from Lithium-ion Technology by Storage Provider, Global, 2014
29. Total Utility-scale Grid-connected BESS Market: Percent Revenue Share from Lithium-ion Technology by Storage Provider, Global, 2010–2014
30. Total Utility-scale Grid-connected BESS Market: Percent Revenue Share from Sodium-based Technology by Storage Provider, Global, 2014
31. Total Utility-scale Grid-connected BESS Market: Percent Revenue Share from Sodium-based Technology by Storage Provider, Global, 2010–2014
32. Total Utility-scale Grid-connected BESS Market: Percent Revenue Share from VRBS Technology by Storage Provider, Global, 2014
33. Total Utility-scale Grid-connected BESS Market: Percent Revenue Share from VRBS Technology by Storage Provider, Global, 2010–2014
34. Total Utility-scale Grid-connected BESS Market: Percent Revenue Share from ZnBr Technology by Storage Provider, Global, 2014
35. Total Utility-scale Grid-connected BESS Market: Percent Revenue Share from ZnBr Technology by Storage Provider, Global, 2010–2014
36. Total Utility-scale Grid-connected BESS Market: Operational Installed Power Percent Market Share by Storage Provider, Global, 2014