Analysis of the Global HVAC Equipment Market
Analysis of the Global HVAC Equipment Market
The Need for Energy Efficiency and Increased Performance Will Drive Growth
Research Code: NF5E-01-00-00-00
SKU: EN00043-NA-MR_00771
Description
As the global economy slowly rebuilds, the heating, ventilation, and air-conditioning (HVAC) equipment market will continue to grow among both residential and business establishments. This research service presents analysis of the global HVAC equipment market by dividing it into 5 segments: unitary equipment, applied equipment, chiller equipment, heat pumps, and ductless systems. Globally, unitary equipment is the largest segment, and Asia-Pacific regions depict the largest regional growth. Included in this research are discussions of market drivers and restraints, the competitive landscape, regional dynamics, and market trends. The base year used for analysis is 2014 and the forecast period is from 2015 to 2020.
RESEARCH: INFOGRAPHIC
This infographic presents a brief overview of the research, and highlights the key topics discussed in it.

Click image to view it in full size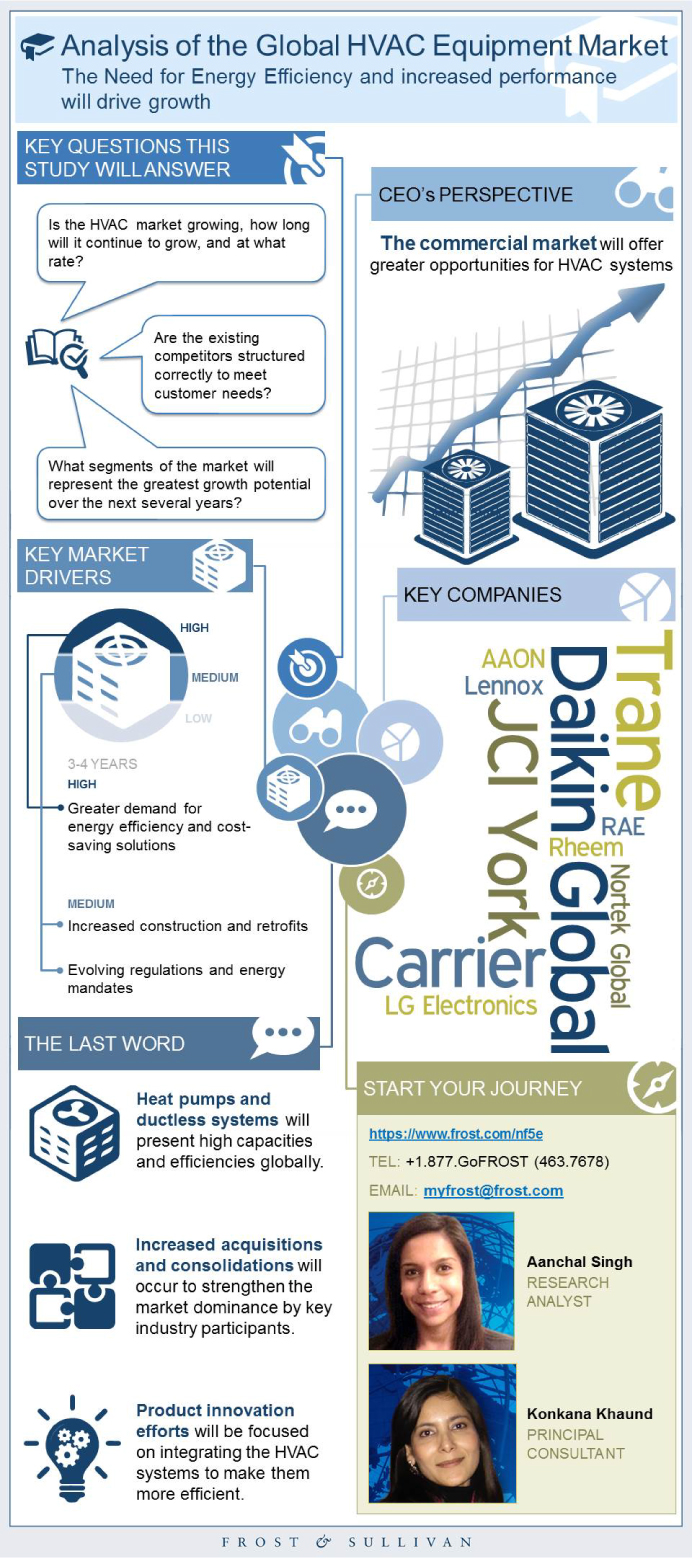 Key Findings - Global HVAC Equipment Market
Market Engineering Measurements, Global, 2014
Market Overview
Competitor Overview
Total Addressable Market
Industry Advancement
CEO's Perspective
Market Definitions
Market Segmentation
Key Market Drivers, Global, 2015–2020
Key Market Restraints, Global, 2015–2020
Market Measurements, Global, 2014
HVAC Equipment Market
Revenue Forecast, Global, 2011–2020
Market Trends—Pricing Analysis
Percent Revenue Forecast by Region, Global, 2011–2020
Revenue Forecast by Region, Global, 2011–2020
Percent Market Split, Global, 2014
Revenue Forecast by Vertical Market, Global, 2011–2020
Percent Revenue Forecast by Distribution Channel, Global, 2011–2020
Emerging Technological Trends Discussion
Market Share
Market Share Evolution, Global, 2011 and 2014
Market Share Analysis
Competitive Environment
Key Findings
Market Engineering Measurements, Global, 2014
Revenue Forecast, Global, 2011–2020
Revenue Forecast by Vertical Market, Global, 2011–2020
Percent Revenue by Product Type, Global, 2014
Percent Revenue Forecast by Region, Global, 2011–2020
Revenue Forecast by Region, Global, 2011–2020
Market Share
Market Share Analysis
Competitive Structure, Global, 2014
Key Findings
Market Engineering Measurements, Global, 2014
Revenue Forecast, Global, 2011–2020
Revenue Forecast by Vertical Market, Global, 2011–2020
Percent Revenue by Product Type, Global, 2014
Percent Revenue Forecast by Region, Global, 2011–2020
Revenue Forecast by Region, Global, 2011–2020
Market Share
Market Share Analysis
Competitive Structure, Global, 2014
Key Findings
Market Engineering Measurements, Global, 2014
Revenue Forecast, Global, 2011–2020
Revenue Forecast by Vertical Market, Global, 2011–2020
Percent Revenue by Product Type, Global, 2014
Percent Revenue Forecast by Region, Global, 2011–2020
Revenue Forecast by Region, Global, 2011–2020
Market Share
Market Share Analysis
Competitive Structure, Global, 2014
Key Findings
Percent Revenue by Product Type, Global, 2014
Market Engineering Measurements, Global, 2014
Revenue Forecast, Global, 2011–2020
Revenue Forecast by Vertical Market, Global, 2011–2020
Percent Revenue Forecast by Region, Global, 2011–2020
Revenue Forecast by Region, Global, 2011–2020
Market Share
Market Share Analysis
Competitive Structure, Global, 2014
Key Findings
Growth Rate and Revenue Forecast, Global, 2011–2020
Revenue Forecast by Vertical Market, Global, 2011–2020
Percent Revenue Forecast by Region, Global, 2011–2020
Revenue Forecast by Region, Global, 2011–2020
3 Big Predictions
Legal Disclaimer
Market Methodology
Additional Sources of Information
Partial List of Companies Interviewed
List of Figures
1. Total HVAC Equipment Market: Key Market Drivers, Global, 2015–2020
2. Total HVAC Equipment Market: Key Market Restraints, Global, 2015–2020
3. Total HVAC Equipment Market: Market Engineering Measurements, Global, 2014
4. Total HVAC Equipment Market: Revenue Forecast by Region, Global, 2011–2020
5. Total HVAC Equipment Market: Company Market Share Analysis of Top 4 Participants, Global, 2014
6. Total HVAC Equipment Market: Competitive Structure, Global, 2014
7. Total HVAC Equipment Market: SWOT Analysis, Global, 2014
8. Unitary Equipment Segment: Market Engineering Measurements, Global, 2014
9. Unitary Equipment Segment: Revenue Forecast by Region, Global, 2011–2020
10. Unitary Equipment Segment: Company Market Share Analysis of Top 4 Participants, Global, 2014
11. Unitary Equipment Segment: Competitive Structure, Global, 2014
12. Applied Equipment Segment: Market Engineering Measurements, Global, 2014
13. Applied Equipment Segment: Revenue Forecast by Region, Global, 2011–2020
14. Applied Equipment Segment: Company Market Share Analysis of Top 4 Participants, Global, 2014
15. Applied Equipment Segment: Competitive Structure, Global, 2014
16. Chiller Equipment Segment: Market Engineering Measurements, Global, 2014
17. Chiller Equipment Segment: Revenue Forecast by Region, Global, 2011–2020
18. Chiller Equipment Segment: Company Market Share Analysis of Top 4 Participants, Global, 2014
19. Chiller Equipment Segment: Competitive Structure, Global, 2014
20. Heat Pumps Segment: Market Engineering Measurements, Global, 2014
21. Heat Pumps Segment: Revenue Forecast by Region, Global, 2011–2020
22. Heat Pumps Segment: Company Market Share Analysis of Top 3 Participants, Global, 2014
23. Heat Pumps Segment: Competitive Structure, Global, 2014
24. Ductless Systems Segment: Revenue Forecast by Region, Global, 2011–2020
List of Charts
1. Total HVAC Equipment Market: Market Engineering Measurements, Global, 2014
2. Total HVAC Equipment Market: Percent Revenue Breakdown, Global, 2014
3. Total HVAC Equipment Market: Distribution Channel Analysis, Global, 2014
4. Total HVAC Market: Percent Market Split, Global, 2014
5. Total HVAC Equipment Market: Revenue Forecast, Global, 2011–2020
6. Total HVAC Equipment Market: Percent Revenue Forecast by Region, Global, 2011–2020
7. Total HVAC Equipment Market: Revenue Forecast by Vertical Market, Global, 2011–2020
8. Total HVAC Equipment Market: Percent Revenue Forecast by Distribution Channel, Global, 2011–2020
9. Total HVAC Equipment Market: Percent Revenue Breakdown, Global, 2014
10. Total HVAC Equipment Market: Absolute Market Share Trend, Global, 2011 and 2014
11. Total HVAC Equipment Market: Percent Market Share Trend, Global, 2011 and 2014
12. Total HVAC Equipment Market: Percent Revenue by Segment, Global, 2014
13. Unitary Equipment Segment: Revenue Forecast, Global, 2011–2020
14. Unitary Equipment Segment: Revenue Forecast by Vertical Market, Global, 2011–2020
15. Unitary Equipment Segment: Percent Revenue by Product Type, Global, 2014
16. Unitary Equipment Segment: Percent Revenue Forecast by Region, Global, 2011–2020
17. Unitary Equipment Segment: Percent Revenue Breakdown, Global, 2014
18. Total HVAC Equipment Market: Percent Revenue by Segment, Global, 2014
19. Applied Equipment Segment: Revenue Forecast, Global, 2011–2020
20. Applied Equipment Segment: Revenue Forecast by Vertical Market, Global, 2011–2020
21. Applied Equipment Segment: Percent Revenue by Product Type, Global, 2014
22. Applied Equipment Segment: Percent Revenue Forecast by Region, Global, 2011–2020
23. Applied Equipment Segment: Percent Sales Breakdown, Global, 2014
24. Total HVAC Equipment Market: Percent Revenue by Segment, Global, 2014
25. Chiller Equipment Segment: Revenue Forecast, Global, 2011–2020
26. Chiller Equipment Segment: Revenue Forecast by Vertical Market, Global, 2011–2020
27. Chiller Equipment Segment: Percent Revenue by Product Type, Global, 2014
28. Chiller Equipment Segment: Percent Revenue Forecast by Region, Global, 2011–2020
29. Chiller Equipment Segment: Percent Sales Breakdown, Global, 2014
30. Total HVAC Equipment Market: Percent Revenue by Segment, Global, 2014
31. Heat Pumps Segment: Percent Revenue by Product Type, Global, 2014
32. Heat Pumps Segment: Revenue Forecast, Global, 2011–2020
33. Heat Pumps Segment: Revenue Forecast by Vertical Market, Global, 2011–2020
34. Heat Pumps Segment: Percent Revenue Forecast by Region, Global, 2011–2020
35. Heat Pumps Segment: Percent Sales Breakdown, Global, 2014
36. Total HVAC Equipment Market: Percent Revenue by Segment, Global, 2014
37. Ductless Systems Segment: Growth Rate and Revenue Forecast, Global, 2011–2020
38. Ductless Systems Segment: Revenue Forecast by Vertical Market, Global, 2011–2020
39. Ductless Systems Segment: Percent Revenue Forecast by Region, Global, 2011–2020