Global Low-voltage Switchgear Market
Global Low-voltage Switchgear Market
The Modernisation of Public Infrastructure and the Adoption of Renewable Energy Systems Will Revitalize Market Growth
Research Code: MB1D-01-00-00-00
SKU: EG00138-GL-MR_00633
Description
The low-voltage (LV) switchgear market has been sluggish in recent years but is poised to record accelerated growth over the next few years. LV components, such as miniature circuit breakers (MCBs) and residual current circuit breakers (RCCBs), contributed most of the market share in 2014, which was primarily due to the demand from the residential segment. The market share of moulded case circuit breakers (MCCBs) and air circuit breakers (ACBs) will see an upswing from 2017 onwards due to increased spending on commercial and industrial projects.
RESEARCH: INFOGRAPHIC
This infographic presents a brief overview of the research, and highlights the key topics discussed in it.

Click image to view it in full size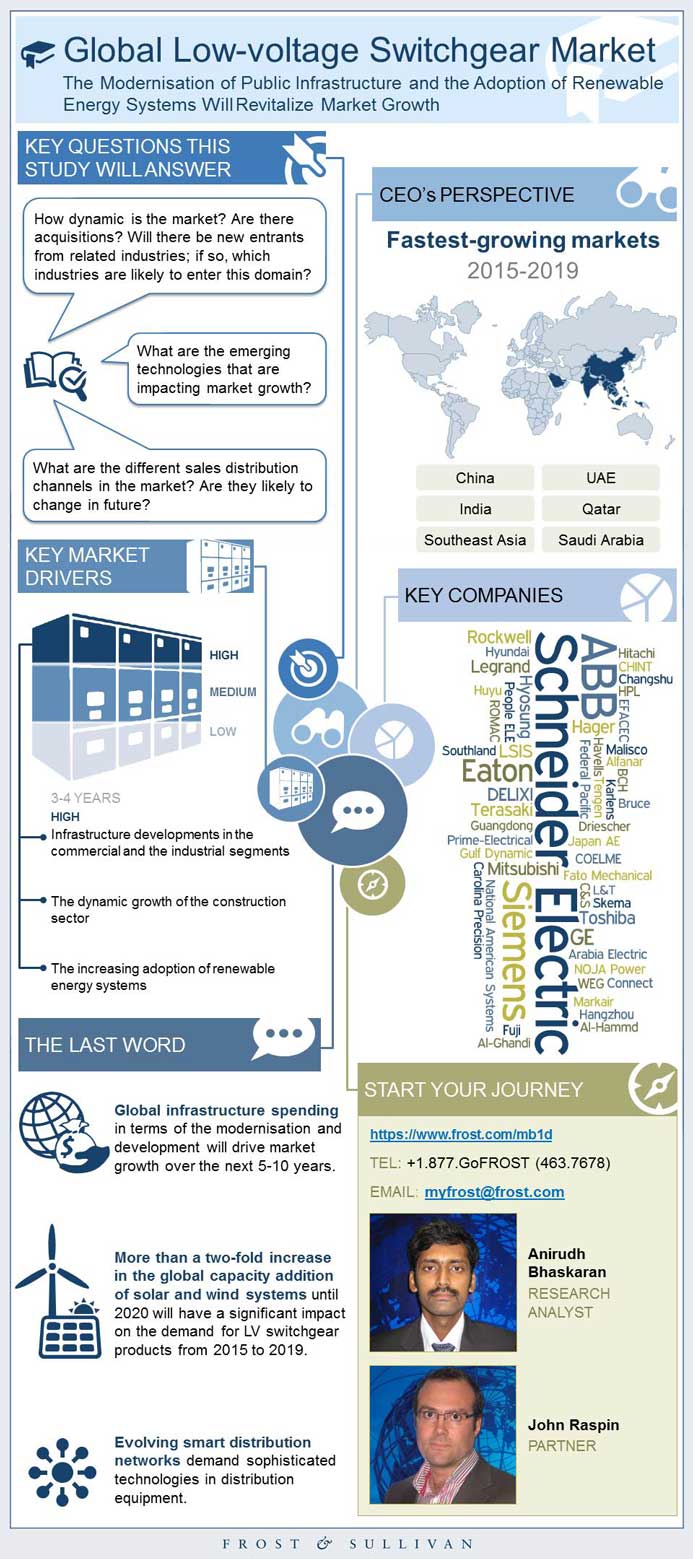 List of Figures
1. Total Low-voltage Switchgear Market: Product Range, Global, 2014
2. Total Low-voltage Switchgear Market: Key Market Drivers, Global, 2015–2019
3. Total Low-voltage Switchgear Market: Key Market Restraints, Global, 2015–2019
4. Total Low-voltage Switchgear Market: Market Engineering Measurements, Global, 2014
5. Total Low-voltage Switchgear Market: Average Price of MCBs, Global, 2014
6. Total Low-voltage Switchgear Market: Average Price of MCCBs, Global, 2014
7. Total Low-voltage Switchgear Market: Average Price of RCCBs, Global, 2014
8. Total Low-voltage Switchgear Market: Average Price of Fixed ACBs, Global, 2014
9. Total Low-voltage Switchgear Market: Average Price of Manual Drawout ACBs, Global, 2014
10. Total Low-voltage Switchgear Market: Average Price of Isolators, Global, 2014
11. Total Low-voltage Switchgear Market: Average Price of Contactors, Global, 2014
12. Total Low-voltage Switchgear Market: Average Price of Overload Relays, Global, 2014
13. Total Low-voltage Switchgear Market: Revenue Forecast by Region, Global, 2011–2019
14. Total Low-voltage Switchgear Market: Company Market Share Analysis of Top 5 Participants, Global, 2014
15. Total Low-voltage Switchgear Market: Competitive Structure, Global, 2014
16. Total Low-voltage Switchgear Market: SWOT Analysis, Global, 2014
17. Low-voltage Switchgear Market: CEO's 360 Degree Perspective, Global, 2014
18. Low-voltage Switchgear Market: Company Market Share Analysis of Top 5 Participants, North America, 2014
19. Low-voltage Switchgear Market: Competitive Structure, North America, 2014
20. Low-voltage Switchgear Market: Company Market Share Analysis of Top 5 Participants, Europe, 2014
21. Low-voltage Switchgear Market: Competitive Structure, Europe, 2014
22. Low-voltage Switchgear Market: Company Market Share Analysis of Top 5 Participants, Asia-Pacific, 2014
23. Low-voltage Switchgear Market: Competitive Structure, Asia-Pacific, 2014
24. Low-voltage Switchgear Market: Competitive Structure, The Middle East, 2014
25. Low-voltage Switchgear Market: Company Market Share Analysis of Top 5 Participants, Latin America, 2014
26. Low-voltage Switchgear Market: Competitive Structure, Latin America, 2014
27. Low-voltage Switchgear Market: Company Market Share Analysis of Top 5 Participants, Africa, 2014
28. Low-voltage Switchgear Market: Competitive Structure, Africa, 2014
29. Low-voltage Switchgear Market: Company Market Share Analysis of Top 5 Participants, RoW, 2014
30. Low-voltage Switchgear Market: Competitive Structure, RoW, 2014
List of Charts
1. Total Low-voltage Switchgear Market: Regional Life Cycle Analysis, Global, 2014
2. Total Low-voltage Switchgear Market: Market Engineering Measurements, Global, 2014
3. Total Low-voltage Switchgear Market: Product Segmentation, Global, 2014
4. Total Low-voltage Switchgear Market: Breakdown by End User, Global, 2014
5. Total Low-voltage Switchgear Market: Breakdown by Product, Global, 2014
6. Total Low-voltage Switchgear Market: Distribution Channel Analysis, Global, 2014
7. Construction Sector: Historical Revenue*, Global, 2010–2014
8. Renewable Energy Investment and Installed Capacity, Global, 2012–2020
9. GDP, Global, 2013–2016
10. Total Low-voltage Switchgear Market: Revenue Forecast, Global, 2011–2019
11. Total Low-voltage Switchgear Market: Percent Revenue Forecast by Region, Global, 2011–2019
12. Total Low-voltage Switchgear Market: Revenue Forecast by Product, Global, 2011–2019
13. Total Low-voltage Switchgear Market: Percent Revenue Forecast by Distribution Channel, Global, 2011–2019
14. Total Low-voltage Switchgear Market: Percent Sales Breakdown, Global, 2014
15. Low-voltage Switchgear Market: Revenue Forecast by Region, North America, 2014 and 2019
16. Low-voltage Switchgear Market: Revenue Forecast, North America, 2011–2019
17. Low-voltage Switchgear Market: Percent Sales Breakdown, North America, 2014
18. Low-voltage Switchgear Market: Revenue Forecast by Region, Europe, 2014 and 2019
19. Low-voltage Switchgear Market: Revenue Forecast, Europe, 2011–2019
20. Low-voltage Switchgear Market: Percent Sales Breakdown, Europe, 2014
21. Low-voltage Switchgear Market: Revenue Forecast by Region, Asia-Pacific, 2014 and 2019
22. Low-voltage Switchgear Market: Revenue Forecast, Asia-Pacific, 2011–2019
23. Low-voltage Switchgear Market: Percent Sales Breakdown, Asia-Pacific, 2014
24. Low-voltage Switchgear Market: Revenue Forecast by Region, The Middle East, 2014 and 2019
25. Low-voltage Switchgear Market: Revenue Forecast, The Middle East, 2011–2019
26. Low-voltage Switchgear Market: Percent Sales Breakdown, The Middle East, 2014
27. Low-voltage Switchgear Market: Revenue Forecast by Region, Latin America, 2014 and 2019
28. Low-voltage Switchgear Market: Revenue Forecast, Latin America, 2011–2019
29. Low-voltage Switchgear Market: Percent Sales Breakdown, Latin America, 2014
30. Low-voltage Switchgear Market: Revenue Forecast by Region, Africa, 2014 and 2019
31. Low-voltage Switchgear Market: Revenue Forecast, Africa, 2011–2019
32. Low-voltage Switchgear Market: Percent Sales Breakdown, Africa, 2014
33. Low-voltage Switchgear Market: Revenue Forecast by Region, RoW, 2014 and 2019
34. Low-voltage Switchgear Market: Revenue Forecast, RoW, 2011–2019
35. Low-voltage Switchgear Market: Percent Sales Breakdown, RoW, 2014