North American Workwear and Uniforms Market, Forecast to 2021
North American Workwear and Uniforms Market, Forecast to 2021
eCommerce is Set to Recast Pricing Strategies, Supply Chain and Product Mix
Research Code: K1C9-01-00-00-00
SKU: PP00161-NA-MR_20980
$4,950.00
Special Price $3,712.50 save 25 %
Description
Frost & Sullivan analysis reveals that the North American workwear and uniforms market is poised for growth as manufacturers realign their product portfolios to suit the needs of millennials in the workforce. Manufacturers are carefully evaluating new growth opportunities so as to bring value-addition to the end user.

New workwear is likely to take the form of moisture-wicking fabric, stain-resistance, and smart workwear for end users that are responsive to new technologies. Headwinds have characterized the rental segment leading to choppy growth. Manufacturers that are able to switch to eCommerce are likely to be able to successfully navigate any turbulence in the market.

The emergence of eCommerce as a viable sales channel is bringing to the forefront issues pertaining to inventory management. Manufacturers have to invest in tools that allow them to respond in a nimble manner; it becomes essential for manufacturers to stock the right amount of inventory so as to minimize wastage and optimize working capital management.

White workwear is expected to offer new growth opportunities due to increased hiring in healthcare and social assistance. Incumbents are well-positioned to take advantage of these growth opportunities due to robust product portfolios and efficient laundry facilities.

Manufacturers are likely to reevaluate the benefits of ancillary rental services so as to maximize the benefits to the end user. The provision of easy care is lessening the demand for laundry services.

Collaborations between workwear and uniform manufacturers and technology giants and start-ups are emerging. The possibility of new growth levers are likely, should the use cases for smart workwear be well defined. As style and design gain more prominence, manufacturers are likely to invest in design teams that can bring to the market aesthetically appealing workwear.

Growth in the uniforms segment is expected to be driven by increased allocation of spending on military, law enforcement under the Trump administration, which in turn, is expected to boost sales of uniforms. As uniforms continue to be worn as a symbol of pride, there is unlikely to be any major shift away from the traditional uniform design.

Region-level consolidation is expected to continue during the forecast period as incumbents seek to realize cost synergies and move further along the maturity curve.

Overall, the outlook for the uniform and workwear market is positive, as incumbents are well positioned to respond in a nimble manner to changing end-user preferences. Regional dynamics are also stable, which is expected to encourage workwear manufacturers to make investments in innovative garments.
RESEARCH: INFOGRAPHIC
This infographic presents a brief overview of the research, and highlights the key topics discussed in it.

Click image to view it in full size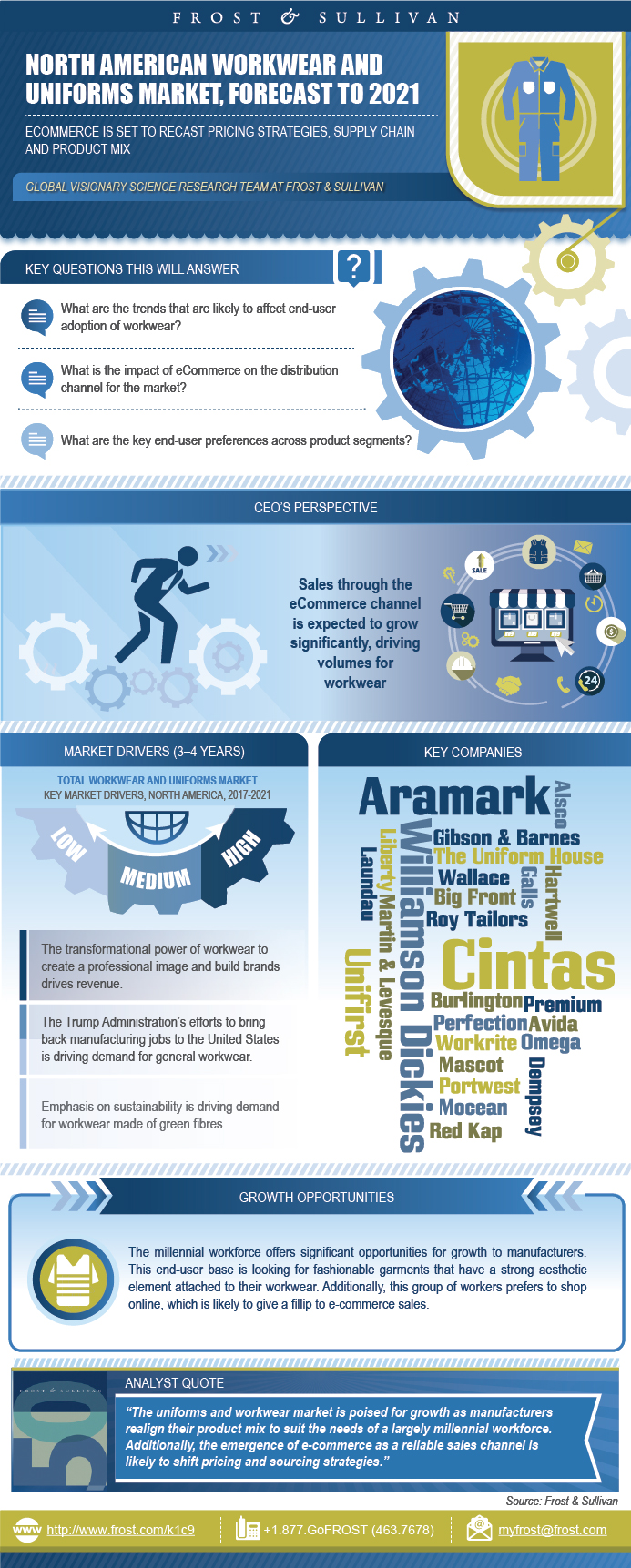 List of Figures
1. Total Workwear and Uniforms Market: Key Market Drivers, North America, 2017–2021
2. Total Workwear and Uniforms Market: Key Market Restraints, North America, 2017–2021
3. Total Workwear and Uniforms Market: Market Engineering Measurements, North America, 2016
4. Total Workwear and Uniforms Market: Revenue Forecast by Segment Type, North America, 2013–2021
5. Total Workwear and Uniforms Market: Revenue Forecast by Country, North America, 2013–2021
6. Total Workwear and Uniforms Market: Revenue Forecast by Revenue Channel, North America, 2013–2021
7. Direct Channel Workwear and Uniforms Market: Revenue Forecast by Country, North America, 2013–2021
8. Direct Channel Workwear and Uniforms Market: Unit Shipment Forecast by Country, North America, 2013–2021
9. Rental Channel Workwear and Uniforms Market: Revenue Forecast by Country, North America, 2013–2021
10. Total Workwear and Uniforms Market: Market Share Analysis of Top 4 Participants, North America, 2016
11. Total Workwear Market: Competitive Structure, North America, 2016
12. Direct Channel Workwear and Uniforms Market: Market Share Analysis of Top 3 Participants, North America, 2016
13. Direct Channel Workwear and Uniforms Market: Competitive Structure, North America, 2016
14. Rental Channel Workwear and Uniforms Market: Market Share Analysis of Top 6 Participants, North America, 2016
15. Rental Channel Workwear and Uniforms Market: Competitive Structure, North America, 2016
16. General Workwear Market: Market Engineering Measurements, North America, 2016
17. General Workwear Market: Revenue Forecast by Product Type, North America, 2013–2021
18. General Workwear Market: Revenue Forecast by Country, North America, 2013–2021
19. General Workwear Market: Revenue Forecast by Revenue Channel, North America, 2013–2021
20. Direct Channel General Workwear Market: Revenue Forecast by Country, North America, 2013–2021
21. Direct Channel General Workwear Market: Unit Shipment Forecast by Country, North America, 2013–2021
22. Rental Channel General Workwear Market: Revenue Forecast by Country, North America, 2013–2021
23. General Workwear Market: Competitive Structure, North America, 2016
24. Blue Workwear Market: Market Engineering Measurements, North America, 2016
25. Blue Workwear Market: Revenue Forecast by Country, North America, 2013–2021
26. Blue Workwear Market: Revenue Forecast by Revenue Channel, North America, 2013–2021
27. Direct Channel Blue Workwear Market: Revenue Forecast by Country, North America, 2013–2021
28. Direct Channel Blue Workwear Market: Unit Shipment Forecast by Country, North America, 2013–2021
29. Rental Channel Blue Workwear Market: Revenue Forecast by Country, North America, 2013–2021
30. White Workwear Market: Market Engineering Measurements, North America, 2016
31. White Workwear Market: Revenue Forecast by Country, North America, 2013–2021
32. White Workwear Market: Revenue Forecast by Revenue Channel, North America, 2013–2021
33. Direct Channel White Workwear Market: Revenue Forecast by Country, North America, 2013–2021
34. Direct Channel White Workwear Market: Unit Shipment Forecast by Country, North America, 2013–2021
35. Rental Channel White Workwear Market: Revenue Forecast by Country, North America, 2013–2021
36. Corporate Workwear Market: Market Engineering Measurements, North America, 2016
37. Corporate Workwear Market: Revenue Forecast by Product Type, North America, 2013–2021
38. Corporate Workwear Market: Revenue Forecast by Revenue Channel, North America, 2013–2021
39. Corporate Workwear Market: Revenue Forecast by Country, North America, 2013–2021
40. Direct Channel Corporate Workwear Market: Revenue Forecast by Country, North America, 2013–2021
41. Direct Channel Corporate Workwear Market: Unit Shipment Forecast by Country, North America, 2013–2021
42. Corporate Workwear Market: Revenue Forecast by Country, North America, 2013–2021
43. Corporate Workwear Market: Competitive Structure, North America, 2015
44. Career Workwear Market: Market Engineering Measurements, North America, 2016
45. Career Workwear Market: Revenue Forecast by Country North America, 2013–2021
46. Career Workwear Market: Revenue Forecast by Revenue Channel, North America, 2013–2021
47. Direct Channel Career Workwear Market: Revenue Forecast by Country, North America, 2013–2021
48. Direct Channel Career Workwear Market: Unit Shipment Forecast by Country, North America, 2013–2021
49. Rental Channel Career Workwear Market: Revenue Forecast by Country, North America, 2013–2021
50. Casual Workwear Market: Market Engineering Measurements, North America, 2016
51. Casual Workwear Market: Revenue Forecast by Country, North America, 2013–2021
52. Casual Workwear Market: Revenue Forecast by Revenue Channel, North America, 2013–2021
53. Direct Channel Casual Workwear Market: Revenue Forecast by Country, North America, 2013–2021
54. Direct Channel Casual Workwear Market: Unit Shipment Forecast by Country, North America, 2013–2021
55. Rental Channel Casual Workwear Market: Revenue Forecast by Country, North America, 2013–2021
56. Uniforms Market: Market Engineering Measurements, North America, 2016
57. Uniforms Market: Revenue Forecast by Country, North America, 2013–2021
58. Uniforms Market: Unit Shipment Forecast by Country, North America, 2013–2021
59. Uniforms Market: Competitive Structure, North America, 2016

List of Charts
1. Total Workwear and Uniforms Market: Market Engineering Measurements, North America, 2016
2. Total Workwear and Uniforms Market: Percent Revenue by Segment, North America, 2016
3. Total Workwear and Uniforms Market: Percent Revenue by Country, North America, 2016
4. Total Workwear and Uniforms Market: Market Breakdown by Revenue Channel, North America, 2017–2021
5. Total Workwear and Uniforms Market: Revenue Forecast, North America, 2013–2021
6. Total Workwear and Uniforms Market: Percent Revenue by Segment, North America, 2016
7. Total Workwear and Uniforms Market: Percent Revenue Forecast by Segment, North America, 2021
8. Total Workwear and Uniforms Market: Percent Revenue by Country, North America, 2016
9. Total Workwear and Uniforms Market: Percent Revenue Forecast by Country, North America, 2021
10. Total Workwear and Uniforms Market: Percent Revenue by Channel, North America, 2016
11. Total Workwear and Uniforms Market: Percent Revenue Forecast by Channel, North America, 2021
12. Total Workwear and Uniforms Market: Direct Revenue Channel by Country, North America, 2016
13. Total Workwear and Uniforms Market: Rental Revenue Channel by Country, North America, 2016
14. Total Workwear and Uniforms Market: Direct Revenue Channel by Country, North America, 2021
15. Total Workwear and Uniforms Market: Rental Revenue Channel by Country, North America, 2021
16. Direct Channel Workwear and Uniforms Market: Unit Shipment and Revenue Forecast, North America, 2013–2021
17. Rental Channel Workwear and Uniforms Market: Revenue Forecast, North America, 2013–2021
18. Total Workwear and Uniforms Market: Market Share, North America, 2016
19. Direct Channel Workwear and Uniforms Market: Market Share, North America, 2016
20. Rental Channel Workwear and Uniforms Market: Market Share, North America, 2016
21. Total Workwear and Uniforms Market: Percent Revenue Breakdown, North America, 2016
22. General Workwear Market: Revenue Forecast, North America, 2013–2021
23. General Workwear Market: Percent Revenue by Product, North America, 2016
24. General Workwear Market: Percent Revenue Forecast by Product, North America, 2021
25. General Workwear Market: Percent Revenue by Country, North America, 2016
26. General Workwear Market: Percent Revenue Forecast by Country, North America, 2021
27. General Workwear Market: Percent Revenue by Revenue Channel, North America, 2016
28. General Workwear Market: Percent Revenue Forecast by Revenue Channel, North America, 2021
29. Direct Channel General Workwear Market: Percent Revenue by Product Type, North America, 2016
30. Rental Channel General Workwear Market: Percent Revenue by Product Type, North America, 2016
31. Direct Channel General Workwear Market: Percent Revenue Forecast by Product Type, North America, 2021
32. Rental Channel General Workwear Market: Percent Revenue Forecast by Product Type, North America, 2021
33. Direct Channel General Workwear Market: Unit Shipment and Revenue Forecast, North America, 2013–2021
34. General Workwear Market: Percent Revenue by Country, North America, 2016
35. General Workwear Market: Percent Revenue Forecast by Country, North America, 2021
36. General Workwear Market: Percent Unit Shipment Forecast by Country, North America, 2016
37. General Workwear Market: Percent Unit Shipment Forecast by Country, North America, 2021
38. Rental Channel General Workwear Market: Revenue Forecast by Country, North America, 2013–2021
39. Total Workwear and Uniforms Market: Percent Revenue by Product Type, North America, 2016
40. Blue Workwear Market: Revenue Forecast, North America, 2013–2021
41. Blue Workwear Market: Percent Revenue by Country, North America, 2016
42. Blue Workwear Market: Percent Revenue Forecast by Country, North America, 2021
43. Blue Workwear Market: Percent Revenue by Revenue Channel, North America, 2016
44. Blue Workwear Market: Percent Revenue Forecast by Revenue Channel, North America, 2021
45. Direct Channel Blue Workwear Market: Revenue and Unit Shipment Forecast, North America, 2013–2021
46. Blue Workwear Market: Percent Revenue Forecast by Country, North America, 2016
47. Blue Workwear Market: Percent Revenue Forecast by Country, North America, 2021
48. Blue Workwear Market: Percent Revenue Forecast by Country, North America, 2016
49. Blue Workwear Market: Percent Revenue Forecast by Country, North America, 2021
50. Rental Channel Blue Workwear Market: Revenue Forecast, North America, 2013–2021
51. Blue Workwear Market: Percent Revenue Forecast by Country, North America, 2016
52. Blue Workwear Market: Percent Revenue Forecast by Country, North America, 2021
53. Total Workwear and Uniforms Market: Percent Revenue by Product Type, North America, 2016
54. White Workwear Market: Revenue Forecast, North America, 2013–2021
55. White Workwear Market: Percent Revenue by Country, North America, 2016
56. White Workwear Market: Percent Revenue Forecast by Country, North America, 2021
57. White Workwear Market: Percent Revenue by Revenue Channel, North America, 2016
58. White Workwear Market: Percent Revenue Forecast by Revenue Channel, North America, 2021
59. Direct Channel White Workwear Market: Revenue and Unit Shipment Forecast, North America, 2013–2021
60. White Workwear Market: Percent Revenue by Revenue Channel, North America, 2016
61. White Workwear Market: Percent Revenue Forecast by Revenue Channel, North America, 2021
62. Rental Channel White Workwear Market: Revenue Forecast, North America, 2013–2021
63. White Workwear Market: Percent Revenue Forecast by Country, North America, 2016
64. White Workwear Market: Percent Revenue Forecast by Country, North America, 2021
65. Total Workwear and Uniforms Market: Breakdown by Product Type, North America, 2016
66. Corporate Workwear Market: Revenue Forecast, North America, 2013–2021
67. Corporate Workwear Market: Percent Revenue by Product Type, North America, 2016
68. Corporate Workwear Market: Percent Revenue Forecast by Product Type, North merica, 2021
69. Corporate Workwear Market: Percent Revenue by Revenue Channel, North America, 2016
70. Corporate Workwear Market: Percent Revenue Forecast by Revenue Channel, North America, 2021
71. Direct Channel Corporate Workwear Market: Percent Revenue by Product Type, North America, 2016
72. Rental Channel Corporate Workwear Market: Percent Revenue by Product Type, North America, 2016
73. Direct Channel Corporate Workwear Market: Percent Revenue Forecast by Product Type, North America, 2021
74. Rental Channel Corporate Workwear Market: Percent Revenue Forecast by Product Type, North America, 2021
75. Corporate Workwear Market: Percent Revenue by Country, North America, 2016
76. Corporate Workwear Market: Percent Revenue Forecast by Country, North America, 2021
77. Direct Channel Corporate Workwear Market: Unit Shipment and Revenue Forecast, North America, 2013–2021
78. Corporate Workwear Market: Percent Revenue Forecast by Country, North America, 2016
79. Corporate Workwear Market: Percent Revenue Forecast by Country, North America, 2021
80. Corporate Workwear Market: Percent Unit Shipment Forecast by Country, North America, 2021
81. Rental Channel Corporate Workwear Market: Revenue Forecast, North America, 2013–2021
82. Corporate Workwear Market: Percent Revenue Forecast by Country, North America, 2016
83. Corporate Workwear Market: Percent Revenue Forecast by Country, North America, 2021
84. Total Workwear and Uniforms Market: Percent Revenue by Product Type, North America, 2016
85. Career Workwear Market: Revenue Forecast, North America, 2013–2021
86. Career Workwear Market: Percent Revenue by Country, North America, 2016
87. Career Workwear Market: Percent Revenue Forecast by Country, North America, 2021
88. Career Workwear Market: Percent Revenue by Revenue Channel, North America, 2016
89. Career Workwear Market: Percent Revenue Forecast by Revenue Channel, North America, 2021
90. Direct Channel Career Workwear Market: Revenue and Unit Shipment Forecast, North America, 2013–2021
91. Career Workwear Market: Percent Revenue by Revenue Channel, North America, 2016
92. Career Workwear Market: Percent Revenue Forecast by Revenue Channel, North America, 2021
93. Career Workwear Market: Percent Unit Shipment Forecast by Country, North America, 2021
94. Career Workwear Market: Percent Revenue Forecast by Country, North America, 2021
95. Rental Channel Career Workwear Market: Revenue Forecast, North America, 2013–2021
96. Total Workwear and Uniforms Market: Percent Revenue by Product Type, North America, 2016
97. Casual Workwear Market: Revenue Forecast, North America, 2013–2021
98. Casual Workwear Market: Percent Revenue by Country, North America, 2016
99. Casual Workwear Market: Percent Revenue Forecast by Country, North America, 2021
100. Casual Workwear Market: Percent Revenue by Revenue Channel, North America, 2016
101. Casual Workwear Market: Percent Revenue Forecast by Revenue Channel, North America, 2021
102. Direct Channel Casual Workwear Market: Revenue and Unit Shipment Forecast, US, 2013–2021
103. Casual Workwear Market: Percent Revenue by Revenue Channel, North America, 2016
104. Casual Workwear Market: Percent Revenue Forecast by Revenue Channel, North America, 2021
105. Casual Workwear Market: Percent Revenue by Revenue Channel, North America, 2016
106. Casual Workwear Market: Percent Revenue Forecast by Revenue Channel, North America, 2021
107. Rental Channel Casual Workwear Market: Revenue Forecast, North America, 2013–2021
108. Casual Workwear Market: Percent Revenue by Revenue Channel, North America, 2016
109. Casual Workwear Market: Percent Revenue Forecast by Revenue Channel, North America, 2021
110. Total Workwear and Uniforms Market: Percent Revenue by Product Type, North America, 2016
111. Uniforms Market: Revenue Forecast, North America, 2013–2021
112. Uniforms Market: Percent Revenue by Country, North America, 2016
113. Uniforms Market: Percent Revenue Forecast by Country, North America, 2021
114. Uniforms Market: Percent Unit Shipment by Country, North America, 2016
115. Uniforms Market: Percent Unit Shipment by Country, North America, 2021