Strategic Analysis of the European and North American Paint Additives Market
Strategic Analysis of the European and North American Paint Additives Market
Transition to Water-Borne Coatings Drives Changes in Product Mix
Research Code: MC23-01-00-00-00
SKU: CM01240-NA-MR_18846
$4,950.00
Special Price $3,712.50 save 25 %
Description
This research service identifies the major industry drivers, restraints, regulatory trends and technology trends affecting the European and North American Paint Additives Market. The product segments covered in this research are rheology modifiers, defoamers, surfactants, adhesion promoters, surface additives, wax additives, light stabilizers, biocides, and driers. Unit shipment and revenue forecasts have been provided at the product level for each segment for the period 2012–2020. At the segment level, the analysis focuses on the dynamics of the segment and further delves into regional information for Europe and North America. Competitive structure and market share data have been provided for each segment. The base year is 2015, and the forecast period ends in 2020.
RESEARCH: INFOGRAPHIC
This infographic presents a brief overview of the research, and highlights the key topics discussed in it.

Click image to view it in full size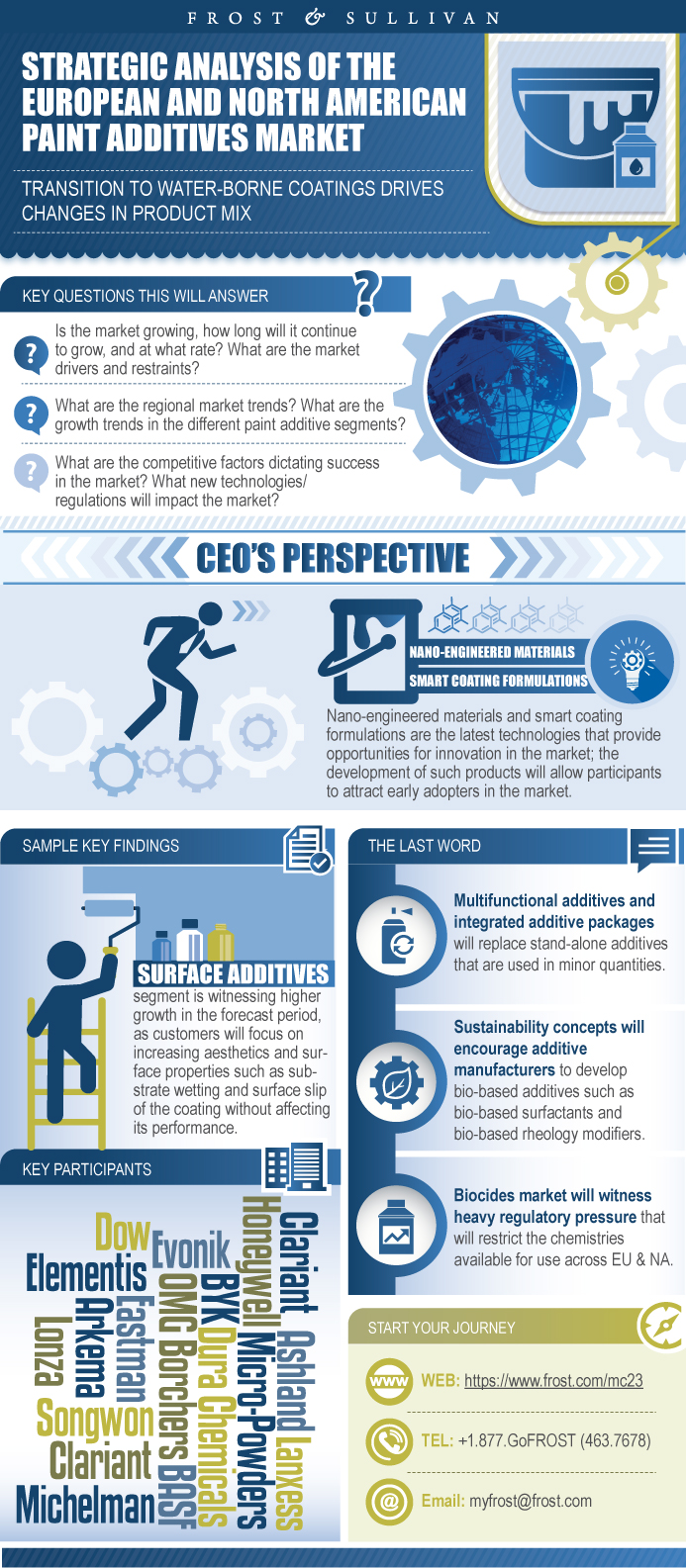 Key Findings
Executive Summary—Strategic Factsheet
Market Engineering Measurements
Market Engineering Measurements (continued)
CEO's Perspective
Market Definitions
Geographic Scope
Market Definitions
Market Engineering Measurements
Market Engineering Measurements (continued)
Key Questions This Study Will Answer
Forecast Assumptions
Unit Shipment and Revenue Forecast
Percent Unit Shipment Forecast by Product Segment
Percent Unit Shipment Forecast by Region
Rheology Modifiers Introduction
Rheology Modifiers Segment—Key Findings
Market Engineering Measurements
Unit Shipment and Revenue Forecast
Unit Shipment and Revenue Forecast Discussion
Percent Unit Shipment Forecast by Region
Percent Unit Shipment Forecast Discussion by Region
Pricing Trend and Forecast
Percent Unit Shipment by Chemistry
Trends by Chemistry
Market Share
Competitive Environment
Defoamers Introduction
Defoamers Introduction (continued)
Defoamers Segment—Key Findings
Market Engineering Measurements
Unit Shipment and Revenue Forecast
Unit Shipment and Revenue Forecast Discussion
Percent Unit Shipment Forecast by Region
Pricing Trend and Forecast
Percent Unit Shipment Forecast by Chemistry
Trends by Chemistry
Trends by Chemistry (continued)
Market Share
Competitive Environment
Surfactants Introduction
Surfactants Segment—Key Findings
Market Engineering Measurements
Unit Shipment and Revenue Forecast
Unit Shipment and Revenue Forecast Discussion
Unit Shipment and Revenue Forecast Discussion (continued)
Percent Unit Shipment Forecast by Region
Pricing Trend and Forecast
Percent Unit Shipment Forecast by Chemistry
Trends by Chemistry
Trends by Chemistry (continued)
Market Share
Competitive Environment
Adhesion Promoters Introduction
Adhesion Promoters Segment—Key Findings
Market Engineering Measurements
Unit Shipment and Revenue Forecast
Unit Shipment and Forecast Discussion
Percent Unit Shipment Forecast by Region
Pricing Trend and Forecast
Percent Unit Shipment Forecast by Chemistry
Trends by Chemistry (continued)
Market Share
Competitive Environment
Surface Additives Introduction
Surface Additives Segment—Key Findings
Market Engineering Measurements
Unit Shipment and Revenue Forecast
Unit Shipment and Revenue Forecast Discussion
Percent Unit Shipment Forecast by Region
Pricing Trend and Forecast
Percent Unit Shipment Forecast by Chemistry
Trends by Chemistry
Trends by Chemistry (continued)
Market Share
Competitive Environment
Wax Additives—Introduction
Wax Additives—Introduction (continued)
Wax Additives Segment—Key Findings
Market Engineering Measurements
Unit Shipment and Revenue Forecast
Unit Shipment and Revenue Forecast Discussion
Requirements by Coating Type
Percent Unit Shipment Forecast by Region
Pricing Trend and Forecast
Percent Unit Shipment Forecast by Chemistry
Trends by Chemistry
Market Share
Competitive Environment
Light Stabilizers Introduction
Light Stabilizers Segment—Key Findings
Market Engineering Measurements
Unit Shipment and Revenue Forecast
Unit Shipment and Revenue Forecast Discussion
Percent Unit Shipment Forecast by Region
Pricing Trend and Forecast
Percent Unit Shipment Forecast by Chemistry
Trends by Chemistry
Market Share
Competitive Environment
Biocides Introduction
Biocides Segment—Key Findings
Market Engineering Measurements
Unit Shipment and Revenue Forecast
Unit Shipment and Revenue Forecast Discussion
Percent Unit Shipment Forecast by Region
Pricing Trend and Forecast
Percent Unit Shipment Forecast by Chemistry
Trends by Chemistry
Trends by Chemistry (continued)
Product Trends
Market Share
Competitive Environment
Driers Introduction
Driers Segment—Key Findings
Market Engineering Measurements
Unit Shipment and Revenue Forecast
Unit Shipment and Revenue Forecast Discussion
Percent Unit Shipment Forecast by Region
Pricing Trend and Forecast
Percent Unit Shipment Forecast by Chemistry
Trends by Chemistry
Trends by Chemistry (continued)
Market Share
Competitive Environment
The Last Word—3 Big Predictions
Legal Disclaimer
Market Engineering Methodology
Partial List of Companies Interviewed
Abbreviations and Acronyms Used