The North American Patient Handling Systems Market
The North American Patient Handling Systems Market
Increased Adoption of Patient Lifts in US Acute Care Hospitals Drives Market Growth
Research Code: NFAC-01-00-00-00
SKU: HC02516-NA-MR_16637
$4,950.00
Special Price $3,712.50 save 25 %
Description
In this study of the North American patient handling systems market, patient lifts are broadly segmented as ceiling and floor lifts. End users are segmented as acute care hospitals, long-term care, and home care. The US market accounts for about 83% of the total market by revenue and is expected to grow faster than the Canadian market. Penetration of ceiling lifts in the Canadian long-term and home care markets is better than in the US where the reimbursement scenario will continue to pose a challenge for penetration. This research service includes a look at market drivers and restraints, forecasts and trends, the competitive landscape, and new product launches. The base year used for analysis is 2014 with forecasts from 2015 to 2018.
RESEARCH: INFOGRAPHIC
This infographic presents a brief overview of the research, and highlights the key topics discussed in it.

Click image to view it in full size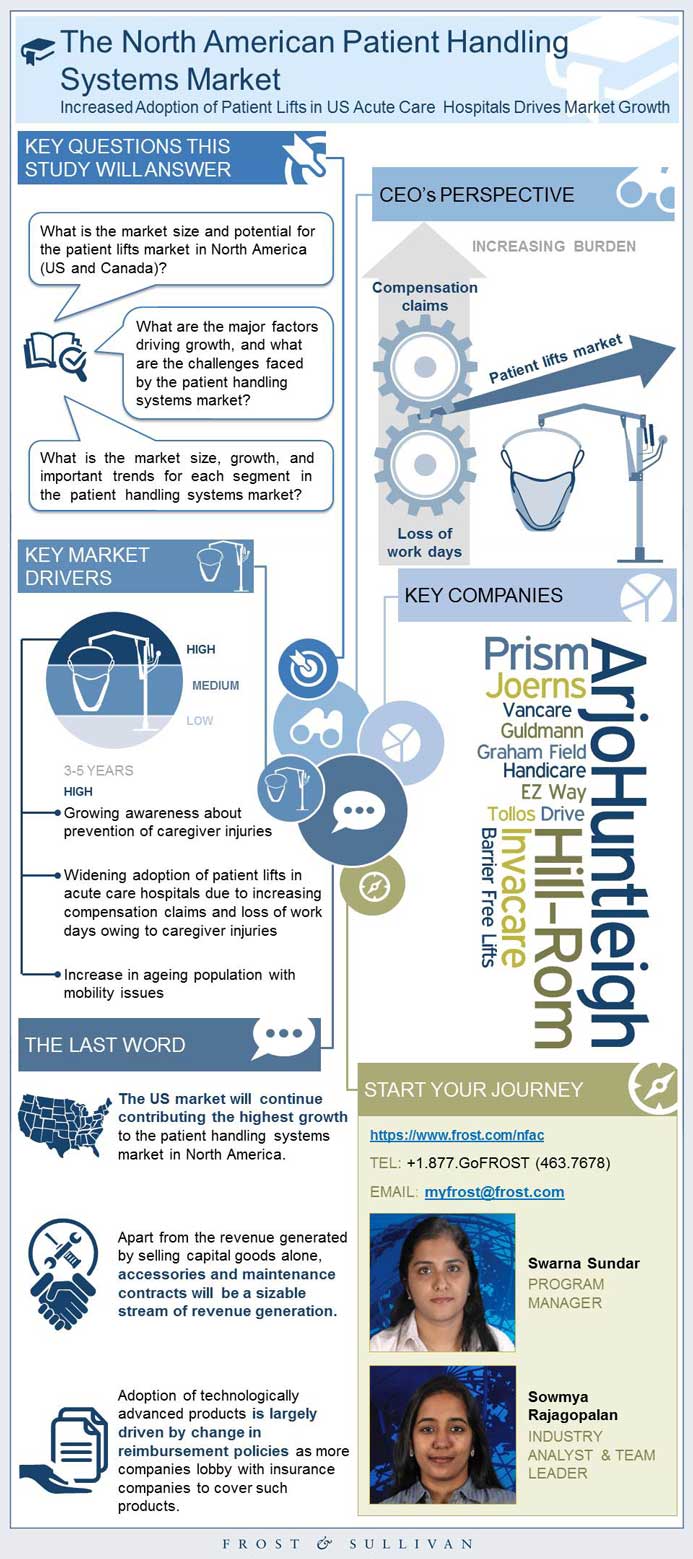 Key Findings
Research Scope
Market Engineering Measurements
CEO's Perspective
3 Big Predictions
Definitions and Market Segmentation
Product Segmentation
Market Drivers
Market Restraints
Market Engineering Measurements
Revenue Forecast
Percent Revenue Breakdown by Care-Setting and Product Segment
Percent Revenue Forecast by Region
Market Share
Market Share Analysis
Product Profiling of Key Companies
Market Engineering Measurements
Revenue Forecast
Revenue Forecast by Region
Unit Shipment Forecast by Region
Percent Revenue Forecast by Care-Setting
Unit Shipment Forecast by Care-Setting
Unit Shipment and Percent Revenue Forecast by Care-Setting—US and Canada
Percent Revenue Forecast by Product Type
Unit Shipment Forecast by Product Type
Percent Revenue Forecast by Product Type—US and Canada
Market Share
Market Share Analysis
Market Engineering Measurements
Revenue Forecast
Revenue Forecast by Region
Unit Shipment Forecast by Region
Percent Revenue Forecast by Care-Setting
Unit Shipment Forecast by Care-Setting
Unit Shipment and Percent Revenue Forecast by Care-Setting—US and Canada
Percent Revenue Forecast by Product Type
Unit Shipment Forecast by Product Type
Percent Revenue Forecast by Product Type—US and Canada
Market Share
Market Share Analysis
Care-Setting Penetration Analysis
Sales Channel Analysis
New Product Launches and Technology Advancements
List of Market Participants—Selected Companies
Legal Disclaimer
Market Engineering Methodology

List of Figures
1. Total Patient Handling Systems Market: Key Market Drivers, North America, 2015–2018
2. Total Patient Handling Systems Market: Key Market Restraints, North America, 2015–2018
3. Total Patient Handling Systems Market: Market Engineering Measurements, North America, 2014
4. Total Patient Handling Systems Market: Competitive Structure, North America, 2014
5. Total Patient Handling Systems Market: Company Market Share Analysis of Top 5 Market Participants, North America, 2014
6. Floor-Based Patient Handling Systems Market: Market Engineering Measurements, North America, 2014
7. Floor-Based Patient Handling Systems Market: Company Market Share Analysis of Top 4 Participants, North America, 2014
8. Ceiling-Based Patient Handling Systems Market: Company Market Share Analysis of Top 3 Market Participants, North America, 2014

List of Charts
1. Total Patient Handling Systems Market: Market Engineering Measurements, North America, 2014
2. Total Patient Handling Systems Market: Percent Revenue Breakdown by Product Segment, North America, 2014
3. Total Patient Handling Systems Market: Revenue Forecast, North America, 2014–2018
4. Total Patient Handling Systems Market: Percent Revenue Breakdown by Care-Setting: North America, 2014
5. Total Patient Handling Systems Market: Percent Revenue Breakdown by Product Segment, North America, 2014
6. Total Patient Handling Systems Market: Percent Revenue Breakdown by Region, North America, 2014
7. Patient Handling Systems Market: Revenue Forecast by Region, US, 2014 and 2018
8. Patient Handling Systems Market: Revenue Forecast, Canada, 2014 and 2018
9. Total Patient Handling System Market: Percent Revenue Breakdown, North America, 2014
10. Floor-Based Patient Handling Systems Market: Revenue Forecast, North America, 2014–2018
11. Floor-Based Patient Handling Systems Market: Percent Revenue Breakdown by Region, North America, 2014
12. Floor-Based Patient Handling Systems Market: Revenue Forecast Region, North America, 2014–2018
13. Floor-Based Patient Handling Systems Market: Unit Shipment Forecast, North America, 2014–2018
14. Floor-Based Patient Handling Systems Market: Unit Shipment Forecast by Region, North America, 2014–2018
15. Floor-Based Patient Handling Systems Market: Percent Revenue Forecast by Care-Setting, North America, 2014–2018
16. Floor-Based Patient Handling Systems: Unit Shipment Forecast by Care-Setting, North America, 2014–2018
17. Floor-Based Patient Handling Systems Market: Unit Shipment Forecast by Care-Setting, US, 2014–2018
18. Floor-Based Patient Handling Systems Market: Unit Shipment Forecast by Care-Setting, Canada, 2014–2018
19. Floor-Based Patient Handling Systems Market: Percent Revenue Forecast by Care-Setting, US, 2014–2018
20. Floor-Based Patient Handling Systems: Percent Revenue Forecast by Care-Setting, Canada, 2014–2018
21. Floor-Based Patient Handling Systems: Percent Revenue Forecast by Product Type, North America (2014–2018)
22. Floor-Based Patient Handling Systems Market: Unit Shipment Forecast by Product Type,
23. North America, 2014–2018
24. Floor-Based Patient Handling Market: Percent Revenue Forecast by Product Type, US, 2014–2018
25. Floor-Based Patient Handling Market: Percent Revenue Forecast by Product Type, Canada, 2014–2018
26. Floor-Based Patient Handling Market: Percent Revenue Breakdown, North America, 2014
27. Ceiling-Based Patient Handling Systems Market: Revenue Forecast, North America, 2014–2018
28. Ceiling-Based Patient Handling Systems Market: Revenue Breakdown by Region, North America, 2014
29. Ceiling-Based Patient Handling Systems Market: Revenue Forecast by Region, North America, 2014–2018
30. Ceiling-Based Patient Handling Systems Market: Unit Shipment Forecast, North America, 2014–2018
31. Ceiling-Based Patient Handling Systems Market: Unit Shipment Forecast by Region, North America, 2014–2018
32. Ceiling-Based Patient Handling Systems Market: Percent Revenue Forecast by Care-Setting, North America, 2014–2018
33. Ceiling-Based Patient Handling Systems Market: Unit Shipment Forecast by Care-Setting, North America, 2014–2018
34. Ceiling-Based Patient Handling Systems Market: Unit Shipment Forecast by Care-Setting, US, 2014–2018
35. Ceiling-Based Patient Handling Systems Market: Unit Shipment Forecast by Care-Setting, Canada, 2014–2018
36. Ceiling-Based Patient Handling Systems Market: Percent Revenue Forecast by Care-Setting, US, 2014–2018
37. Ceiling-Based Patient Handling Systems Market: Percent Revenue Forecast by Care-Setting, Canada, 2014–2018
38. Ceiling-Based Patient Handling Systems Market: Percent Revenue Forecast by Product Type, North America, 2014–2018
39. Ceiling-Based Patient Handling Systems Market: Percent Unit Shipment Forecast by Product Type, North America, 2014–2018
40. Ceiling-Based Patient Handling Systems Market: Percent Revenue Forecast by Product Type,
41. US, 2014–2018
42. Ceiling-Based Patient Handling Systems Market: Percent Revenue Forecast by Product Type, Canada, 2014–2018
43. Ceiling-Based Patient Handling Systems Market: Percent Revenue Breakdown, North America, 2014
44. Patient Handling Systems Market: Acute Care Hospital Penetration Analysis, North America, 2014
45. Patient Handling Systems Market: Long-Term Care Hospital Penetration Analysis, North America, 2014
46. Patient Handling Systems Market: Home Care Hospital Penetration Analysis, North America, 2014
47. Patient Handling Systems Market: Care-Setting Sales Channel Analysis, North America, 2014