Competitive Benchmarking of Key Tier I Suppliers in the Connected Car Market
Competitive Benchmarking of Key Tier I Suppliers in the Connected Car Market
Modular Architecture Trickling Down to Connected Vehicle Technologies to Increase Profitability
Research Code: MB3A-01-00-00-00
SKU: AU00057-GL-MR_08611
$7,500.00
Special Price $5,625.00 save 25 %
Description
This study contains profiles of 6 key tier I suppliers in the connected car market. They are Continental, Bosch, Harman, Visteon, Denso, and Panasonic. These six suppliers are benchmarked for their capabilities in Advance Driver Assistance Systems (ADAS), centre stack, Head-up Display (HUD), and Instrument Cluster Display (ICD). Each supplier profile contains OEM customers for their product offerings in ADAS, centre stack, HUD and ICD. Key product highlights in software and hardware are provided. Details about recent joint ventures, mergers, and acquisitions are available along with key financial data, such as annual revenue, revenue by region and by segment. A future roadmap for each supplier is projected up to 2025.
RESEARCH: INFOGRAPHIC
This infographic presents a brief overview of the research, and highlights the key topics discussed in it.

Click image to view it in full size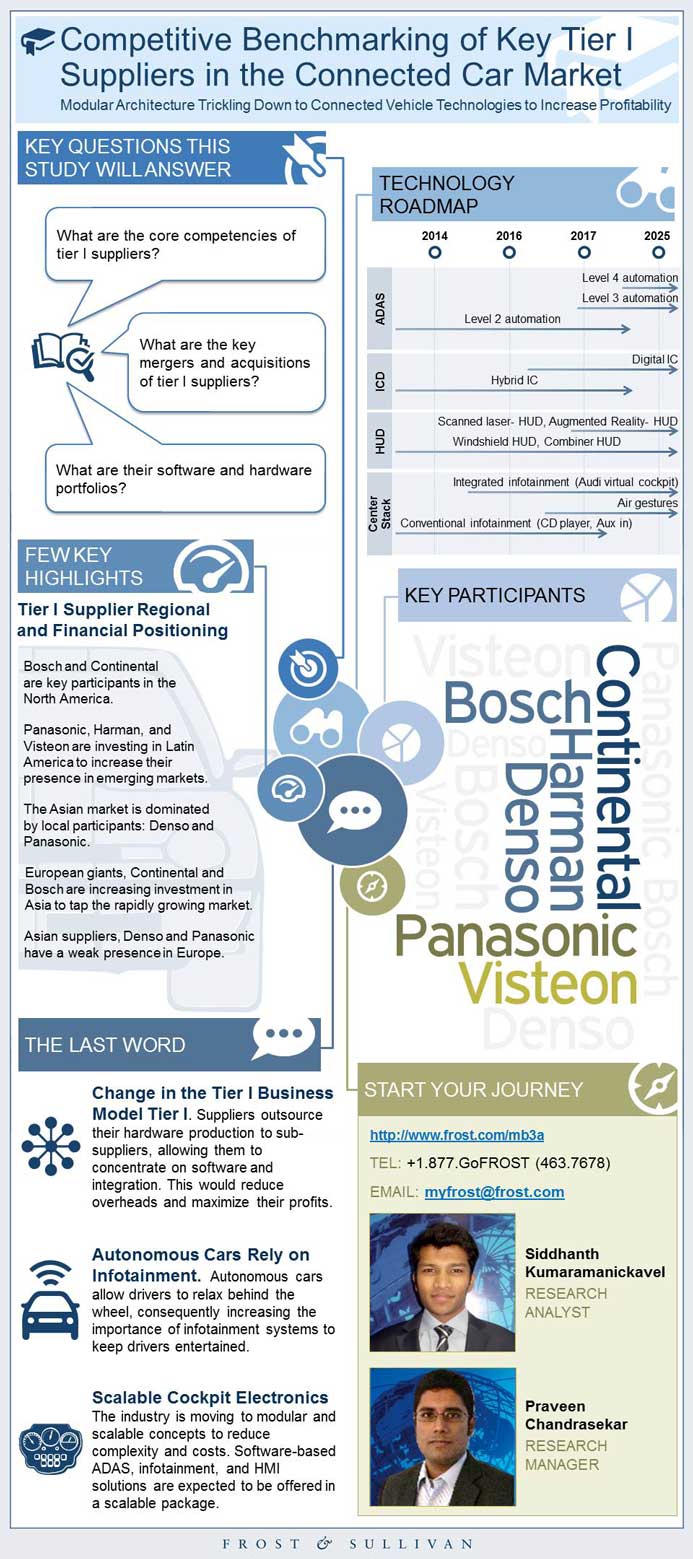 Tier I Supplier Comparative Analysis—OEM Customers, Global, 2015
Tier I Supplier Comparative Analysis—Technology Portfolio, Global, 2015
Comparative Benchmarking, Global, 2015
Technology Roadmap, Global, 2014–2020
Competitive Landscape of Tier I Suppliers—Scorecard
Tier I Supplier Regional and Financial Positioning
Scope and Objectives
Research Methodology
Continental Group
Continental Interior Division
Continental's Organization Structure, Global, 2015
Mergers, Joint Ventures, and Acquisitions, Global, 2013–2015
e-Horizon—A Dynamic, Connected System that Provides Information on the Road Ahead
Future Roadmap, Global, 2016–2025
OEM Comparative Analysis, Global, 2015
Continental Group's Key Factors, Global, 2015
Continental's Growth Estimates by Segments, Global, 2020
Bosch Group
Mobility Solutions
Product Highlights
Future Roadmap, Global, 2016–2025
OEM Comparative Analysis, Global, 2015
Harman Group
Infotainment Division
Acquisitions
Aha
Visteon
Visteon Electronics
Future portfolio
Future Roadmap, Global, 2016–2025
Denso
Information and Safety Systems
Case Study
Acquisitions
Future Roadmap, Global, 2016–2025
OEM Comparative Analysis, Global, 2015
Panasonic
Automotive and Industrial Systems
Connected Services, Global, 2015
Future Roadmap, Global, 2016–2025
Table of Acronyms Used
Learn More—Next Steps
Market Engineering Methodology

List of Figures
1. Tier I Supplier Benchmarking: Competitive Landscape Scorecard, Global, 2015
2. Passenger Car Market: Unit Shipment Forecast, Global, 2014–2021
3. Automotive Revenue and Product Segmentation, Global, FY 2014

List of Charts
1. Continental Group's Revenue by Segment, Global, 2014
2. Continental AG's Global Long Term Sales Forecast by Region
3. Continental Interior Division's Sales by Region, Global, 2010 and 2014
4. Continental Interior Division's Revenue and R&D Expenditure, Global, 2013 and 2014
5. Bosch Group Sales by Division, Global, 2014
6. Bosch Group Revenue, Global, 2013 and 2014
7. Bosch Group's Sales by Region, Global, 2014
8. Bosch Group's R&D Expenditure and EBIT, Global, 2013 and 2014
9. Harman Group's Net Sales, Global, 2013 and 2014
10. Share of Customers by OEM Base Region, Global, 2014
11. Harman Group's Net Sales by Region, Global, 2013 and 2014
12. Net Sales From Key Customers, Global, 2014
13. Visteon's Net Sales, Global, 2013 and 2014
14. Visteon's Sales by Region, Global, 2014
15. Visteon's Net Sales From Key Customers, Global, 2014
16. Tier I Supplier Benchmarking: Visteon Electronics, Global, 2015
17. Denso Segmentation and Contribution to Group Sales, Global, FY 2015
18. Denso's Sales by Region, Global, 2014
19. Denso's Net Sales by Key Customers, Global, FY 2015
20. Denso's Net Sales of Information and Safety Systems, Global, FY 2014 and FY 2015
21. Panasonic's Sales by Region, Global, FY 2015
22. Panasonic's Sales by Region, Global, FY 2015
23. Panasonic's Automotive Sales by Region, Global, FY 2014