Global Modular Data Center Market, Forecast to 2020
Global Modular Data Center Market, Forecast to 2020
Emerging Market Crests to High Growth Future with Multiple Feature and Functionality Benefits
Research Code: MB3F-01-00-00-00
SKU: EG01644-GL-MR_18535
$4,950.00
Special Price $3,712.50 save 25 %
Description
The global modular data center market is expected to grow at a strong pace till 2020. North America and Europe accounted for 70% of the total market revenues in 2015, while Asia-Pacific will be the fastest growing region during the forecast period. The IT and telecom end-user verticals accounted for a little over half of the total market revenues, while the disaster recovery application type was the biggest revenue contributor in 2015. Even with multiple market-related drivers such as high growth in collocation and cloud, increasing demand for data storage, overall increase in global data centre investments, and a boom in Internet of things (IoT) and Big Data, the most compelling driver is the design aspect of the modular data centre.
RESEARCH: INFOGRAPHIC
This infographic presents a brief overview of the research, and highlights the key topics discussed in it.

Click image to view it in full size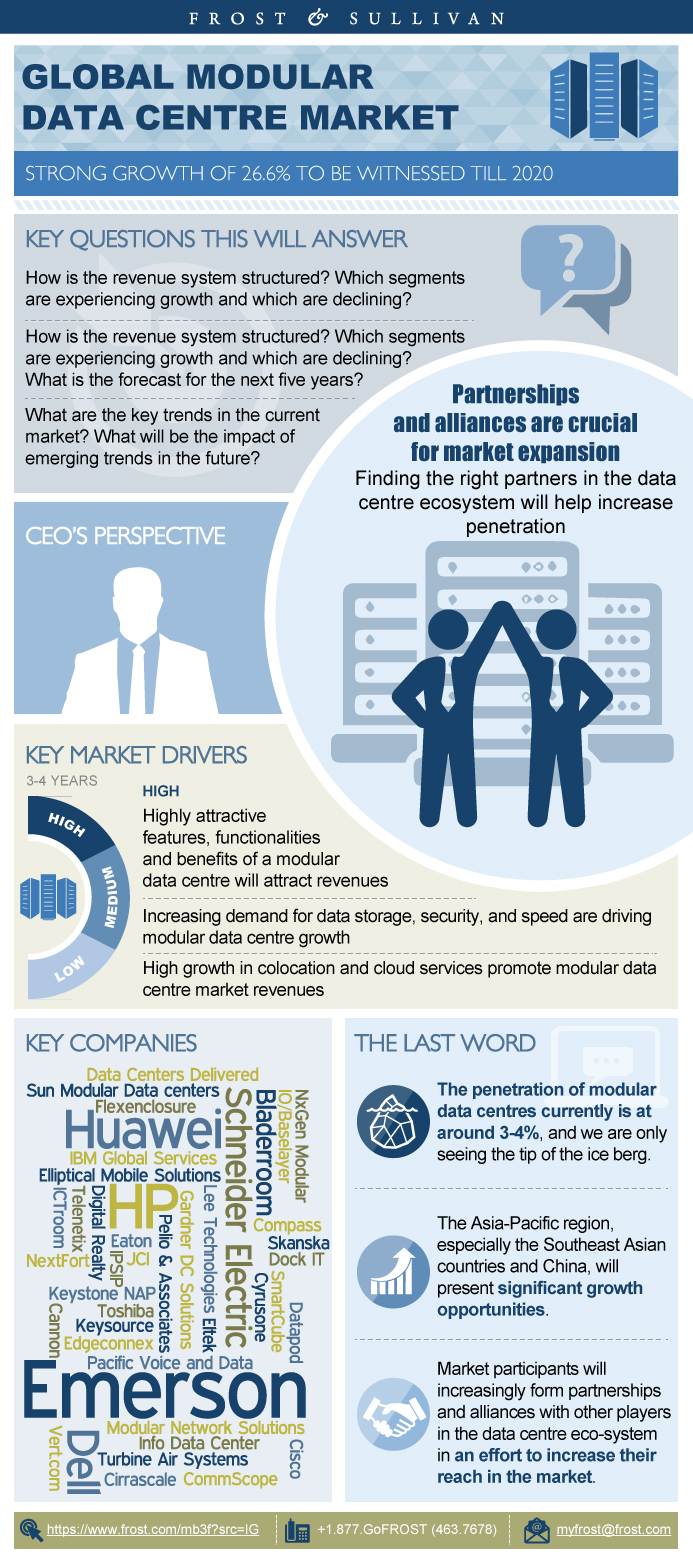 Key Findings—Modular Data Centre Market
Market measurements
By Market
By Competitor
By Total Addressable Market
By Industry Advancements
CEO's Perspective
Trends Driving the Future of Data Centres, 2015–2020
Scope - Modular Data Centre's
Market Definitions
Market Segmentations
Drivers, 2016–2020
Restraints, 2016–2020
Market measurements, 2015
Market Measurements, 2015
Market Trends
Revenue Forecasts, 2013–2020
Market Measurements, 2015
Market Trends
Revenue Forecasts, 2013–2020
Market Measurements, 2015
Market Trends
Revenue Forecast, 2013–2020
Market Measurements, 2015
Market trends
Revenue Forecast, 2013–2020
3 Big Predictions
Disclaimer
Market Methodology
Partial List of Other Companies

List of Figures
1. Total Modular Data Centre Market: Market Engineering Measurements, Global, 2015
2. Total Data Modular Centre Market: Data Centre of Tomorrow, Global, 2015–2020
3. Total Modular Data Centre Market: Percent Sales Breakdown by End-user Vertical, Global, 2015
4. Total Modular Data Centre Market: Percent Revenue Breakdown by Application Type, Global, 2015
5. Total Modular Data Centre Market: Percent Sales Breakdown by Region, Global, 2015
6. Total Modular Data Centre Market: Key Market Drivers, Global, 2016–2020
7. Total Modular Data Centre Market: Key Advantages/Benefits of a Modular Data Centre, Global, 2015
8. Total IP Traffic: Global, 2014–2020
9. Percent Split of IP Traffic—Fixed Internet vs. Managed IP vs. Mobile Data: Global, 2014–2020
10. Total Data Centre Traffic Growth Forecast: Global, 2014–2020
11. Total Traditional (Non-cloud) Data Centre Traffic Growth Forecast: Global, 2014–2020
12. Data Centre Market: Year-over-year (YOY) Outsourced Footprint Growth Rate, Global, 2014
13. Data Centre Market: White Space Growth—Outsourced Data Centre vs. In-house, Global, 2010, 2013, and 2015
14. Data Centre Market: YOY Total Facilities Growth Rate, Global, 2014
15. Total Data Centre Workload: Global, 2014–2020
16. Percent Split of Data Centre Workload—Traditional vs. Cloud: Global, 2014–2020
17. Cloud Data Centre Traffic—CAGR by Region: Global, 2014–2019
18. Cloud Data Centre Traffic Growth Forecast: Global, 2014–2020
19. Percent of Data Centre Traffic—Cloud vs. Traditional: Global, 2014–2020
20. Unprecedented growth in IoT and Big Data will play a crucial role in modular data centre market expansion.
21. Global Drivers of IoT
22. Big Data Analytics Market: Revenue Forecast, Global, 2015–2022
23. Big Data Analytics Market: Life Cycle Stage by Region, Global, 2015
24. Percent of Connected Devices by Segment: Global, 2014, 2017, and 2020
25. Data Centre Market: Investment Forecast, Global, 2012–2016
26. Data Centre Market: Investment Forecast by Type, Global, 2012 and 2016
27. Data Centre Market: Investment Growth Rate Forecast by Investment Type, Global, 2015 and 2016
28. Regional Investment Highlights—Snapshot
29. Total Modular Data Centre Market: Key Market Restraints, Global, 2016–2020
30. End-user Confidence in Modular Data Centre Technology: Global, 2015
31. Modular Data Centre Market: End-user Concerns Limiting Adoption, Global 2015
32. Total Modular Data Centre Market: Market Engineering Measurements, Global, 2015
33. Total Modular Data Centre Market: Revenue Forecast, Global, 2013–2020
34. Total Modular Data Centre Market: Percent Revenue Forecast by Region, Global, 2013–2020
35. Total Modular Data Centre Market: Regional Attractiveness, Global, 2015
36. Total Modular Data Centre Market: Revenue Forecast by Region, Global, 2013–2020
37. Total Modular Data Centre Market: Percent Revenue Forecast by End-user Vertical, Global, 2013–2020
38. Total Modular Data Centre Market: Segment Attractiveness by End-user Vertical, Global, 2015
39. Total Modular Data Centre Market: Revenue Forecast by End-user Vertical, Global, 2013–2020
40. Total Modular Data Centre Market: Percent Revenue Forecast by Application Type, Global, 2013–2020
41. Total Modular Data Centre Market: Segment Attractiveness by Application Type, Global, 2015
42. Total Modular Data Centre Market: Revenue Forecast by Application Type, Global, 2013–2020
43. IaaS Market: Revenue Forecast, US, 2013–2020
44. IaaS Market: Revenue Forecast, Europe, 2013–2020
45. Regional Internet Penetration—Fixed Line Internet vs. Mobile Internet: Global, 2014
46. Regional Internet Penetration—Fixed Line Internet vs. Mobile Internet: Global, 2019
47. Average Latency by Region: Global, 2015
48. Total Modular Data Centre Market: Percent Cost Split by Module Type, Global, 2015
49. Total Modular Data Centre Market: Percent Cost Split by Module Type, Global, 2020
50. Total Modular Data Centre Market: Cost Split by Module Type, Global, 2015
51. Total Modular Data Centre Market: Cost Split by Module Type, Global, 2020
52. Total Modular Data Centre Market: Percent Revenue Breakdown, Global, 2015
53. Total Modular Data Centre Market: Company Market Share Analysis of Top 5 Participants, Global, 2015
54. Modular Data Centre Market—Top 3 Companies by Region
55. Total Modular Data Centre Market: Competitive Structure, Global, 2015
56. Modular Data Centre Market: Market Engineering Measurements, North America, 2015
57. Data Traffic–Consumer Internet Video: North America, 2014–2019
58. Data Traffic–Mobile Data/Internet: North America, 2014–2019
59. Workload Distribution–Cloud Data Centres vs. Traditional Data Centres: North America, 2014–2019
60. Workload Distribution Growth Rate–Cloud Data Centres vs. Traditional Data Centres: North America, 2014–2019
61. Modular Data Centre Market: Revenue Forecast, North America, 2013–2020
62. Total Modular Data Centre Market: Percent Revenue Breakdown, Global, 2015
63. Modular Data Centre Market: Percent Revenue Forecast by End-user Vertical, North America, 2013–2020
64. Modular Data Centre Market: Revenue Forecast by End-user Vertical Segment, North America, 2013–2020
65. Modular Data Centre Market: Percent Revenue Forecast by Application Type, North America, 2013–2020
66. Modular Data Centre Market: Revenue Forecast by Application Type, North America, 2013–2020
67. Average Latency: North America, 2015
68. Modular Data Centre Market: Percent Cost Split by Module Type, North America, 2015
69. Modular Data Centre Market: Percent Cost Split by Module Type, North America, 2020
70. Modular Data Centre Market: Cost Split by Module Type, North America, 2015
71. Modular Data Centre Market: Cost Split by Module Type, North America, 2020
72. Modular Data Centre Market: Market Engineering Measurements, Europe, 2015
73. Data Traffic–Consumer Internet Video: Europe, 2014–2019
74. Data Traffic–Mobile Data/Internet: Europe, 2014–2019
75. Workload Distribution–Cloud Data Centres vs. Traditional Data Centres: Western Europe, 2014—2019
76. Workload Distribution Growth Rate–Cloud Data Centres vs. Traditional Data Centres: Western Europe, 2014–2019
77. Workload Distribution–Cloud Data Centres vs. Traditional Data Centres: CEE, 2014–2019
78. Workload Distribution Growth Rate–Cloud Data Centres vs. Traditional Data Centres: CEE, 2014–2019
79. Modular Data Centre Market: Revenue Forecast, Europe, 2013–2020
80. Total Modular Data Centre Market: Percent Revenue Breakdown, Global, 2015
81. Modular Data Centre Market: Percent Revenue Forecast by End-user Vertical, Europe, 2013–2020
82. Modular Data Centre Market: Revenue Forecast by End-user Vertical, Europe, 2013–2020
83. Modular Data Centre Market: Percent Revenue Forecast by Application Type, Europe, 2013–2020
84. Modular Data Centre Market: Revenue Forecast by Application Type, Europe, 2013–2020
85. Big Data Application Market: Revenue, Europe, 2014–2025
86. Average Latency: Europe, 2015
87. Modular Data Centre Market: Percent Cost Split by Module Type, Europe, 2015
88. Modular Data Centre Market: Percent Cost Split by Module Type, Europe, 2020
89. Modular Data Centre Market: Cost Split by Module Type, Europe, 2015
90. Modular Data Centre Market: Cost Split by Module Type, Europe, 2020
91. Modular Data Centre Market: Market Engineering Measurements, APAC, 2015
92. Data Traffic—Consumer Internet Video: APAC, 2014–2019
93. Data Traffic—Mobile Data/Internet: APAC, 2014–2019
94. Workload Distribution–Cloud Data Centres vs. Traditional Data Centres: APAC, 2014–2019
95. Workload Distribution Growth Rate–Cloud Data Centres vs. Traditional Data Centres: APAC, 2014–2019
96. Modular Data Centre Market: Revenue Forecast, APAC, 2013–2020
97. Total Modular Data Centre Market: Percent Revenue Breakdown, Global, 2015
98. Modular Data Centre Market: Percent Revenue Forecast by End-user Vertical, APAC, 2013–2020
99. Modular Data Centre Market: Revenue Forecast by End-user Vertical, APAC, 2013–2020
100. Modular Data Centre Market: Percent Revenue Forecast by Application Type, APAC, 2013–2020
101. Modular Data Centre Market: Revenue Forecast by Application Type, APAC, 2013–2020
102. Average Latency, APAC, 2015
103. Modular Data Centre Market: Percent Cost Split by Module Type, APAC, 2015
104. Modular Data Centre Market: Percent Cost Split by Module Type, APAC, 2020
105. Modular Data Centre Market: Cost Split by Module Type, APAC, 2015
106. Modular Data Centre Market: Cost Split by Module Type, APAC, 2020
107. Modular Data Centre Market: Market Engineering Measurements, ROW, 2015
108. Data Traffic–Consumer Internet Video, ROW, 2014–2019
109. Data Traffic–Mobile Data/Internet, ROW, 2014–2019
110. Workload Distribution–Cloud Data Centres vs. Traditional Data Centres, MEA, 2014–2019
111. Workload Distribution Growth Rate–Cloud Data Centres vs. Traditional Data Centres, MEA, 2014–2019
112. Workload Distribution–Cloud Data Centre vs. Traditional Data Centre, LATAM, 2014–2019
113. Workload Distribution Growth Rate–Cloud Data Centre vs. Traditional Data Centre, LATAM, 2014–2019
114. Modular Data Centre Market: Revenue Forecast, ROW, 2013–2020
115. Total Modular Data Centre Market: Percent Revenue Breakdown, Global, 2015
116. Modular Data Centre Market: Percent Revenue Forecast by End-user Vertical, ROW, 2013–2020
117. Modular Data Centre Market: Revenue Forecast by End-user Vertical, ROW, 2013–2020
118. Modular Data Centre Market: Percent Revenue Forecast by Application Type, ROW, 2013–2020
119. Modular Data Centre Market: Revenue Forecast by Application Type, ROW, 2013–2020
120. Average Latency: LATAM, 2015
121. Average Latency, Middle East, 2015
122. Average Latency, Africa, 2015
123. Modular Data Centre Market: Percent Cost Split by Module Type, ROW, 2015
124. Modular Data Centre Market: Percent Cost Split by Module Type, ROW, 2020
125. Modular Data Centre Market: Cost Split by Module Type, ROW, 2015
126. Modular Data Centre Market: Cost Split by Module Type, ROW, 2020