Analysis of Global Modular UPS Market
Analysis of Global Modular UPS Market
Modular UPS to Grow at Twice the Rate as Compared to Traditional UPS Systems
Research Code: MC87-01-00-00-00
SKU: EG01694-GL-MR_19130
$4,950.00
Special Price $3,712.50 save 25 %
Description
The global modular UPS market is expected to grow at a high pace over the forecast period, almost twice as fast as the traditional UPS market. The growth rates are expected to further accelerate post 2017. In 2015, North America and Europe accounted for majority of the total market revenues, with a combined share of 57.0%. However, Asia-Pacific (including China) is the single largest revenue contributor. Emerging markets are expected to grow at a faster rate than developed markets. China will be the fastest growing region during the forecast period, followed by rest of Asia-Pacific. North America is expected to register the lowest CAGR among all regions between 2015 and 2020.
RESEARCH: INFOGRAPHIC
This infographic presents a brief overview of the research, and highlights the key topics discussed in it.

Click image to view it in full size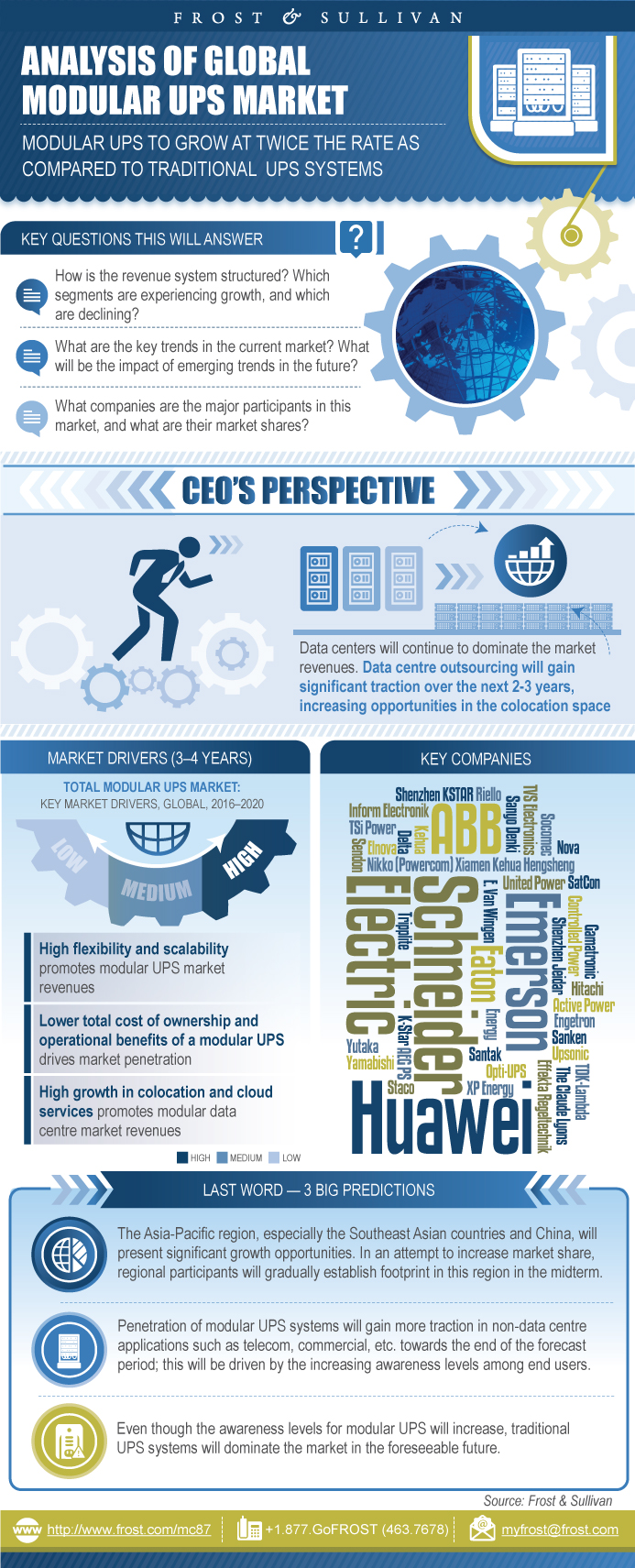 Executive Summary—Key Findings
Executive Summary—Market Engineering Measurements
Executive Summary—CEO's Perspective
Market Definitions
Modular UPS Market Segmentation by End-user Vertical
Modular UPS Market Segmentation by Power Range
Modular UPS
Segmentation by Power Range
Segmentation by End-user Vertical
Modular UPS Market Segmentation by Region
Data Centres
Telecom
Government/Infrastructure
Commercial
Others
Modular UPS Market Trends
0 to 50 kVA
0 to 50 kVA
100 to 300 kVA
100 to 300 kVA
Market Drivers
Market Restraints
Market Engineering Measurements
Total Modular UPS Market—Revenue Forecast
Total Modular UPS Market—Percent Revenue Forecast by Region
Total Modular UPS Market—Regional Snapshot
Total Modular UPS Market—Regional Attractiveness
Total Modular UPS Market—Revenue Forecast by Region
Total Modular UPS Market—Percent Revenue Forecast by End-user Vertical
Total Modular UPS Market—Segment Attractiveness by End-user Vertical
Total Modular UPS Market—Revenue Forecast by End-user Vertical
Total Modular UPS Market—Percent Revenue Forecast by Data Centre Sub-segment
Revenue Forecast by Data Centre Sub-Segment
Total Modular UPS Market—Percent Revenue Forecast by Power Range
Total Modular UPS Market—Segment Attractiveness by Power Range
Total Modular UPS Market—Revenue Forecast by Power Range
Market Share
Market Share Analysis
Competitive Environment
North America—Market Overview
North America—Revenue Forecast
North America—Percent Revenue Forecast by End-user Vertical
North America—Revenue Forecast by End-user Vertical
North America—Revenue Forecast by Data Centre Sub-segment
Europe—Market Overview
Europe—Revenue Forecast
Europe—Percent Revenue Forecast by End-user Vertical
Europe—Revenue Forecast by End-user Vertical
Europe—Revenue Forecast by Data Centre Sub-segment
China—Market Overview
China—Revenue Forecast
China—Percent Revenue Forecast by End-user Vertical
China—Revenue Forecast by End-user Vertical
China—Revenue Forecast by Data Centre Sub-segment
ROAPAC—Market Overview
ROAPAC—Revenue Forecast
ROAPAC—Percent Revenue Forecast by End-user Vertical
ROAPAC—Revenue Forecast by End-user Vertical
ROAPAC—Revenue Forecast by Data Centre Sub-segment
ROW—Market Overview
ROW—Revenue Forecast
ROW—Percent Revenue Forecast by End-user Vertical
ROW—Revenue Forecast by End-user Vertical
ROW—Revenue Forecast by Data Centre Sub-segment
The Last Word—3 Big Predictions
Legal Disclaimer
Market Engineering Methodology
Modular UPS Market—Partial List of Other Companies

List of Figures
1. Total Data Centre Segment: Investment Growth Rate Forecast by Investment Type, Global, 2015 and 2016
2. Total Modular UPS Market: Key Market Drivers, Global, 2016–2020
3. Total Modular UPS Market: Key Market Restraints, Global, 2016–2020
4. Total Modular UPS Market: Market Engineering Measurements, Global, 2015
5. Total Modular UPS Market: Revenue Forecast by Region, Global, 2013–2020
6. Total Modular UPS Market: Revenue Forecast by End-user Vertical, Global, 2013–2020
7. Total Modular UPS Market: Revenue Forecast by Data Centre Sub-segment, Global, 2013–2020
8. Total Modular UPS Market: Revenue Forecast by Power Range, Global, 2013–2020
9. Total Modular UPS Market: Company Market Share Analysis of Top 5 Participants, Global, 2015
10. Total Modular UPS Market: Competitive Structure, Global, 2015
11. Modular UPS Market: Market Engineering Measurements, North America, 2015
12. Modular UPS Market: Revenue Forecast by End-user Vertical, North America, 2013–2020
13. Modular UPS Market, Revenue Forecast by Data Centre Sub-segment, North America, 2013–2020
14. Modular UPS Market: Market Engineering Measurements, Europe, 2015
15. Modular UPS Market: Revenue Forecast by End-user Vertical, Europe, 2013–2020
16. Modular UPS Market: Revenue Forecast by Data Centre Sub-segment, Europe, 2013–2020
17. Modular UPS Market: Market Engineering Measurements, China, 2015
18. Modular UPS Market: Revenue Forecast by End-user Vertical, China, 2013–2020
19. Modular UPS Market: Revenue Forecast by Data Centre Sub-segment, China, 2013–2020
20. Modular UPS Market: Market Engineering Measurements, ROAPAC, 2015
21. Modular UPS Market: Revenue Forecast by End-user Vertical, ROAPAC, 2013–2020
22. Modular UPS Market: Revenue Forecast by Data Centre Sub-segment, ROAPAC, 2013–2020
23. Modular UPS Market: Market Engineering Measurements, ROW, 2015
24. Modular UPS Market: Revenue Forecast by End-user Vertical, ROW, 2013–2020
25. Modular UPS Market: Revenue Forecast by Data Centre Sub-segment, ROW, 2013–2020

List of Charts
1. Total Modular UPS Market: Market Engineering Measurements, Global, 2015
2. Total Modular UPS Market: Percent Sales Breakdown by End-user Vertical, Global, 2015
3. Total Modular UPS Market: Percent Revenue Breakdown by Power Range, Global, 2015
4. Total Modular UPS Market: Percent Revenue Breakdown by Region, Global, 2015
5. Total Modular UPS Market: Product Life Cycle Analysis, Global, 2015
6. Total Modular UPS Market: End-user Concerns Limiting Adoption, Global, 2015
7. Total Modular UPS Market: Year-on-Year Growth Rate, End-user Verticals, Global, 2015–2020
8. Total Data Centre Segment: Investment Share, Global, 2013
9. Total Data Centre Segment: Investment Share, Global, 2016
10. Total Data Centre Segment: Investment Forecast, Global, 2012–2016
11. Total Data Centre Segment: Investment Forecast by Type, Global, 2012 and 2016
12. Modular Data Centre Segment: Revenue Split by Vertical Segment, Global, 2015–2020
13. Total Modular UPS Market: Revenue Forecast, Global, 2013–2020
14. Total Modular UPS Market: Percent Revenue Forecast by Region, Global, 2013–2020
15. Total Modular UPS Market: Percent Revenue Split by Region, Global, 2015
16. Total Modular UPS Market: Percent Revenue Forecast by Region, Global, 2020
17. Total Modular UPS Market: Compound Annual Growth Rate, Global, 2015–2020
18. Total Modular UPS Market: Year-on-Year Growth Rate, Global & China, 2015–2020
19. Total Modular UPS Market: Year-on-Year Growth Rate, NA, Europe, ROAPAC, & ROW, 2015–2020
20. Total Modular UPS Market: Regional Attractiveness, Global, 2015
21. Total Modular UPS Market: Percent Revenue Forecast by End-user Vertical, Global, 2013–2020
22. Total Modular UPS Market: Segment Attractiveness by End-user Vertical, Global, 2015
23. Total Modular UPS Market: Percent Revenue Forecast by Data Centre Sub-segment, Global, 2013–2020
24. Total Modular UPS Market: Growth Rate by Data Centre Sub-segment, Global, 2014–2020
25. Data Centre Segment: White Space Growth, Outsourced DC vs. In-house, Global, 2010, 2013, and 2015
26. Total Modular UPS Market: Percent Revenue Forecast by Power Range, Global, 2013–2020
27. Total Modular UPS Market: Segment Attractiveness by Power Range, Global, 2015
28. Total Modular UPS Market: Percent Revenue Breakdown, Global, 2015
29. Modular UPS Market: Revenue Forecast, North America, 2013–2020
30. Modular UPS Market: Percent Revenue Breakdown, Global, 2015
31. Modular UPS Market: Percent Revenue Forecast by End-user Vertical, North America, 2013–2020
32. Modular UPS Market: Growth Rate by Data Centre Sub-segment, North America, 2014–2020
33. Modular UPS Market: Revenue Forecast, Europe, 2013–2020
34. Total Modular UPS Market: Percent Revenue Breakdown, Global, 2015
35. Modular UPS Market: Percent Revenue Forecast by End-user Vertical, Europe, 2013–2020
36. Modular UPS Market: Growth Rate by Data Centre Sub-segment, Europe, 2014–2020
37. Modular UPS Market: Revenue Forecast, China, 2013–2020
38. Total Modular UPS Market: Percent Revenue Breakdown, Global, 2015
39. Modular UPS Market: Percent Revenue Forecast by End-user Vertical, China, 2013–2020
40. Modular UPS Market: Growth Rate by Data Centre Sub-segment, China, 2014–2020
41. Modular UPS Market: Revenue Forecast, ROAPAC, 2013–2020
42. Total Modular UPS Market: Percent Revenue Breakdown, Global, 2015
43. Modular UPS Market: Percent Revenue Forecast by End-user Vertical, ROAPAC, 2013–2020
44. Modular UPS Market: Growth Rate by Data Centre Sub-segment, ROAPAC, 2014–2020
45. Modular UPS Market: Revenue Forecast, ROW, 2013–2020
46. Total Modular UPS Market: Percent Revenue Breakdown, Global, 2015
47. Modular UPS Market: Percent Revenue Forecast by End-user Vertical, ROW, 2013–2020
48. Modular UPS Market: Growth Rate by Data Centre Sub-segment, ROW, 2014–2020