Analysis of the Global Commercial UAS Market
Analysis of the Global Commercial UAS Market
Overhyped Market to See Significant Growth Despite Regulatory and Technology Hurdles
Research Code: NFC4-01-00-00-00
SKU: AE00087-NA-MR_00087
$6,000.00
Special Price $4,500.00 save 25 %
Description
Globally, the commercial unmanned aircraft systems (UAS) ecosystem is growing rapidly, and a euphoric attitude that UAS utilization can make almost any aerial data collection faster, cheaper, and more efficient pervades the industry. This study takes a realistic approach to forecasting the global commercial UAS industry, accounting for current regulatory environments and industry trends. The research separates the global commercial UAS market into manageable application and platform segments and provides regional market forecasts for UAS platforms (i.e., consumer, prosumer, professional, commercial, enterprise, and fixed wing). The forecast period is from 2015 to 2020. Predictions about the market's future conclude this research service.
RESEARCH: INFOGRAPHIC
This infographic presents a brief overview of the research, and highlights the key topics discussed in it.

Click image to view it in full size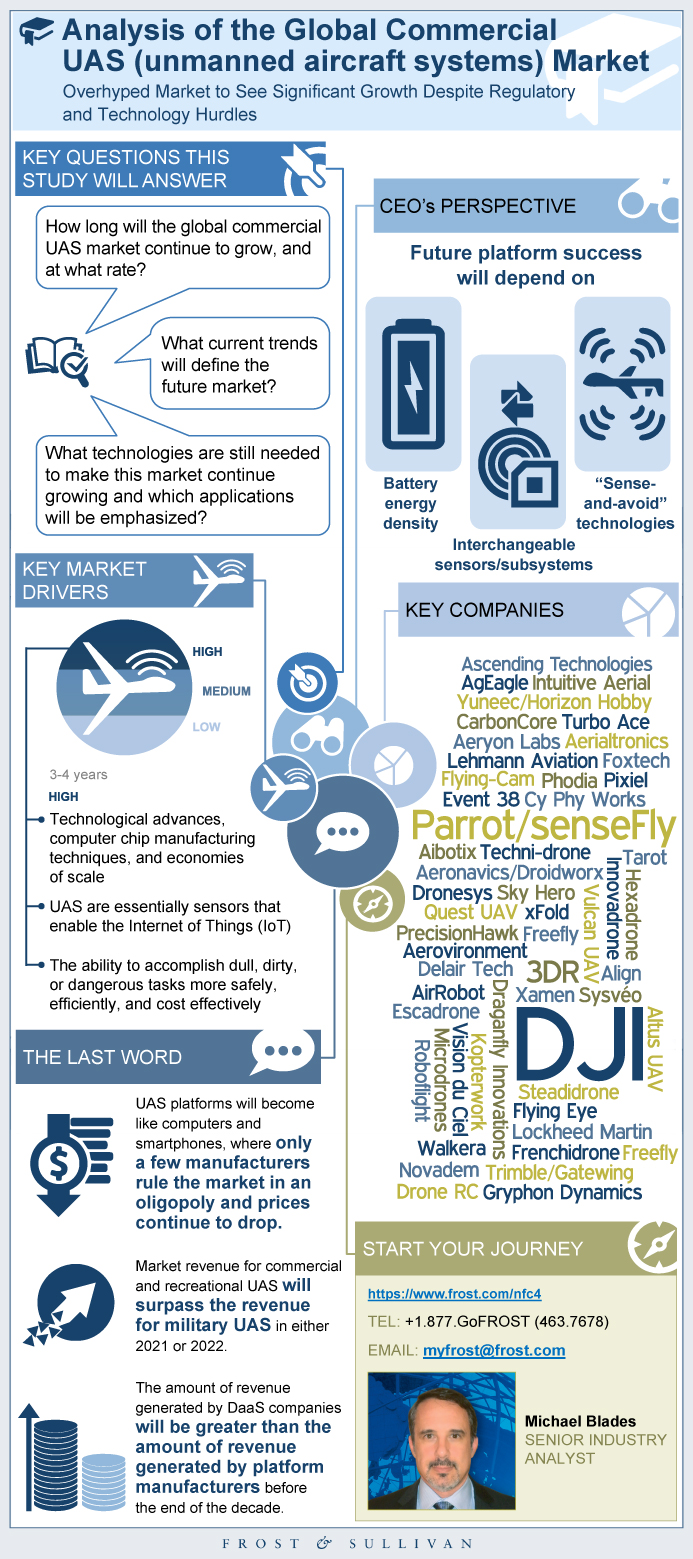 Key Findings - Global Commercial UAS Market
Commercial UAS platform market – Introduction
Commercial UAS Ecosystem
Market Engineering Measurements, Global, 2014 - Market Overview
CEO's Perspective
Associated Multimedia
Market Definitions
Market Segmentation
Key Market Drivers, Global, 2015–2020
Key Market Restraints, Global, 2015–2020
Market Measurements, Global, 2014
GoPro vs. DJI, Revenue Growth, Global, 2011–2020
Unit Shipment and Revenue Forecast, Global, 2014–2020
Percent Revenue Forecast by Region, Global, 2014–2020
Revenue Forecast by Region, Global, 2014–2020
Global Hot Spots
Revenue Forecast by Vertical Market, Global, 2014–2020
Market Share
Market Share Analysis
Competitive Environment
Perspective, Global, 2015–2020
Consumer Segment Analysis
Prosumer Segment Analysis
Professional Segment Analysis
Commercial Segment Analysis
Enterprise Segment Analysis
Fixed Wing Segment Analysis
Africa Analysis
Asia-Pacific Analysis
Europe Analysis
Middle East Analysis
North America Analysis
South America Analysis
3 Big Predictions
Disclaimer
Market Methodology
Additional Sources of Information on Commercial UAS
Partial List of Companies Interviewed
Partial List of Other Companies.
List of Figures
1. Total Commercial UAS Market: Current Applications with Sample Verticals, Global, 2015
2. Total Commercial UAS Market: Future Applications with Sample Verticals, Global, 2020 and beyond
3. Total Commercial UAS Market: Current Platform Segments with Sample Aircraft, Global, 2015
4. Commercial UAS Market: Obstacles to Commercial UAS Delivery, Global, 2015
5. Total Commercial UAS Market: Key Market Drivers, Global, 2015–2020
6. Total Commercial UAS Market: Key Market Restraints, Global, 2015–2020
7. Total Commercial UAS Market: Market Engineering Measurements, Global, 2014
8. Total Commercial UAS Market: Revenue Forecast by Region, Global, 2014–2020
9. Total Commercial UAS Market: Company Market Share Analysis of Top 3 Participants, Global, 2014
10. Total Commercial UAS Market: Competitive Structure, Global, 2014
11. Total Commercial UAS Market: SWOT Analysis, Global, 2014
12. Commercial UAS Industry: CEO's 360 Degree Perspective, Global, 2015–2020
13. Consumer Segment: Market Engineering Measurements, Global, 2014
14. Prosumer Segment: Market Engineering Measurements, Global, 2014
15. Professional Segment: Market Engineering Measurements, Global, 2014
16. Commercial Segment: Market Engineering Measurements, Global, 2014
17. Enterprise Segment: Market Engineering Measurements, Global, 2014
18. FW Segment: Market Engineering Measurements, Global, 2014
19. Commercial UAS Market: UAS Operation Permission Breakdown, Japan, 2015
20. UAS Regulations, Singapore, 2015
21. UAS Regulations, UK, 2015
List of Charts
1. Commercial UAS Ecosystem
2. Total Commercial UAS Market: Market Engineering Measurements, Global, 2014
3. Total Commercial UAS Market: Percent Revenue Breakdown by Platform Segment, Global, 2014
4. Total Commercial UAS Market: Percent Unit Breakdown by Platform Segment, Global, 2014
5. Total Commercial UAS Market: Percent Revenue Breakdown by Applications Segment, Global, 2014
6. Total Commercial UAS Market: Percent Unit Breakdown by Applications Segment, Global, 2014
7. NASA UTM System, US, 2015
8. Commercial UAS Market: GoPro vs. DJI, Revenue Growth, Global, 2011–2020
9. Total Commercial UAS Market: Unit Shipment and Revenue Forecast Global, 2014–2020
10. Total Commercial UAS Market: Percent Revenue Forecast by Region, Global, 2014–2020
11. Total Commercial UAS Market: Revenue Forecast by Vertical Market, Global, 2014–2020
12. Total Commercial UAS Market: Percent Revenue Breakdown, Global, 2014
13. Total Commercial UAS Market: Competitor Growth Analysis, Global, 2014–2020
14. Consumer Segment: Percent Unit Breakdown, Global, 2014
15. Consumer Segment: Unit Shipment and Revenue Forecast, Global, 2014–2020
16. Prosumer Segment: Percent Unit Breakdown, Global, 2014
17. Prosumer Segment: Unit Shipment and Revenue Forecast, Global, 2014–2020
18. Professional Segment: Percent Unit Breakdown, Global, 2014
19. Professional Segment: Unit Shipment and Revenue Forecast, Global, 2014–2020
20. Commercial Segment: Percent Unit Breakdown, Global, 2014
21. Commercial Segment: Unit Shipment and Revenue Forecast, Global, 2014–2020
22. Enterprise Segment: Percent Unit Breakdown, Global, 2014
23. Enterprise Segment: Unit Shipment and Revenue Forecast, Global, 2014–2020
24. FW Segment: Percent Unit Breakdown, Global, 2014
25. FW Segment: Unit Shipment and Revenue Forecast, Global, 2014–2020
26. Commercial UAS Market: Unit Shipment and Revenue Forecast, Africa, 2014–2020
27. Commercial UAS Market: Percent Revenue Breakdown by Platform Segment, Africa, 2014
28. Commercial UAS Market: Percent Unit Breakdown by Platform Segment, Africa, 2014
29. Commercial UAS Market: Unit Shipment and Revenue Forecast, APAC, 2014–2020
30. Commercial UAS Market: Percent Revenue Breakdown by Platform Segment, APAC, 2014
31. Commercial UAS Market: Percent Unit Breakdown by Platform Segment, APAC, 2014
32. Commercial UAS Market: Unit Shipment and Revenue Forecast, Europe, 2014–2020
33. Commercial UAS Market: Percent Revenue Breakdown by Platform Segment, Europe, 2014
34. Commercial UAS Market: Percent Unit Breakdown by Platform Segment, Europe, 2014
35. Commercial UAS Market: Unit Shipment and Revenue Forecast, Middle East, 2014–2020
36. Commercial UAS Market: Percent Revenue Breakdown by Platform Segment, Middle East, 2014
37. Commercial UAS Market: Percent Unit Breakdown by Platform Segment, Middle East, 2014
38. Commercial UAS Market: Unit Shipment and Revenue Forecast, North America, 2014–2020
39. Commercial UAS Market: Percent Revenue Breakdown by Platform Segment, North America, 2014
40. Commercial UAS Market: Percent Unit Breakdown by Platform Segment, North America, 2014
41. Commercial UAS Market: Unit Shipment and Revenue Forecast, South America, 2014–2020
42. Commercial UAS Market: Percent Revenue Breakdown by Platform Segment, South America, 2014
43. Commercial UAS Market: Percent Unit Breakdown by Platform Segment, South America, 2014