North American Industrial Protective Clothing Market, Forecast to 2020
North American Industrial Protective Clothing Market, Forecast to 2020
Rising Compliance and Awareness Trends Position Already Sizeable Heat and Flame-resistant Segments on Path of Rapid Growth
Research Code: K065-01-00-00-00
SKU: PP0144-NA-MR_18524
$4,950.00
Special Price $3,712.50 save 25 %
Description
This study analyzes the industrial protective clothing market in 2 North American countries - the United Sates and Canada. The market comprises 5 segments, namely, high visibility, heat and flame-resistant, chemical protection, anti-static, and chainsaw protection clothing. The study offers an in-depth end-user industry analysis, specific insights on segments, and market size and forecast. Several key factors, such as the potential changes in end-user industries, scope of adoption, quality of compliance, potential regulatory impetus, and the evolution of the way protective clothing is used, have been considered. The heat and flame-resistant market will remain the largest and grow the fastest. High-visibility will remain the second-largest and grow at a healthy rate. Other markets are expected to register moderate growth given the possible market dynamics expected.
RESEARCH: INFOGRAPHIC
This infographic presents a brief overview of the research, and highlights the key topics discussed in it.

Click image to view it in full size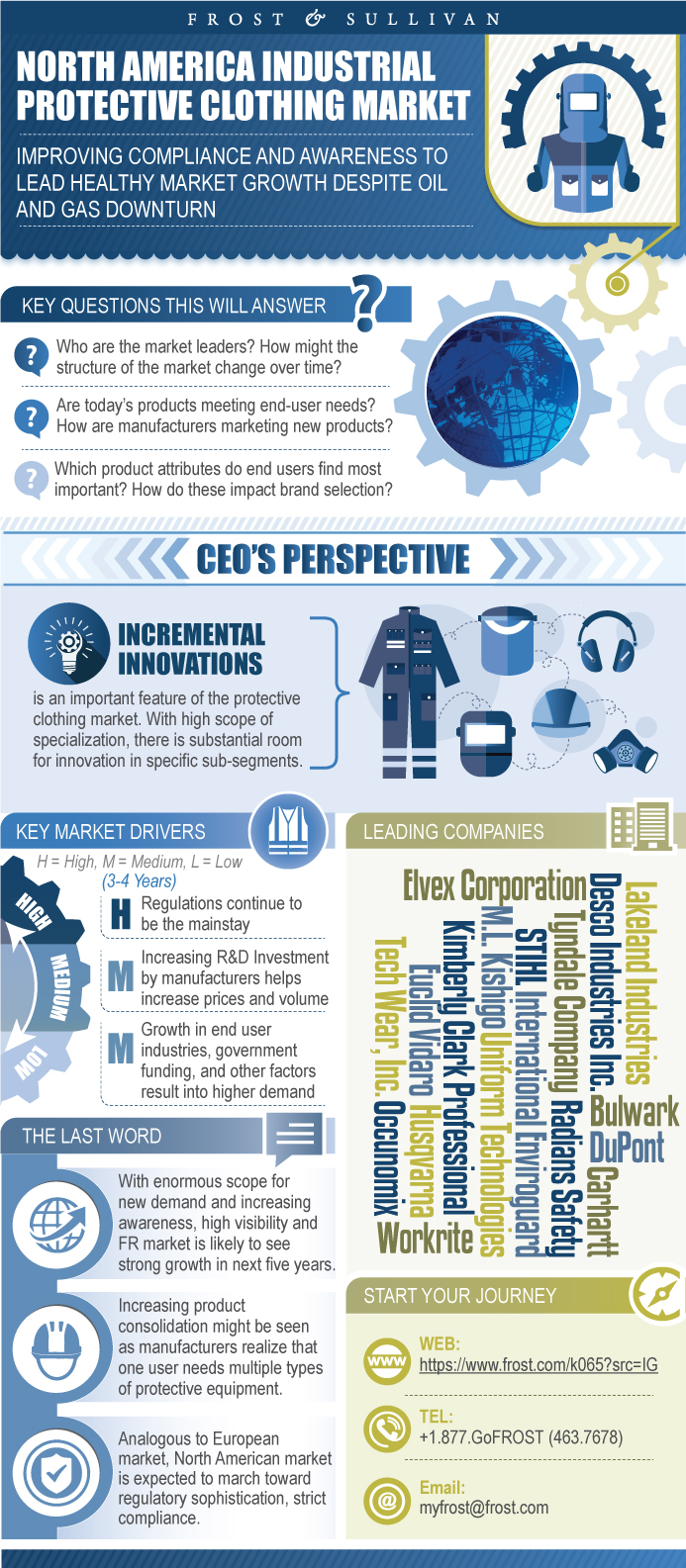 Market Engineering Measurements North America - 2015
CEO's Perspective
Product Scope
Segment Definitions
Geographic Scope
Definitions
Regulatory Overview
End-user Scope North America – 2015
Significance of Protective Clothing North America - 2015
Key Protective Requirements by Primary and Secondary Attributes North America -2015
Key Regulations and Standards North America – 2015
Market Snapshot North America – 2015
Market Segmentation
Market Segmentation by Country
Percent Revenue by Clothing Type North America – 2015
Percent Revenue by Clothing Type North America – 2020
Value Chain Analysis North America – 2015
Percent Revenue by Country North America – 2015
Percent Revenue by Country North America – 2020
Distribution Channels North America – 2015
Key Market Drivers North America – (2016–2020)
Key Market Restraints North America – (2016–2020)
Revenue Forecast North America – (2012–2020)
Price Range and Average Price per Product North America – 2015
Percent Revenue by Product Segment North America – 2015
Percent Revenue by Product Segment North America – 2020
Percent Revenue Forecast by Country North America – (2012–2020)
Revenue Forecast by Country – (2012–2020)
Revenue Forecast by Product Segment United States – (2012–2020)
Revenue Forecast by Product Segment Canada – (2012–2020)
Leading Companies North America – 2015
Major Company Application Matrix North America – 2015
CEO's 360 Degree Perspective North America – (2015–2020)
Primary and Secondary Protection
Overview and Introduction
Regulations and Standards
Market Trends
Revenue Forecast North America – (2012–2020)
Percent Revenue by End-user Industry North America – 2015
Percent Revenue Forecast by End-user Industry North America – 2020
Revenue Forecast by End-user Industry North America – (2012–2020)
Percent Revenue by Country North America – 2015
Revenue Forecast by Country North America – (2012–2020)
Percent Revenue by Participant North America – 2015
Competitive Structure North America – 2015
Primary and Secondary Protection
Overview and Introduction
Regulations and Standards
Market Trends
Revenue Forecast North America – (2012–2020)
Percent Revenue by End-user Industry North America – 2015
Percent Revenue Forecast by End-user Industry North America – 2020
Revenue Forecast by End-user Industry North America – (2012–2020)
Percent Revenue by Country North America – 2015
Revenue Forecast by Country North America – (2012–2020)
Percent Revenue by Participant North America – 2015
Competitive Structure North America – 2015
Primary and Secondary Protection
Overview and Introduction
Regulations and Standards
Market Trends
Revenue Forecast North America – (2012–2020)
Percent Revenue by End-user Industry North America – 2015
Percent Revenue Forecast by End-user Industry North America – 2020
Revenue Forecast by End-user Industry North America –(2012–2020)
Percent Revenue by Country North America – 2015
Percent Revenue Forecast by Country North America – 2020
Revenue Forecast by Country North America – (2012–2020)
Percent Revenue by Participant North America – 2015
Competitive Structure North America – 2015
Primary and Secondary Protection
Overview and Introduction
Regulations and Standards
Market Trends
Revenue Forecast North America – (2012–2020)
Percent Revenue by End-user Industry North America – 2015
Percent Revenue Forecast by End-user Industry North America – 2020
Revenue Forecast by Country North America – (2012–2020)
Portfolio of Key Competitors
Competitive Structure North America – 2015
Primary and Secondary Protection
Overview and Introduction
Regulations and Standards
Market Trends
Revenue Forecast North America – (2012–2020)
Revenue Forecast by End-user Industry North America – (2012–2020)
Percent Revenue by Country North America - 2015
Percent Revenue Forecast by End-user Industry North America – 2020
Revenue Forecast by Country North America – (2012–2020)
Percent Revenue by Participant North America - 2015
Competitive Structure North America – 2015
Three Big Predictions
Legal Disclaimer
Market Engineering Methodology
Partial List of Companies Interviewed
List of Other Companies

List of Figures
1. Total Industrial Protective Clothing Market: Market Engineering Measurements, North America, 2015
2. Total Industrial Protective Clothing Market: Product Scope, North America, 2015
3. Total Industrial Protective Clothing Market: Segment Definitions, North America, 2015
4. Total Industrial Protective Clothing Market: Significance of Protective Clothing, North America, 2015
5. Total Industrial Protective Clothing Market: Key Protective Requirements by Primary and Secondary Attributes, North America, 2015
6. Total Industrial Protective Clothing Market: Key Regulations and Standards, North America, 2015
7. Total Industrial Protective Clothing Market: End-user Scope, North America, 2015
8. Total Industrial Protective Clothing Market: Market Snapshot, North America, 2015
9. Total Industrial Protective Clothing Market: Percent Revenue by Clothing Type, North America, 2015
10. Total Industrial Protective Clothing Market: Percent Revenue by Clothing Type, North America, 2020
11. Total Industrial Protective Clothing Market: Percent Revenue by Country, North America, 2015
12. Total Industrial Protective Clothing Market: Percent Revenue by Country, North America, 2020
13. Total Industrial Protective Clothing Market: Value Chain Analysis, North America, 2015
14. Total Industrial Protective Clothing Market: Distribution Channels, North America, 2015
15. Total Industrial Protective Clothing Market: Key Market Drivers, North America, 2016–2020
16. Total Industrial Protective Clothing Market: Key Market Restraints, North America, 2016–2020
17. Total Industrial Protective Clothing Market: Market Engineering Measurements, North America, 2015
18. Total Industrial Protective Clothing Market: Revenue Forecast, North America, 2012–2020
19. Total Industrial Protective Clothing Market: Price Range and Average Price per Product, North America, 2015
19. Total Industrial Protective Clothing Market: Percent Revenue by Product Segment, North America, 2015
20. Total Industrial Protective Clothing Market: Percent Revenue by Product Segment, North America, 2020
21. Total Industrial Protective Clothing Market: Percent Revenue Forecast by Country, North America, 2012–2020
22. Total Industrial Protective Clothing Market: Revenue Forecast by Country, 2012–2020
23. Total Industrial Protective Clothing Market: Revenue Forecast by Product Segment, United States, 2012–2020
24. Total Industrial Protective Clothing Market: Revenue Forecast by Product Segment, Canada, 2012–2020
25. Total Industrial Protective Clothing Market: Leading Companies, North America, 2015
26. Total Industrial Protective Clothing Market: Major Company Application Matrix, North America, 2015
27. Total Industrial Protective Clothing Market: CEO's 360 Degree Perspective, North America, 2015–2020
28. High-visibility Clothing Market: Market Engineering Measurements, North America, 2015
29. High-visibility Clothing Market: Revenue Forecast, North America, 2012–2020
30. High-visibility Clothing Market: Percent Revenue by End-user Industry, North America, 2015
31. High-visibility Clothing Market: Percent Revenue Forecast by End-user Industry, North America, 2020
32. High-visibility Clothing Market: Revenue Forecast by End-user Industry, North America, 2012–2020
33. High-visibility Clothing Market: Percent Revenue by Country, North America, 2015
34. High-visibility Clothing Market: Revenue Forecast by Country, North America, 2012–2020
35. High-visibility Clothing Market: Percent Revenue by Participant, North America, 2015
36.High-visibility Clothing Market: Competitive Structure, North America, 2015
37. Heat and FR Clothing Market: Market Engineering Measurements, North America, 2015
38. Heat and FR Clothing Market: Revenue Forecast, North America, 2012–2020
39. Heat and FR Clothing Market: Percent Revenue by End-user Industry, North America, 2015
40. Heat and FR Clothing Market: Percent Revenue Forecast by End-user Industry, North America, 2020
41. Heat and FR Clothing Market: Revenue Forecast by End-user Industry, North America, 2012–2020
42. Heat and FR Clothing Market: Percent Revenue by Country, North America, 2015
43. Heat and FR Clothing Market: Percent Revenue Forecast by Country, North America, 2020
44. Heat and FR Clothing Market: Revenue Forecast by Country, North America, 2012–2020
45. Heat and FR Clothing Market: Percent Revenue by Participant, North America, 2015
46. Heat and FR Clothing Market: Competitive Structure, North America, 2015
47. Chemical Protective Clothing Market: Market Engineering Measurements, North America, 2015
48. Chemical Protective Clothing Market: Revenue Forecast, North America, 2012–2020
49. Chemical Protective Clothing Market: Percent Revenue by End-user Industry, North America, 2015
50. Chemical Protective Clothing Market: Percent Revenue Forecast by End-user Industry, North America, 2020
51. Chemical Protective Clothing Market: Revenue Forecast by End-user Industry, North America, 2012–2020
52. Chemical Protective Clothing Market: Percent Revenue by Country, North America, 2015
53. Chemical Protective Clothing Market: Percent Revenue Forecast by Country, North America, 2020
54. Chemical Protective Clothing Market: Revenue Forecast by Country, North America, 2012–2020
55. Chemical Protective Clothing Market: Percent Revenue by Participant, North America, 2015
56. Chemical Protective Clothing Market: Competitive Structure, North America, 2015
57. Anti-static Clothing Market: Market Engineering Measurements, North America, 2015
58. Anti-static Clothing Market: Revenue Forecast, North America, 2012–2020
59. Anti-static Clothing Market: Percent Revenue by End-user Industry, North America, 2015
60. Anti-static Clothing Market: Percent Revenue Forecast by End-user Industry, North America, 2020
61. Anti-static Clothing Market: Revenue Forecast by End-user Industry, North America, 2012–2020
62. Anti-static Clothing Market: Percent Revenue by Country, North America, 2015
63. Anti-static Clothing Market: Percent Revenue Forecast by Country, North America, 2020
64. Anti-static Clothing Market: Revenue Forecast by Country, North America, 2012–2020
65. Anti-static Clothing Market: Competitive Structure, North America, 2015
66. Chainsaw Protective Clothing Market: Market Engineering Measurements, North America, 2015
67. Chainsaw Protective Clothing Market: Revenue Forecast, North America, 2012–2020
68. Chainsaw Protective Clothing Market: Revenue Forecast by End-user Industry, North America, 2012–2020
69. Chainsaw Protective Clothing Market: Percent Revenue by Country, North America, 2015
70. Chainsaw Protective Clothing Market: Percent Revenue Forecast by Country, North America, 2020
71. Chainsaw Protective Clothing Market: Revenue Forecast by Country, North America, 2012–2020
72. Chainsaw Protective Clothing Market: Percent Revenue by Participant, North America, 2015
73. Chainsaw Protective Clothing Market: Competitive Structure, North America, 2015