North American Lighting Equipment Market, Forecast to 2023
North American Lighting Equipment Market, Forecast to 2023
LED Technology and Connected Lighting will be the Primary Pillars of the Market by 2023
Research Code: K1F7-01-00-00-00
SKU: EN01009-NA-MR_20767
$4,950.00
Special Price $3,712.50 save 25 %
Description
The North American lighting equipment market is currently in the growth stage and is expected to witness healthy growth between 2016 and 2023. High rate of growth in the LED technology landscape is also tempered by falling revenue in Non-LED applications and falling prices of LED products. Operational cost savings achieved through adoption of energy-efficient lighting technology is increasing the demand, while increased product functionality and supportive regulations further complement the growth of this market. The market will be characterized by prevalence of LED and connected lighting technologies. The market is expected to grow at a CAGR of 4.7% between 2016 and 2023. Service-focused business models, such as lighting-as-a-service, are expected to dominate the market toward the end of the forecast period.

Market trends are analyzed for the study period of 2013 to 2023, with the base year being 2016. This study segments lighting equipment into lamps, ballasts, fixtures, lighting controls and control gear, and lighting management systems. These segments are further analyzed and divided into vertical markets and product types. A distribution channel analysis is also available for the overall market, along with the revenue contributions expected from various channels over the study period. A vertical market analysis is also available with revenue contributions over the study period for commercial, institutional, outdoor/public, residential and industrial segments.

Companies mentioned in the lighting equipment market competitive landscape include Acuity Brands, Philips Lighting, Osram Sylvania, GE Lighting among others. In addition to industry challenges and drivers and restraints in the market, this study also highlights certain upcoming technology trends in the market. Market growth and trend analyses are provided. The study also discusses growth opportunities and how participants can capitalize on these emerging opportunities.

Key Questions This Study Will Answer
• What is the anticipated growth of the market between 2016 and 2023?
• What external forces affect market growth? How significant are their impact?
• Who are the key market participants? What are their competitive strengths?
• What are the expected revenue changes in segments such as lamps, ballasts, fixtures, lighting controls, and lighting management systems?
What are the key drivers of such changes?
• What are the trends and changes expected in the distribution channel structure of the market?
• How do various end-user industries boost lighting equipment revenue?
RESEARCH: INFOGRAPHIC
This infographic presents a brief overview of the research, and highlights the key topics discussed in it.

Click image to view it in full size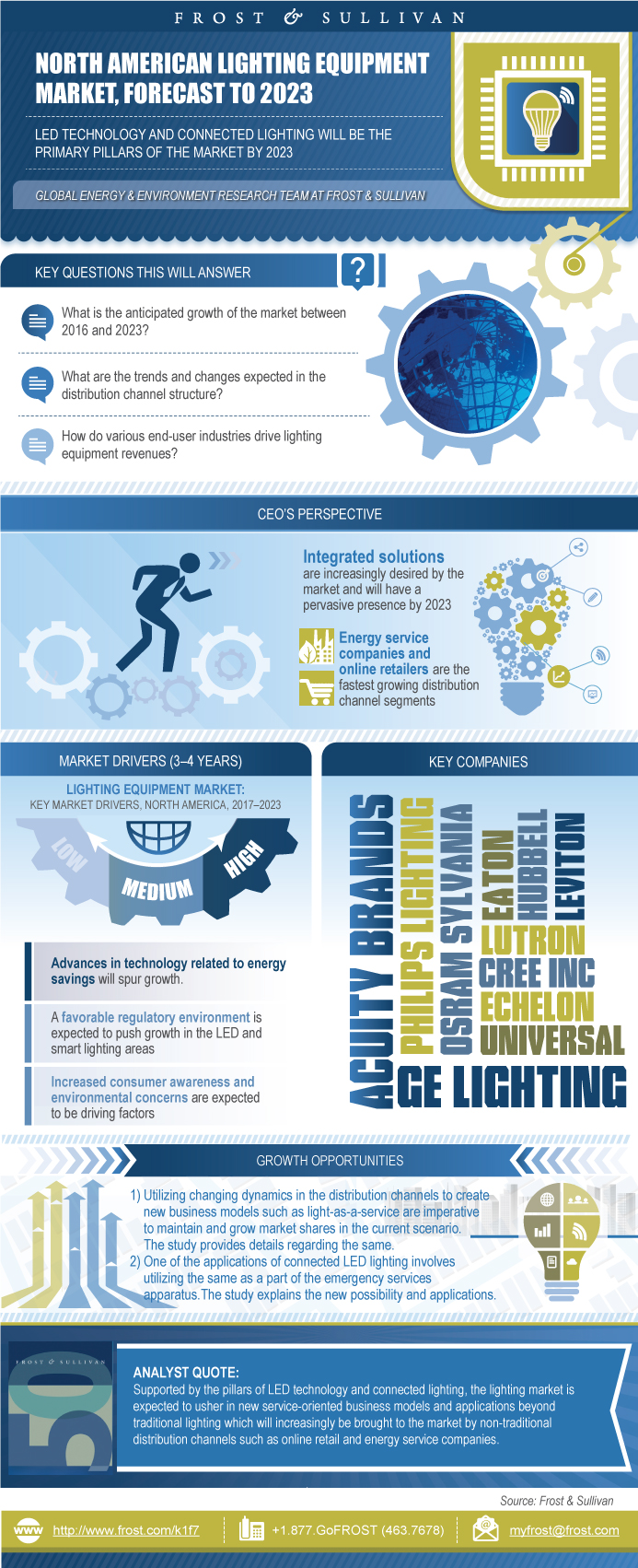 Key Findings
Market Engineering Measurements
CEO's Perspective
Associated Multimedia and Related Research
Market Definitions
Segmentation
Distribution Channels
Drivers—Impact and Duration
Restraints—Impact and Duration
Market Engineering Measurements
Revenue Forecast
Pricing Trends and Forecast—Light Sources
Percent Revenue Forecast by Country
Revenue Forecast by Country
Revenue Forecast by Vertical Market
Percent Revenue Forecast by Distribution Channel
Competitive Analysis—Market Share
Market Share Analysis
Competitive Environment
Top Competitors
Competitive Factors and Assessment
Growth Opportunity 1—Lighting as a Service
Growth Opportunity 2—Connected Emergency Lighting
Strategic Imperatives for Success and Growth
Lamp Segment Breakdown
Market Engineering Measurements
Lamp Segment—Revenue Forecast
Lamp Segment—Percent Revenue by Product Type
Lamp Segment—Percent Revenue by Vertical Market
Market Share Analysis
3 Big Predictions
Legal Disclaimer
Market Engineering Methodology
Other Participants in the Lighting Equipment Market
Partial List of Companies Interviewed
Abbreviations and Acronyms

List of Figures
1. Lighting Equipment Market: Key Market Drivers, North America, 2017–2023
2. Lighting Equipment Market: Key Market Restraints, North America, 2017–2023
3. Total Lighting Equipment Market: Market Engineering Measurements, North America, 2016
4. Total Lighting Equipment Market: Revenue Forecast by Country, North America, 2013–2021
5. Total Lighting Equipment Market: Company Market Share Analysis of Top 4 Participants, North America, 2016
6. Total Lighting Equipment Market: Competitive Structure, North America, 2016
7. Total Lighting Equipment Market: SWOT Analysis, North America, 2016
8. Lamp Segment: Market Engineering Measurements, North America, 2016
9. Lamp Segment: Market Share, North America, 2016
10. Ballast Segment: Market Engineering Measurements, North America, 2016
11. Ballast Segment: Market Share, North America, 2016
12. Fixtures Segment: Market Engineering Measurements, North America, 2016
13. Fixtures Segment: Market Share, North America, 2016
14. Lightning Controls and Control Gear Segment: Market Engineering Measurements, North America, 2016
15. Lighting Controls and Control Gear Segment: Market Share, North America, 2016
16. Lightning Management Systems Segment: Market Engineering Measurements, North America, 2016
17. Lighting Management Systems Segment: Market Share, North America, 2016

List of Charts
1. Total Lighting Equipment Market: Market Engineering Measurements, North America, 2016
2. Total Lighting Equipment Market: Per Cent Revenue Breakdown, North America, 2016
3. Total Lighting Equipment Market: Distribution Channel Analysis, North America, 2016
4. Energy Prices, US, 2009–2015
5. Total Lighting Equipment Market: Revenue Forecast, North America, 2013–2023
6. Total Lighting Equipment Market: Average Price Index for Light Sources, North America, 2013–2023
7. Total Lighting Equipment Market: Percent Revenue Forecast by Country, North America, 2013–2023
8. Total Lighting Equipment Market: Revenue Forecast by Vertical Market, North America, 2013–2023
9. Total Lighting Equipment Market: Percent Revenue Forecast by Distribution Channel, North America, 2013–2023
10. Total Lighting Equipment Market: Percent Sales Breakdown, North America, 2016
11. Total Lighting Equipment Market: Competitive Factors and Assessment, North America, 2016
12. Total Lighting Equipment Market: Percent Sales Breakdown, North America, 2016
13. Lamp Segment: Revenue Forecast, North America, 2013–2023
14. Lamp Segment: Percent Sales Breakdown by Product Type, North America, 2016
15. Lamp Segment: Percent Sales Breakdown by Product Type, North America, 2023
16. Lamp Segment: Percent Sales Breakdown by Vertical Market, North America, 2016
17. Lamp Segment: Percent Sales Breakdown by Vertical Market, North America, 2023
18. Total Lighting Equipment Market: Percent Sales Breakdown, North America, 2016
19. Ballast Segment: Revenue Forecast, Global, 2013–2023
20. Ballast Segment: Percent Sales Breakdown by Product Type, North America, 2016
21. Ballast Segment: Percent Sales Breakdown by Product Type, North America, 2023
22. Fluorescent Ballasts Subsegment: Percent Sales Breakdown by Sub-Product Type, North America, 2016
23. Fluorescent Ballasts Subsegment: Percent Sales Breakdown by Sub-Product Type, North America, 2023
24. HID Ballasts Subsegment: Percent Sales Breakdown by Sub-Product Type, North America, 2016
25. HID Ballasts Subsegment: Percent Sales Breakdown by Sub-Product Type, North America, 2023
26. Ballast Segment: Percent Sales Breakdown by Vertical Market, North America, 2016
27. Ballast Segment: Percent Sales Breakdown by Vertical Market, North America, 2023
28. Ballast Segment: Percent Sales Breakdown by Integrated vs. Stand-alone Fixtures, North America, 2016
29. Ballast Segment: Percent Sales Breakdown by Integrated vs. Stand-alone Fixtures, North America, 2023
30. Total Lighting Equipment Market: Percent Sales Breakdown, North America, 2016
31. Fixtures Segment: Revenue Forecast, North America, 2013–2023
32. Fixtures Segment: Percent Sales Breakdown by Vertical Market, North America, 2016
33. Fixtures Segment: Percent Sales Breakdown by Vertical Market, North America, 2023
34. Fixtures Segment: Percent Sales Breakdown by Integrated vs. Standalone, North America, 2016
35. Fixtures Segment: Percent Sales Breakdown by Integrated vs. Standalone, North America, 2023
36. Total Lighting Equipment Market: Percent Sales Breakdown, North America, 2016
37. Lighting Controls and Control Gear Segment: Revenue Forecast, North America, 2013–2023
38. Lighting Controls and Control Gear Segment: Percent Sales Breakdown by Product Type, North America, 2016
39. Lighting Controls and Control Gear Segment: Percent Sales Breakdown by Product Type, North America, 2023
40. Control Gear Subsegment: Percent Sales Breakdown by Sub-product Type, North America, 2016
41. Control Gear Subsegment: Percent Sales Breakdown by Sub-product Type, North America, 2023
42. Lighting Controls Subsegment: Percent Sales Breakdown by Sub-product Type, North America, 2016
43. Lighting Controls Subsegment: Percent Sales Breakdown by Sub-product Type, North America, 2023
44. User Interfaces Subsegment: Percent Sales Breakdown by Sub-product Type, North America, 2016
45. User Interfaces Subsegment: Percent Sales Breakdown by Sub-product Type, North America, 2023
46. Sensors Subsegment: Percent Sales Breakdown by Sub-Product Type, North America, 2016
47. Sensors Subsegment: Percent Sales Breakdown by Sub-product Type, North America, 2023
48. Control Modules Subsegment : Percent Sales Breakdown by Sub-product Type, North America, 2016
49. Control Modules Subsegment : Percent Sales Breakdown by Sub-product Type, North America, 2023
50. Lighting Controls and Control Gear Segment: Percent Sales Breakdown by Vertical Market, North America, 2016
51. Lighting Controls and Control Gear Segment: Percent Sales Breakdown by Vertical Market, North America, 2023
52. Lighting Controls and Control Gear Segment: Percent Sales Breakdown by Wireless vs. Wired, North America, 2016
53. Lighting Controls and Control Gear Segment: Percent Sales Breakdown by Wireless vs. Wired, North America, 2023
54. Lighting Controls and Control Gear Segment: Percent Sales Breakdown by Integrated vs. Standalone, North America, 2016
55. Lighting Controls and Control Gear Segment: Percent Sales Breakdown by Integrated vs. Standalone, North America, 2023
56. Total Lighting Equipment Market: Percent Sales Breakdown, North America, 2016
57. Lighting Management Systems Segment: Revenue Forecast, North America, 2013–2023
58. Lighting Management Systems Segment: Percent Sales Breakdown by Vertical Market, North America, 2016
59. Lighting Management Systems Segment: Percent Sales Breakdown by Vertical Market, North America, 2023