Analysis of the European Hosted IP Telephony and UCC Services Market
Analysis of the European Hosted IP Telephony and UCC Services Market
Businesses Embrace the Cloud for Greater Flexibility
Research Code: NF2D-01-00-00-00
SKU: TE00423-EU-MR_02066
$6,000.00
Special Price $4,500.00 save 25 %
Description
The rapidly growing European hosted Internet protocol (IP) and unified communications and collaboration (UCC) services market is creating opportunities for both European and international providers delivering compelling next-generation solutions. The study discusses factors that are impacting growth opportunities in the European hosted IP telephony and UCC services market. It provides market size projections in terms of installed users and revenues. The study also includes service provider positioning and market share assessment. This analysis can provide market participants with valuable insights on how to better compete in this rapidly evolving market.
RESEARCH: INFOGRAPHIC
This infographic presents a brief overview of the research, and highlights the key topics discussed in it.

Click image to view it in full size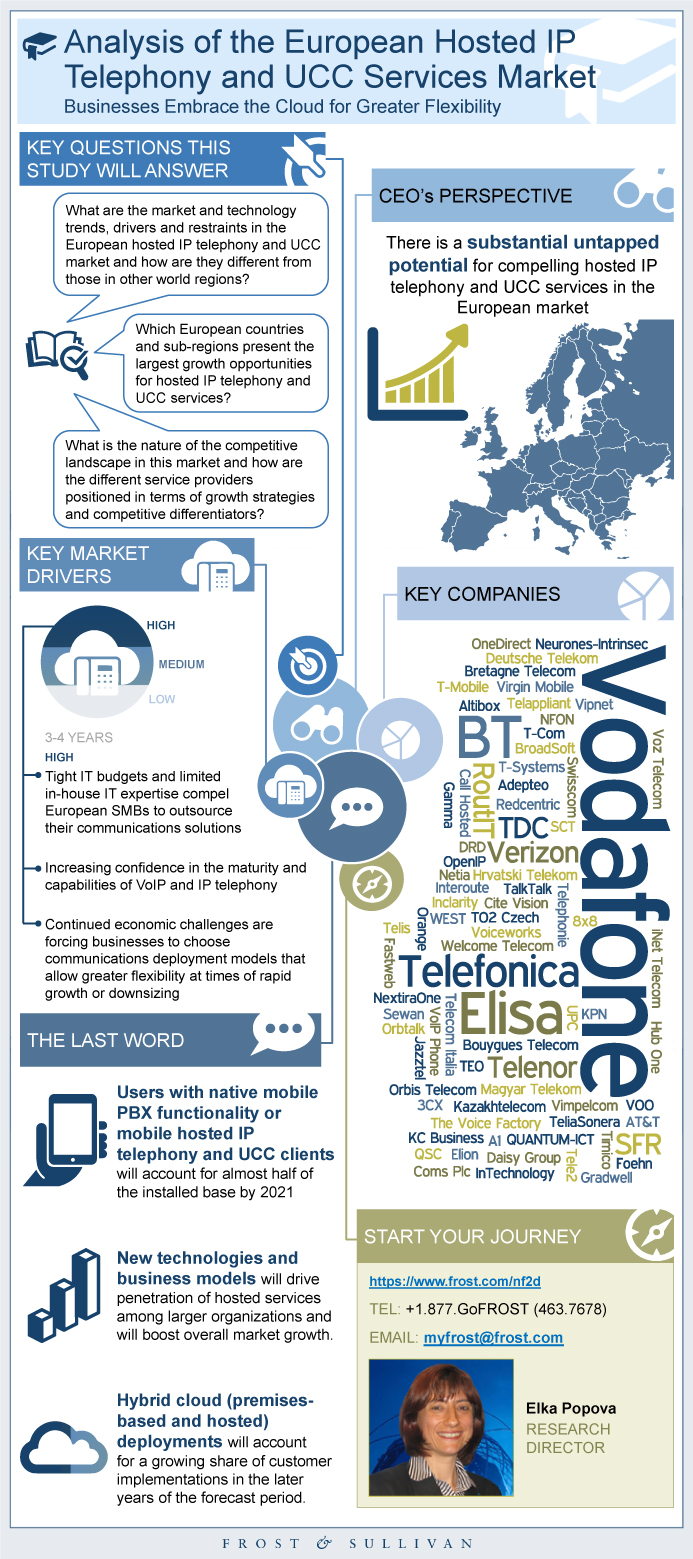 Key Findings
Market Engineering Measurements
Competitor Overview
Total Addressable Market
Industry Advancement
CEO's Perspective
Market Definitions
Methodology Overview
Market Readiness
TDM or Traditional Centrex
Hosted IP Telephony (IP Centrex and Hosted IP PBX)
Hosted IP Telephony (IP Centrex and Hosted IP PBX) vis-à-vis SaaS/CaaS and Cloud Communications
Hosted Unified Communications = Unified Communications-as-a-Service (UCaaS)
Hosted Unified Communications = Unified Communications-as-a-Service (UCaaS): Multi-tenant versus Multi-instance Platforms
Total Hosted IP Telephony and UCC Services Market: Porter's Five Forces, Europe, 2014
Potential Advantages
Potential Challenges
Distribution Channel Analysis and Market Distribution Channels Discussion
Channel SWOT Analysis
Key Market Drivers
Primary Drivers for IT Investments
Major Challenges Facing IT
Attitudes toward Use of Cloud Computing/Hosted Communications
Satisfaction with Cloud Computing Use by:
Key Market Restraints
Attitudes Toward Cloud Computing by Non Users
Forecast Assumptions : Installed Base and Revenue Forecast
Installed Users and Revenue Forecast Discussion
Pricing Trends and Forecast
Market Penetration
Demand Analysis Discussion
Current Deployment of IT in the Cloud by Company Size
Current Deployment of IT in the Cloud by Vertical
Installed Users by Region
Percent Share of Installed Users
Competitive Environment
Select Providers and Platform Vendors: SWOT Analysis
Competitive Factors and Assessment
Criteria When Selecting a Cloud Provider by
Growing Importance of IT and Increasing Technology Complexity
Consumerization of IT, BYOT and Personalization of Communications
Globalization of Business and the Rise of the Virtual Organization
The Next Game Changers, Global, 2025
Distribution of Worker Types by Industry
Predictions
Recommendations to IT Decision Makers
Recommendations to Providers
Market Engineering Methodology
Additional Sources of Information on Hosted IP Telephony and UCC Services Market
List of Companies Included in "Others"
Partial List of Companies Interviewed

List of Figures
1. Total Hosted IP Telephony and UCC Services Market: Market Engineering Measurements, Europe, 2014
2. Total Hosted IP Telephony and UCC Services Market: Key Market Drivers, Europe, 2015–2021
3. Total Hosted IP Telephony and UCC Services Market: Key Market Restraints, Europe, 2015–2021
4. IT Deployment in the Cloud, Europe, 2014
5. Current Deployment of IT in the Cloud, by Company Size, Europe, 2014
6. Current Deployment of IT in the Cloud, by Vertical, Europe, 2014
7. Current Deployment of IT in the Cloud, Europe, 2014
8. Total Hosted IP Telephony and UCC Services Market: Competitive Structure, Europe, 2014
9. Connected Living Market Potential, Global, 2020
10. The Workforce Picture by Industry—Now and in the Future, Europe, 2014–2017
11. Total Hosted IP Telephony and UCC Services Market: Mega Trend Impact, Europe, 2014–2021

List of Charts
1. Market Overview—Market Readiness
2. Total Hosted IP Telephony and UCC Services Market: Porter's Five Forces, Europe, 2014
3. Total Hosted IP Telephony and UCC Services Market: Distribution Channel Analysis, Europe, 2014
4. Total Hosted IP Telephony and UCC Services Market: Channel SWOT Analysis, Europe, 2014
5. Primary Drivers for IT Investment—Percent of Somewhat/Very Important Responses, Europe, 2014
6. Ratings of Major Challenges for IT —Percent of Agree/Strongly Agree Responses, Europe, 2014
7. Attitudes toward Use of Cloud Computing/Hosted Communications—Percent of Agree/Strongly Agree Responses, Europe, 2014
8. Satisfaction with Cloud Computing Use, by Company Size, Europe, 2014
9. Satisfaction with Cloud Computing Use, by Vertical, Europe, 2014
10. Attitudes Toward Cloud Computing by Non Users—Percent of Agree/Strongly Agree Responses, Europe, 2014
11. Total Hosted IP Telephony and UC Services Market: Installed Base and Revenue Forecast, Europe, 2013–2021
12. Total Hosted IP Telephony and UCC Services Market: Average Price per User per Month, Europe, 2013–2021
13. Total Hosted IP Telephony and UCC Services Market: Market Penetration, Europe, 2013–2021
14. Total Hosted IP Telephony and UCC Services Market: Installed Users by Region, Europe, 2013–2021
15. Total Hosted IP Telephony and UCC Services Market: Percent Share of Installed Users, Europe, 2014
16. Total Hosted IP Telephony and UCC Services Market: SWOT Analysis, Europe, 2014
17. Total Hosted IP Telephony and UCC Services Market: Competitor Success Factors, Europe, 2014
18. Criteria When Selecting a Cloud Provider—Percent of Important/Very Important, Europe, 2014
19. Criteria When Selecting a Cloud Provider —Percent of Important/Very Important, Europe, 2014
20. Criteria When Selecting a Cloud Provider —Percent of Important/Very Important, Europe, 2014
21. Criteria When Selecting a Cloud Provider —Percent of Important/Very Important, Europe, 2014
22. The Ever-expanding UCC Applications and Services Eco-system, Global, 2014
23. Formal BYOD Policy, Europe, 2014
24. BYOD Policy Enforcement Methods, Europe, 2014