Future of Carsharing Market to 2025
Future of Carsharing Market to 2025
Technology Advancements, Market Consolidation and Government Initiatives to Influence Market Growth Over the Next Decade
Research Code: MB4D-01-00-00-00
SKU: TP00168-NA-MR_18825
Description
This study analyses the nature, historical development, industry challenges, drivers, constraints, stakeholders, and business models of carsharing and provides its growth forecasts for the 2015–2025 period. It conducts scenario analysis of the growth of carsharing membership and shared vehicles. This also includes competitor benchmarking and profiles of leading carsharing organizations. The study examines the factors that are accelerating the growth of carsharing membership. It also includes breakdowns at the country level and offers insights into key market trends. In addition, an overview of major market participants' business models is provided.
RESEARCH: INFOGRAPHIC
This infographic presents a brief overview of the research, and highlights the key topics discussed in it.

Click image to view it in full size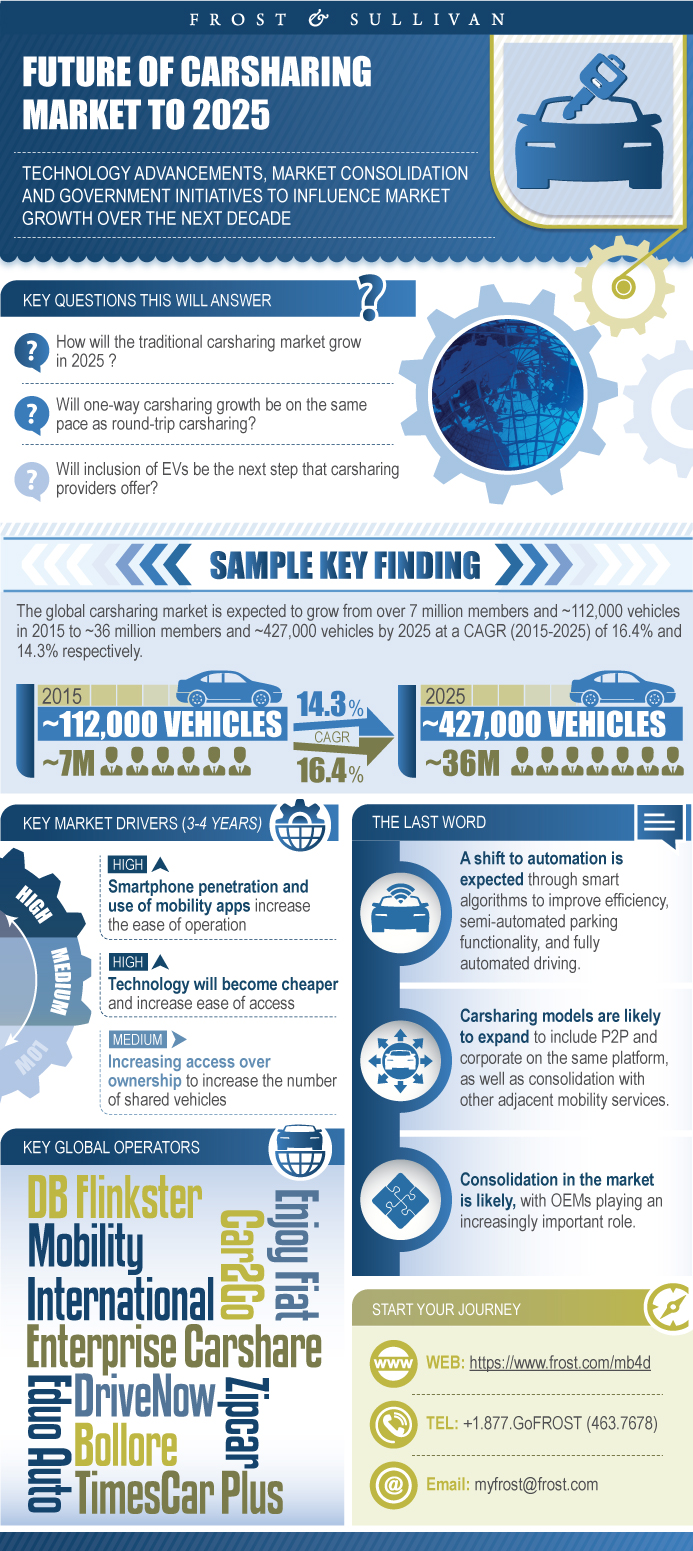 Executive Summary—Key Findings
Traditional Carsharing—Market Overview
Carsharing Business Model and Technology Roadmap
Evolution of Shared Services
Carsharing Segmentation
Key Highlights—2013–2015
Overview of Key Market Participants
Research Scope and Objectives
Geographic Definitions and Research Timeline
Research Aim and Objectives
Key Questions This Study Will Answer
Research Background
Research Methodology
Carsharing Segmentation
Types of Carsharing
Market Drivers
Market Restraints
Vehicle Sharing Business Models
Cost Breakdown Analysis—Europe
Cost Breakdown Analysis—North America
CSO Profitability
Technology Value Chain
Market Evolution of Vehicle-sharing Technologies
Keyless Access Technology—Evolution
Regional Analysis—Carsharing in Europe: Snapshot
Membership Base—Europe
Regional Analysis Europe—2015 Highlights
Regional Analysis Europe—2025 Outlook
Factors Driving Carsharing Growth—Europe
Regional Analysis North America—2015 Highlights
Regional Analysis North America—2025 Outlook
Regional Analysis Latin America—2015 Highlights
Regional Analysis Latin America—2025 Outlook
Regional Analysis Asia-Pacific—2015 Highlights
Regional Analysis Asia-Pacific—2025 Outlook
Factors Driving Carsharing Growth—Asia-Pacific
Membership Base—North America, Latin America, and Asia-Pacific
Regional Analysis—Africa
Analysis of Carsharing Members and Vehicles
Members Versus Vehicles—Global
Analysis of Traditional Carsharing—Forecast Assumptions
Analysis of Traditional Carsharing—Forecast Assumptions (continued)
Carsharing—Member Forecast by Scenario
Carsharing—Vehicle Forecast by Scenario
Carsharing—Revenue Forecast by Scenario
Scenario Analysis for Carsharing—Forecast Assumptions
Carsharing Country Analysis–Germany
Country-level Analysis—Germany
Carsharing Country Analysis—UK
Country-level Analysis—UK
Carsharing Country Analysis—Italy
Country-level Analysis—Italy
Carsharing Country Analysis—United States
Country-level Analysis—United States
Carsharing Country Analysis—Japan
Country-level Analysis—Japan
Government-led Initiatives
Market Consolidation
Vertical Integration
International Expansion
Rise of Autonomous Vehicles
Electrification of Carsharing Fleet
Global Carsharing Operators
Key Global Carsharing Operators
Car2Go—Company Profile
Car2Go—Company Profile (continued)
Zipcar—Company Profile
Zipcar—Company Profile (continued)
Enjoy Profile
DriveNow Profile
Bollore—Company Profile
Bollore—Company Profile (continued)
Carsharing—Impact Assessment Assumptions
Impact Analysis of Carsharing
Key Conclusions and Future Outlook
The Last Word—Three Big Predictions
Legal Disclaimer
Market Engineering Methodology
Factors Influencing Carsharing
Traditional Carsharing—Regional Analysis: Europe
Traditional Carsharing—Regional Analysis: The Americas, APAC