Global Digital Broadcast and Cinematography Cameras Market
Global Digital Broadcast and Cinematography Cameras Market
Demand Saturation Slows Total Market; Lower-Priced, Flexible Products will Drive Purchases
Research Code: K0A8-01-00-00-00
SKU: EM00239-NA-MR_18895
$4,950.00
Special Price $3,712.50 save 25 %
Description
This research service examines the global digital broadcast and cinematography cameras market. Detailed market trend analyses, including market drivers, market restraints, technology trends, and segment analysis, are provided. Revenue forecasts are projected through 2020. The global market has been segmented into North America and Latin America; Asia-Pacific; and Europe, the Middle East, and Africa, with further breakdowns as needed to discuss country- or region-specific issues. The competitive landscape examines major participants, their market shares, and specific strengths and weaknesses, both in the total market and by segment (studio, cinematography, electronic news gathering, and electronic field production). The base year is 2015.
RESEARCH: INFOGRAPHIC
This infographic presents a brief overview of the research, and highlights the key topics discussed in it.

Click image to view it in full size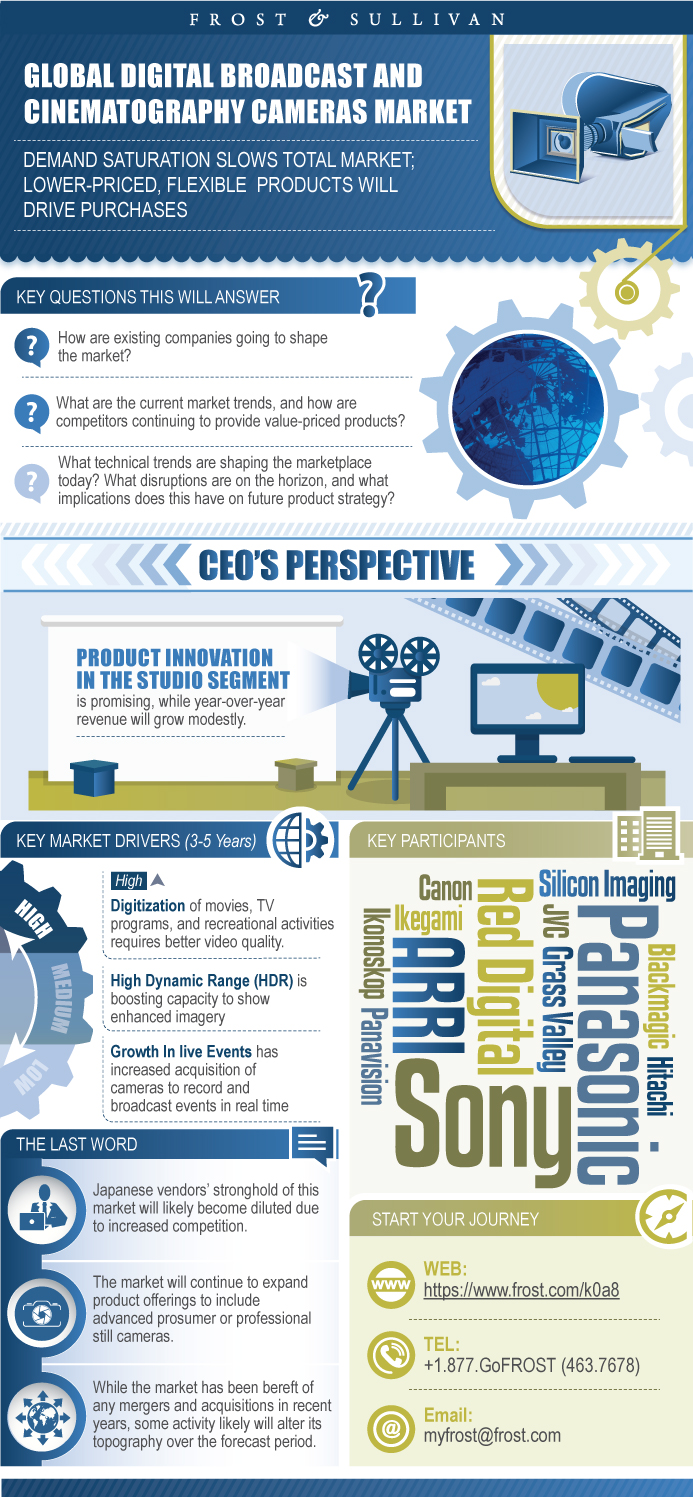 Executive Summary
Executive Summary (continued)
Executive Summary (continued)
Executive Summary—Market Engineering Measurements
Executive Summary—Market Engineering Measurements (continued)
Executive Summary—CEO's Perspective
Frost & Sullivan Digital Media Value Chain Coverage
Market Overview—Definitions
Market Overview—Definitions (continued)
Market Overview—Definitions (continued)
Global Digital Camera Industry Segmentation
Market Overview—Regions Covered
Revenue Share by Product Type
Unit Shipment Share by Product Type
Market Overview—Key Questions this Study will Answer
Regional Market Life Cycle Analysis
Market Drivers
Drivers Explained
Drivers Explained (continued)
Drivers Explained (continued)
Market Restraints
Restraints Explained
Restraints Explained (continued)
Restraints Explained (continued)
Impact of New Trends on the Digital Broadcast and Cinematography Cameras Market
Action Cameras
360 Video
Slow Motion
Market Engineering Measurements
Market Engineering Measurements (continued)
Forecast Assumptions
Unit Shipment and Revenue Forecast
Unit Shipment and Revenue Forecast Discussion
Price Forecast by Product
Revenue Share Forecast by Region
Revenue Forecast by Region
Revenue Forecast by Region Discussion
Competitive Analysis—Market Share
Competitive Analysis—Market Share Discussion
Market Leader—Sony
Market Challengers and Contenders
Other Market Participants—Highlights
Competitive Environment
Key Industry Participants
Product List
Competitive Landscape
Competitive Factors and Assessment
Studio Cameras Segment—Market Engineering Measurements
Studio Cameras Segment—Unit Shipment and Revenue Forecast
Studio Cameras Segment—Unit Shipment and Revenue Forecast Discussion
Studio Cameras Segment—Unit Shipment and Revenue Forecast Discussion (continued)
Studio Cameras Segment—Competitive Landscape
Studio Cameras Segment—Market Share
Studio Cameras Segment—Competitive Environment
Cinematography Cameras Segment—Market Engineering Measurements
Cinematography Cameras Segment—Unit Shipment and Revenue Forecast
Cinematography Cameras Segment—Unit Shipment and Revenue Forecast Discussion
Competitive Landscape
Cinematography Cameras Segment—Market Share
Cinematography Cameras Segment—Competitive Environment
ENG Cameras Segment—Market Engineering Measurements
ENG Cameras Segment—Unit Shipment and Revenue Forecast
ENG Cameras Segment—Unit Shipment and Revenue Forecast Discussion
ENG Cameras Segment—Unit Shipment and Revenue Forecast Discussion (continued)
Competitive Landscape
ENG Cameras Segment—Market Share
ENG Cameras Segment—Competitive Environment
EFP Cameras Segment—Market Engineering Measurements
EFP Cameras Segment—Unit Shipment and Revenue Forecast
EFP Cameras Segment—Unit Shipment and Revenue Forecast Discussion
Competitive Landscape
EFP Cameras Segment—Market Share
EFP Cameras Segment—Competitive Environment
Hot Company Watchlist
Hot Company Watchlist—Red Digital, Company Heat Index, 2016
Red Digital
Hot Company Watchlist—ARRI, Company Heat Index, 2016
ARRI
The Last Word—Predictions
Legal Disclaimer
Market Engineering Methodology
Partial List of Companies Interviewed
Data Gathering
List of Exhibits
List of Exhibits (continued)
List of Exhibits (continued)
List of Exhibits (continued)