North American Energy Saving and Performance Contracting Market, Forecast to 2022
North American Energy Saving and Performance Contracting Market, Forecast to 2022
Growth Boost from Executive Orders (EOs) 13514 and 13693 in the USA and ecoEnergy Program in Canada Encouraging Energy-efficiency
Research Code: NFF0-01-00-00-00
SKU: EN00907-NA-MR_18554
Description
The market for energy saving contract and performance contracting in North America is expected to grow after 2015 due to policy initiatives towards performance contracting in both Canada and the United States. The United States accounts for a larger share in the market. This research service can be broadly segmented by type of contract namely energy performance contracts (EPC) and energy savings contracts (ESC), and EPC is the larger market segment. The current market size in terms of revenues is estimated for the 2015 base year and forecast for the period 2015 to 2022. Total revenues are presented for the period 2011 to 2022. Competitive landscaping and company profiles have been developed for the key industry participants.
RESEARCH: INFOGRAPHIC
This infographic presents a brief overview of the research, and highlights the key topics discussed in it.

Click image to view it in full size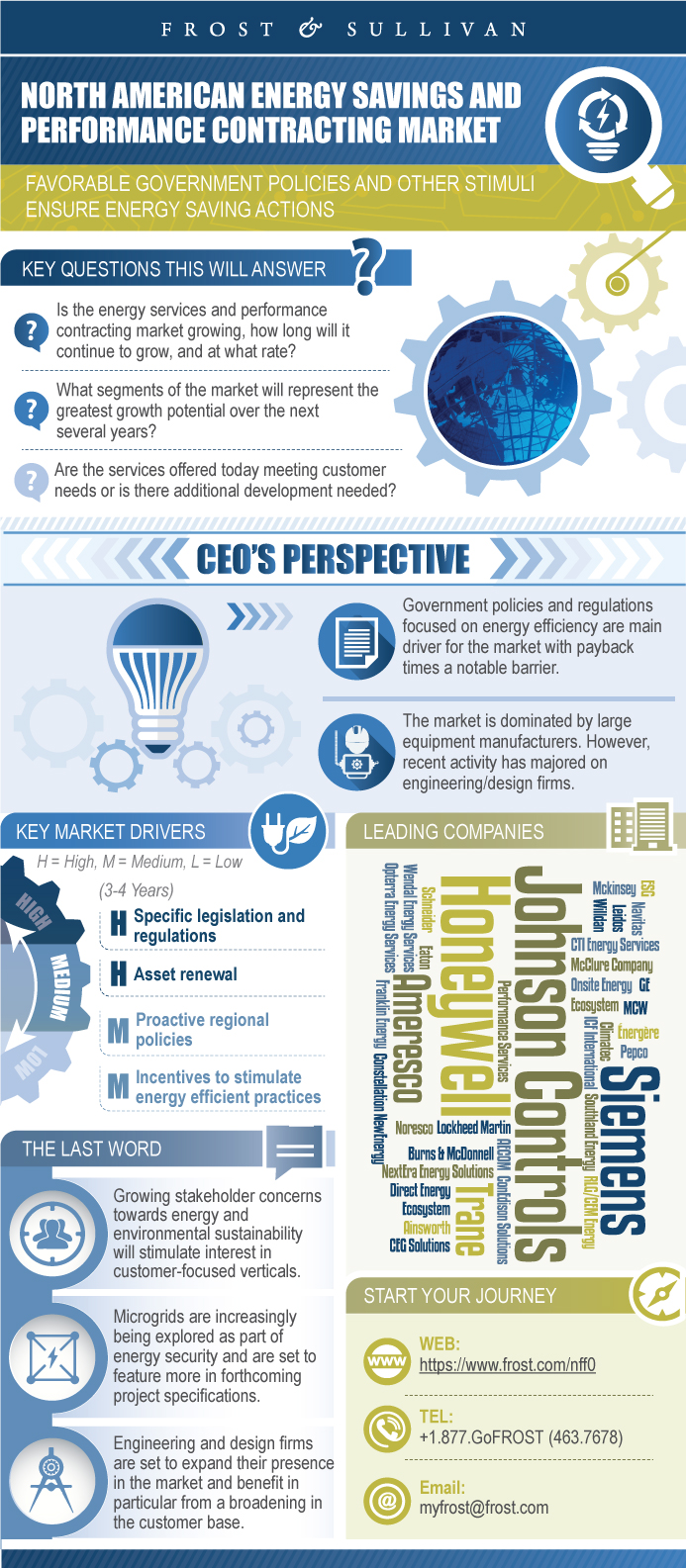 Key Findings - Energy Saving and Performance Contracting Market
Market Measurements
Market Overview
Competitor Overview
CEO's Perspective
Market Definitions
Geographical Scope
Market Scope
Market Segmentation
Competitive Structure by Type of Supplier
Energy Saving and Energy Performance Contracting
Energy Conservation Measure Analysis
Vertical Market Analysis
Market Drivers, North America, 2016-2022
Market Restraints, North America, 2016–2022
Industry Challenges
Market Measurements, North America, 2015
Forecast Assumptions
Revenue Forecast, North America, 2011-2022
Customer Profiles
Market Share
Market Share Analysis
Competitive Environment
Competitive Factors and Assessment
Acquisitions and Divestments
By Contract Type Overview
By Typical Contract Types
Key Findings
Market Measurements, North America, 2015
Revenue Forecast, North America, 2011-2022
Percent Revenue Forecast, North America, 2011-2022
Market Share
Market Share Analysis
3 Big Predictions
Disclaimer
Market Methodology
List of Companies in "Others"
List of Companies Interviewed

List of Figures
1. Energy Saving and Performance Contracting Market: Market Engineering Measurements, North America, 2015
2. Energy Saving and Performance Contracting Market: Percent Revenue Breakdown by Contract Type, North America, 2015
3. Energy Saving and Performance Contracting Market: Percent Revenue Breakdown by Energy Conservation Measure, North America, 2015
4. Energy Saving and Performance Contracting Market: Percent Revenue Breakdown by Vertical Market, North America, 2015
5. Competitive Structure: Percent of Sales by Type of Supplier, North America, 2015
6. Energy Saving and Performance Contracting Market: Key Market Drivers, North America, 2016-2022
7. Energy Saving and Performance Contracting Market: Key Market Restraints, North America, 2016–2022
8. Energy Saving and Performance Contracting Market: Market Engineering Measurements, North America, 2015
9. GDP Growth (Constant Prices) by Country, North America, 2015-2020
10. Energy Saving and Performance Contracting Market: Revenue Forecast, North America, 2011-2022
11. Energy Saving and Performance Contracting Market: Percent Revenue Forecast by Country, North America, 2011–2022
12. Energy Saving and Performance Contracting Market: Revenue Forecast by Country, North America, 2011–2022
13. Energy Saving and Performance Contracting Market: Percent Revenue Forecast by Energy Conservation Measure, North America, 2011-2022
14. Energy Saving and Performance Contracting Market: Percent Revenue Forecast by Vertical Market, North America, 2011–2022
15. Energy Saving and Performance Contracting Market: Percent of Sales, North America, 2015
16. Energy Saving and Performance Contracting Market: Company Market Share Analysis of Top 5 Participants, North America, 2015
17. Energy Saving and Performance Contracting Market: Competitive Structure, North America, 2015
18. Energy Saving and Performance Contracting Market: SWOT Analysis, North America, 2015
19. Energy Saving and Performance Contracting Market: Competitive Factors, North America, 2015
20. Energy Saving and Performance Contracting Market: Typical Contract Types, North America, 2015
21. Energy Saving Contracts Segment Analysis - Important Characteristics
22. Energy Saving Contracts Market: Market Engineering Measurements, North America, 2015
23. Energy Savings Contracts Segment: Revenue Forecast, North America, 2011-2022
24. Energy Savings Contracts Segment: Percent Revenue Forecast by Energy Conservation Measure, North America, 2011-2022
25. Energy Savings Contracts Segment: Percent Revenue Forecast by Vertical Market, North America, 2011-2022
26. Energy Savings Contracts Segment: Percent of Sales, North America, 2015
27. Energy Savings Contracts Segment: Company Market Share Analysis of Top 8 Participants, North America, 2015
28. Energy Performance Contracting Segment Analysis - Important Characteristics
29. Energy Performance Contracting Market: Market Engineering Measurements, North America, 2015
30. Energy Performance Contracting Segment: Revenue Forecast, North America, 2011-2022
31. Energy Performance Contracting Segment: Percent Revenue Forecast by Energy Conservation Measure, North America, 2011-2022
32. Energy Performance Contracting Segment: Percent Revenue Forecast by Vertical Market, North America, 2011-2022
33. Energy Performance Contracting Segment: Percent of Sales, North America, 2015
34. Energy Performance Contracting Segment: Company Market Share Analysis of Top 8 Participants, North America, 2015