North American Energy Saving and Performance Contracting Market, Forecast to 2024
North American Energy Saving and Performance Contracting Market, Forecast to 2024 Updated Research Available
HVAC and Lighting Will Be the Primary Pillars of the Market by 2024
Research Code: K224-01-00-00-00
Description
The North American energy saving and performance contracting market is currently in the growth stage and is expected to witness healthy growth between 2017 and 2024. The market is expected to grow at a CAGR of 7.34% between 2017 and 2024. A high rate of growth is due to the government support and policy initiatives toward energy performance contracting and increased emphasis on energy savings across all the verticals in the North American market. HVAC and lighting are the most prominent energy conservation measures (ECM) accounting for 64.6% revenues in 2017. However, due to the operational cost savings achieved through the adoption of energy-efficient lighting, the demand for lighting technology is increasing and is expected to be the lead technology in the near future. Sustainable digital technologies to implement real-time data monitoring are gradually desired by the market and will have a growing presence in the near future. Large equipment manufacturers dominate the market; however, greater level of adoption is seen by contractors and engineering firms to become integrated solution providers for energy contracting.

Market trends are analyzed for the study period of 2013 to 2024, with the base year being 2017. This study segments energy contracting market into energy-saving and energy performance contracting. These segments are further analyzed and divided into vertical markets and components offered as part of energy contracting. The vertical market analysis is available with revenue contributions over the study period for commercial & industrial, public housing, healthcare, further education, K-12 Schools, state/municipal, and federal segments. A structure by type of service providers is also available for the overall market.

Few tier I companies mentioned in the energy-saving and energy performance contracting market competitive landscape include Johnson Controls, Honeywell, Siemens, Trane, and Ameresco. In addition to the industry challenges and drivers and restraints in the market, this study also highlights certain upcoming trends and technologies in the market. The study also discusses growth opportunities and how participants can capitalize on these emerging opportunities.
Key Issues Addressed
What is the anticipated growth of the energy saving and energy performance contracting market between 2017 and 2024?
Which segment of the market has the largest share? Energy saving or Energy performance contracting?
What are the external forces influencing the market growth? How significant is their impact?
How do various end users drive the market revenue and what vertical markets will have the largest growth potential over the forecast period?
What energy conservation methods will represent the greatest growth potential over the forecast period?
RESEARCH: INFOGRAPHIC
This infographic presents a brief overview of the research, and highlights the key topics discussed in it.

Click image to view it in full size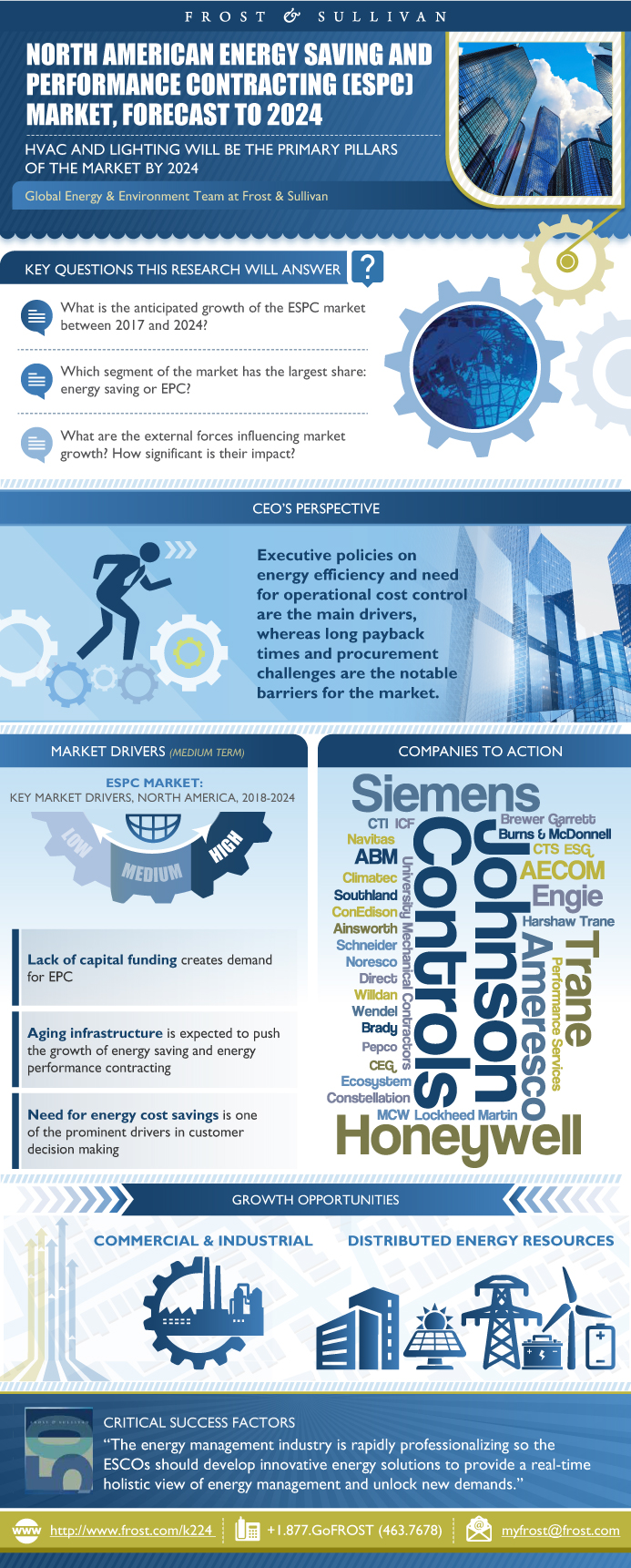 Key Findings
Market Engineering Measurements
CEO's Perspective
Market Definitions
What Is ECM
Contract Type Overview and Arrangements
Types of Energy Contracting Arrangements
Key Questions This Study Will Answer
Market Segmentation by Energy Contracting Type
Market Segmentation by Vertical Market
Market Segmentation by ECM
Competitive Structure by Type of Service Provider
Cost Break up of Typical Value of Contracts
Market Drivers
Market Restraints
Industry Challenges
Market Engineering Measurements
Revenue Forecast
Percent Revenue Forecast by Country
Revenue Forecast by Country
Percent Revenue Forecast by ECM
Revenue Forecast by ECM
Percent Revenue Forecast by Vertical Market
Revenue Forecast by Vertical Market
Competitive Analysis—Market Share
Market Share Analysis
Competitive Environment
Top Competitors
Competitive Factors and Assessment
Industry Consolidation
Growth Opportunity 1— Commercial & Industrial
Growth Opportunity 2— Distributed Energy Resources (DER)
Strategic Imperatives for Success and Growth
EPC Segment Key Findings
Market Engineering Measurements
EPC Revenue Forecast
EPC Revenue Forecast by Country
Percent Revenue Forecast by ECM
Revenue Forecast by ECM
EPC Percent Revenue Forecast by Vertical Market
EPC Revenue Forecast by Vertical Market
Market Share
Market Share Analysis
ESC Segment Key Findings
Market Engineering Measurements
ESC Revenue Forecast
ESC Revenue Forecast by Country
Percent Revenue Forecast by ECM
Revenue Forecast by ECM
Percent Revenue Forecast by Vertical Market
Revenue Forecast by Vertical Market
Market Share
Market Share Analysis
The Last Word—3 Big Predictions
Legal Disclaimer
Market Engineering Methodology
List of Companies in "Others"
List of Companies in "Others in Energy Performance Contracting Segment"
List of Companies in "Others in Energy Saving Contracting Segment"
Partial List of Companies Interviewed
Abbreviations and Acronyms
Utility Cost in Major North American Cities
List of Exhibits

List of Figures
1. ESPC Market: Key Market Drivers, North America, 2018–2024
2. ESPC Market: Key Market Restraints, North America, 2018–2024
3. ESPC Market: Average Electricity Price, Canada, 2017
4. ESPC Market: Market Engineering Measurements, North America, 2017
5. ESPC Market: Revenue Forecast by Country, North America, 2013–2024
6. ESPC Market: Company Market Share Analysis of Top 8 Participants, North America, 2017
7. ESPC Market: Competitive Structure, North America, 2017
8. ESPC Market: SWOT Analysis, North America, 2017
9. EPC Segment: Market Engineering Measurements, North America, 2017
10. EPC Segment: Company Market Share Analysis of Top 8 Participants, North America, 2017
11. ESC Segment: Market Engineering Measurements, North America, 2017
12. ESC Segment: Company Market Share Analysis of Top 8 Participants, North America, 2017

List of Charts
1. ESPC Market: Market Engineering Measurements, North America, 2017
2. ESPC Market: Percent Revenue Breakdown by Contract Type, North America, 2017
3. ESPC Market: Percent Revenue Breakdown by Vertical Market, North America, 2017
4. ESPC Market: Percent Revenue Breakdown by ECM, North America, 2017
5. ESPC Market: Competitive Structure by Type of Service Provider, North America, 2017
6. ESPC Market: Cost Break Up of a Typical Contract, North America, 2017
7. ESPC Market: Average Retail Price, US, 2010–2017
8. ESPC Market: Average Retail Price, US, 2010–2017
9. ESPC Market: Segment Electricity Price, US, 2010–2017
10. GDP Growth (Constant Prices) by Country, North America, 2017–2022
11. ESPC Market: Percent Revenue Forecast by Country, North America, 2013–2024
12. ESPC Market: Percent Revenue Forecast by ECM, North America, 2013–2024
13. ESPC Market: Revenue Forecast by ECM, North America, 2013–2024
14. ESPC Market: Percent Revenue Forecast by Vertical Market, North America, 2013–2024
15. ESPC Market: Revenue Forecast by Vertical Market, North America, 2013–2024
16. ESPC Market: Percent of Sales, North America, 2017
17. ESPC Market: Competitive Factors and Assessment, North America, 2017
18. ESPC Market: Percent Sales Breakdown, North America, 2017
19. EPC Segment: Revenue Forecast, North America, 2013–2024
20. EPC Segment: Revenue Forecast by Country, North America, 2013–2024
21. EPC Segment: Percent Revenue Forecast by ECM, North America, 2013–2024
22. EPC Segment: Revenue Forecast by ECM, North America, 2013–2024
23. EPC Segment: Percent Revenue Forecast by Vertical Market, North America, 2013–2024
24. EPC Segment: Revenue Forecast by Vertical Market, North America, 2013–2024
25. EPC Segment: Percent of Sales, North America, 2017
26. ESPC Market: Percent Sales Breakdown, North America, 2017
27. ESC Segment: Revenue Forecast, North America, 2013–2024
28. ESC Segment: Revenue Forecast by Country, North America, 2013–2024
29. Energy Savings Contracting Segment: Percent Revenue Forecast by ECM, North America, 2013–2024
30. ESC Segment: Revenue Forecast by ECM, North America, 2013–2024
31. Energy Savings Contracting Segment: Percent Revenue Forecast by Vertical Market, North America, 2013–2024
32. Energy Savings Contracting Segment: Revenue Forecast by Vertical Market, North America, 2013–2024
33. Energy Savings Contracting Segment: Percent of Sales, North America, 2017
The North American energy saving and performance contracting market is currently in the growth stage and is expected to witness healthy growth between 2017 and 2024. The market is expected to grow at a CAGR of 7.34% between 2017 and 2024. A high rate of growth is due to the government support and policy initiatives toward energy performance contracting and increased emphasis on energy savings across all the verticals in the North American market. HVAC and lighting are the most prominent energy conservation measures (ECM) accounting for 64.6% revenues in 2017. However, due to the operational cost savings achieved through the adoption of energy-efficient lighting, the demand for lighting technology is increasing and is expected to be the lead technology in the near future. Sustainable digital technologies to implement real-time data monitoring are gradually desired by the market and will have a growing presence in the near future. Large equipment manufacturers dominate the market; however, greater level of adoption is seen by contractors and engineering firms to become integrated solution providers for energy contracting. Market trends are analyzed for the study period of 2013 to 2024, with the base year being 2017. This study segments energy contracting market into energy-saving and energy performance contracting. These segments are further analyzed and divided into vertical markets and components offered as part of energy contracting. The vertical market analysis is available with revenue contributions over the study period for commercial & industrial, public housing, healthcare, further education, K-12 Schools, state/municipal, and federal segments. A structure by type of service providers is also available for the overall market. Few tier I companies mentioned in the energy-saving and energy performance contracting market competitive landscape include Johnson Controls, Honeywell, Siemens, Trane, and Ameresco. In addition to the industry challenges and drivers
More Information

| | |
| --- | --- |
| No Index | No |
| Podcast | No |
| Table of Contents | | Executive Summary~ || Key Findings~ || Market Engineering Measurements~ || CEO's Perspective~ | Market Overview~ || Market Definitions~ || What Is ECM~ || Contract Type Overview and Arrangements~ || Types of Energy Contracting Arrangements~ || Key Questions This Study Will Answer~ || Market Segmentation by Energy Contracting Type~ || Market Segmentation by Vertical Market~ || Market Segmentation by ECM~ || Competitive Structure by Type of Service Provider~ || Cost Break up of Typical Value of Contracts~ | Drivers and Restraints—Energy Savings and Performance Contracting Market~ || Market Drivers~ || Market Restraints~ || Industry Challenges~ | Forecast and Trends—ESPC Market~ || Market Engineering Measurements~ || Revenue Forecast~ || Percent Revenue Forecast by Country~ || Revenue Forecast by Country~ || Percent Revenue Forecast by ECM~ || Revenue Forecast by ECM~ || Percent Revenue Forecast by Vertical Market~ || Revenue Forecast by Vertical Market~ | Market Share and Competitive Analysis—ESPC Market~ || Competitive Analysis—Market Share~ || Market Share Analysis~ || Competitive Environment~ || Top Competitors~ || Competitive Factors and Assessment~ || Industry Consolidation~ | Growth Opportunities and Companies to Action~ || Growth Opportunity 1— Commercial & Industrial~ || Growth Opportunity 2— Distributed Energy Resources (DER)~ || Strategic Imperatives for Success and Growth~ | Analysis by Contract Type—ESPC Market~ || Typical Contract Types~ | EPC Segment Analysis~ || EPC Segment Key Findings~ || Market Engineering Measurements~ || EPC Revenue Forecast~ || EPC Revenue Forecast by Country~ || Percent Revenue Forecast by ECM~ || Revenue Forecast by ECM~ || EPC Percent Revenue Forecast by Vertical Market~ || EPC Revenue Forecast by Vertical Market~ || Market Share~ || Market Share Analysis~ | Energy Savings Contracting Segment Analysis~ || ESC Segment Key Findings~ || Market Engineering Measurements~ || ESC Revenue Forecast~ || ESC Revenue Forecast by Country~ || Percent Revenue Forecast by ECM~ || Revenue Forecast by ECM~ || Percent Revenue Forecast by Vertical Market~ || Revenue Forecast by Vertical Market~ || Market Share~ || Market Share Analysis~ | The Last Word~ || The Last Word—3 Big Predictions~ || Legal Disclaimer~ | Appendix~ || Market Engineering Methodology~ || List of Companies in "Others"~ || List of Companies in "Others in Energy Performance Contracting Segment"~ || List of Companies in "Others in Energy Saving Contracting Segment"~ || Partial List of Companies Interviewed~ || Abbreviations and Acronyms~ || Utility Cost in Major North American Cities~ || List of Exhibits~ |
| List of Charts and Figures | 1. ESPC Market: Key Market Drivers, North America, 2018–2024~ 2. ESPC Market: Key Market Restraints, North America, 2018–2024~ 3. ESPC Market: Average Electricity Price, Canada, 2017~ 4. ESPC Market: Market Engineering Measurements, North America, 2017~ 5. ESPC Market: Revenue Forecast by Country, North America, 2013–2024~ 6. ESPC Market: Company Market Share Analysis of Top 8 Participants, North America, 2017~ 7. ESPC Market: Competitive Structure, North America, 2017~ 8. ESPC Market: SWOT Analysis, North America, 2017~ 9. EPC Segment: Market Engineering Measurements, North America, 2017~ 10. EPC Segment: Company Market Share Analysis of Top 8 Participants, North America, 2017~ 11. ESC Segment: Market Engineering Measurements, North America, 2017~ 12. ESC Segment: Company Market Share Analysis of Top 8 Participants, North America, 2017~| 1. ESPC Market: Market Engineering Measurements, North America, 2017~ 2. ESPC Market: Percent Revenue Breakdown by Contract Type, North America, 2017~ 3. ESPC Market: Percent Revenue Breakdown by Vertical Market, North America, 2017~ 4. ESPC Market: Percent Revenue Breakdown by ECM, North America, 2017~ 5. ESPC Market: Competitive Structure by Type of Service Provider, North America, 2017~ 6. ESPC Market: Cost Break Up of a Typical Contract, North America, 2017~ 7. ESPC Market: Average Retail Price, US, 2010–2017~ 8. ESPC Market: Average Retail Price, US, 2010–2017~ 9. ESPC Market: Segment Electricity Price, US, 2010–2017~ 10. GDP Growth (Constant Prices) by Country, North America, 2017–2022~ 11. ESPC Market: Percent Revenue Forecast by Country, North America, 2013–2024~ 12. ESPC Market: Percent Revenue Forecast by ECM, North America, 2013–2024~ 13. ESPC Market: Revenue Forecast by ECM, North America, 2013–2024~ 14. ESPC Market: Percent Revenue Forecast by Vertical Market, North America, 2013–2024~ 15. ESPC Market: Revenue Forecast by Vertical Market, North America, 2013–2024~ 16. ESPC Market: Percent of Sales, North America, 2017~ 17. ESPC Market: Competitive Factors and Assessment, North America, 2017~ 18. ESPC Market: Percent Sales Breakdown, North America, 2017~ 19. EPC Segment: Revenue Forecast, North America, 2013–2024~ 20. EPC Segment: Revenue Forecast by Country, North America, 2013–2024~ 21. EPC Segment: Percent Revenue Forecast by ECM, North America, 2013–2024~ 22. EPC Segment: Revenue Forecast by ECM, North America, 2013–2024~ 23. EPC Segment: Percent Revenue Forecast by Vertical Market, North America, 2013–2024~ 24. EPC Segment: Revenue Forecast by Vertical Market, North America, 2013–2024~ 25. EPC Segment: Percent of Sales, North America, 2017~ 26. ESPC Market: Percent Sales Breakdown, North America, 2017~ 27. ESC Segment: Revenue Forecast, North America, 2013–2024~ 28. ESC Segment: Revenue Forecast by Country, North America, 2013–2024~ 29. Energy Savings Contracting Segment: Percent Revenue Forecast by ECM, North America, 2013–2024~ 30. ESC Segment: Revenue Forecast by ECM, North America, 2013–2024~ 31. Energy Savings Contracting Segment: Percent Revenue Forecast by Vertical Market, North America, 2013–2024~ 32. Energy Savings Contracting Segment: Revenue Forecast by Vertical Market, North America, 2013–2024~ 33. Energy Savings Contracting Segment: Percent of Sales, North America, 2017~ |
| Author | Pratik Paul |
| Industries | Environment |
| WIP Number | K224-01-00-00-00 |
| Keyword 1 | Energy Saving |
| Keyword 2 | Performance Contracting |
| Is Prebook | No |
| GPS Codes | 9343-A4 |