Strategic Analysis of Thailand's Commercial Vehicle Industry, Forecast to 2022
Strategic Analysis of Thailand's Commercial Vehicle Industry, Forecast to 2022
Commercial Vehicle Sales in Thailand is Expected to Achieve 305,000 Units by 2022
Research Code: P9A1-01-00-00-00
SKU: AU01768-AP-MR_22725
Description
This study aims to research, analyze, and forecast the commercial vehicles market in Thailand from 2017 to 2022. This analysis includes commercial vehicles market overview , market network & dealerships, regulatory environment, key industry sectors outlook — total commercial vehicle market, segment market share and competitive analysis, external challenges: drivers and restraints-total commercial vehicles market, forecasts and trends-total commercial vehicles market, commercial vehicle industry & OEM profile, growth opportunities and companies to action, and conclusions and future outlook. The commercial vehicle market in Thailand has been shrinking from 2014 to 2016. In 2017, the market finally saw a positive growth. During the forecast period, the Thai commercial vehicle market is expected to see a positive growth despite challenges in terms of high household debt, decreased agricultural commodity prices, and high motorization rate. However, OEMs can overcome these challenges and restraints due to positive trends such as continuous infrastructure development, growing tourism, and growing middle-income earners and small- and medium-sized enterprises.
Research Scope
This study aims to present an overview of the current and future trends and developments in the CV market in Thailand during 2013-2022 and includes:
Market overview of the Thai CV market including sales breakdown and production breakdown by segment, region and brands, and industry outlook of the value chain by 2022
Market network & dealerships details with dealership analysis and listings by region
Regulatory environment including emissions and safety, vehicle and driving regulations
Key industry sectors outlook for the industries affecting the Thai commercial vehicle market including agriculture, industry, and services
Segment market share and competitive analysis including competitive environment and market share analysis for market participants across all the CV segments
Commercial vehicle industry & OEM profiles for key CV manufacturers in Thailand
Analysis of the key drivers and restraints for the period of 2018-2022
Market forecasts and trends from 2018 to 2022
Key Issues Addressed
How is the business environment of the automotive industry affecting the sales of commercial vehicles?
How are CVs classified and how is the market structured?
Who are the market leaders and what are their market shares?
What are the technology trends?
Is there potential for growth within the market?
RESEARCH: INFOGRAPHIC
This infographic presents a brief overview of the research, and highlights the key topics discussed in it.

Click image to view it in full size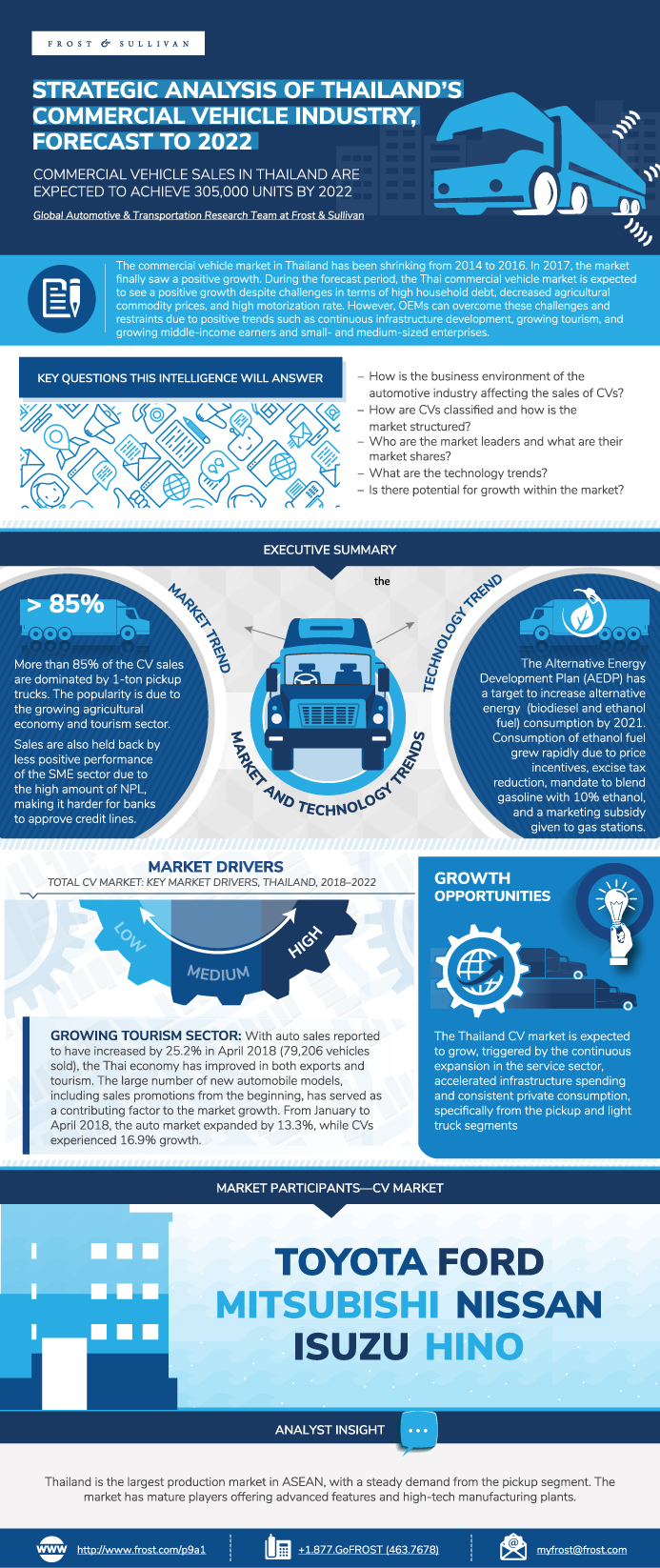 List of Figures
1. Total CV Market: Production and Sales, Thailand, 2013–2017
2. Total CV Market: Key Industry Participants, Thailand, 2017
3. Total CV Market: CV Segment, Thailand, 2017
4. Total CV Market: Major Dealers, Thailand, 2017
5. Total CV Market: Competitive Structure, Thailand, 2017
6. PU Segment: Competitive Structure, Thailand, 2017
7. SCV Segment: Competitive Structure, Thailand, 2017
8. LTs Segment: Competitive Structure, Thailand, 2017
9. MCV Segment: Competitive Structure, Thailand, 2017
10. Heavy CV Segment: Competitive Structure, Thailand, 2017
11. Light Bus Segment: Competitive Structure, Thailand, 2017
12. LBs Segment: Best-selling Models, Thailand, 2017
13. Medium/Heavy Bus Segment: Competitive Structure, Thailand, 2017
14. Light CV Market: Emission Standards, Thailand, 2017
15. Light CV Market: In-use Vehicle Standards, Thailand, 2017
16. Heavy CV Market: Emission Standards, Thailand, 2017
17. Safety, Vehicle, and Driving Regulations, Thailand, 2018
18. Current and Upcoming Mega Infrastructure Projects, Thailand, 2018
19. Total CV Market: Key Market Drivers, Thailand, 2018–2022
20. Total CV Market: Key Market Restraints, Thailand, 2018–2022
21. Total CV Market: Market Engineering Measurements, Thailand, 2017
22. Total CV Market: Top Market Participants, Thailand, 2017
23. Total CV Market: Basic Information of Toyota Motor Thailand Co., Ltd., Thailand, 2017
24. Total CV Market: Basic Information of Isuzu Motors Co., (Thailand) Ltd., Thailand, 2017
25. Total CV Market: Basic Information of AutoAlliance (Thailand) Co., Ltd., Thailand, 2017
26. Total CV Market: Basic Information of Mitsubishi Motors (Thailand) Co., Ltd., Thailand, 2017
27. Total CV Market: Basic Information of Nissan Motor (Thailand) Co., Ltd., Thailand, 2017
28. Total CV Market: Recent Activities, Thailand, 2016–2017

List of Charts
1. Total CV Market: Key Takeaways, Thailand, 2018
2. Total CV Market: Market Engineering Measurements Thailand, 2017
3. Total CV Market: Sales Forecast, Thailand, 2017 and 2022
4. Total CV Market: Market and Technology Trends, Thailand, 2017
5. Total CV Market: Sales Scenario Analysis, Thailand, 2017–2022
6. Total CV Market: Sales Breakdown by Segment, Thailand, 2013–2017
7. CV Market: OEM Sales Performance, Thailand, 2017
8. Total CV Market: Sales Breakdown by Region, Thailand, 2017
9. Total CV Market: Production Breakdown by Segment, Thailand, 2013–2017
10. Total CV Market: Average Age of CVs by Segment, Thailand, 2017
11. Total CV Market: New Versus Used CVs, Thailand, 2017 and 2022
12. Total CV Market: Market Share by Fleet Type, Thailand, 2017
13. Total CV Market: Market Share by Fleet Size, Thailand, 2017
14. Total CV Market: Production Analysis, Thailand, 1961–2020 and Beyond
15. CV Market: Outlook Value Chain, Thailand, 2022
16. Total CV Market: Applications by Fleet Type, Thailand, 2017
17. Total CV Market: Dealer Point Analysis of Market Participants, Thailand, 2017
18. Total CV Market: Dealer Point Analysis of Top 6 Participants by Region, Thailand, 2017
19. Pick-up Segment: Market Share by Sales, Thailand, 2013–2017
20. PU Segment: Best-selling Models, Thailand, 2017
21. SCV Segment: Market Share by Sales, Thailand, 2013–2017
22. SCV Segment: Best-selling Models, Thailand, 2017
23. LTs Segment: Market Share by Sales, Thailand, 2013–2017
24. LTs Segment: Best-selling Models, Thailand, 2017
25. MCV Segment: Market Share by Sales, Thailand, 2013–2017
26. MCV Segment: Best-selling Models, Thailand, 2017
27. HCV Segment: Market Share by Sales, Thailand, 2013–2017
28. HCV Segment: Best Selling Models, Thailand, 2017
29. LBs Segment: Market Share by Sales, Thailand, 2013–2017
30. MHBs Segment: Market Share by Sales, Thailand, 2013–2017
31. MHBs Segment: Best-belling Models, Thailand, 2017
32. Percentage Distribution of GDP at Current Market Prices by Sector, Thailand, 2013–2017
33. Growth Rate of GDP at 2010 Constant Market Prices by Industry, Thailand, 2013–2017
34. Development and Impact of Industrial Sector on CV Market, Thailand, 2018
35. Impact of Industrial Sector on CV Market, Thailand, 2018–2022
36. Development and Impact of Agriculture Sector on CV Market, Thailand, 2018
37. Impact of Agricultural Sector on CV Market, Thailand, 2018–2022
38. Development and Impact of Services Sector on CV Market, Thailand, 2018
39. Impact of Services Sector on CV Market, Thailand, 2018–2022
40. Total CV Market: Sales Scenario Analysis, Thailand, 2017–2022
41. Total CV Market: Optimistic Scenario Analysis, Thailand, 2017–2022
42. Total CV Market: Frost & Sullivan Scenario Analysis, Thailand, 2017–2022
43. Total CV Market: Conservative Scenario Analysis, Thailand, 2017–2022
44. Total CV Market: Sales Forecast, Thailand, 2017 and 2022
45. Total CV Market: Manufacturing and Assembly Plant Locations, Thailand, 2017
46. Total CV Market: Top 5 Growth Opportunities, Thailand, 2017
47. Total CV Market: SWOT Analysis, Thailand, 2017