Asia-Pacific Hosted Contact Center Services Market, Forecast to 2021
Asia-Pacific Hosted Contact Center Services Market, Forecast to 2021
System Flexibility and Scalability Demands to Power Revenues, Adoption of Hosted and Cloud Contact Centre Solutions to Increase
Research Code: P899-01-00-00-00
SKU: IT00805-AP-MR_02146
$20,000.00
Special Price $15,000.00 save 25 %
Description
This research service analyzes the hosted contact center services market in the Asia-Pacific region. Market sizing and forecasting are provided in terms of seats and revenue. The competitive landscape is examined at a vendor level as well as at a service provider level. Furthermore, key application vendors and hosted contact center service providers in the region have been profiled. Regional analysis and forecasting are provided for six regions within the Asia-Pacific market including Oceania (Australia and New Zealand), Association of Southeast Asian Nations (ASEAN), Greater China (China, Hong Kong, and Taiwan), India, Japan, and South Korea.
RESEARCH: INFOGRAPHIC
This infographic presents a brief overview of the research, and highlights the key topics discussed in it.

Click image to view it in full size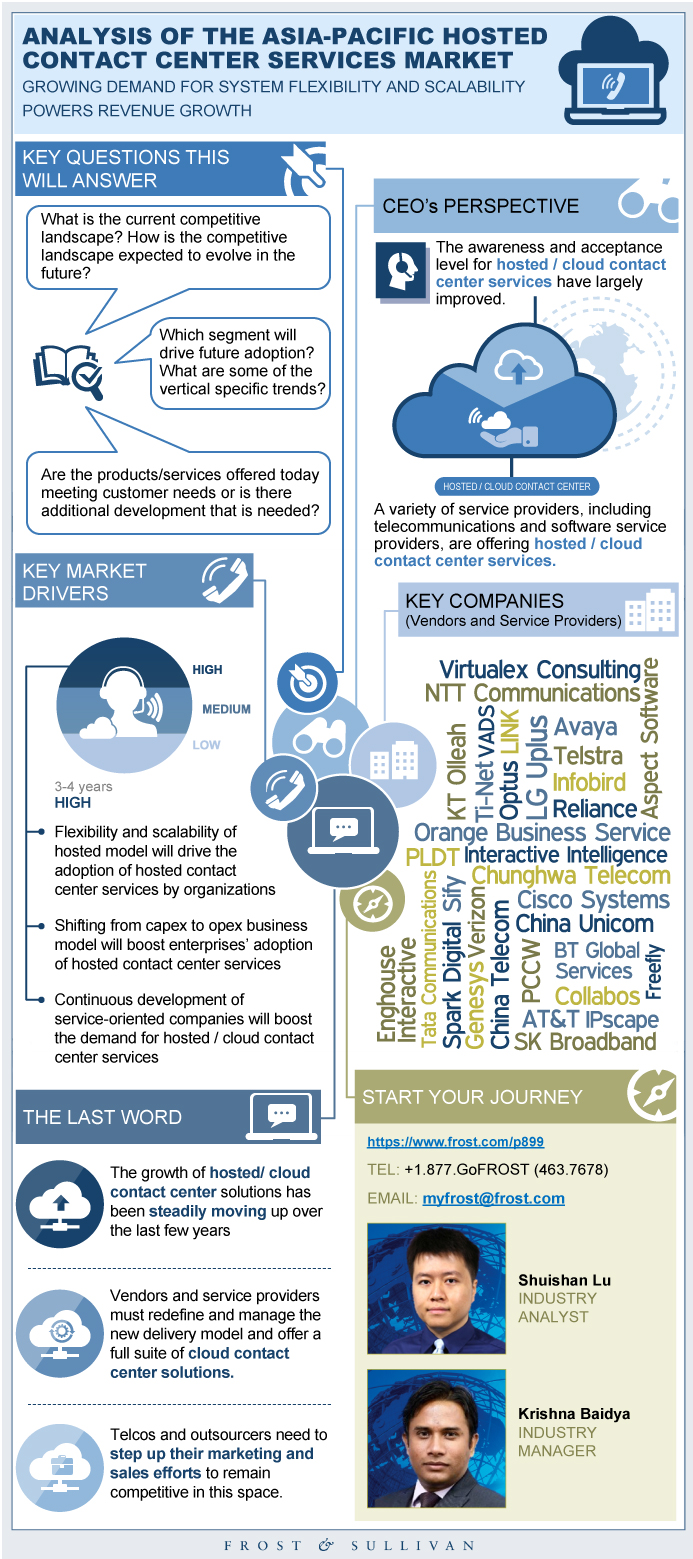 List of Figures
1. Total Hosted Contact Center Services Market: Market Engineering Measurements, Asia-Pacific, 2014
2. Research Methodology
3. Market Overview—Geographical Coverage
4. Total Hosted Contact Center Services Market: Key Market Drivers, Asia-Pacific, 2015–2021
5. Total Hosted Contact Center Services Market: Key Market Restraints, Asia-Pacific, 2015–2021
6. Total Hosted Contact Center Services Market: Market Engineering Measurements, Asia-Pacific, 2014
7. Total Hosted Contact Center Services Market: Different Phases of Adoption, Asia-Pacific, 2014
8. Total Hosted Contact Center Services Market: Seat Forecast, Asia-Pacific, 2013–2021
9. Total Hosted Contact Center Services Market: Revenue Forecast, Asia-Pacific, 2013–2021
10. Total Hosted Contact Center Services Market: Percent of Revenue by Region, Asia-Pacific, 2014
11. Total Hosted Contact Center Services Market: Market Penetration, Asia-Pacific, 2013–2021
12. Total Hosted Contact Center Services Market: Revenue Distribution by Size of Hosting, Asia-Pacific, 2014, 2018, and 2021
13. Total Hosted Contact Center Services Market: Revenue Distribution by Type of Requirement, Asia-Pacific, 2014, 2018, and 2021
14. Total Hosted Contact Center Services Market: Revenue Distribution by Horizontal Market, Asia-Pacific, 2014, 2018 and 2021
15. Hosted Contact Center Services Market: Market Engineering Measurements, Oceania, 2014
16. Hosted Contact Center Services Market: Revenue Forecast, Oceania, 2013–2021
17. Hosted Contact Center Services Market: Market Engineering Measurements, India, 2014
18. Hosted Contact Center Services Market: Revenue Forecast, India, 2013–2021
19. Hosted Contact Center Services Market: Market Engineering Measurements, Japan, 2014
20. Hosted Contact Center Services Market: Revenue Forecast, Japan, 2013–2021
21. Hosted Contact Center Services Market: Market Engineering Measurements, ASEAN, 2014
22. Hosted Contact Center Services Market: Revenue Forecast, ASEAN, 2013–2021
23. Hosted Contact Center Services Market: Market Engineering Measurements, Greater China, 2014
24. Hosted Contact Center Services Market: Revenue Forecast, Greater China, 2013–2021
25. Hosted Contact Center Services Market: Market Engineering Measurements, South Korea, 2014
26. Hosted Contact Center Services Market: Revenue Forecast, South Korea, 2013–2021