European Bearings Market, Forecast to 2021
European Bearings Market, Forecast to 2021
Increasing Sophistication of Bearings, Rapid Increase in Export Demand of Industrial Machinery and Growth in Renewable Energy are the Major Growth Fac
Research Code: MD42-01-00-00-00
SKU: IA01449-EU-MR_21037
Description
The research provides the European bearings market size estimate for 2016, historic data from 2013 to 2015 and provides market forecast from 2017 to 2021. Market revenue is provided in $ million for 2 product segments, 8 end-user segments and 9 regional segments in Europe.

Product technology include Ball bearings, Roller bearings, cylindrical roller bearings, Tapered roller bearings, Spherical roller bearings and Needle roller bearings. Regions include Germany, France, Italy, the United Kingdom, Scandinavia, Benelux, Iberia, Rest of Western Europe, Central and Eastern Europe. End users include: industrial (energy, heavy industries, general manufacturing, others) and mobile (automobile, aerospace and defence, off-highway and construction equipment, and railway).

The report gives detailed information on the revenues and growth rates of these end-user segments across regions. Competitor analyses and market shares for 2016 have been provided. The major companies covered in the report are SKF, Schaeffler AG, NSK Ltd, NTN-SNR, The Timken Company, JTEKT Corporation, Nachi Europe GmbH, Kinex Bearings and Fersa Bearings.

The European bearings market is dominated by 6 major global brands that have significant presence across all major end-user segments and regional segments.The bearings market is likely to be positively impacted by increasing demand for sophisticated bearings. In general, the demand for bearings with longer service life, higher efficiency and lower maintenance requirements is expected to grow significantly during the forecast period.

On the other hand, higher adoption of smart bearings is expected to reduce the replacement frequency of bearings, as smart bearings will be replaced on the basis of the actual condition of the bearing rather than on a predetermined replacement schedule. This trend is expected to reduce the growth in demand.

The research methodology is a combination of primary and secondary research. Secondary research involves desk-based research. Primary research involves interaction with market participants and getting their perspective and feedback on our analysis.

Key Questions Answered in the Report:

• Is the European bearings market growing? How long will it continue to grow, and at what rate?
• What is the impact of smart bearings on bearing replacement frequency? What new opportunities await bearing manufacturers due to the adoption of smart bearings?
• What are the major purchasing criteria considered by bearing customers in Europe? How does the suppliers' brand influence the purchasing decision?
• What are the threats this market is likely to encounter?
• What are the factors that may drive the market?
• How is the demand for rolling element bearings distributed across the various end-user segments and regions within Europe?
RESEARCH: INFOGRAPHIC
This infographic presents a brief overview of the research, and highlights the key topics discussed in it.

Click image to view it in full size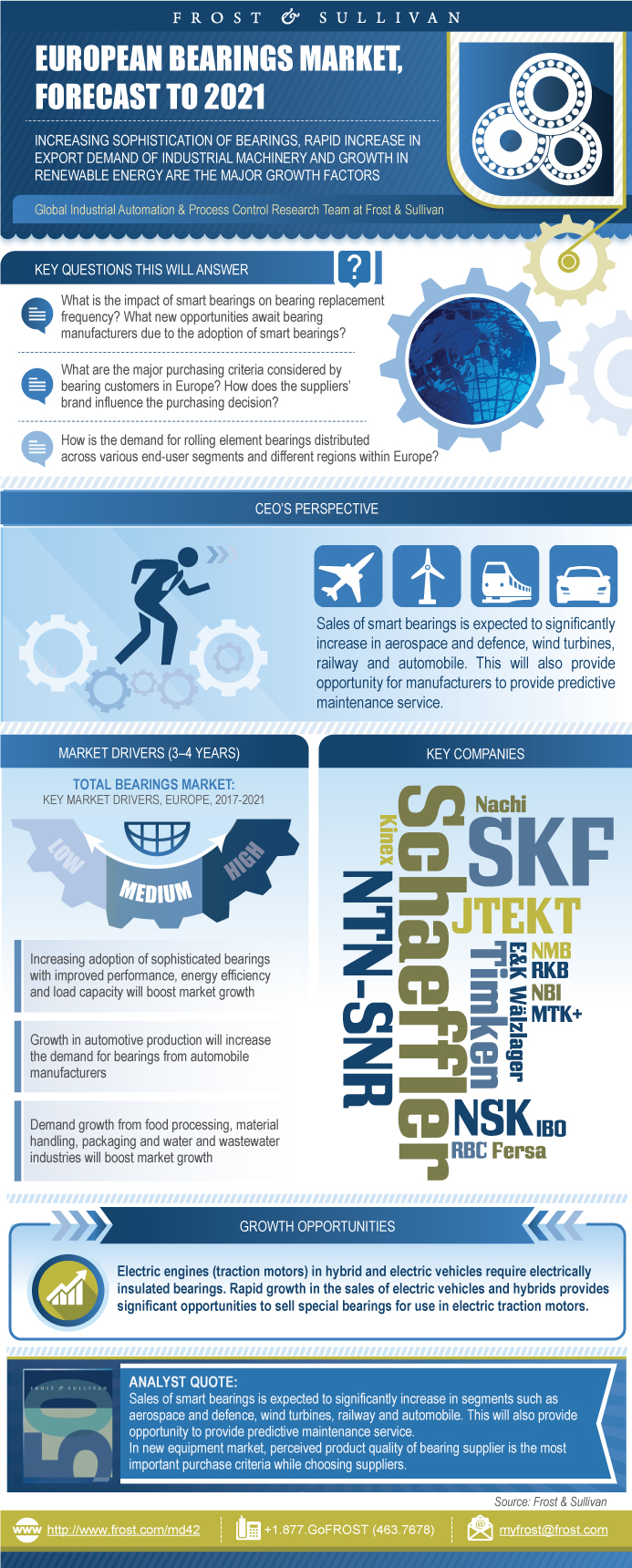 Executive Summary—Key Findings
Executive Summary—Market Engineering Measurements
Executive Summary—CEO's Perspective
Market Overview—Definitions
Market Overview—Geographic Scope
Market Overview—End-user Industry Scope
Market Overview—Segmentation
Market Overview—Distribution Channels
Market Drivers
Drivers Explained
Market Restraints
Restraints Explained
Market Engineering Measurements
Forecast Assumptions
Revenue Forecast
Percent Revenue Forecast by Region
Revenue Forecast by Region
Percent Revenue Forecast by End User
Revenue Forecast by End User
Key Purchasing Criteria
Automobile Industry End User—Revenue Forecast
General Engineering Industries End User—Revenue Forecast
Energy Industry End User—Revenue Forecast
Heavy Industries End User—Revenue Forecast
A&D Industry End User—Revenue Forecast
Railway Industry End User—Revenue Forecast
Off-Highway and Construction Industry End User—Revenue Forecast
Industrial: Others End User—Revenue Forecast
Competitive Analysis—Market Share
Market Share Evolution
Market Share Analysis
Competitive Environment
Top Competitors
Transformation in Bearings Market Ecosystem—2016
Growth Opportunity 1—Automobile Bearings
Growth Opportunity 2—Special Application Bearings
Strategic Imperatives for Success and Growth
Ball Bearings Segment Key Findings
Market Engineering Measurements
Revenue Forecast
Percent Revenue Forecast by Region
Revenue Forecast by Region
Roller Bearings Segment Key Findings
Market Engineering Measurements
Revenue Forecast
Percent Revenue Forecast by Region
Revenue Forecast by Region
Percent Revenue Forecast by Product Type
Revenue Forecast by Product Type
European Bearings Market—Sealed Roller Bearings
The Last Word—Three Big Predictions
Legal Disclaimer
Market Engineering Methodology
Additional Sources of Information on European Bearings Market
List of Key Market Participants
List of Companies in 'Others'
Table of Acronyms Used
Learn More—Next Steps

List of Figures
1. Total Bearings Market: Key Market Drivers, Europe, 2017–2021
2. Total Bearings Market: Key Market Restraints, Europe, 2017–2021
3. Total Bearings Market: Market Engineering Measurements, Europe, 2016
4. Total Bearings Market: Revenue Forecast by Region, Europe, 2013–2021
5. Total Bearings Market: Company Market Share Analysis of Top 6 Participants, Europe, 2016
6. Total Bearings Market: Competitive Structure, Europe, 2016
7. Total Bearings Market: SWOT Analysis, Europe, 2016
8. Ball Bearings Segment: Market Engineering Measurements, Europe, 2016
9. Ball Bearings Segment: Revenue Forecast by Region, Europe, 2013–2021
10. Roller Bearings Segment: Market Engineering Measurements, Europe, 2016
11. Roller Bearings Segment: Revenue Forecast by Region, Europe, 2013–2021
12. Roller Bearings Segment: Revenue Forecast by Product Type, Europe, 2013–2021
13. Bearings Market: Relubrication-free Sealed Roller Bearings—Key Industries/ Regions, Europe, 2016

List of Charts
1. Total Bearings Market: Market Engineering Measurements, Europe, 2016
2. Total Bearings Market: Percent Sales Breakdown, Europe, 2016
3. Total Bearings Market: Distribution Channel Analysis, Europe, 2016
4. Total Bearings Market: Revenue Forecast, Europe, 2013–2021
5. Total Bearings Market: Percent Revenue Forecast by Region, Europe, 2013–2021
6. Total Bearings Market: Percent Revenue Forecast by End User, Europe, 2013–2021
7. Total Bearings Market: Revenue Forecast by End User, Europe, 2013–2021
8. Total Bearings Market: Key Purchasing Criteria, Europe, 2016
9. Total Bearings Market: Revenue Forecast for Automobile Industry, Europe, 2013–2021
10. Total Bearings Market: Revenue Forecast for General Engineering Industries, Europe, 2013–2021
11. Total Bearings Market: Revenue Forecast for Energy Industry, Europe, 2013–2021
12. Total Bearings Market: Revenue Forecast for Heavy Industries, Europe, 2013–2021
13. Total Bearings Market: Revenue Forecast for A&D Industry, Europe, 2013–2021
14. Total Bearings Market: Revenue Forecast for Railway Industry, Europe, 2013–2021
15. Total Bearings Market: Revenue Forecast for Off-Highway and Construction Industry, Europe, 2013–2021
16. Total Bearings Market: Revenue Forecast for Other* Industries, Europe, 2013–2021
17. Total Bearings Market: Percent of Sales, Europe, 2016
18. Total Bearings Market: Absolute Market Share Trend, Europe, 2015 and 2016
19. Total Bearings Market: Percent Market Share Trend, Europe, 2015 and 2016
20. Ball Bearings Segment: Revenue Forecast, Europe, 2013–2021
21. Ball Bearings Segment: Percent Revenue Forecast by Region, Europe, 2013–2021
22. Roller Bearings Segment: Percent Revenue Breakdown, Europe, 2016
23. Roller Bearings Segment: Revenue Forecast, Europe, 2013–2021
24. Roller Bearings Segment: Percent Revenue Forecast by Region, Europe, 2013–2021
25. Roller Bearings Segment: Percent Revenue Forecast by Product Type, Europe, 2013–2021