Global Automotive Composites Market, Forecast to 2021
Global Automotive Composites Market, Forecast to 2021
Carbon Fibre Reinforced Polymers (CFRPs) to Offer Robust Growth Opportunities
Research Code: NF55-01-00-00-00
SKU: CM01043-NA-MR_17075
$4,950.00
Special Price $3,712.50 save 25 %
Description
This research service identifies the major industry drivers, restraints, regional trends, and technology segment trends in the global automotive composites market. The research covers 4 regions: North America, Europe, Asia-Pacific, and Rest of World. The study provides an in-depth analysis of carbon, glass, and natural fibre composites along with a detailed analysis on the different types of resins used in each of these applications. Regional trends and application level analysis of different resins has also been provided. Competitive structure and market share analyses have been provided at the total market level. Unit shipment, revenue forecasts, and pricing trends have been provided for each segment. The base year is 2014, and the forecast period ends in 2021.
RESEARCH: INFOGRAPHIC
This infographic presents a brief overview of the research, and highlights the key topics discussed in it.

Click image to view it in full size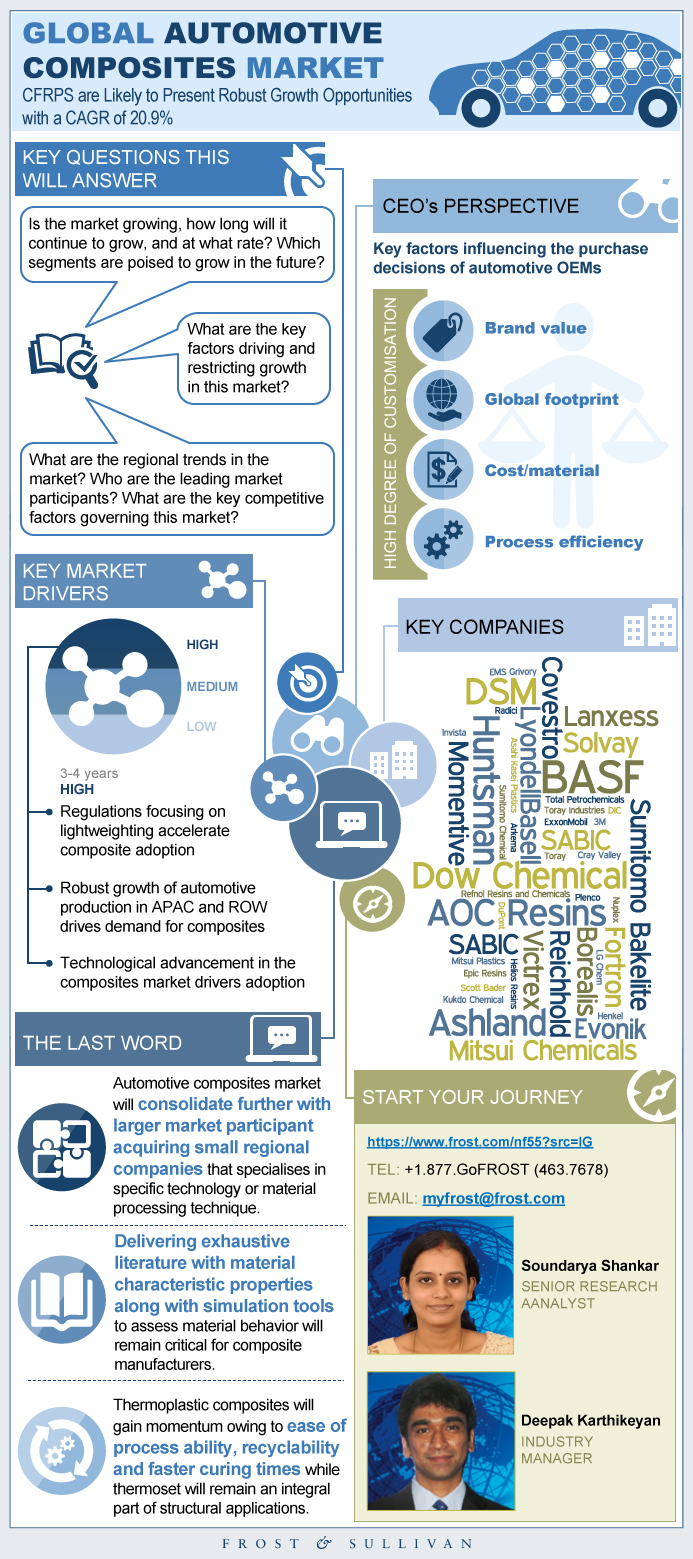 Revenue Forecast 2014-2022
Market Engineering Measurements Global, 2014
CEO's Perspective
Market Definition
Geographic Scope
Market Segmentation
Market Chain Analysis
Key Market Drivers – Global (2014- 2022)
Key Market Restraints – Global (2015 -2021)
Revenue Forecast - Automotive composites market is likely to experience robust growth
Percent Unit Shipment Forecast by Region
Percent Unit Shipment Forecast by Segment
Market Share
Competitive Environment
Product Matrix
CEO's 360 Degree Perspective
Key Findings
Segment Overview and Introduction
Revenue and Unit Shipment Forecast
Key Focus Areas for CFRP Manufacturers
Pricing Trends and Forecasts
Percent Unit Shipment Forecast by Region
Percent Revenue Forecast by Region
Competitive Environment
Thermoplastics – PA Resin Analysis
Thermoplastics - HPP Resin Analysis
Thermosets – Epoxy Resins Analysis
Other Resin Matrices
Key Findings
Segment Overview and Introduction
Revenue and Unit Shipment Forecast
Pricing Trends and Forecast
Percent Unit Forecast by Region
Regional Trends
Competitive Environment
Thermoplastics and Thermosets
Thermoplastics – PP Resins Analysis
Thermoplastics – PA Resins Analysis
Thermoplastics – HPP Resins Analysis
Other Resins Analysis
Key Findings
Segment Overview and Introduction
Revenue and Unit Shipment Forecast
Pricing Trends and Forecast
Percent Unit Shipment Forecast by Region
Percent Revenue Forecast by Region
Regional Trends
Competitive Environment
Thermoplastics and Thermosets
Thermoplastics – PP Resins Analysis
Other Resins in NFC
Market Engineering Methodology
Partial List of Companies Interviewed
Learn More – Next Steps
Abbreviations and Acronyms Used

List of Figures
1. Total Automotive Composites Market: Market Engineering Measurements, Global, 2014
2. Total Automotive Composites Market: Key Market Drivers, Global, 2015–2021
3. Automotive Composites Market: US Emission Targets, North America, 2016–2025
4. Total Automotive Composites Market: Light Vehicle Production Forecast, APAC and ROW
5. Automotive Composites Market: Japan Emission Targets, Japan, 2004 and 2015
6. Total Automotive Composites Market: Light Vehicle Production Forecast, APAC and ROW, 2011–2021
7. Total Automotive Composites Market: Key Market Restraints, Global, 2015–2021
8. Total Automotive Composites Market: Material Price Trends, Global, 2014
9. Total Automotive Composites Market: OEM Material Strategies in Key Applications, Global, 2014
10. Total Automotive Composites Market: Market Engineering Measurements, Global, 2014
11. Total Automotive Composites Market: Unit Shipment and Revenue Forecast, Global, 2011–2021
12. Total Automotive Composites Market: Percent Unit Shipment by Region,2014 and 2021
13. Total Automotive Composites Market: Percent Unit Shipment by Segment, Global 2014 and 2021
14. Total Automotive Composites Market: Percent Revenue by Participant, Global, 2014
15. Total Automotive Composites Market: Competitive Structure for PP Composite Resins, Global 2014
16. Total Automotive Composites Market: Competitive Structure for HPP Composite Resins, Global 2014
17. Total Automotive Composites Market: Competitive Structure for Other Composite Resins, Global 2014
18. Total Automotive Composites Market: Competitive Structure for Epoxy Composite Resins, Global 2014
19. Total Automotive Composites Market: Competitive Structure for PU Composite Resins, Global 2014
20. Total Automotive Composites Market: Competitive Structure for Polyester Composite Resins, Global 2014
21. Total Automotive Composites Market: Competitive Structure for Vinyl Ester Composite Resins, Global 2014
22. Total Automotive Composites Market: Competitive Structure for Phenolic Composite Resins, Global 2014
23. Total Automotive Composites Market: Product Matrix, Global, 2014
24. CFRP - Important Segment Characteristics
25. CFRP Segment: Market Engineering Measurements, Global, 2014
26. CFRP Segment: Revenue and Unit Shipment Forecast, Global, 2011–2021
27. CFRP Segment: Average Price, Global, 2011–2021
28. CFRP Segment: Average Price of Carbon Fibres, Global, 2011–2021
29. CFRP Segment: Percent Unit Shipment by Region, Global, 2014 and 2021
30. CFRP Segment: Percent Revenue by Region, Global, 2014 and 2021
31. Regional Trends
32. CFRP Segment: Competitive Structure, Global, 2014
33. CFRP Segment: Percent Unit Shipment Split between Thermoplastics and Thermosets, Global, 2014 and 2021
34. PA Resins in CFRP Segment: Volume Forecast, Global, 2014 and 2021
35. HPP Resins Market in CFRP: Sub-Segment Splits, Global, 2014
36. Epoxy Resins in CFRP Segment: Revenue Forecast, Global, 2014 and 2021
37. Epoxy Resins Market in CFRP: Regional Splits, Global, 2014
38. GFRP Segment Key Findings
39. GFRP Segment: Market Engineering Measurements, Global, 2014
40. GFRP Segment: Revenue and Unit Shipment Forecast, Global, 2011–2021
41. GFRP Segment: Mass of GFRP in an Average Car, Global, 2011–2021
42. GFRP Segment: Average Price, Global, 2011–2021
43. GFRP Segment: Average Price of Glass Fibres, Global, 2011–2021
44. GFRP Segment: Percent Unit Shipment by Region, Global, 2014 and 2021
45. GFRP Segment: Percent Revenue by Region, Global, 2014 and 2021
46. GFRP Segment: Competitive Structure, Global, 2014
47. GFRP Segment: Percent Split between Thermoplastics and Thermosets, Global, 2014 and 2021
48. PP Resins Market in GFRP: Volume Forecast, Global, 2014 and 2021
49. Global PP Resins Market in GFRP: Application Analysis, Global, 2014
50. PA Resins in GFRP Segment: Revenue Forecast, Global, 2014 and 2021
51. PA Resins in GFRP Segment: Application Analysis, Global, 2014
52. HPP Resins in GFRP Segment: Revenue Forecast, Global, 2014 and 2021
53. Other Resins in GFRP Segment: Revenue Forecast, Global, 2014 and 2021
54. Polyester Resins in GFRP Segment: Revenue Forecast, Global, 2014 and 2021
55. Polyester Resins in GFRP Segment: Application Analysis, Global, 2014
56. Vinyl Ester Resins in GFRP Segment: Revenue Forecast, Global, 2014 and 2021
57. Epoxy Resins in GFRP Segment: Revenue Forecast, Global, 2014 and 2021
58. PU Resins in GFRP Segment: Revenue Forecast, Global, 2014 and 2021
59. Phenolic Resins in GFRP Segment: Revenue Forecast, Global, 2014 and 2021
60. NFC Segment: Characteristic Properties of Natural Fibres, Global, 2014
61. NFC Segment: Market Engineering Measurements, Global, 2014
62. NFC Segment: Revenue and Unit Shipment Forecast, Global, 2011–2021
63. NFC Segment: Ford's Bio-based Portfolio, Global,
64. NFC Segment: Natural Fibre Usage Across Applications, Global, 2014
65. NFC Segment: Average Price, Global, 2011–2021
66. NFC Segment: Average Price of Natural Fibres, Global, 2011–2021
67. NFC Segment: Percent Unit Shipment by Region, Global, 2014 and 2021
68. NFC Segment: Percent Revenue by Region, Global, 2014 and 2021
69. NFC Segment: Percent Split between Thermoplastics and Thermosets, Global, 2014 and 2021
70. PP Resins Market in NFC: Volume Forecast, Global, 2014 and 2021
71. PP Resins Market in NFC: Application Analysis, Global, 2014
72. Total Automotive Composites Market: Unmet Needs, Global, 2014
73. Total Automotive Composites Market: Material Selection Attributes, Global, 2014
74. Total Automotive Composites Market: Key Focus Areas, Global, 2014
75. Competitive Factors and Assessment—CFRP
76. Competitive Factors and Assessment—GFRP
77. Competitive Factors and Assessment—NFC
78. Value Chain Scenario
79. Value Chain Trends
80. Total Automotive Composites Market: Industry Integration, Global, 2009–2015
81. Market Integration and Consolidation