Global Big Data Analytics Market
Global Big Data Analytics Market
The High Demand for Self-service, Automated Analytics and the Rapid Adoption of Predictive Tools Boost Growth
Research Code: NFAD-01-00-00-00
SKU: EM00062-GL-MR_02081
$6,000.00
Special Price $4,500.00 save 25 %
Description
The global Big Data analytics market demonstrated phenomenal growth in 2015. This study discusses 2 end-user segments: data discovery and visualization (DDV) and advanced analytics (AA). The regional forecast spans North America, Latin America, Europe, the Middle East, and Africa, and Asia-Pacific. Market drivers and restraints are ranked in order of impact. The study also provides global and regional revenue forecasts, vertical analyses, and competitive landscape. It outlines distribution channels and market demand. The base year is 2015 and the study period extends from 2015 to 2022. The study also covers technology and general market trends and offers predictions for the industry.
RESEARCH: INFOGRAPHIC
This infographic presents a brief overview of the research, and highlights the key topics discussed in it.

Click image to view it in full size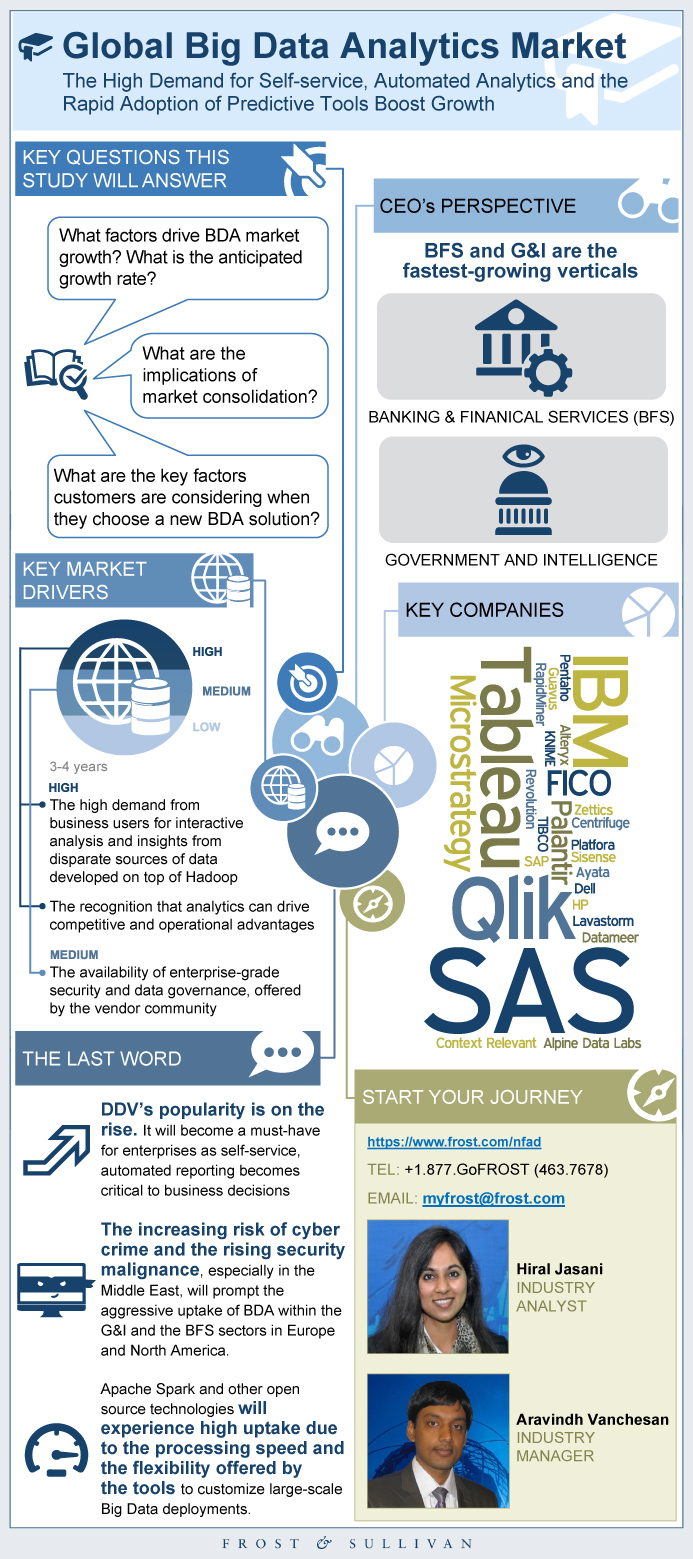 List of Figures
1. Total BDA Market: Market Engineering Measurements, Global, 2015
2. DDV Solution—Typical Architecture
3. AA Solution—Typical Architecture
4. Digital Media Value Chain: Global, 2015
5. Total BDA Market: Regions Covered, Global, 2015
6. Total BDA Market: Key Market Drivers, Global, 2016–2020
7. Total BDA Market: Key Market Restraints, Global, 2016–2020
8. Total BDA Market: Revenue Forecast, Global, 2015–2020
9. Total BDA Market: Percent Revenue Forecast by Region, Global, 2015–2020
10. Total BDA Market: Revenue Forecast by Region, Global, 2015–2020
11. Total BDA Market: Distribution Channel Analysis, Global, 2015
12. Total BDA Market: Percent Revenue by Vertical, Global, 2015
13. Total BDA Market: Percent Revenue Breakdown, Global,2015
14. Total BDA Market: Competitive Landscape, Global, 2015
15. Total BDA Market: Competitive Structure, Global, 2015
16. Total BDA Market: Noteworthy M&As, Global, 2015
17. DDV Segment: Percent Revenue Breakdown by Region, Global, 2015
18. DDV Segment: Market Engineering Measurements, Global, 2015
19. DDV Segment: Revenue Forecast, Global, 2015–2020
20. DDV Segment: Percent Revenue Forecast by Region, Global, 2015–2022
21. DDV Segment: Revenue Forecast by Region, Global, 2015–2022
22. DDV Segment: Percent Revenue Breakdown, Global, 2015
23. DDV Segment: Competitive Structure, Global, 2015
24. AA Segment: Percent Revenue Breakdown by Region, Global, 2015
25. AA Segment: Market Engineering Measurements, Global, 2015
26. AA Segment: Revenue Forecast, Global, 2015–2022
27. AA Segment: Percent Revenue Forecast by Region, Global, 2015–2022
28. AA Segment: Revenue Forecast by Region, Global, 2015–2022
29. AA Segment: Percent Revenue Breakdown, Global, 2015
30. AA Segment: Competitive Structure, Global, 2015
31. Total BDA Market: Market Engineering Measurements, Global, 2015