Global Digital Health Maternal and Infant Care Solutions Market—Leaders, Innovators, and Startups, 2018
Global Digital Health Maternal and Infant Care Solutions Market—Leaders, Innovators, and Startups, 2018
Understanding the Paradigm Shift in Parenting with Digital Health Solutions
Research Code: MDEA-01-00-00-00
SKU: HC03005-NA-MR_21840
$3,000.00
Special Price $2,250.00 save 25 %
Description
BabyTech (digital tools targeted at infants/toddlers) and FemTech (digital solutions for helping women with their health issues) are the latest trends in the healthcare industry. Digital health tools are finding applications in all areas of parenting—fertility, pregnancy, birthing, nursing, baby health, and safety. Women form nearly half the population and are the key decision makers at home. Public health concerns such as rising pre-term births and maternal mortality rates are strong factors that are encouraging consumers, healthcare providers and other stakeholders to use digital health solutions to better manage the entire birth continuum, from conception, to birth, and during the first years of infant care.
Many factors are driving increased focus from key healthcare stakeholders paving the way for more innovative and targeted digital health solutions. Regulatory bodies and the investment community both realize the potential and applications of digital health tools in this space and have been willing to give it the focus it truly deserves. However, lack of awareness of these tools and their advantages among women and healthcare providers, lack of clear reimbursement policies, accuracy and data security/privacy are factors that need to be addressed by companies in this area.

The maternal and infant care space continues to evolve along with major technology and health trends; this is creating a dynamic and exciting area for both vendors and users of these offerings. Moving forward, companies will look at increasingly integrating AI capabilities to yield optimal utility from data in a progressive way as well as leveraging Virtual Assistants as part of user-platform experiences, paving way for non-healthcare companies such as Amazon, Google and others to become key participants in this market.

More companies will create products to form a connected home ecosystem—the Smart Nursery; these products are interoperable devices that can be managed from the user's smartphone. Frost & Sullivan also expects to see more companies investing in clinical studies,which aim to validate the accuracy of digital health applications in this area as part of further validation, and needed data to support potential claims or other business model aspirations.

This report identifies the movers and shakers (companies-2-action) in the maternal and infant care market for digital health, namely, innovative and visionary companies that are creating the market and shaping its trends and growth opportunities moving forward.
Key Issues Addressed
What are the current digital health opportunities in the maternal and infant care space?
Which unique companies are introducing new and innovative solutions?
How are connected home progressions impacting the healthcare market in this area?
How will AI play a role in maternal and infant care technology?
What are the key success factors in this market?
RESEARCH: INFOGRAPHIC
This infographic presents a brief overview of the research, and highlights the key topics discussed in it.

Click image to view it in full size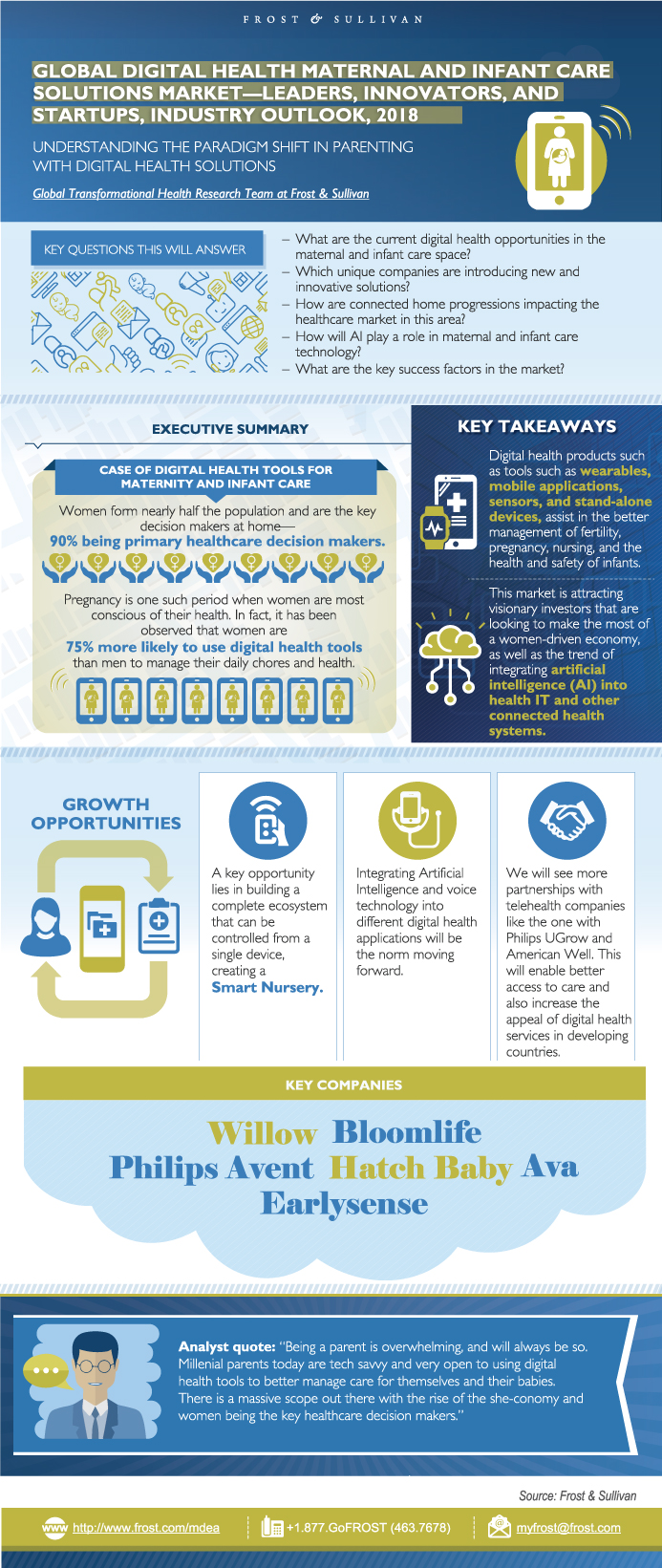 Methodology
Key Takeaways
Maternal and Infant Care Digital Health Solutions—Analysis of Companies to Action (C2A)
Strategic Imperatives for Success and Growth
Scope and Segmentation
Industry Convergence Driving Disruption and Innovation
Convergence in Healthcare Creates Both Opportunities and Threats
Frost & Sullivan Companies to Action Have the Potential to Disrupt Current Healthcare Industry Paradigms
Digital Health Benefits from Broader Industry Convergence
Digital Health Priorities
Digital Health Market Segmentation and Convergence
Market Overview
FemTech—Case for Women-centric Digital Health Tools
BabyTech—Case for Baby-centric Digital Health Tools
Macro Forces Driving Adoption of Maternal and Infant Digital Health Solutions
Further Trends Impacting the Market
Key Trend—Smart Nursery
Motorola Smart Nursery Display at CES 2018
Key Trend—Integration with Artificial Intelligence and Voice Technology
CES2018—Smart Cam and Monitor Example: Cocoon Cam
Detailed Solution Segmentation
Vendor Landscape
Mapping of Monitoring Factors with Digital Health Solutions
10 Innovative Start-ups to Watch
Hatch Baby
Owlet Baby Care
Philips AVENT
Blue Spark Technologies (TempTraq)
Ava
Willow
Glow
MedHelp (Now Part of StayWell/Merck)
Bloomlife
EarlySense
Four Growth Opportunities
Strategic Imperatives for Success and Growth
Legal Disclaimer
List of Companies Assessed—BabyTech
List of Companies Assessed—FemTech (Maternity Related)
List of Mobile Apps Assessed—BabyTech and FemTech
List of Exhibits

List of Figures
1. Digital Health: List of Vendors Assessed, Maternal & Infant Care, Global, 2017

List of Charts
1. Digital Health C2A: Vendors Profiled in this Research, Maternal and Infant Digital Health Solutions, Global, 2017
2. Digital Health C2A: Vendors Best Practices, Maternal and Infant Digital Health Solutions, Global, 2017
3. Digital Health C2A: C2A Value Creators, Global, 2017
4. Digital Health C2A: Digital Health Market Segmentation and Convergence, Global, 2018
5. Digital Health Maternal & Infant Care Solutions Market: Market Segmentation, Global, 2018
6. Digital Health Maternal & Infant Care Solutions Market: Concept of a Smart Nursery, Global, 2018