Strategic Analysis of the Connected Vehicles Market in Japan
Strategic Analysis of the Connected Vehicles Market in Japan
The Telematics Services Market is Expected to Reach 13.2 Million Subscribers by 2020
Research Code: P83C-01-00-00-00
SKU: AU01104-AP-MR_17259
Description
This research service discusses the future of the telematics services market in Japan and focuses on the solutions offered by OEMs and key service providers. In Japan, the trend of telematics services is on the rise, with an emphasis on navigation services; however, the market is yet to realize significant revenue and witness intense competition among its participants. The study offers a strategic overview of the Japanese connected telematics services market, including an analysis of key technology trends, challenges, and market size and forecast, focusing on subscriber volumes for the period 2013 to 2020.
RESEARCH: INFOGRAPHIC
This infographic presents a brief overview of the research, and highlights the key topics discussed in it.

Click image to view it in full size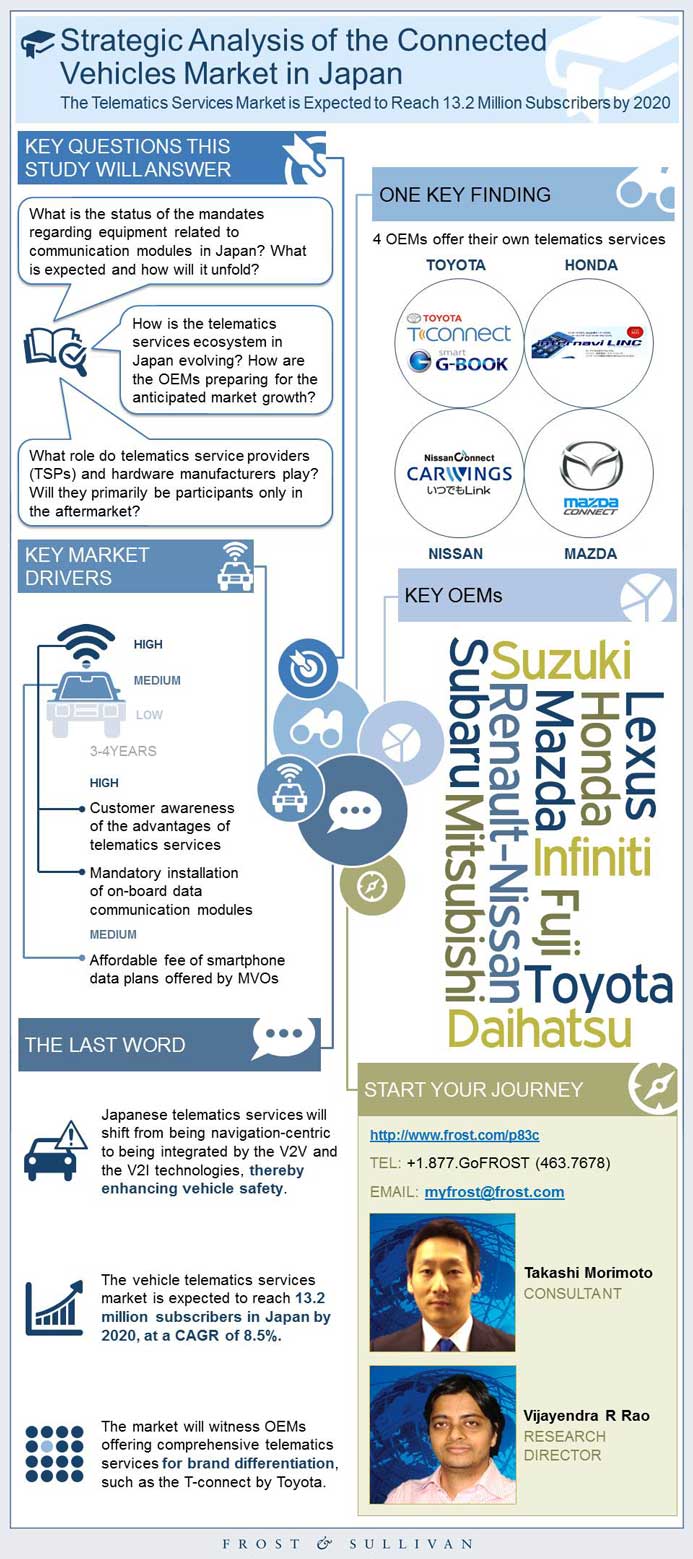 Executive Summary—Key Findings
Executive Summary—Market Engineering Measurements
Executive Summary—Subscription Number Forecast by OEM
Executive Summary—Comparative Services Snapshot by OEM
Executive Summary—Connected Service Offerings by OEM
Executive Summary—Key Conclusions and Future Outlook
Research Scope
Research Aims and Objectives
Key Questions this Study Will Answer
Research Background
Research Methodology
Key OEM/Participant Groups Compared in this Study
Services Segmentation and Definitions
Vehicle Segmentation
Global Connected Car Market—Key Connectivity, Telematics, and Infotainment Trends
Global Connected Car Market—Key Regional Highlights
Global Connected Car Market—Key Regional Solution Highlights
Japanese Government Vision for ITS
Connected Telematics Services in Japan
Market Demand Influencers—Open Automotive Alliance (OAA)
Market Demand Influencers—CarPlay by Apple
Market Demand Influencers—PV Sales Forecast by OEM
Market Demand Influencers—PV Sales Forecast by Segment Type
Market Demand Influencers—Navigation System Sales and Penetration
Market Drivers
Drivers Explained
Drivers Explained (continued)
Market Restraints
Restraints Explained
Restraints Explained (continued)
Japanese Connected Services Market—Top 5 Key Findings
Japanese Subscription Number Forecast
Market Engineering Measurements
Connected Services Market—Subscriber Forecast Scenario Analysis
Connected Services Market—Forecast Scenario Assumptions
Connected Services Market—Forecast Scenario Assumptions (continued)
Generation of Implemented Telematics Services
Toyota—Connected Service Offerings
Toyota—Connected Service Offerings (continued)
Toyota—T-connect Overview
Toyota—T-connect Overview (continued)
Nissan—Connected Service Offerings
Nissan—Connected Service Offerings (continued)
Nissan—Probe Vehicle Data
Honda—Connected Service Offerings
Honda—Connected Service Offerings (continued)
Honda—Probe Vehicle Data
Mazda—Connected Service Offerings
Mazda—Connected Service Offerings (continued)
Mazda—Connected System Architecture
Service Providers—Probe Data Service by Pioneer
Service Providers—Probe Data Service by Pioneer (continued)
Service Providers—NTT DOCOMO
Service Providers—NTT DOCOMO—Partnership with OEMs
Telematics Hardware Manufacturer—Participant Snapshot
Key Conclusions and Future Outlook
Key Conclusions and Future Outlook (continued)
The Last Word—3 Big Predictions
Legal Disclaimer
Abbreviations and Acronyms Used
Market Engineering Methodology