Strategic Analysis of the Global 48v Power-net Market
Strategic Analysis of the Global 48v Power-net Market
At an Estimated Spending of €60 to €80 per Gram per KM of CO2 Reduction, 48v offers the Best Possible Means for Adhering to 2020 and 2025 Norms
Research Code: MC85-01-00-00-00
SKU: AU01411-NA-MR_19185
$4,950.00
Special Price $3,712.50 save 25 %
Description
OEMs are looking for various means to reduce the CO2 emissions required for 2020 and 2025. The 12v power-net can no longer sustain the electrical load that present day top-end vehicles use. Any new addition to the electrical load will require an increase of the power-net capacity. Therefore, OEMs are considering migrating to a 48v power-net, thereby using 2 voltages. The 48v power-net also manages to reduce vehicle weight, thereby reducing fuel consumption and CO2 emissions. Heavy-duty functions are expected to port to the new 48v power-net.
RESEARCH: INFOGRAPHIC
This infographic presents a brief overview of the research, and highlights the key topics discussed in it.

Click image to view it in full size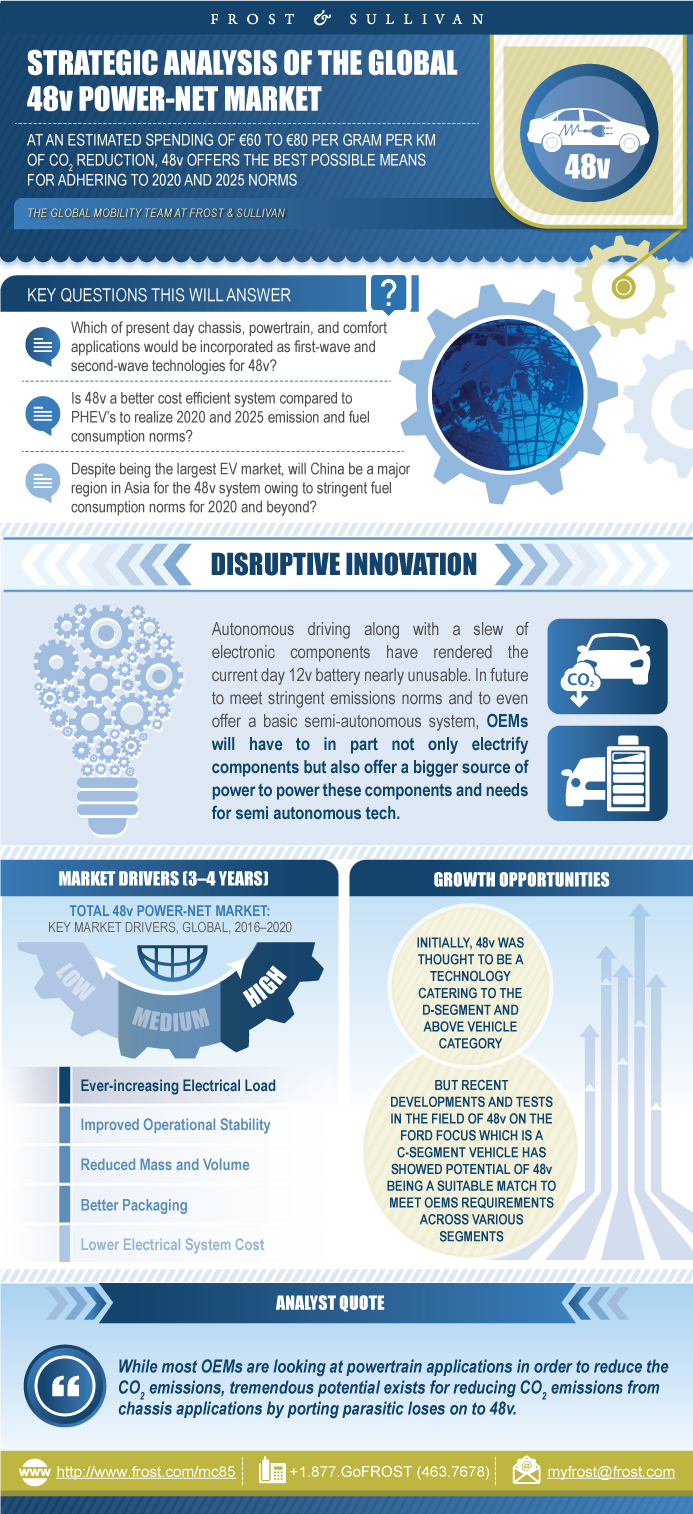 Key Findings—48v Power-net Market Overview
Current and Future Outlook—48v Power-net Market
Current and Future Outlook for 48v
2025 Global 48v Adoption Forecast
Supplier Benchmarking
Research Scope
Research Aims and Objectives
Key Questions this Study will Answer
Research Background
Research Methodology
Key Participant Groups Compared in this Study
Product Segmentation
Product Definition
System Segmentation
Definitions of Voltage Architectures for Passenger Vehicles
Prerequisites to the 48v System
Vehicle Segmentation
Need for 48v—Emission Regulations
Need for 48v—Impact of Automated Driving on E/E Architecture
Need for 48v—Parasitic Loses
Case Study—On the Go Start-Stop Case Study
Case Study—Intelligent Mild Hybrid System
Global Vehicle Electrification Trend
Overview of the Current Electrical and Electronic Ecosystem
Technology Roadmap
Top-level Cost Benefit Analysis of First & Second-wave Technologies
Cost Benefit Analysis of ICE vs. 48v vs. PHEV Powertrain
Comparative Analysis of EoL Characteristics of 12v vs. 48v vs. PHEV
Comparative Benchmarking of 48v System and xEVs
Market Drivers
Drivers Explained
Drivers Explained (continued)
Market Restraints
Restraints Explained
Restraints Explained (continued)
Europe—Unit Shipment Forecast Scenario Analysis
Unit Shipment Forecast by OEMs
North America—Unit Shipment Forecast Scenario Analysis
Unit Shipment Forecast by OEMs
China—Unit Shipment Forecast Scenario Analysis
Unit Shipment Forecast by OEMs
South Korea—Unit Shipment Forecast Scenario Analysis
Unit Shipment Forecast by OEMs
OEM in Focus—Audi
OEM in Focus—Daimler
OEM in Focus—Ford
OEM in Focus—FCA
OEM in Focus—General Motors
OEM in Focus—Hyundai
OEM in Focus—Renault-Nissan
OEM in Focus—Volkswagen
48v Mild Hybrid Launch Roadmap
Analysis by OEM Brand Positioning & Strategy for 48v
Supplier Profile—Bosch
Supplier Profile—Continental
Supplier Profile—Delphi
Supplier Profile—Hyundai Mobis
Supplier Profile—Schaeffler
Supplier Profile—Valeo
Supplier Benchmarking
Snapshot of Tier-II Supplier Outlook on Technological Developments
Audi—Case Study: Electromechanical Active Roll Stabilization (eAWS)
Bosch—Case Study: 48v e-Kart
Continental and Schaeffler—Case Study: Gasoline Technology Car II
FCA—Case Study: e-booster Application
Key Conclusions and Future Outlook
The Last Word—3 Big Predictions
Legal Disclaimer
Abbreviations and Acronyms Used
Abbreviations and Acronyms Used (continued)
Abbreviations and Acronyms Used (continued)
Learn More—Next Steps
Market Engineering Methodology